Vettel Closes on Title with Suzuka Victory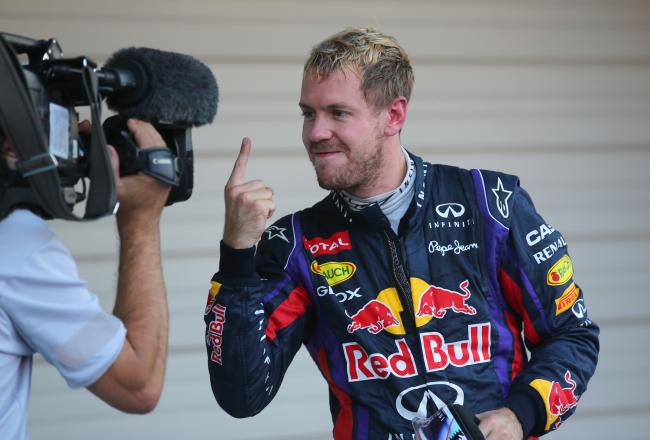 Vettel's victory was his fourth in five years at Suzuka
Clive Rose/Getty Images
Sebastian Vettel took a giant leap towards a fourth successive world title after claiming a fourth win at Suzuka in five years.
The German came into the race knowing that if he won and title rival Fernando Alonso finished lower than eighth he would be champion. But it was never really a realistic scenario as Alonso drove an assured race to finish fourth to make Vettel wait until India.
It had looked for a while as if Romain Grosjean may take a maiden race win after the Lotus driver made a superb start to jump into the lead on the first lap from fourth on the grid.
But an early second stop meant he had to drive a long stint on his final set of hard compound tyres to the end of the race and Vettel, on the softer compound, ghosted past with 12 laps remaining.
Mark Webber finished second on his three-stop strategy after passing Grosjean on the penultimate lap and Nico Hulkenberg backed up his impressive Korean showing with sixth place behind the man he may replace at Lotus, Kimi Raikkonen.
There was more disappointment for Lewis Hamilton, however, as he was forced to retire as a result of damage sustained after contact with Vettel on the opening lap.
Should Vettel finish fifth or better in India he will be champion with Alonso needing to outscore him by 15 points to take the championship to Abu Dhabi.
The fat lady is warming up.
Drivers' Championship: 1 VET 297; 2 ALO 207; 3 RAI 177; 4 HAM 161; 5 WEB 148; 6 ROS 126; 7 MAS 90; 8 GRO 87; 9 BUT 60 http://t.co/QwCVH9eGyc

— Formula1.com (@Formula1) October 13, 2013
Championship standings after Suzuka,
Vettel becomes only the sixth driver in history to win five races in a row, joining Mansell, Brabham, Schumacher, Ascari and Clark. #F1

— F1 Fanatic (@f1fanatic_co_uk) October 13, 2013
VETTEL WINS IN JAPAN! Another superb drive from the German but he's not champion yet as Fernando Alonso finishes fourth.
That's Vettel's ninth win of the season and the title is surely his. Webber is second ahead of Grosjean. Kimi Raikkonen finishes fifth ahead of Nico Hulkenberg.
Japanese Grand Prix Top 10
1. Vettel
2. Webber
3. Grosjean
4. Alonso
5. Raikkonen
6. Hulkenberg
7. Gutierrez
8. Rosberg
9. Button
10. Massa
53/53: Onto the final lap now and it's going to be a Red Bull 1-2 despite a great drive from Grosjean.
52/53: And Webber is through! He ghosted past on the straight and Grosjean's fight is over. Great move from Raikkonen round the outside to take Hulkenberg.
51/53: Raikkonen challenges Hulkenberg for fourth as Grosjean continues to hold Webber behind him as the Spoon Curve. Great defense.
50/53: Grosjean and Webber up with traffic now. Three laps to go.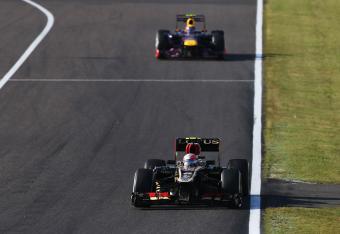 49/53: Four laps remaining and still Grosjean holds off Webber. Surely he can't hang on...
48/53: With the laps dwindling, it looks as though Vettel has this in the bag. It also looks as if Webber will finish second.
47/53: Webber attacks but Grosjean defends. Surely only a matter of time now though.
46/53: Webber really closing now on the soft compound. Alonso passes Hulkenberg for fourth.
45/53: Webber right on Grosjean now, the Lotus tyres must be going off now as his second stop was some time ago.
44/53: For you Alonso fans out there, he's still running fifth so the fight will go on although it will be practically impossible for him to win the title after today. Rosberg clips the back of Perez and gives him a left rear puncture.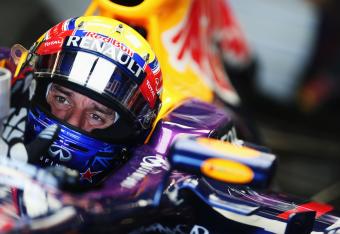 43/53: Webber pits for the softer compound. He comes out behind Grosjean but can charge on those tyres.
#JAPGP Lap 41 WEB VET GRO HUL ALO RAI BUT GUT MAS PER ROS RIC DIR SUT BOT MAL VER CHI PIC

— Scuderia Ferrari (@InsideFerrari) October 13, 2013
42/53: So Webber still leads but he's on a three stop strategy. The lead is 14.427 seconds. Looks like he'll come out behind Vettel.
41/53: Vettel leads! He attacks into the chicane but Grosjean defends. But he makes the move stick on the straight with DRS.
40/53: Vettel has timed this perfectly but he may come under pressure from Webber by the finish.
39/53: So the race is now on between Grosjean and Vettel for the victory. He dials in a quick lap immediately and is right behind Grosjean.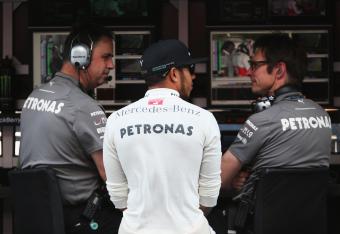 38/53: Lewis Hamilton: "Really unlucky and I just feel bad for the guys because they've worked so hard on this trip. Really disappointed but that's life".
Vettel is in and comes back out on a harder compound in third place.
37/53: The order is Vettel, Webber, Grosjean, Hulkenberg, Alonso, Raikkonen, Rosberg, Button.
36/53: Webber told it's not over yet and he still has a chance to win. He needs to stop again though.
#JAPGP Drive through penalty for MAS, speeding in the pit-lane

— Scuderia Ferrari (@InsideFerrari) October 13, 2013
35/53: Grosjean has pulled the gap down by a couple of tenths. This is going to be really tight after Vettel's final stop!
34/53: Vettel's lead is up to 13.371 seconds. Perhaps he's going deeper into the race to use the softer option tyre at the end.
33/53: So with 20 laps remaining, Vettel leads from Webber, Grosjean, Hulkenberg and Alonso. Massa under investigation for speeding in the pit lane.
32/53: Alonso doing enough to ensure the title stays alive. Perez held up by an issue with the wheel gun. Ricciardo gets a drive through penalty for overtaking off the circuit. Raikkonen in for a set of hards.
This article is
What is the duplicate article?
Why is this article offensive?
Where is this article plagiarized from?
Why is this article poorly edited?