Why Jack Wilshere's Goal Does Not Mean He Should Be in the Starting XI
Michael Regan/Getty Images
If Jack Wilshere had not broken his goalscoring duck with a smashing second-half volley that deflected past Boaz Myhill, Arsenal probably would have lost to West Brom.
The goal was worthy of the point it snatched. Arsene Wenger admitted after the game (via Arsenal.com) that he doesn't think Wilshere will ever be a goalscorer, and the fact that this was the 21-year-old's first goal in almost three years (counting the season he was injured) indicates as much.
Yet Wilshere is a man who is able to do this, so he obviously has some goal-poaching instinct in him. Regardless, Aaron Ramsey's recent form shows that the ability to score need not reveal itself at an early stage in a player's career.
However, it would be facile to ignore the torrid first half that Wilshere endured in a state of relative isolation on the left flank.
Jack Wilshere had a half to forget for Arsenal: 78% pass accuracy & he didn't make a single tackle or interception. #AFC

— Squawka Football (@Squawka) October 6, 2013
The referee was partially to blame, as he often is. Wilshere was shoved to the ground and entangled in the legs of West Brom players an innumerable amount of times during the first 45 minutes, but he was almost always seen flailing his hands as Lee Mason waved play on.
But Wilshere is wont to place himself in such situations, and much of the time he throws himself about the pitch unnecessarily. In so doing, he puts himself at greater risk of suffering an injury and often disrupts the flow of Arsenal's attack.
Nothing really came off for him against West Brom, and he has not fared terribly better in the rest of his games this season. He has appeared in all seven of Arsenal's Premier League games, but has yet to really impose himself upon any.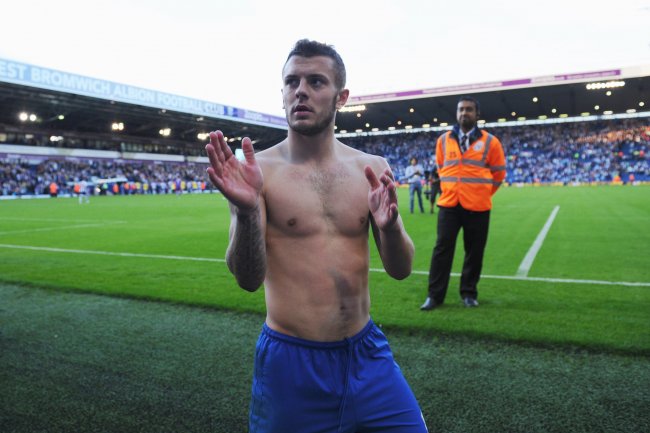 Michael Regan/Getty Images
The ability is obviously there, but Wilshere has simply not been able to effectively combine his inherent tenaciousness, pugnacity, dribbling ability and knack for picking a pass.
There are several reasons for this, of course, and not all are damning.
Wilshere has simply been provided with fewer opportunities to create for others this season, and that is not necessarily a bad thing.
Ramsey's dramatic metamorphosis and the signing of Mesut Ozil are obviously embraced by Arsenal fans—both have significantly reduced the responsibility of the supposed jewel in the crown of Wenger's cadre of young British stars.
Perhaps Wilshere's recent slump is merely a consequence of the 15 months he spent on the sidelines after suffering a persistent ankle injury. He injured his other ankle at the end of last season, which, along with Ramsey's emergence, dramatically truncated his playing time.
Chant of the day? @JackWilshere #afc pic.twitter.com/Z1SLIrFfgM

— Bleacher Report UK (@br_uk) October 6, 2013
Ramsey took two campaigns to return to his best form after spending more than a year out because of a broken leg in February 2010, and only began to truly blossom this season.
Wilshere probably needs time, as all players do, to work through his poor form.
Such a conception of his form as substandard is admittedly driven, to some extent, by the media and its tendency to accelerate and decelerate the hype machine. Still, those who have observed Wilshere's development know that he is capable of considerably more than he is producing.
Yet Wenger is not affording Wilshere the opportunity to excel in his favored midfield role. Instead, he has moored his star player on the left wing, as he did Ramsey during the latter's most challenging period at the club.
In the Welshman's case, Wenger wanted to develop versatility. Perhaps this is also true of Wilshere. But the assumption that the manager is simply attempting to fit as many of his talented midfielders into the squad as possible is quite logical.
How can one decide whether to bench Mikel Arteta, Mathieu Flamini, Mesut Ozil, Wilshere or Ramsey? All started against West Brom, and two would have to be dropped if Wenger wanted to play with traditional wingers.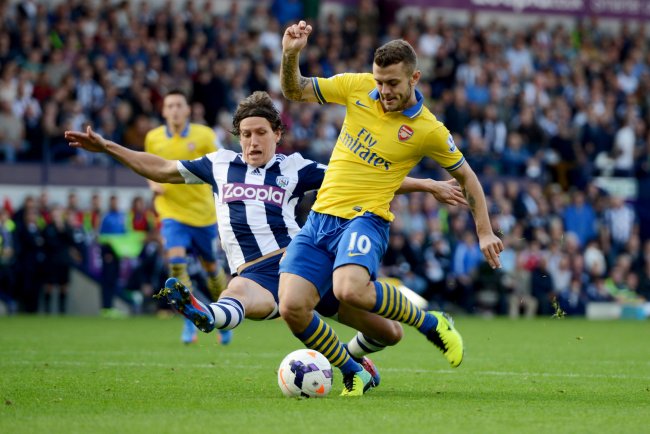 Michael Regan/Getty Images
Both Wilshere and Ramsey started on the left and right wings, respectively, and both struggled. Ramsey adapted better to the role and was as tireless as usual. But Wilshere is even less of a winger and was often extremely out of step. As a result, Arsenal lacked width on that flank.
It will be interesting to see how Wenger rearranges the team when Santi Cazorla, who has been injured since Ozil signed for the club at the beginning of September, returns after the upcoming international break.
One would assume that he will not be left out of the team when fit and neither will Theo Walcott, whose pace is unique in the team.
While it is unclear who the other unfortunate player will be, I would submit that Wilshere should be the first player dropped to make room for the two returning players.
He has not suddenly become mediocre or lost his unique talent in any way—Arsenal would simply be better served by playing someone on the left wing who actually belongs there.
In reality, there will probably be so much rotation among the myriad stars that the Gunners have in the middle of the pitch that Wilshere's nominal demotion will not practically amount to much.
Still, he should not be regarded as an automatic starter at the moment.
This article is
What is the duplicate article?
Why is this article offensive?
Where is this article plagiarized from?
Why is this article poorly edited?

Arsenal: Like this team?