Are the Seattle Seahawks Really Super Bowl Contenders?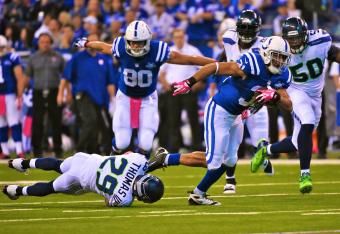 Going into their Week 5 matchup, the Seattle Seahawks were, arguably, the best, most balanced team in the NFL.
They were undefeated and boasted the sixth-ranked scoring offense, second-best scoring defense, and third-best turnover margin in the NFL.
Quarterback Russell Wilson was throwing and running with equal aplomb, tailback Marshawn Lynch was leading a committee of tough backs grinding out yards, and the big, fast, aggressive defense was shutting teams down and snagging turnovers as well as almost anyone.
After a dramatic overtime win over the Houston Texans, it looked like the Seahawks had overcome their biggest obstacle; they had a clear path to Super Bowl XLVIII in the Meadowlands.
Then, they broke a mirror—and encountered one bad Luck.
Doppelgangers
In the Indianapolis Colts, the Seahawks faced their doppelganger, or evil twin.
Jonathan Moore/Getty Images
Colts quarterback Andrew Luck is no less dangerous than Wilson on the hoof, and at least as good throwing the ball. Since adding Trent Richardson to their running back stable, the Colts have balance and power on the ground.
The Colts defense has been nearly as stingy as the Seahawks. Going into their matchup, the Colts had allowed just 12.8 points per game (fourth-fewest in the NFL and only one more point per game than the Seahawks).
When the game began, the Seahawks seemed to have every advantage. They drew first blood with a 42-yard field goal and took a 10-point lead when Wilson hit receiver Golden Tate for a touchdown midway through the first quarter.
Then, it looked like the rout was on a little over a minute later. Seahawks receiver Jermaine Kearse blocked a Colts punt, and safety Jeron Johnson raced into the end zone to recover it. It was called a safety rather than a touchdown, though, and after an excruciatingly long review, the replay was confirmed.
The smallest bit of daylight opened up for the Colts. Rather than going down three scores in the first quarter, the margin was a manageable 12-0.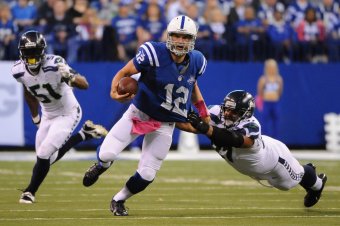 Jonathan Moore/Getty Images
Luck answered that deficit on the very next drive, hitting T.Y. Hilton for a 73-yard score. Then, the Colts mirrored the Seahawks' special teams prowess by blocking a Steven Hauschka field-goal attempt and returning it for a touchdown at the 13:06 mark of the second.
The two heavyweights traded punches until the fourth quarter, when an 86-yard Colts touchdown drive drained seven minutes off the clock.
The Seahawks went three-and-out.
The Colts drove for another field goal, making it a six-point deficit, 34-28, with 1:55 to go.
Wilson had a second chance to answer Luck and the Colts. If he drove for a touchdown, the game would be sealed, and the Seahawks' undefeated season extended. After a mad 4th-and-15 scramble, though, Russell threw a game-ending interception:
Harbinger of Doom
In old German folklore, seeing your doppelganger is an omen of death.
After dropping this game, the Seahawks' coming doom is obvious: Their gnarly, stingy, ball-hawking defense is none of those things away from CenturyLink Field.
At home, the Seahawks have outscored their opponents, 74-20, in two blowout wins. On the road, they've eked out a 2-1 record on a 63-61 points margin. At home, they've allowed an average of 160.5 passing yards per game. On the road, that number swells to 224.3.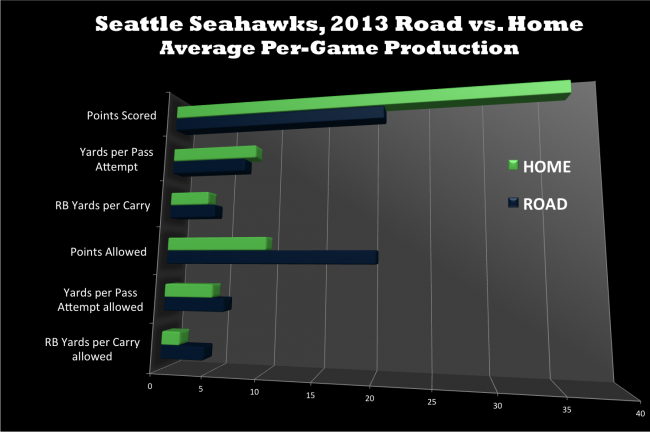 It's not just the defense that's off its game when it's off its turf.
Per Pro-Football-Reference.com, Russell Wilson has averaged 8.6 yards per attempt, thrown five touchdowns against two interceptions, and carried an NFL passer efficiency rating of 102.5 when playing at home.
On the road, Wilson has averaged 7.5 yards per attempt and thrown three touchdowns against two interceptions. Going into this game, Wilson had a road passer rating of just 88.6. He posted a 78.7 Sunday, so that number will fall.
The Seahawks clearly aren't the same team away from home as they are at "the Clink."
Warding Off Doom
There is a way for the Seahawks to ward off their impending doom, and it has nothing to do with superstitiously making the "corna," or horns.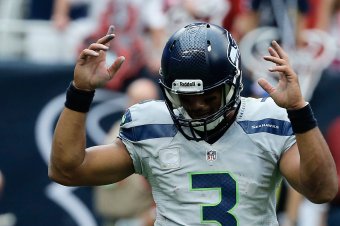 Scott Halleran/Getty Images
At home, Russell Wilson has completed passes at a lower rate (22 of 40, 55 percent) than he has on the road (52 of 87, 59.8 percent), but has thrown for far more yards and touchdowns with fewer interceptions. On the road, then, it seems as though Wilson is more timid and less effective.
Though these numbers are skewed by the home blowouts, Wilson is also averaging just 20 passes per game at home and 29 on the road. The more the Seahawks get in pressure situations, the more they're leaning on Wilson to bail them out of it. Last week, against Houston, Wilson pulled it off. This week, against Indianapolis, not so much.
The Seahawks invested a lot of money in that defense this offseason. Players like Michael Bennett and Cliff Avril, who had one tackle each Sunday, per NFL.com, need to make more of an impact in close, crucial games like these and do less stat-padding in blowouts.
If Luck and the Colts don't score almost three times the Seahawks' season points-allowed average of 11.8, Wilson and the offense's production would have been more than enough to win the game.
The defense simply has to play better on the road.
The Beginning of the End? No
Regardless of their diminished play and bad luck on the road, the Seahawks are still one of the NFL's most talented, balanced and deepest teams. Wilson is an outstanding quarterback, and he's capable of leading his team back from the brink against anyone.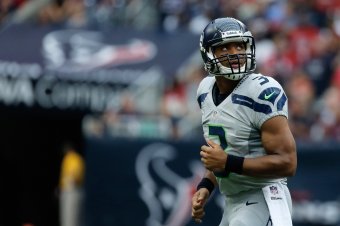 Scott Halleran/Getty Images
Lynch may not have displayed much home run-hitting ability yet this year, but any team that plays him softly will pay. The Seahawks defense is still one of the stingiest in the NFL, even after the team allowed 34 points in this game (and, of course, seven of those points weren't allowed by the defense at all).
Ultimately, this year's edition of the Seahawks is invincible at home and a very, very tough out on the road. That's a combination that will get them into the playoffs, quite possibly with home-field advantage. It may be that they only have to win one postseason road game to make it to the Super Bowl—or, perhaps, none at all.
Unless (and until) the Seahawks start dropping games at home (or losing to far less formidable teams than the now-.800 Colts), they and their fans can put away the rabbit's foott.
The Seattle Seahawks are still absolutely, positively legitimate Super Bowl contenders.
This article is
What is the duplicate article?
Why is this article offensive?
Where is this article plagiarized from?
Why is this article poorly edited?

Seattle Seahawks: Like this team?