Korean Grand Prix 2013: Live Lap-by-Lap Updates, Highlights, Recap and More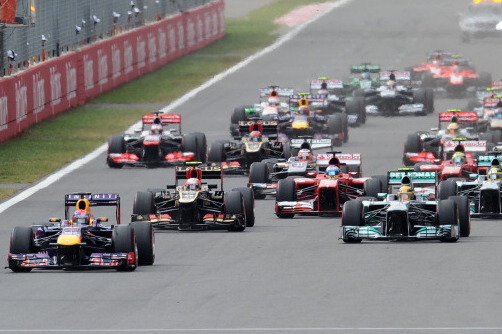 Getty

Sebastian Vettel made it four wins in a row to strengthen his already commanding grip on the title with another dominant performance in the Korean Grand Prix.
Vettel kept his pursuers, chiefly Romain Grosjean and later the second Lotus of Kimi Raikkonen, at arm's length throughout the 55-lap race, which was interrupted twice in quick succession by safety cars.
Nico Hulkenberg came through the drama to take a hard-earned fourth.
A perfect start allowed the Red Bull driver to ease ahead of Grosjean and the Mercedes of Lewis Hamilton, as further back Jenson Button got tangled up with Ferrari teammates Fernando Alonso and Felipe Massa.
Alonso continued undeterred but could only finish sixth, meaning Vettel's extended his championship lead to 77 points. He can wrap up the title in Japan if he wins and Alonso fails to finish.
Hamilton's challenge for victory faded just before the second round of stops as his Pirelli tyres "fell off the cliff", dropping him behind Raikkonen.
A safety car, caused by a bizarre tyre failure for Sergio Perez, minimised the damage to Hamilton's race and allowed him to rejoin fourth. The restart was short-lived though, for while Vettel set about immediately opening up his lead again, over Raikkonen this time, the Finn having passed Grosjean, Adrian Sutil lunged Mark Webber into Turn 3, hitting the Red Bull and ending his own race.
Webber continued, but a dramatic fire meant it was only for a further few corners. As the safety car was deployed, a fire vehicle emerged on track before the race had been neutralised, creating an odd but potentially dangerous situation as the leaders rounded Turns 1 and 2.
Thankfully, there was no serious incident, and once Webber's car was cleared and racing resumed, Vettel eased clear.
Raikkonen fought off Grosjean to take second while behind Hulkenberg produced a superb defensive performance in the closing laps to take fourth ahead of Hamilton and Alonso.
Nico Rosberg, Button, Massa and Perez completed the top 10.
Here's how the race unfolded:
Vettel's drive was pure class, but yes, this applies.
Couldn't agree with you more @MBrundleF1 the non-Vettel race was an absolute cracker

— Sky F1 Insider (@SkyF1Insider) October 6, 2013
Title ramifications? Vettel can wrap up the title in Japan if he wins and Alonso non-scores. Domination in the most crucial stage of the season.
Superb drive from Vettel. Four in a row...
Top 10:
Vettel
Raikkonen
Grosjean
Hulkenberg (magnificent drive)
Hamilton
Alonso
Rosberg
Button
Massa
Perez
SEBASTIAN VETTEL WINS THE KOREAN GRAND PRIX!
Lap 55/55: Hulkenberg fends off Hamilton whose attentions have now turned to Alonso!
Lap 55/55: Vettel Starts His Final Lap.
Lap 54/55: Ricciardo was ninth, with a sniff of Button in eighth. Meanwhile, Alonso's come alive. A new personal best for the man in sixth.
Lap 54/55: Disaster as Ricciardo's brilliant race comes to an end, his Toro Rosso lies motionless at the side of the track. What a shame.
Lap 54/55: Vettel starts his penultimate lap. Lap 53 was another new fastest lap, 1m41.380s. Grosjean is 0.7s behind Raikkonen and Rosberg passes Button for seventh. Still a lot to play for.
Lap 53/55: Quite.
Strange. The #KoreanGP was a yawn until lap 30 and then all hell has broken loose. Bonkers sport innit?

— Kevin Eason (@easonF1) October 6, 2013
Lap 53/55: "Has anyone got any suggestions?" says Hamilton. "Do it into Turn 1," says Sky Sports F1's Martin Brundle. Is it that easy?
Lap 52/55: Hamilton one of those bemoaning the state of his tyres, but he's still pressuring Hulkenberg. Both Mercedes are slow in a straightline it seems as Rosberg cannot pass Button for seventh.
Lap 51/55: Everyone's complaining about tyres, even Vettel! Just kidding. A new fastest lap for the Red Bull ace. 1m41.666s.
Lap 50/55: Grosjean's on fresher tyres and is just 1.2s behind Raikkonen.
Renault boss Eric Boullier tells Grosjean: "Romain, keep racing like it is." #F1

— AUTOSPORT Live (@autosportlive) October 6, 2013
Lap 50/55: Five to go, and the top 10 remains unchanged. Somehow.
Lap 49/55: What of that battle for 10th? It's now between two cars, Massa and Perez.
Lap 49/55: Hulkenberg is taking all the attention away from the leaders. Vettel holds a 4s lead over Raikkonen, Grosjean is 1.3s behind.
Lap 48/55: Hulkenberg passed by Hamilton. No matter, he breezes past on the exit of Turn 2. Phenomenal traction from the Sauber! Alonso, Button and Rosberg join the fun.
Lap 47/55: Superb defending from Hulkenberg into Turn 3, beautifully rebuffs Hamilton. I agree whole-heartedly with this:
#Hulkenburg is going well for a rejected overweight driver ..... Really?! Put this guy in a top team #WakeUp #F1

— Tom Gaymor (@TomGaymor) October 6, 2013
Lap 46/55: Hamilton is so, so close to Hulkenberg over the line but Sauber is mighty out of Turns 1 and 2 and down the long straight. Massa holds onto 10th, a second ahead of Gutierrez.
Lap 45/55: 10 laps to go, this is the top 10 and the gaps between the cars.
Vettel
Raikkonen +2.9s
Grosjean +1.2s
Hulkenberg +5.7s
Hamilton +0.2s
Alonso +1.8s
Button +1.1s
Rosberg +0.8s
Ricciardo +3.8s
Massa +3.6s
10th is changing all the time though!
Lap 45/55: Epic scrap for 10th! Maldonado vs. Gutierrez vs. Massa vs. Perez vs. Bottas!
Lap 44/55: Not quite crushing from Vettel, but impressive nonetheless. Lap 43 yields a stunning 1m41.726s, which puts his lead up to 2.4s.
Lap 43/55: Hulkenberg holds off Hamilton on the run down to Turn 3, as Vettel is on the verge of yet another fastest lap.
Lap 42/55: Vettel puts another 0.9s on Raikkonen to lead by 2.0s at the end of the 42nd lap. Hamilton is pressuring Hulkenberg for fourth after fending off Alonso.
This article is
What is the duplicate article?
Why is this article offensive?
Where is this article plagiarized from?
Why is this article poorly edited?