The Cleveland Browns used 20 straight points in the final 20 minutes of the game to defeat Buffalo, sans starting quarterback EJ Manuel. Both teams lost their starting quarterbacks in the game, but the Browns' special teams and defense proved to be the difference in the end.
Final Score
Bills: 24
Browns : 37
Buffalo Bills Grades

| | | |
| --- | --- | --- |
| Positional Unit | First-Half Grades | Game Grades |
| Pass Offense | C | C- |
| Run Offense | B | B |
| Pass Defense | C | C- |
| Run Defense | B- | B |
| Special Teams | C- | C |
| Coaching | D | D+ |
Buffalo Bills Week 5
Game Grades
Pass Offense: Things were going well for the pass offense until EJ Manuel was lost for the game due to an injury. Hopefully Manuel can come back soon for the Bills, or Josh Freeman could be receiving a call from a Buffalo-area phone number. Never mind the fact that Jeff Tuel is a rookie; there is a reason he was undrafted. Tuel is incredibly raw, and it showed in the fourth quarter.
Run Offense: C.J. Spiller finally got going with his second rush in the second half, but the Bills got away from outside running plays after the 54-yard touchdown. The Bills' running backs accounted for 18 of Buffalo's 24 points, but the big plays we saw last year have been few and far between.
Pass Defense: I will repeat: The Bills desperately need Stephon Gilmore to come back next week to make this unit a more effective one. Big plays hurt the Bills' decimated secondary for the fifth week in a row, and none bigger than a toss up to Josh Gordon in the third quarter with all momentum in Buffalo's favor.
Run Defense: They made stops when they needed to. Kiko Alonso, Marcell Dareus and Manny Lawson all have favorable games against the run. Lawson was one of the most unheralded moves of the offseason, and he has done wonders for the Bills' run defense.
Special Teams: Dan Carpenter had himself another good game and could force the Bills' staff into a hard decision regarding rookie kicker Dustin Hopkins. Shawn Powell did not have a good night, and his short punts directly resulted in three scoring drives for the Browns.
Coaching: The halftime adjustments were good, but the offensive play-calling went back to befuddling after the Bills went up 24-17. The team scored two of their touchdowns on outside runs but did not attempt another one until it was already too late. Buffalo ran on the first play of every drive until the end of the game. Buffalo often commits to running the same plays over and over, with little positive return. Mike Pettine is doing all he can with the injuries he has had to endure over the first five games.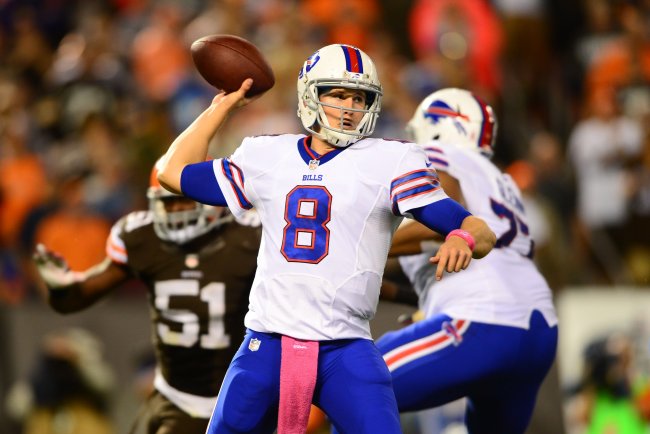 Andrew Weber-USA TODAY Sports
First-Half Grades
Pass Offense: The second play of the first half was creative if nothing else. Maybe T.J. Graham is a future WR-emergency QB option. EJ Manuel has shown nice touch on passes early on, and the team clearly wanted to get Steve Johnson going after a bad game against Baltimore last week.
Run Offense: Fred Jackson continues to remind everyone that he is still very much a major part of the Bills offense. The most baffling question to begin this season has been the new coaching staff's use of C.J. Spiller. Spiller is best in space and on the edge, but a majority of his rushes have been up the gut. His 3.5 yards-per-carry average is 2.5 yards under his 2012 average for a reason. He is not being used correctly.
Pass Defense: I think I have complained enough about Justin Rogers since Week 1. Leodis McKelvin is suited up but did not make an appearance on the first two offensive series for the Browns. The Bills desperately need Stephon Gilmore to come back next week to make this unit a more effective one.
Run Defense: The front seven has shown flashes of excellence, but former Bill Willis McGahee has found enough room to run. Not as good as last week's Ravens performance, but not as bad as the first two weeks either.
Special Teams: Marcus Easley made the team this fall because of what he brings to the table on special teams. Not only is he an above-average returner, his return coverage skills have been top notch so far. He is quietly making a case to be the AFC's special teams representative in the Pro Bowl. And then Travis Benjamin happened.
Coaching: Same thing as the first few weeks. The coaching staff has not figured out how to keep momentum. Buffalo is up 10 and dominated all facets of the game in the first quarter, but bad offensive series allowed the Browns to stay close and eventually take the lead. Zero adjustments and zero flexibility. Last offensive possession of the half was another bad display of time management.