It's not often you think of an LSU wide receiver as possibly being the top wide receiver in the nation, but junior Jarvis Landry needs to be in consideration.
The 6'1", 195-pounder from Convent, La. has been a big reason why the new-look Tiger offense has been so successful during the first month of the season, catching 34 passes for 520 yards and an SEC-leading seven touchdown passes.
His strong start to the season turned heads. He was added to the 2013 Biletnikoff Award watch list in late September, which is given to the nation's most outstanding wide receiver.
Statistically is he the best in the country? Of course not.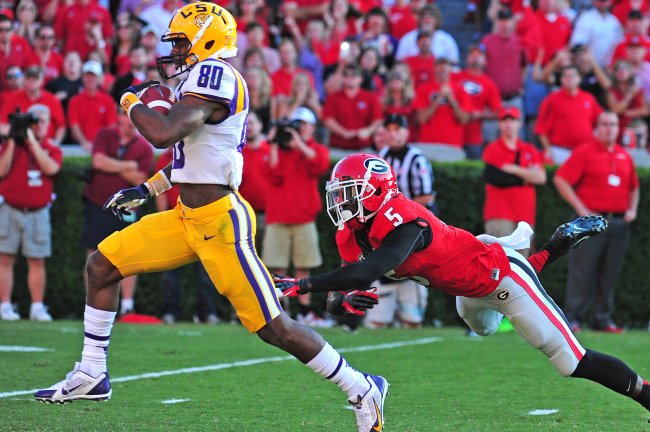 Scott Cunningham/Getty Images
There are players all over the country that have better numbers, which can be explained away in a variety of ways—system, supporting cast and even strength of schedule.
Even in the SEC, Texas A&M's Mike Evans and Vanderbilt's Jordan Matthews have better numbers. But Landry has emerged as an ultra-reliable target for Tiger quarterback Zach Mettenberger, giving that offense the jolt it so desperately needed.
FBS Receptions on Third Down

| | | | | |
| --- | --- | --- | --- | --- |
| Player | Rec. | Yards | YPC | TDs |
| Jarvis Landry - LSU | 13 | 269 | 20.69 | 5 |
| Willie Snead - Ball State | 13 | 205 | 15.77 | 4 |
| Julian Jones - Arkansas State | 13 | 138 | 10.62 | 1 |
| Tyre'oune Holmes - Southern Miss | 13 | 107 | 8.23 | 1 |
| Jace Amaro - Texas Tech | 12 | 205 | 17.08 | 1 |
| Ryan Grant - Tulane | 12 | 178 | 14.83 | 2 |
CFBStats.com
He leads the nation in receptions of 10 or more yards with 25—a whopping 73.5 percent of his receptions. He's also a major weapon in critical downs. He leads the SEC in third-down catches with 13 and yards with 269.
Why the trust in Landry?
He's fearless.
In the clip above at the 2:11:19 mark, Landry goes over the middle and lays out, knowing he's blanketed by two Bulldogs and has a safety bearing down on him. It was a critical 3rd-and-10 that kept the Tiger drive alive, eventually leading to a touchdown to tie the game early in the fourth quarter.
This is par for the course for Landry.
He made one of the catches of the year last year in the regular-season finale against Arkansas, going up, reaching behind him and snagging the pass one-handed over a defender.
The down and distance on that play? Third-and-8. See a trend?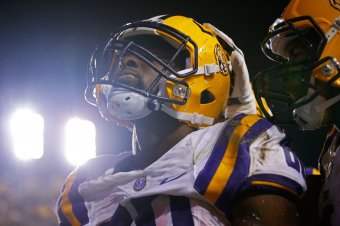 Chris Graythen/Getty Images
But it isn't just the numbers that makes Landry so impressive, it's the fact that he's doing it with a teammate—fellow junior Odell Beckham, Jr.—also having a stellar season. Beckham is fourth in the SEC with 507 receiving yards, one spot behind Landry.
All of this while playing in a pro-style offense that is still predicated on establishing the run behind LSU's seemingly endless stable of running backs.
Just how good is Landry? B/R's own Matt Miller projects him as a possible first-round pick in the 2014 NFL draft if he decides to come out.
Is Jarvis Landry the best WR in the country?
"He's shown the concentration to track the ball on deep routes and fight through traffic for the ball underneath," Miller wrote in his Week 5 stock report. "Landry has speed and toughness, making him an A.J. Green-style dual-threat receiver."
It's still early, and LSU has major tests coming against tough defenses, including a home game versus Florida in two weeks and a trip to Alabama in early November against the always stout Crimson Tide. But during the first month of the season, an argument can be made that Landry is the best receiver in the game.
He has the speed to stretch the field, the toughness to go over the middle and the attitude needed to be a major weapon in a variety of ways.