What's Happened to the Minnesota Vikings TE Kyle Rudolph?
Use your ← → (arrow) keys to browse more stories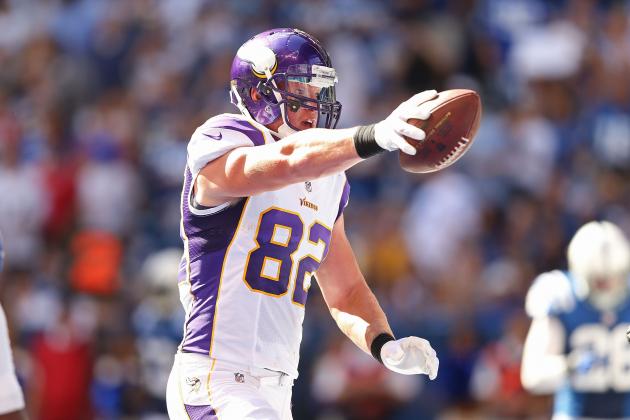 Andy Lyons/Getty Images

After leading the Minnesota Vikings with nine touchdowns last season and winning the Pro Bowl MVP, this was supposed to be a breakout season for tight end Kyle Rudolph. But somehow, that hasn't happened. Projecting his statistics through four games, he will finish with fewer catches, yards and touchdowns from last season.
Taking a step backwards in not the direction he should be going, especially if the Vikings are going to turn this season around.
It's understandable that Rudolph finds himself trailing in receptions to wide receiver Greg Jennings after four games. After all, Jennings was the Vikings' biggest free-agent signing. The problem is that Rudolph also trails Jerome Simpson, who leads the team with 19 receptions.
The Vikings could really use a scoring threat on offense. According to TeamRankings, they rank 18th in the NFL, converting 53.8 percent of their red-zone possessions into touchdowns. If they could have converted one field goal into a touchdown in their games against the Bears and Browns, they might be sitting atop the NFC North along with the Lions.
The red zone is where Rudolph shines. All 13 of his career touchdowns have come from the 20-yard line or less.
Here's a look at a couple of touchdowns from last season.
The first comes from the Vikings Week 3 win over the San Francisco 49ers.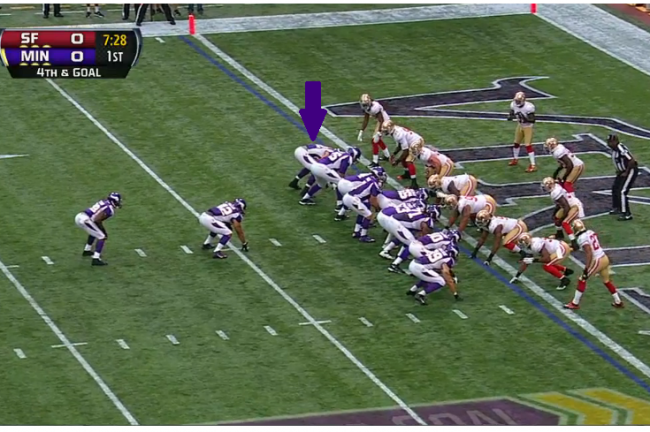 On 4th-and-goal from the one-yard line, everyone in the Metrodome has got to figure that Peterson is going to get the ball.
Ponder fakes the handoff to Peterson and rolls to his left. (This drives me crazy how often the Vikings have Ponder rolling to his left.) Rudolph makes a block at the line of scrimmage and then releases, cutting behind the defender he was blocking.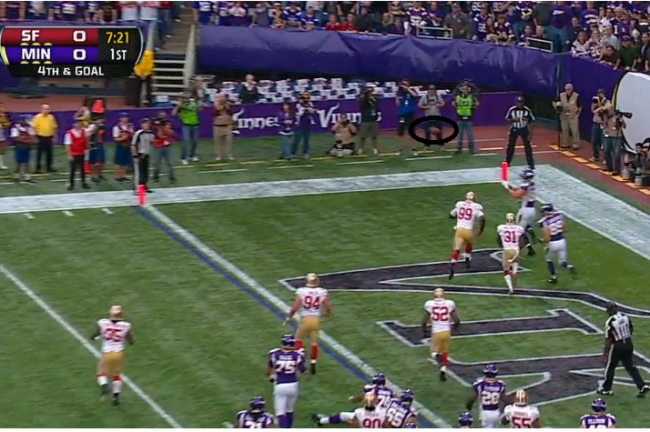 On this particular play, Ponder makes a great off-balance throw—off the wrong foot and across his body—as he is retreating from the on-rushing defender. He floats the ball perfectly in the corner of the end zone where Rudolph makes the touchdown catch.
So what's happening this year? Why is Rudolph not producing?
Here's a look at Rudolph's contribution since joining the Vikings. His stats for 2013 are projected from the first four games.
Kyle Rudolph's Statistics

| | | | |
| --- | --- | --- | --- |
| Year | Rec. | Yds | TD |
| 2011 | 26 | 249 | 3 |
| 2012 | 53 | 493 | 9 |
| 2013* | 48 | 412 | 4 |
*Projected stats to finish the season.
Although his catches only drop by five and he is within 81 yards of his receiving total of last season, the expectation is for him to continue to improve. Only in his third season, it's too early for his career to have plateaued.
An easy answer would be that Adrian Peterson is doing all the scoring when the Vikings are in the red zone. Four of Peterson's six touchdowns this season have come on three runs and one catch, all from inside the seven-yard line.
Another reason for his poor start is that things have not clicked between Rudolph and the Vikings quarterbacks. Looking at Christian Ponder's attempts and completions per game sheds some light on the situation.
Christian Ponder's Passing Stats
Year

Att

/G
Comp/G
2012
30.2
18.8
2013
33.3
19.7
In the first three games this season, Ponder is actually averaging three more passes and one more completion per game than last season. That means Rudolph is not being targeted as often, or he is not catching the balls thrown to him. The following table compares those numbers for the last two seasons.
| | | |
| --- | --- | --- |
| Year | Rec/Game | Targets/Game |
| 2012 | 3.3 | 5.8 |
| 2013 | 3.0 | 5.0 |
This supports the theory that fewer passes are being thrown to Rudolph. It also indicates one of two things: Jennings and Simpson are more productive and are taking most of the attention of Ponder and Matt Cassel, or offensive coordinator Bill Musgrave has forgotten about Rudolph.
Rudolph has been a human-highlight reel, making some spectacular catches in his short NFL career. The following play shows something we don't see very often from Rudolph—a dropped pass.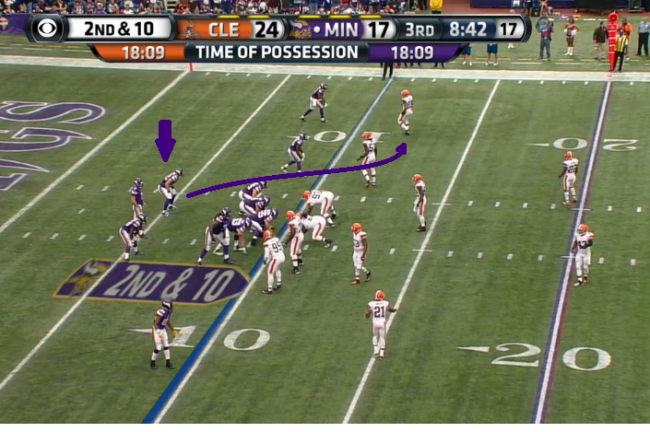 The Vikings line up in the shotgun with Rudolph standing to Ponder's left in the backfield. Rudolph will release when he sees that the Browns are not blitzing.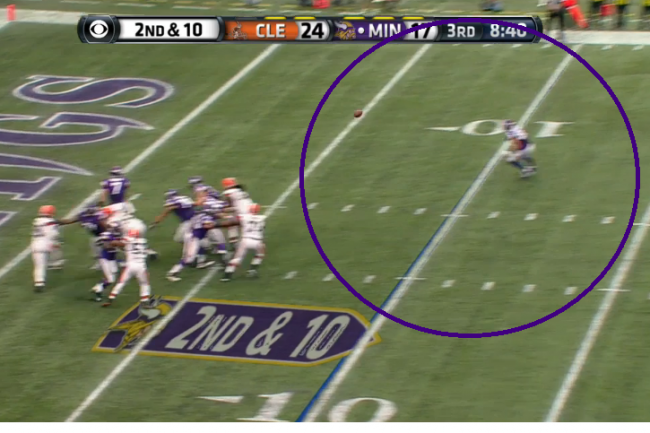 The play develops exactly as it was designed—Rudolph is wide open in the flat with no defenders within five yards of him.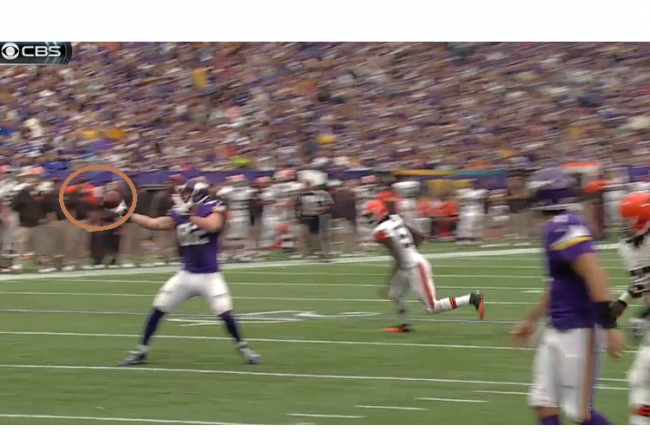 Even though the pass is not perfectly thrown and Rudolph has to reach for it, he has made some tougher catches than this. Unfortunately, on this play, the ball falls to the ground. Drops like this will not instill confidence in the quarterback to throw many balls in Rudolph's direction.
At 6'6" and 259 pounds, Rudolph has the size and potential to be one of the best tight ends in the NFL. But the Vikings need to start using him in the situations where he excelled last year—in the red zone. Rudolph needs to make the catch, preferably for a touchdown.