Boston Celtics Media Day took on a very different look and feel this year, as the roster has more unfamiliar faces than mainstays.
It was the first chance Celtics media members, and transitively fans, have had to mix it up with the franchise as a whole since the big trade with the Brooklyn Nets and Doc Rivers' departure for the Los Angeles Clippers.
Most questions fans have had during this offseason were previously answered or hinted at individually by players or the front office, but Media Day is a unique event that lends itself to more open and honest discussion and interaction.
Celtics media day is a whole lot less frenzied this year.

— Paul Flannery (@Pflanns) September 30, 2013
Questions facing Boston heading into camp include Rajon Rondo and Jared Sullinger's timelines as they return from season-ending injuries, the latter's recent domestic troubles, what the new faces from Brooklyn look like and of course everything about Brad Stevens and his first year in the NBA.
Media Day was used by the hordes of Boston analysts to poke and pry in an attempt to answer some of those pressing inquisitions.
No Timetable for a Rajon Rondo Return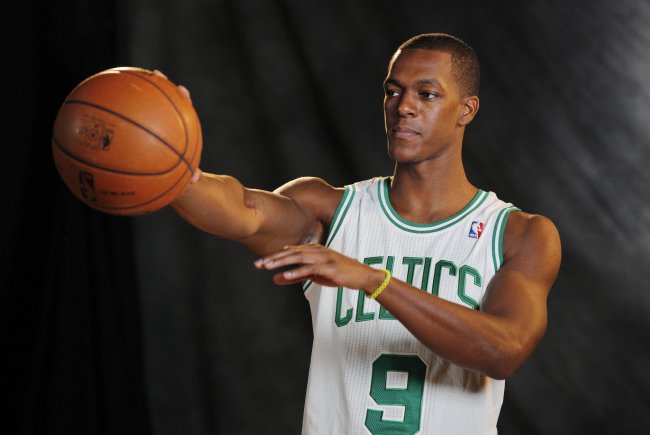 David Butler II-USA TODAY Sports
One item many hoped to get out of Media Day was a possible rough schedule of when Boston's star point guard would return to the floor. Unfortunately, it didn't appear that anyone in the franchise, including Rondo himself, had an idea.
All president of basketball operations Danny Ainge would let on was that Rondo would be at training camp doing non-contact drills. That has to be a somewhat promising sign. Ainge also expects Rondo to be a leader off the floor.
Ainge said Rondo will run through non-contact drills at camp; won't touch timeline talk. Stresses Rondo's leadership even off the floor.

— Chris Forsberg (@ESPNForsberg) September 30, 2013
Rondo appears to be doing just that, as it came out that he invited the entire team and coaching staff to his house for a dinner recently. We've heard of him doing stuff like that before, so it is good to know he is carrying that learned leadership tactic over from the Garnett and Pierce years.
Ainge: Rondo invited everyone, coaches included, to a big dinner at his house.

— Jay King (@ByJayKing) September 30, 2013
As far as Rondo on his return, he was pretty noncommittal. There is a chance of a comeback before the winter months, but that seems doubtful.
Still, it was good to hear from Rondo and see him interacting in this environment. That he looked strong, according to The Boston Globe's Gary Washburn, was a bonus.
Rondo on when he'll play: Sometime in the winter, maybe the fall. You never know.

— Baxter Holmes (@BaxterHolmes) September 30, 2013
Jared Sullinger is Back, Probably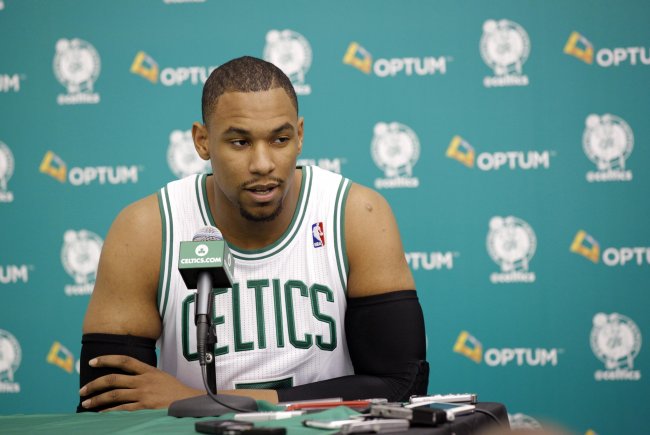 David Butler II-USA TODAY Sports
There was some cryptic back and forth talk on the Celtics second-year power forward, as can be expected, given his health concerns and current legal trouble.
Jared Sullinger on coming back from back surgery: "I'm not close."

— Gary Dzen (@GaryDzen) September 30, 2013
The player seemed fairly negative, according to tweets from The Boston Globe's Gary Dzen. Using phrases like "not close" can be misleading for fans. Keep in mind that Boston is still a month away from regular-season basketball. Still, that was a bit of a frightening note early on in Media Day.
Ainge: Sullinger moving better than last summer, but needs to get back in shape. Asked when he expects Sully ready: "tomorrow morning"

— Jay King (@ByJayKing) September 30, 2013
Later, both Sullinger and Ainge seemed to shed a bit more positive light on the player's health. Ainge made note that he looks healthy and is moving well, and that he is expecting him to be good to go as soon as he is needed.
Sullinger, himself, made note of what exactly he is able to do right now and what he will be working on during training camp. He politely refused to comment on his recent domestic issues, as did Ainge when asked about possible punishment from the team.
Sullinger: "I have no limitations... Back to playing, practicing, doing everything, taking charges."

— Jay King (@ByJayKing) September 30, 2013
The "not close" quote reported by Dzen still concerns, but overall it sounds like Sullinger is on the track for a healthy start to the 2013-14 season.
Gerald Wallace Still Doesn't Seem Totally Invested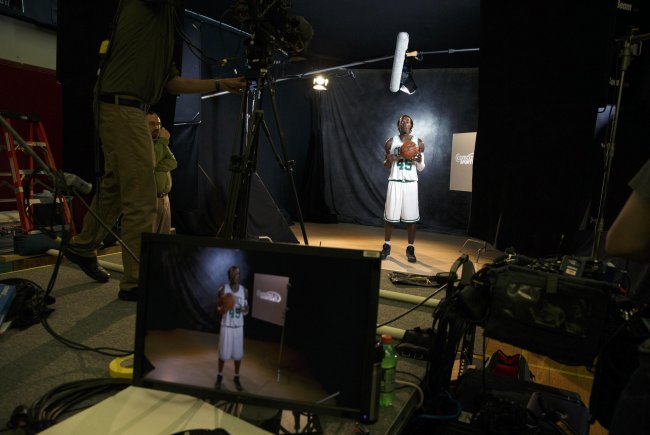 David Butler II-USA TODAY Sports
A background item that many Celtics fans were confused by was the lack of a Gerald Wallace appearance since news of the trade broke in June.
Heading to Boston Celtics Media day this afternoon. I'm told Gerald Wallace finally did show in Boston the other day.

— Jeff Goodman (@GoodmanESPN) September 30, 2013
He wasn't present when the other newcomers were introduced, and there had been little-to-no word from him on the trade or his enthusiasm at being a member of the Boston Celtics.
Gerald Wallace says talks of him not wanting to be on #Celtics are "so far from the truth." Adds he's a #RedSox and #Patriots fan.

— Jessica Camerato (@JCameratoNBA) September 30, 2013
Fans and media members got their first taste of Wallace at Media Day. They left feeling a bit uneasy and not at all convinced that he can have a bounce-back year. He tried to calm concerns for his absence by admitting to a state of shock after the trade. Understandable, but after the year he had, he shouldn't be too surprised that he was included in trade talks.
Gerald Wallace said he was "caught off guard" by the #celtics-#nets trade. Said he wants to be in Boston. Said he was just stunned by deal

— gary washburn (@GwashNBAGlobe) September 30, 2013
The worry is that he hasn't been too focused on basketball or his new team. Things like just finding out the first preseason game is a week away, according to RedsArmy.com, or not meeting your new bosses until three months after a trade, are small red flags that we may view as larger in hindsight.
In what seemed like maybe a face-saving move with fans, Wallace admitted to being a Red Sox and Patriots fan. Any words in praise of Tom Brady by a Boston athlete give the player immediate brownie points moving forward. Wallace has been around a long time and been in a lot of places, he's good at this.
With all that said, Wallace sounded like he was being open and honest with the media. He also looks to be in good shape.
The Brad Stevens Love Train Rolls On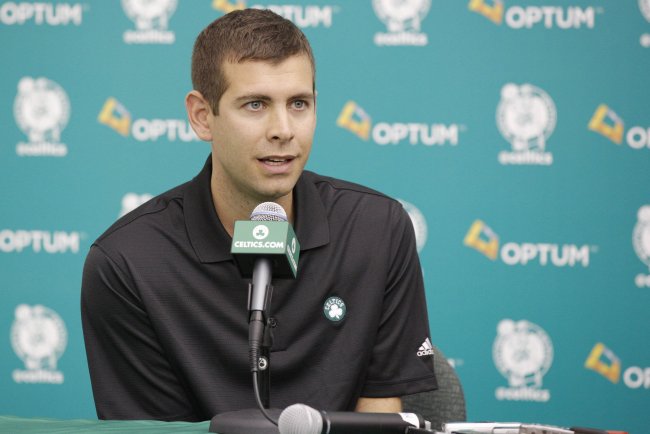 David Butler II-USA TODAY Sports
The new Boston Celtics head coach is riding a nice streak of compliments and well-wishes entering his first season in the NBA.
However, it has to be noted that he hasn't lost a game yet. If once the season gets underway and the Celtics start losing more than they win, Stevens will become somewhat more of a target for criticism. Until then, though, it is a beautiful day in his neighborhood.
Ainge asked how his impression of Stevens has changed since hire, jokes: "I'd like to give him a four-year contract extension."

— Jay King (@ByJayKing) September 30, 2013
Praises rained down from most players and, of course, the man who hired him a couple months ago, Ainge.
Rondo said they were becoming BFFs. Rookie Kelly Olynyk went over the top to call him a genius, and Ainge was ready to give him a contract extension before Game 1.
Kelly Olynyk on Stevens: "He's a basketball genius. ... He sees things in the game that people don't see on film when they have rewind."

— Ben Rohrbach (@brohrbach) September 30, 2013
Jeff Green appeared to be a bit more realistic about viewing this upcoming season as it will count towards Stevens' track record.
Jeff Green on Brad Stevens: "He's not going to be perfect. Everybody is used to a certain standard around here, but it's going to take time"

— Baxter Holmes (@BaxterHolmes) September 30, 2013
All in all, there is little to complain about yet concerning Boston's helmsman.
Takeaways
The major takeaway from Media Day was that Celtics fans should have little expectations for the coming season, whether that means expectations of wins, playoff seeding or even the healthy return of their favorite players.
Everyone from Ainge to Wallace stressed that there are too many question marks right now to make a prediction on the year's outcome. Boston could wind up winning 20 games, or they could wind up playing the Miami Heat or Indiana Pacers in the playoffs. Neither would necessarily shock.
Rondo on Stevens: this is his team, this is my team. I've been very supportive of him and he's been very supportive of me.

— Baxter Holmes (@BaxterHolmes) September 30, 2013
A second takeaway is that for now, our concerns about Rondo as a leader should be put on the back burner. He was a leader on Media Day, bouncing around from teammate to teammate, giving candid interviews and laying praise on those who needed it.
He toed the company line concerning his return, which is frustrating, but also speaks to a piece of that leadership idea he is projecting. What we should want out of Rondo throughout his return process is to be a player and person that his colleagues want to be. To be a leader during a rebuild such as this, being a good role model is the best route to take.
With Olynyk, Sullinger, Avery Bradley and the rest of Boston's young roster taking their cues from him, Rondo started strong at Media Day.
Wrapping Up
For now, there are still a great many questions entering training camp. When looked at strictly through a definite answer lens, Media Day didn't divulge much.
Boston has been introduced to Brad Stevens, Kris Humphries, Vitor Faverani, Gerald Wallace and Kelly Olynyk, but still doesn't know what to expect out of them. They've been assured that Rondo and Sullinger are moving in the right direction towards a healthy return, but don't know what to expect from them or when they might see it.
Phil Pressey on Rajon Rondo: "The way he walks, the way he talks, it's pretty cool to watch."

— Ben Rohrbach (@brohrbach) September 30, 2013
Training camp will be an interesting few weeks for these Boston Celtics. Beyond those bigger names, there are some young guys who will be fighting for playing time.
Especially look for Phil Pressey to try and win that point guard spot in Rondo's absence. That will grant a better idea of what the roster will look like with Rondo's return, as Boston can keep from an immediate positional shift and ensuing chain reaction.
Media Day is over and training camp is here. Fans will finally get a real taste of what some of these new pieces look like off the podium and on the hardwood.