It's simple, USC. There's no need for a lavish committee or a search that will drag out far longer than needed. All you need is a blank check, a charter jet to Boise, Idaho, and a "yes."
The search for the Trojans' next coach should begin and end with Boise State head coach Chris Petersen. Until he says no—and really, he should have to tell them twice just to be certain—this should be the name at the top of their wish list.
Better yet, this is their wish list.
After getting blown out against Arizona State, the inevitable came early. USC fired Lane Kiffin early Sunday morning and named defensive line coach Ed Orgeron its interim coach for the rest of the season.
Orgeron will serve as caretaker. Once the season has concluded—even if USC wins the next eight games in convincing fashion (it won't, but play along)—he will be relieved of his duties.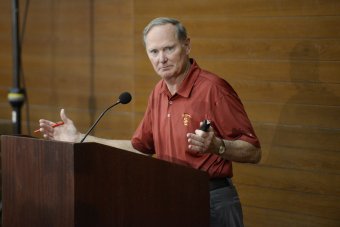 Kelvin Kuo-USA TODAY Sports
In the short term, however, Orgeron will attempt to provide some stability and calm to a program that has been in turmoil over the past few seasons. For the long term, finding such serenity will be up to athletic director Pat Haden, who finally came to terms with a decision he has delayed making for the past 12 months.
It's been in the making for some time, of course. It's likely that Haden's long-term plan already has a blueprint, but the timeline was expedited as soon as Arizona State dropped 62 points on a Trojans defense that had been the lone bright spot for the team all season.
It was always a matter of when, but this has been decided. Now, it's a matter of who.
Over the next few weeks, there will be plenty of intriguing coaches with widely varied backgrounds linked to USC. Coordinators and head coaches from both college and the NFL will likely get looks, and the interest in many cases will be mutual.
Although the USC football program has issues—dealing with the tail end of NCAA sanctions—there's a solid foundation of young players in place. The defense, in particular, is ripe with young defenders, and the team's resources and facilities still stack up with just about any other program in the nation.
That brings us to Petersen, who is happily employed (we think) and severely underpaid by Boise State. He could also finally be ready for a new challenge, according to CBS Sports' Bruce Feldman.
That's not to say that Petersen would automatically drop everything and move shop to Southern Cal. He's turned down bigger offers and bigger paychecks in the past (as recently as UCLA in 2011), and he could potentially have a buffet of intriguing options to pick from this year. Let us not forget that Texas could also be in the market for a new head coach in the next few months, and if that's the case, Petersen's agent could be a busy man.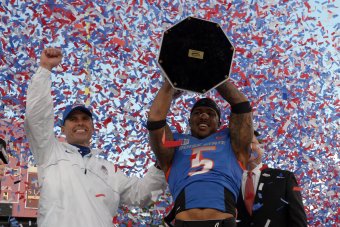 USA TODAY Sports
But if the head coach is willing to listen to the Trojans' first pitch, then the full-court press should be on. Everyone else should be a backup plan, at least until further notice.
Since 2006, Petersen has led Boise State to an 87-10 record. An already impressive mark could have been even better if it weren't for a few untimely missed field goals, but his football resume still speaks for itself.
He's gone up against powerhouse teams and won; just ask Oklahoma, Oregon, Virginia Tech and Georgia. He's pushed others—like Michigan State—to the brink. The "they haven't played anybody" argument is now long dead, or at least it should be by now.
His teams have always been well-coached and prepared. Petersen is 5-2 in bowl games, and there's a quiet confidence in the way he coaches.
These accomplishments have come despite an obvious ceiling in Boise and, of course, a limited recruiting market. That's not a knock on the Broncos by any means; it's simply reality.
Who Should Be the Next USC Coach?
Boise State has landed zero 4-star or 5-star recruits since 2008, according to 247Sports. In this same time, USC has landed 80 4-star and 5-star players. Now, imagine what Petersen might be able to accomplish with a batch of the nation's premier players on a yearly basis.
It's not that easy, of course, but the potential has to be intriguing for both parties.
On one hand, the salary would be a dramatic uptick from the approximate $2 million annually Petersen currently makes. Again, however, the opportunity for money elsewhere has been there for quite some time; Petersen has simply been content where he is.
Coaching in L.A. would also be a dramatic change from operating on your own Idaho island. It's a position (and pressure) some coaches would love to take on; others would be content operating in a familiar environment. The money, resources and possibility to coach at USC are enticing, but it's by no means a slam dunk.
The timing, however, is intriguing, especially with Boise State looking vulnerable for the first time in a long time.
The team's Week 1 road loss against Washington was an eye-opener. The loss itself wasn't necessarily shocking—Boise State had to replace almost its entire defense in the offseason—but the 38-6 score was. It's not a score we've grown accustomed to seeing. The Broncos then lost a thriller at Fresno State in Week 4, giving the team two losses before October.
Are the relative struggles in 2013 enough to get Petersen to leave? USC needs to find out and hopefully convince him that the answer is "yes." Pat Haden's job (and legacy) will depend on finding a coach to stabilize an unstable situation, and backing up the Brinks truck in Boise is the place to start.