Biggest World Football Blunders of the Weekend Featuring Gareth Bale and Robinho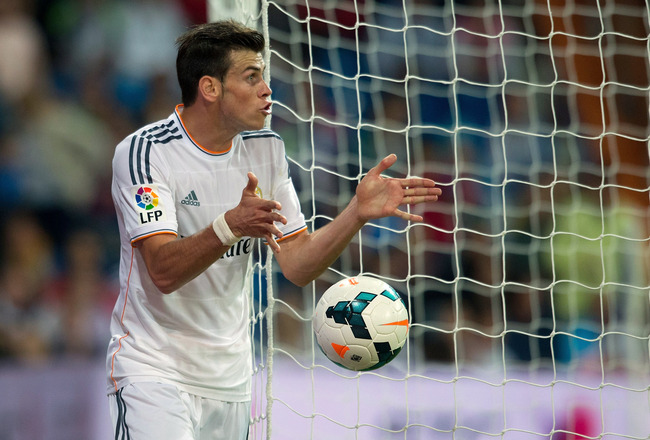 Gonzalo Arroyo Moreno/Getty Images
It's been another busy weekend for blunders around the world of football.
This week's collection includes some Oscar worthy agony acting from Thibaut Courtois after a clash with Gareth Bale, shocking misses from Robinho and Piotr Trochowski, and a pitch-side selfie in Munich.
If you missed last week's entry featuring Di Canio, an unwanted Qatari crossbar challenge and some truly calamitous goalkeeping then click here to read it now.
So, without further ado, hit the button below or simply click through the arrows to have a browse through the latest misadventures from across the global game.
Robinho Turns an Open Goal into a Pass Back to Safety
Before Neymar there was Robinho.
He, too, was touted as a potential successor to the great Pele during his own stint as Brazil's most hyped young talent.
It's a punishing burden which the former Manchester City attacker has long struggled to overcome, and at times it seems that his genuine qualities are over-looked due to his shortcomings against such legendary expectations.
However, the tricky Brazilian can often be his own worst enemy when it comes to perpetuating his erratic reputation.
A prime example came at the weekend as AC Milan faced off against visitors Sampdoria at the San Siro.
With the goal at his mercy as goalkeeper Angelo De Costa's palmed away save set the ball loose in the area, Robinho somehow managed to produce a tender back pass rather than an instinctive finish.
This isn't the first time that Serie A has seen the forward go missing in front of an open goal. Perhaps it's something to do with teams from Genoa, but against Sampdoria's cross-town rivals back in December 2011 Robinho had a similar crisis of composure, spurning an easy chance laid on by teammate Marek Jankulovski.
Before his lapse of concentration against Sampdoria on Saturday, the Brazilian's fumble against Genoa was dubbed the worst miss of his career, an accolade that could already boast more than a few contenders.
Rounding off a weekend to forget for the Milan star, Robinho was filmed the following day at the club's training complex riding a bike one-handed with his child tucked under his other arm. It seems that his questionable decision making isn't only limited to his actions on the pitch.
In off the Woodwork Via the Goalkeeper's Head in Holland
It wouldn't be a round up of the weekend's best world football blunders without a few goalkeeping howlers.
First up is Filip Kurto of Eredivisie outfit Roda JC Kerkrade.
Having misjudged the flight of Jens Toornstra's looping freekick, the keeper looked helpless as the ball floated over him, rebounding off the upright and into the goal via the back of his head.
The unfortunate finish set the scoreline to 2-1 in FC Utrecht's favour, although Roda JC were able to salvage a point as the match finished 3-3.
Dortmund Fan Takes a Selfie with 1860's Wojtkowiak During Throw-in
Grzegorz Wojtkowiak may not be the first name to mind when thinking of a player that fans would go the extra mile to take a photograph with.
Yet during TSV 1860 Munchen's 2-0 home defeat to Borussia Dortmund at the weekend, one fan of the visiting side took the chance to turn a throw-in into a photo opportunity.
It's unclear whether the Dortmund supporter was hoping to put Wojtkowiak off his throw or merely thinking quick to grab himself some bragging rights with a rather unique claim to fame.
Regardless of his intentions, his unlikely self shot subject didn't look too impressed as he leaned out from the stands to snap the image.
Sevilla's Trochowski Misses an Open Goal
Sevilla's Piotr Trochowski may be one of the less heralded playmakers in La Liga but the Polish-born German international's electric pace and elegant technique makes an exciting attraction in Spain's top-flight.
His quality was underlined last September with a well-taken goal against the then reigning champions Real Madrid, which drove his team on to defeat Mourinho's Galacticos 1-0.
Just over a year later and Trochowski once again finds himself in the headlines although this time it's for all the wrong reasons.
Finding himself completely unmarked in the Real Sociedad box at the weekend, teammate Kevin Gameiro squared the ball to his freed-up colleague. Unfortunately, Trochowski scuffed his shot and the ball crawled past the wrong side of the post.
Gameiro's exasperated reaction said it all, and Sevilla went on to draw the game 1-1. Had Trochowski kept his nerve, his team could have returned home from the Basque country with all three points.
Courtois Screams Medic After Bale's Attempt to Stop Time Wasting
Staying in Spain, and it seems as though Atletico Madrid's Courtois, once again on loan for the season from Chelsea, has been keeping a closer eye on events at his parent club than some people may think.
The Belgian goalkeeper's reaction, following a challenge by an impatient Gareth Bale, could well have been inspired by the now infamous theatrics of the Swansea City ball boy who fell to the floor squirming after a similar incident with Eden Hazard in the English League Cup in January.
While Chelsea's winger may have been sent off for the altercation at the Liberty Stadium earlier this year, a frantically protesting Bale got off without so much as a warning from the referee as Real Madrid were finally beaten by their rivals for the first time in the league since 1999.
Unfortunate DC United Defender Chips His Own Goalkeeper with a Deflection
Considering the histrionics and incompetence that surrounds it, it may seem harsh to highlight Conor Shanosky's own goal as a blunder.
After all, with the attacking play that led to the defender chipping the ball out of the reach of his stranded goalkeeper, it was hardly an unforced error.
There's another why Shanosky's deflection qualifies for the list however. What is supposed to be happening at the five second mark in the clip above?
As his team lose possession of the ball, the DC United midfielder appears to pause for a moment as he gets in the way of his opposite number, allowing the Toronto attacker to turn and run towards his unprotected defence.
The resulting goal increased the scoreline to 3-1 in favour of Toronto, and considering the lack of aggression or interest shown by the meek DC player who stopped for a polite chat as he was dispossessed in the middle of the park, a clumsy central defender may be the least of the visiting team's worries.
Midweek Bonus 1: Lithuanian Goal Scorer Celebrates with Swamp Dive
Delving into the midweek action, we now head to Lithuania where journeyman striker Nikolaj Misiuk celebrated a scrappy goal for his current side FK Trakai against FK Silas, by indulging in a spot of swamp swimming.
Judging by the boggy conditions of the pitch it may be some time before we hear from Misiuk—who once spent some time on trial at Plymouth Argyle—and his waterlogged celebrations again.
Midweek Bonus 2: Fair Play Is Forgotten as Moldovan Match Boils over
Unless a player suffers a head injury, there's nothing in the laws of the game that demands a team should put the ball out of play when another footballer stays down after a challenge.
There is an unwritten code of professional courtesy in the modern game however that dictates that the ball should be put out in the case of a player complaining of a serious knock.
Home side FC Dacia Chisinau clearly expected more from their visiting opponents FC Milsami who continued to play on and attempt to surge forwards as Vasili Pavlov lay prone in their penalty area.
Even after Chisinau's defence put the ball out for a throw in order for their Number 10 to receive treatment, the resulting throw-in was taken quickly, allowing Milsami's attackers to hare through their bemused opponents.
Needless to say, a number of irate tackles flew in from the defenders in yellow as tempers flared, with Chisinau incensed by their opponent's actions.
Midweek Bonus 3: Goalkeeper's Face Suffers Stamp in Swiss League Match
This week's edition of the biggest world blunders of the weekend ends on a rather brutal note, with David Zibung leaving the field battered and bloodied after receiving a boot to the face midweek.
While there didn't appear to be any intent or malice from Grasshoppers' striker Izet Hajrovic as he followed through his run over Zibung's head, the injury the goalkeeper sustained was horrific although he was able to walk off the field unaided.
Football is often derided as a soft spot played by divers and cowards by its most myopic critics. Just like any other game played by high-performance professional athletes.
However, the forces involved can lead to horrific results should mistakes be made.
Keep Reading