For the third consecutive year, Phil Heath is your Mr. Olympia champion.
Thanks to a perfect blend of mass, definition and muscularity, the 5'9" 33-year-old once again stood out against the competition. Along with the pride of knowing he's the proud owner of the most impressive physique in the world, he earned a hefty paycheck. This year's Mr. Olympia featured a record $675,000 payout.
Your 2013 Mr. Olympia is @PHILHEATH 2nd goes to @KaiGreene

— Olympia Webcast (@OlympiaWebcast) September 29, 2013
Heath's domination in recent years isn't just due to a lack of competition either. The 2013 Mr. Olympia marked the first time since 1984 that three former winners competed in the same competition. Four-time winner Jay Cutler and 2008 champion Dexter Jackson were all gunning for the same prize.
This is the first time since 1984 that 3 past champs have competed at #Olympia @PHILHEATH @mrojaycutler & @MrOlympia08 are here.

— 2013 Mr. Olympia (@MrOlympia013) September 29, 2013
Even without those former champions in the field, the competition would have been tough. It was Kai Greene and Dennis Wolf who joined Heath in the final three of the prejudging round. However, Heath's density, symmetry and tone were simply superior as he showed that he's clearly still the world's best body builder.
The excitement of the loaded class of finalists was palpable as the 10 competitors opted to go out in the crowd when the time for the posedown came:
Posedown time and all 10 empty the stage and head into the crowd!!!

— Team MuscleTech (@TeamMuscleTech) September 29, 2013
The final results weren't nearly as surprising as the impromptu interaction with the crowd though. Heath once again topped the standings while Kai Greene fell just short with the same second place finish he earned in the 2012 competition.
NPC News Online had the final standings for the top 10 finalists:
Final top Olympia placings 6- Cutler 5- Dexter 4- Rhoden 3- Wolf 2- Greene 1- Heath #olympia2013 @Tadthedietcoach pic.twitter.com/Ob1taqnH8g

— NPC News Online (@NPCNewsOnline) September 29, 2013
10th-6th place Olympia results 10- Beyeke 9- Warren 8- Ramy 7- Winkllar 6- Cutler #olympia2013 @Tadthedietcoach

— NPC News Online (@NPCNewsOnline) September 29, 2013
Figure Results
Heath wasn't the only competitor to earn an incredible third title. Nicole Wilkins captured her third career Figure title in a competitive class. Muscle Magazine tweeted out the top six competitors:
#6 Anne Titone, #5 Mallory Haldeman, #4 Heather Dees, #3 Candice Keene, #2 Erin Stern, #1 Nicole Wilkins!

— MuscleMag (@MuscleMag) September 29, 2013
212 Class Results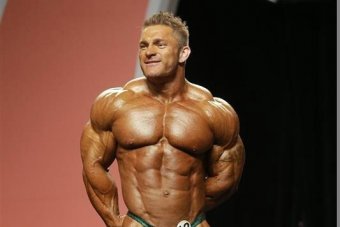 The 212 competition bore an interesting resemblance to the open weight Mr. Olympia class. Flex Lewis repeated as champion in a field that featured three former winners. Lewis relied on his impressive striations and definition to a win over a deep field. Muscle Phone had the results:
212 #olympia results: 6. Sami al Haddad 5. Eduardo Correa 4. Jose Raymond 3. Kevin English 2. David Henry 1. @Flex_Lewis

— Muscle Phone (@MusclePhone) September 29, 2013
With the largest payout in Mr. Olympia history and an ever growing stable of challengers, Olympia weekend 2014 should become an even bigger spectacle as these champions look to defend their respective titles.