The new-look Utah Jazz are going to be one of the most exciting teams to follow in the entire NBA this season. And that's how I felt before media day. Now, I'm almost giddy.
We finally got to see all the component parts of this seemingly perfect rebuilding the organization has engineered—decked out in Jazz gear and brimming with confidence.
The five lottery picks from the last four years who are set to step into the starting lineup, as well as the rest of Utah's revamped roster reported for photos and interviews that will serve as the official introduction of the 2013-14 Jazz to the world.
New Beginning, New Roles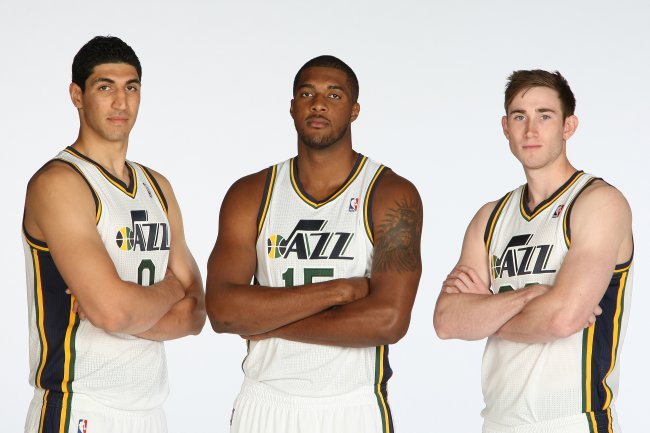 Melissa Majchrzak/Getty Images
Some teams try to hide the fact that they're rebuilding. Or they won't come right out and say it. But the Jazz? Well, it wouldn't have taken Columbo to uncover the evidence of a rebuild around this media day. In fact, the general manager put it out there in his opening statement. From the Deseret News' Jody Genessy:
Jazz GM Dennis Lindsey on 2013-14: "It's a beginning point."

— Jody Genessy (@DJJazzyJody) September 30, 2013
And Utah's beginning point is better than most. Each of the presumed starters is loaded with potential, and excited for more responsibility.
When Locked on Sports' David Locke asked Derrick Favors if he was ready to step into a bigger role, the former No. 3 pick simply said, "Yeah, I've been ready."
Gordon Hayward is too.
Gordon Hayward: "I'm focused on being a better leader this year, being a better basketball player and helping us win games" #JazzMediaDay

— Jeremiah Jensen (@JJSportsBeat) September 30, 2013
Those two will likely be the captains of this stripped down and rebuilt ship, but they're not the only ones in line for a lot more minutes and a lot more shots.
One name that popped up over and over during interviews was Alec Burks—a guy who posted an average of 19 points a game in college, but has yet to see an opportunity to really put his scoring ability on display in the pros.
Well, Burks must be aware that he's about to get his shot, because he's been hard at work this summer. Locke conducted all the individual player interviews and had this to say as he was wrapping up for the day:
The player that other players were talking about from the month of workouts was universally Alec Burks

— David Locke (@Lockedonsports) September 30, 2013
Influence of Stockton, Malone and Sloan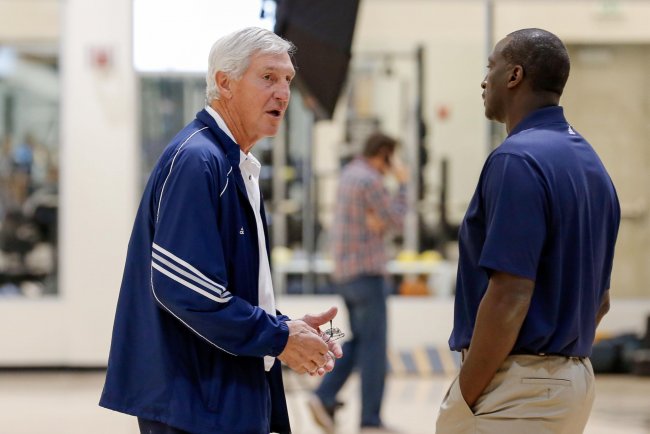 Chris Nicoll-USA TODAY Sports
Jazz legends John Stockton and Karl Malone haven't suited up in years and Jerry Sloan is no longer in the huddle during timeouts, but all three have already had an impact on the 2013-14 team.
Stockton is arguably the greatest pure point guard in NBA history, and he is willing to pass on some of his knowledge and experience.
Combo guard Burks and rookie point guard Trey Burke worked with Stockton for three days in Washington, and it sounds like it was time well spent.
In his interview with Locke, Burke said of Stockton, "He taught me a lot about patience and the ball screen, shot selection, different reads out of the pick and roll. He taught me a lot in the three days I was with him."
He also offered a candid response to a hypothetical Locke posed. When asked if he would shoot a jump shot after seeing Russell Westbrook go under a screen during the first game of the season, Burke quickly answered, "Maybe before I went to Spokane, I would've done that."
That remark should be met with some great big smiles from Jazz fans who saw Burke struggle during the summer league—largely because of forced shots.
And in an effort to push those great big smiles to all out beaming, I'll add this nugget from Jeremiah Jensen:
One thing John Stockton taught @Trey_Burke3 that stuck with him most: "The better passer you are the better scorer you'll be" #JazzMediaDay

— Jeremiah Jensen (@JJSportsBeat) September 30, 2013
Stockton wasn't the only former Jazzer having fun with the new guys. Karl Malone has been working with Favors and Enes Kanter.
The sessions were a major topic of conversation during Kanter's interview with Locke. He talked about fishing with Malone, spending time with his family and even wrecking his buggy. But it wasn't all fun and games, they worked on plenty of basketball and apparently Malone taught Kanter some of his old tricks:
Kanter on Malone: "Even when he talks you understand why he's a legend...He taught me some secrets I can't say on here." #JazzMediaDay

— Jeremiah Jensen (@JJSportsBeat) September 30, 2013
Finally, there's Sloan. Not many organizations have consultants quite like him—an NBA coaching legend who transformed the Jazz into a perennial Western Conference power.
He'll be called upon by both the coaching staff and management throughout the year for his wisdom and experience—two things that aren't overly abundant on this very young team.
KFAN's Kyle Gunther relayed Jazz president Randy Rigby's thoughts on Sloan's position with the team:
Jerry Sloan will be a sounding board and a resource for the Jazz. Rigby called Sloan a Jazz man.

— KYLE F GUNTHER (@GuntherKFAN) September 30, 2013
Looks like the sounding board is already being put to use. Several other members of the media noted a conversation between Sloan and his former assistant Tyrone Corbin at the start of the day's proceedings. It's something that will certainly happen a lot this year. Corbin is the head coach now, but he came up under Sloan and can still learn a lot from the third-winningest coach in NBA history.
Meeting of minds: Jerry Sloan and Tyrone Corbin are chatting it up at Jazz Media Day. pic.twitter.com/vmPb57SXZb

— Jody Genessy (@DJJazzyJody) September 30, 2013
Extensions for Hayward and Favors
Boone, @lockedonsports, Gordon Hayward, and Favors. pic.twitter.com/IWy8dO0bie

— Andy Larsen (@andyblarsen) September 30, 2013
Hayward and Favors are both emerging stars and the new leaders of this young Jazz team. They're also restricted free agents this summer. So, it makes sense that reporters at the Zion's Bank Center were eager to know how negotiations are going on their contract extensions.
But the organization offered no more than the typical, deflecting answers we're all used to in these situations. Hayward and Favors even joked with Locke about how they'd been coached to answer any questions this way:
Asked Gordon Hayward if his contract situation is a distraction: "No. That's why we hire agents to figure that out." #JazzMediaDay

— Jeremiah Jensen (@JJSportsBeat) September 30, 2013
Digging for some information wasn't completely useless though, as there was some indication from the GM that a deal could get done this year. From The Salt Lake Tribune's Bill Oram:
Dennis Lindsey says Jazz are having conversations with Hayward, Favors agents. Lots of advantages to extensions rather than RFA

— Bill Oram (@tribjazz) September 30, 2013
From the Bay to the Mountains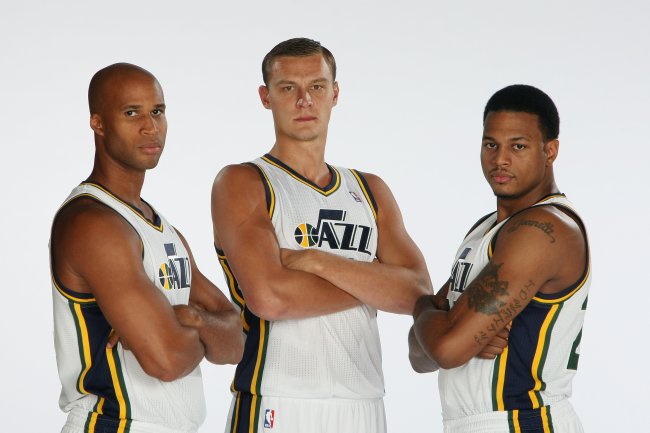 Melissa Majchrzak/Getty Images
As was expected, the biggest stars throughout the day were the presumed starters Burke, Burks, Hayward, Favors and Kanter. But you need more than five guys on a basketball team and the Jazz added a lot this summer.
John Lucas III, Rudy Gobert and Ian Clark all showed up pretty quietly. Brandon Rush, Richard Jefferson and Andris Biedrins did not. They came to Utah as part of a huge three-team trade that sent Andre Iguodala from Denver to Golden State. The Jazz got involved as the team to which the Warriors dumped enough salary to make room for Iguodala.
So, they may have been the least glamorous part of the deal, but Rush, Jefferson and Biedrins all seem intent on restoring some luster to their careers while in Utah.
One of the biggest questions surrounding Rush is whether he or Burks will start at shooting guard. He's a more accomplished player, but fully embracing this rebuild would mean going with the younger guy. When asked about it, Rush offered the political response:
Brandon Rush is okay with starting or coming off the bench for the Jazz this year. pic.twitter.com/lK02xyzOmt

— KYLE F GUNTHER (@GuntherKFAN) September 30, 2013
Either way, his three-point shooting will be a valuable asset on offense and his physical style of defense should help slow down opposing wings.
And speaking of defense: Once upon a time, Biedrins was an up-and-coming specialist on that end. But over his last couple years with Golden State, he's become a near non-factor.
He's hoping to rediscover a significant role as a member of the Jazz:
Biedrins, meanwhile, says he is grateful for a new opportunity. "The last couple years have been bad for me," he said.

— Bill Oram (@tribjazz) September 30, 2013
The most famous player from the Warriors deal is Richard Jefferson. And although he's 33 years old and no longer a consistent 20-point scorer, he could still be an important part of this rebuilding.
As the oldest and most experienced player on the roster, Jefferson will have plenty of tutoring he can offer all the youngsters.
He's already impressing the media. KSL's Jarom Moore's sentiments are right in line with most who covered the media day:
Richard Jefferson has a future as an analyst if he wants it. Quick, clever and very smart. Going to enjoy talking with him.

— Jarom Moore (@jarommoore) September 30, 2013
Biggest Takeaways from Media Day
Chris Nicoll-USA TODAY Sports
The biggest storyline surrounding Utah all summer has been this rebuilding. Media day added some personality to it.
We've been talking about how talented Burke, Burks, Hayward, Favors and Kanter are for months. We've been looking at their numbers in college and in limited roles in the league, always adding the caveat that they were put up against weaker competition.
But that personality—it's a confident one. From all five. They each looked and sounded poised, mature and ready for bigger roles and more responsibility.
And the air of excitement the young guys have generated is almost palpable. Media and fans alike cannot wait to see this team in action.
Prevalent fan sentiment. RT @tagfareed: This is the most excited I've been for a #utahjazz season since year after we got swept out of WCF.

— Jody Genessy (@DJJazzyJody) October 1, 2013
Indeed it is, Jody Genessy.
Wrapping Up
What lineups will look best together? Which of the young guys (if any) will look in over their heads in preseason action? Will they mesh faster than any of us expected?
Those and plenty of other questions will surround the Jazz throughout training camp and probably the whole year.
That much uncertainty with most teams would equate to a nervous or unhappy fan base. But not in Utah. Jazz fans have been excited to see the new guys take over since the 2012-13 season ended.
I guess you could say they feel like Derrick Favors: "They've been ready."
You can find video of David Locke's interviews with all the Jazz players on the team's official website.