MLB Playoffs 2013: Predictions from Wild Card Round Through World Series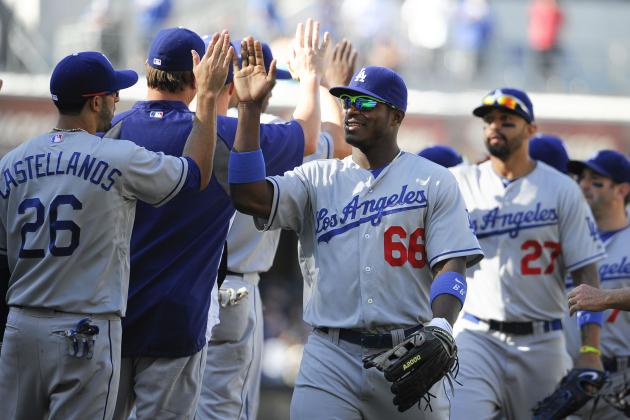 Denis Poroy/Getty Images

The 2013 MLB postseason kicks off this coming Tuesday with the NL Wild Card Game, with the AL Wild Card Game the following day before getting into full swing on Thursday.
The AL wild-card picture has yet to be sorted out, and there could still be some movement as far as seeding is concerned in each league, but for the most part the postseason picture has already taken shape.
As such, here is a look at my complete predictions for the 2013 MLB playoffs from the Wild Card Round all the way through the World Series.
*Just for giggles, here is a link to my postseason predictions from back in early August, and not to brag (I'm absolutely bragging), but I picked all 10 postseason teams right as long as things hold up how they stand today.
Begin Slideshow

»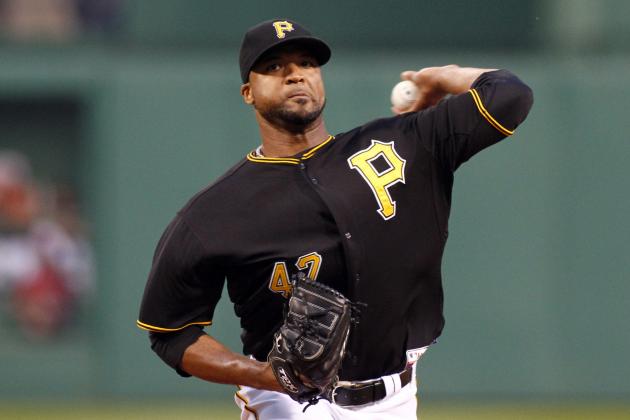 Justin K. Aller/Getty Images
SP Francisco Liriano
Projected Pitching Matchup
Mat Latos (CIN) vs. Francisco Liriano (PIT)
Overview
The Reds have been chasing the Pirates and Cardinals in the NL Central for most of the season, but all three teams have been relatively secure in their postseason standing for much of the year as well.
The two teams will see plenty of each other heading into this game as they met for a three-game series in Pittsburgh last weekend and will close out the season with a three-game series in Cincinnati. The season series is 9-8 in favor of Pittsburgh heading into the final two games, so they've played each other tough all year.
In a one-game playoff, anything can happen—and it will likely come down to which starter can hold the other team at bay. Liriano is 0-3 with a 3.70 ERA in four starts against Cincinnati on the year, while Latos is 1-1 with a 4.08 ERA in five starts against the Pirates.
Prediction: Pirates 4, Reds 2
Game MVP: Francisco Liriano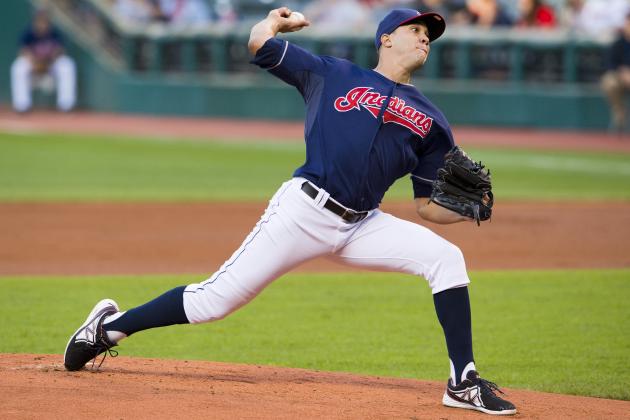 Jason Miller/Getty Images
SP Ubaldo Jimenez
Projected Pitching Matchup
Ubaldo Jimenez (CLE) vs. David Price (TB)
Overview
This matchup is still up in the air, with the Rangers still sitting just one game back in the AL wild-card race, but consider this my prediction that the Rays and Indians hold on and claim postseason spots.
These two teams have been as hot as any in baseball right now, as the Indians are on an 18-5 run—including eight in a row—and the Rays are 12-4 in their last 16 and have won seven of eight.
The Rays took the season series between these two teams 4-2, but they have not played since the beginning of June. It's fair to say they are both different teams than they were then. The Rays no doubt have the deeper pitching staff over a lengthy series, but Indians ace Ubaldo Jimenez may be the best pitcher on either team right now.
Prediction: Indians 6, Rays 3
Game MVP: Ubaldo Jimenez
*Note: If the Indians still don't have a wild-card spot clinched heading into the final game of the season, Jimenez will likely start Game 162 and Corey Kluber will take the ball in the Wild Card Round. Either way, I see the Indians coming out on top in this one, though.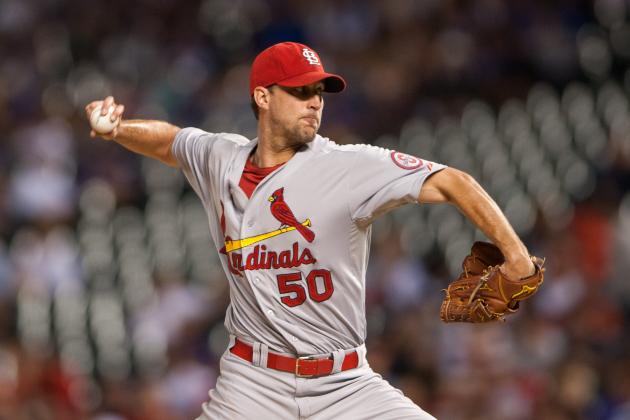 Dustin Bradford/Getty Images
SP Adam Wainwright
Projected Pitching Rotations
PIT: A.J. Burnett, Gerrit Cole, Francisco Liriano, Charlie Morton
STL: Adam Wainwright, Michael Wacha, Shelby Miller, Joe Kelly
Overview
Regardless of who wins the NL Wild Card Game, the Cardinals will be squaring off against a division foe, provided they make the most of their season-ending series with the Cubs and secure the best record in the NL.
Clutch hitting has been their calling card all season, and they will need it in October more than ever with three young, inexperienced arms taking the hill behind Adam Wainwright. The Pirates will have to use Francisco Liriano in the Wild Card Game, but veteran A.J. Burnett should provide a tough matchup for Wainwright all the same.
The Pirates took the season series between these two teams 10-9, including a big three-game sweep the last time the two teams met up. Yet the Cardinals' deep, experienced lineup is the difference here, and Adam Wainwright will follow up a strong Game 1 start with a gem in the clinching Game 5.
Series Prediction: Cardinals 3, Pirates 2
Series MVP: Adam Wainwright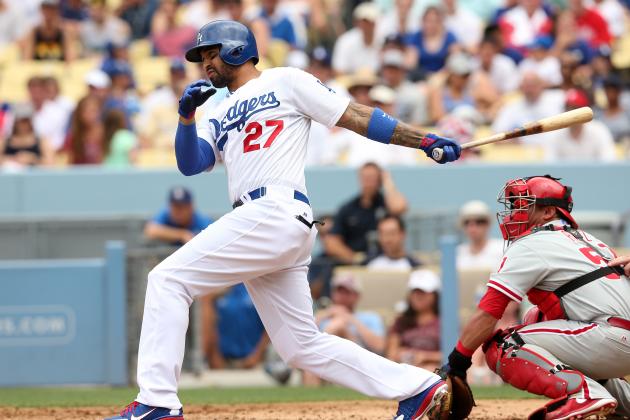 Stephen Dunn/Getty Images
CF Matt Kemp
Projected Pitching Rotations
ATL: Kris Medlen, Mike Minor, Julio Teheran, Paul Maholm
LAD: Clayton Kershaw, Zack Greinke, Ricky Nolasco, Hyun-Jin Ryu
Overview
The Braves and Dodgers have both been red-hot at times this season, but both are sort of limping into the postseason at this point. Much of that has to do with the fact that they've had playoff spots locked for some time now, even before they officially clinched.
The Dodgers certainly seem to have the advantage on paper from a starting pitching standpoint, and with the Braves offense sputtering down the stretch, the edge has to go to the Dodgers at the plate as well. Getting Matt Kemp back and firing on all cylinders could be huge for this team, but if the Braves lineup can heat up, the team is capable of piling up runs.
If the Braves can get a lead, there's no better bullpen in baseball to hold it, but my guess is they won't do that against Clayton Kershaw or Zack Greinke, only managing to squeak out one win before being eliminated.
Series Prediction: Dodgers 3, Braves 1
Series MVP: Matt Kemp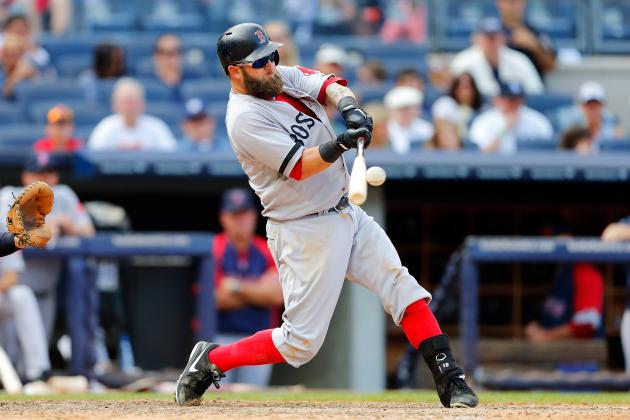 Jim McIsaac/Getty Images
1B Mike Napoli
Projected Pitching Rotation
BOS: Clay Buchholz, Jon Lester, Jake Peavy, John Lackey
CLE: Corey Kluber, Danny Salazar, Ubaldo Jimenez, Zach McAllister
Overview
In a rematch of the exciting 2007 ALCS that saw the Red Sox come out on top in a seven-game series, this pits the red-hot Indians against a Red Sox team that looks to be headed for the best record in baseball.
There is no question that the Red Sox's offensive attack makes them an incredibly dangerous team in October, but the addition of a healthy Clay Buchholz back atop their rotation makes their starting rotation an asset as well. Jon Lester has also pitched very well of late, so if the duo of Jake Peavy and John Lackey can step up, the Red Sox could be unstoppable.
The Indians still have momentum on their side, and Justin Masterson remains an X-factor, as it remains to be seen how he'll be used in October. Yet on paper it's hard to see the Indians' pitching staff doing enough to slow down the Red Sox bats and come away on top in this series.
Series Prediction: Red Sox 3, Indians 1
Series MVP: Mike Napoli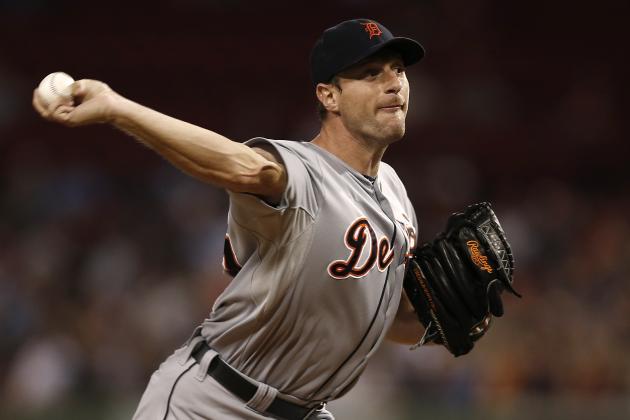 Winslow Townson/Getty Images
SP Max Scherzer
Projected Pitching Rotations
OAK: Bartolo Colon, Jarrod Parker, Sonny Gray, A.J. Griffin
DET: Max Scherzer, Anibal Sanchez, Justin Verlander, Doug Fister
Overview
On paper, this may be the most intriguing matchup as far as the division series goes, as these two teams are polar opposites in the sense that the Tigers roster is loaded with high-profile names and superstar talent, while the A's are short on household names but are as good as any team in baseball at getting meaningful contributions from everyone on the roster.
In the end, the Tigers' veteran rotation of four legitimate frontline arms is the difference in my mind. The young trio of Jarrod Parker, Sonny Gray and A.J. Griffin have held their own all season behind timeless wonder Bartolo Colon, but the Tigers staff is simply better.
The return of Jhonny Peralta makes a terrific Tigers lineup even better, and while Miguel Cabrera is still battling a groin injury, the Tigers offense as a whole is dangerous. The A's won't make it easy by any means, but the Tigers squeak this one out behind a strong Game 5 start from Max Scherzer.
Series Prediction: Tigers 3, A's 2
Series MVP: Max Scherzer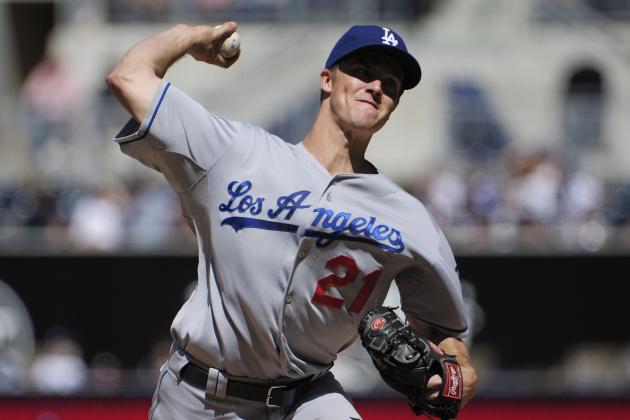 Denis Poroy/Getty Images
SP Zack Greinke
Projected Starting Rotation
STL: Michael Wacha, Shelby Miller, Adam Wainwright, Joe Kelly
LAD: Clayton Kershaw, Zack Greinke, Ricky Nolasco, Hyun-Jin Ryu
Overview
Having to pitch Adam Wainwright in Game 5 of the NLDS works against the Cardinals in a big way, as that leaves rookies Michael Wacha and Shelby Miller to square off against Clayton Kershaw and Zack Greinke in the first two games of the series, both of which the Dodgers take.
The Cardinals get back on track with Wainwright winning Game 3, but the Dodgers take a decisive 3-1 series lead when they chase Joe Kelly early in Game 4 and Lance Lynn fares no better in long relief on the way to double-digit runs for L.A.
Wacha shows he's a future star by out-dueling Kershaw with the team facing elimination in Game 5, but the Dodgers put things away in Game 6 with Greinke throwing his second gem of the series to walk away with NLCS MVP honors.
Series Prediction: Dodgers 4, Cardinals 2
Series MVP: Zack Greinke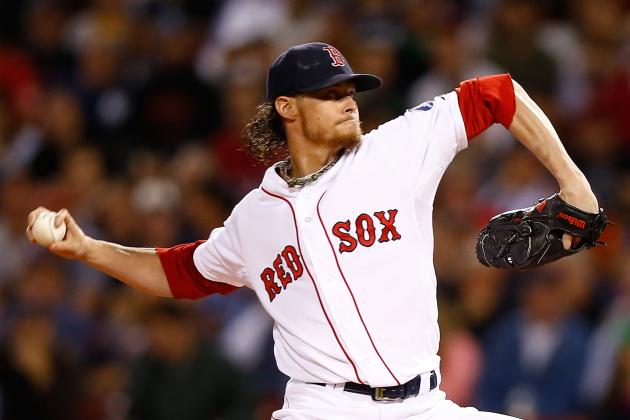 Jared Wickerham/Getty Images
SP Clay Buchholz
Projected Pitching Rotation
BOS: Clay Buchholz, Jon Lester, Jake Peavy, John Lackey
DET: Anibal Sanchez, Justin Verlander, Max Scherzer, Doug Fister
Overview
The Red Sox's quick work of the Indians in the ALDS allows them to reset their rotation for Game 1 of the ALCS, while the Tigers are forced to wait until Game 3 to throw ace Max Scherzer after he pitched Game 5 of their ALDS.
Luckily the Tigers have three other starter capable of pitching like aces and still look to have the pitching advantage, at least on paper. How Jake Peavy and John Lackey pitch appears to be the X-factor for the Red Sox, as they have both been subpar of late but are capable of stepping up under pressure.
With the two highest-scoring offenses in the league in action here, there could be plenty of fireworks, and as evenly matched as these two teams are, it's hard to imagine this series not going seven games. With Clay Buchholz pitching extremely well since returning, a pair of terrific starts out of him proves to be the difference for the Red Sox.
Series Prediction: Red Sox 4, Tigers 3
Series MVP: Clay Buchholz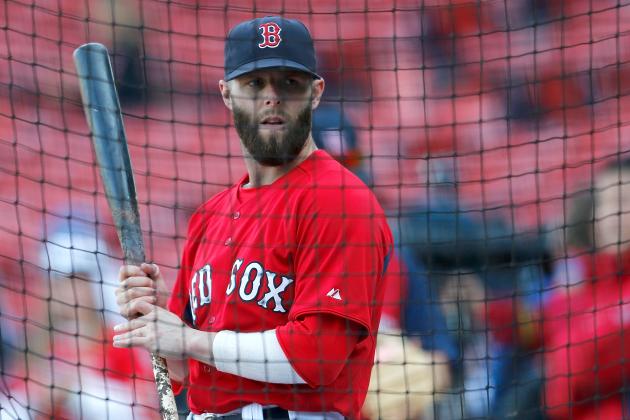 Jim Rogash/Getty Images
2B Dustin Pedroia
Projected Postseason Rotation
LAD: Clayton Kershaw, Zack Greinke, Ricky Nolasco, Hyun-Jin Ryu
BOS: Clay Buchholz, Jon Lester, Jake Peavy, John Lackey
Overview
While my predicted ALCS matchup has the two top offenses in baseball squaring off in what should be an evenly matched series, a World Series matchup between the Red Sox and Dodgers would pit arguably the best all-around offense in baseball against arguably the deepest starting rotation in baseball.
That should make for an extremely competitive series, and one that has all the makings of a seven-game classic. The question is, will the Red Sox pitching be able to hold its own, or will it be the Dodgers offense that shines, backing L.A.'s terrific starting staff?
The Red Sox have home-field advantage thanks to the AL's win in the All-Star Game, which is certainly a point in their favor. I see them wrapping up an exciting series with a win in Game 7 at Fenway Park.
Veteran second baseman Dustin Pedroia is the heart and soul of the team; he's the type of player to step up when the lights are shining brightest, so I expect him to have a great all-around series and take home MVP honors.
Series Prediction: Red Sox 4, Dodgers 3
Series MVP: Dustin Pedroia