The Indianapolis Colts are turning into the Stanford Cardinal.
Having watched Andrew Luck in college, that transformation is an exceptionally encouraging development for Chuck Pagano's team.
Luck's dazzling career at Stanford under Jim Harbaugh, Greg Roman and eventually David Shaw and Pep Hamilton was the reason the Colts selected the quarterback with the first overall pick in the 2012 draft.
Last season, Luck operated Bruce Arians' relatively low-percentage, vertical-passing offense. Without a vast collection of talent, Indianapolis went 11-5 and advanced to the postseason.
The Colts' primary running backs, Vick Ballard and Donald Brown, carried the football 319 times for 1,231 yards (3.85 yards per carry).
Brian Spurlock-USA TODAY Sports
By design, Indianapolis' offense was distinctly a finesse, pass-first attack that ultimately got the job done with the occasional big play and a handful of game-winning drives from Luck.
Only the Oakland Raiders (a team that found itself behind often), the New England Patriots, Dallas Cowboys, New Orleans Saints and Detroit Lions attempted more passes than the Colts last year.
Luck has the smarts, skill set and refined talent to run a pass-heavy attack. However, Pagano wanted to increase his quarterback's efficiency and create a more balanced attack. So, he hired Hamilton, Stanford's offensive coordinator, to the same position.
The convincing win against the San Francisco 49ers in Week 3 was the first legitimate message Hamilton's Cardinal offense sent to the rest of the league.
Cary Edmondson-USA TODAY Sports
It's an offense that turns back time, one that controls the line of scrimmage—and the clock—with a power running game and accentuates Luck's schematic football brilliance with a high dosage of play-action passes from traditional seven-step drops.
Here's a comparison of the Luck-led, Hamilton-conceived offense Stanford ran in 2011 compared to the 2013 Colts through three games:
Comparing Stanford Offense to Colts Offense

| | | | | | | |
| --- | --- | --- | --- | --- | --- | --- |
| | RB Rushes Per Game | Yards Per Carry | Luck's Passes Per Game | Luck's Completion % | Yards Per Completion | Games With More than 30 Minutes of Possession |
| 2011 Stanford | 35 | 5.419 | 31.07 | 71.3 | 12.21 | 10 of 13 |
| 2013 Colts | 25.6 | 4.8 | 30.6 | 65.2 | 10.96 | 2 of 3 |
ProFootballReference and ESPN
Now, let's compare the 2013 Colts to the 2012 Colts.
It's early, but the contrast is rather stark:
Comparing 2012 Colts to 2013 Colts

| | | | | | | |
| --- | --- | --- | --- | --- | --- | --- |
| | RB Rushes Per Game | Yards Per Carry | Luck's Passes Per Game | Luck's Completion % | Yards Per Completion | Games With More Than 30 Minutes of Possession |
| 2012 Colts | 22.8 | 3.77 | 39.1 | 54.1 | 12.9 | 10 of 16 |
| 2013 Colts | 25.6 | 4.4 | 30.6 | 65.2 | 10.96 | 2 of 3 |
ProFootballReference and ESPN
Indianapolis is running more and throwing less. In the process, both the ground game and Luck's game are becoming more efficient.
Stanford's clock-devouring, methodical style of offense dramatically benefits the Colts defense, a unit that doesn't boast a bevy of top-tier talent.
The Cardinal were sound defensively, but none of their defensive players were selected in the either of the last two NFL drafts.
While hiring Hamilton was obviously the most instrumental aspect of installing the Stanford offense Luck was familiar with and successful in, general manager Ryan Grigson supplemented Hamilton's addition by making the personnel decisions necessary to establish the new attack.
Ahmad Bradshaw was added in free agency to give the running game a boost between the tackles, and his pass-protection prowess is a huge plus after the punishment Luck took as a rookie.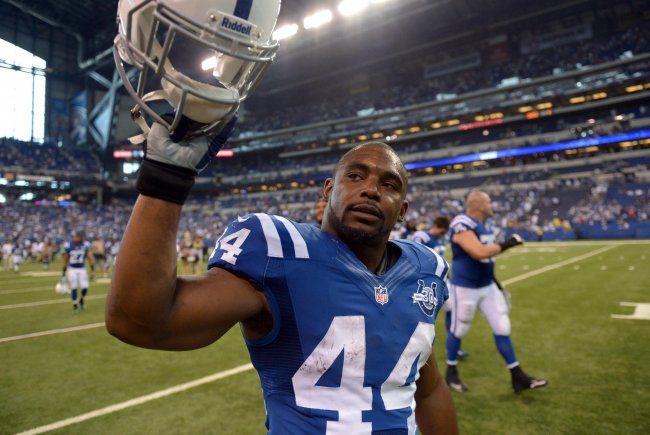 Kirby Lee-USA TODAY Sports
According to Pro Football Focus (subscription required), no quarterback was hit as he threw more times than Luck (14) and he was sacked 40 times, the fourth-most of all signal-callers.
Right tackle Gosder Cherilus was another free-agent signee to add stability on the edge.
Offensive guard Hugh Thornton was picked in Round 3 of the 2013 draft.
A round later, center Khaled Holmes was selected out of USC.
How many games will the Colts win in the 2013 regular season?
The latter has yet to play—he's currently Mike McGlynn's backup—but Cherilus has played every offensive snap and Thornton has been worked into the starting lineup.
As if all those front-office decisions weren't enough to convince everyone that the Colts were looking to recreate Stanford's offense in Indianapolis, Grigson sent the team's first-round pick in 2014 to the Cleveland Browns in exchange for Trent Richardson.
It was a hefty price to pay for a running back in today's NFL, but the Colts aren't following the league's emerging up-tempo, spread offense trend.
They're building the classic, sturdy, run-predicated offense Andrew Luck flourished in during his Stanford days with his old offensive coordinator.
Can you blame them?