The Baltimore Ravens offense was supposed to feature a two-headed tight-end monster starring Ed Dickson and Dennis Pitta. While Pitta's hip injury knocked him out of action for the foreseeable future, Dickson has struggled to be a receiving threat.
That has to change for an offense that could use any playmakers it can get right now.
It's not like he doesn't know how to do it. Dickson is only two seasons removed from recording 54 receptions for 528 yards and five touchdowns as the Ravens' starting tight end. As a result of Pitta's emergence in 2012, he took a backseat in the receiving game and was used more for his excellent skills as a blocker.
Ed Dickson's Percentage of Snaps by Role

| | | |
| --- | --- | --- |
| Year | Receiver (% of snaps) | Blocker (% of snaps) |
| 2011 | 49 | 51 |
| 2012 | 36 | 64 |
| 2013 | 33 | 67 |
ProFootballFocus
That trend has continued this season, but offensive coordinator Jim Caldwell needs to get him more involved as a receiver. So far, he hasn't done anything to merit an increased workload, posting the highest drop rate among NFL tight ends, according to Pro Football Focus (subscription required).
Nevertheless, he has the potential to be a weapon that Joe Flacco desperately needs.
Ed Dickson said he's been frustrated by his production, but that he's working on the little things to get back on track.

— Baltimore Ravens (@Ravens) September 18, 2013
Dickson is an athletic tight end who can make plays down the field and in the red zone. He's a mismatch when covered by slower linebackers or smaller safeties, and he has a knack for making plays in the middle of the field.
Part of the problem is that Dickson has been mostly used as an in-line blocker in an effort to improve a running game that's been subpar thus far in 2013. This hasn't worked so far, so it is time to make a change in at attempt to open things up.
Making Dickson a bigger piece of the offense could add another dimension to the passing game, while giving the running backs some space with which to work.
Pro Football Focus calculated that more than half of his routes in 2011 came out of the slot, not as an in-line tight end. Moving him to the slot spreads out the defensive front and gets more mismatches for him to attack down the field.
If Dickson can get going, he could provide the Ravens with a big-play threat in the middle of the field and a target in the red zone.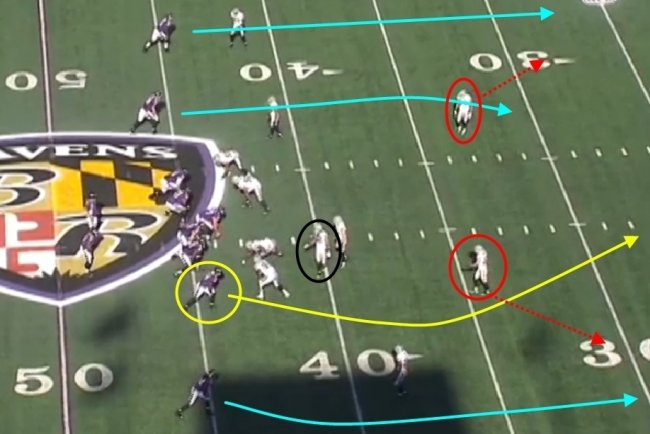 Look at this play against the Oakland Raiders from 2012. Dickson lines up in the slot and is matched up against Philip Wheeler (circled in black). Both safeties react (red arrows) to the "fly" routes on the outside (light blue), which leaves a giant hole in the middle of the field.
One-on-one, Wheeler can't keep up with Dickson, and the result of the play is a 40-yard gain on a simple angled post up the seam.
This year, Dickson has rarely been used in the slot, but one of those occasions came against the Houston Texans in Week 3 and led to a huge gain—or it would have had it not been negated by Bryant McKinnie's personal-foul penalty.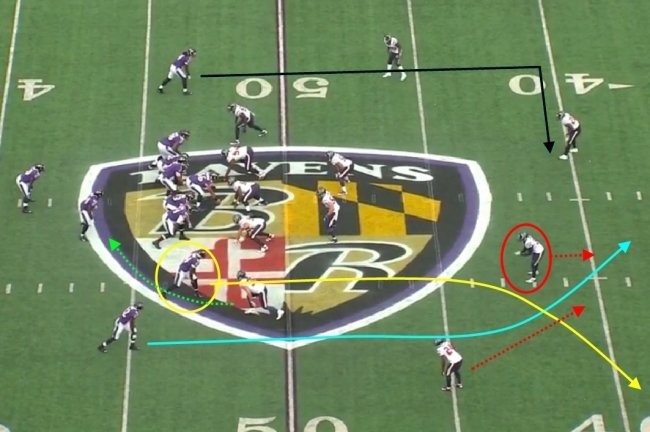 You can immediately see the result of Dickson's positioning. He forces outside linebacker Brooks Reed to line up directly in front of him, even though Reed is rushing the passer on this play. Putting Dickson in the slot makes defenses move a linebacker out of the box or reveal that the safety is covering him.
On this play, Reeds blitzes (green arrow), and it is the safety (circled in red) who is tasked with covering Dickson on his corner route (yellow). Concurrently, Torrey Smith runs a post (light blue), and there is a miscommunication when the two Ravens cross.
The safety switches to cover the inside receiver (Smith), while the cornerback sticks with Torrey Smith. The result is blown coverage, and Ed Dickson is wide open on the sideline for what would have been a 17-yard gain if not for the penalty.
Running plays with Dickson operating from the slot is a good way to incorporate him in the offense, so look for Dickson to work out of the slot more frequently in the coming weeks.
Additionally, he has shown the ability to be a red-zone weapon in the past (although he didn't score a touchdown last year). In this play against the Seattle Seahawks, Dickson is once again lined up in the slot and is matched up with a linebacker. He runs another angled post (yellow) and gets behind his defender.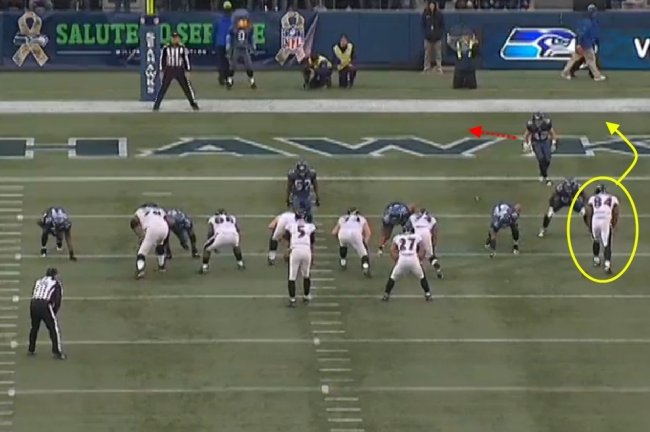 The safety slides to the left (red arrow) to cover his middle zone, and it creates just enough room for Flacco to thread the needle and find Dickson for the score.
The same play was run just four weeks later with the same result, this time against the San Diego Chargers. Dickson works the seam (yellow) and finds the hole between the linebacker and safety (red arrows). In this case, both defenders actually play the route well, but Flacco makes a perfect throw, and Dickson goes up and makes a very difficult touchdown reception.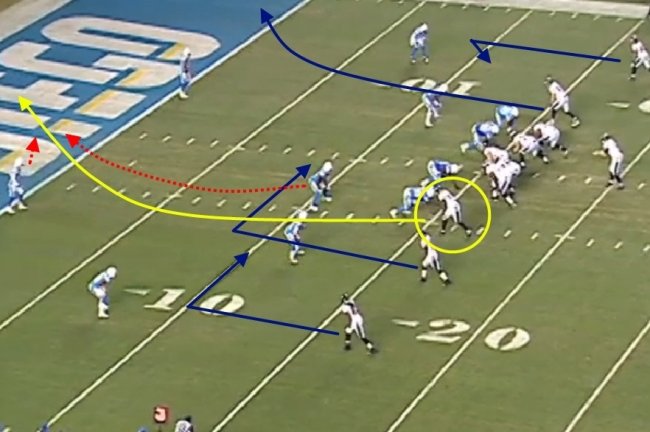 If Jim Caldwell gets Dickson to line up in the slot, there will be more opportunities for Dickson to make plays down the field or in the red zone. Furthermore, while he has received snaps as a blocker in an effort to jump-start the ground game, Dickson might be more beneficial to the running backs by drawing linebackers out of the box.
There were high expectations for Ed Dickson once Dennis Pitta suffered his injury. Dickson has been disappointing so far, but the season is still young; there is plenty of time to turn things around. He still has the opportunity to be an integral part of the offense, but there needs to be some changes for that to happen.
For interesting articles, breaking sports news and random sports-related factoids, follow me on Twitter.