Breaking Down the New York Giants' Massive Pass-Protection Problem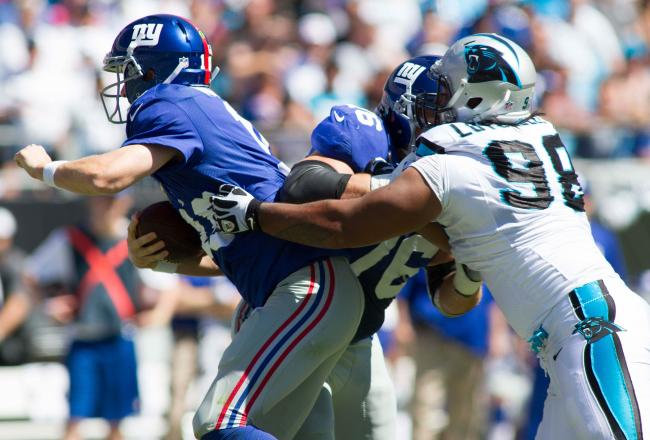 Jeremy Brevard-USA TODAY Sports
In their 38-0 loss to the Carolina Panthers, the New York Giants were involved in a good old-fashioned Sunday sack attack.
Just one tiny problem: It was the Giants offense, and not the defense, that was involved in what seemed like an endless parade of sacks, seven in sum.
Have the Giants offense and defense been thrust into some sort of Bizarro World? Well, when your team's offensive line makes mistake, after mistake—and it's not just one player—something's going to give, and that something usually doesn't end well for the quarterback behind center.
Yet, quarterback Eli Manning, somehow, managed to survive the beating he took as a result of his "protection," which was guilty of executing with poor technique, and which, at times, appeared to be one confused group of teammates.
Let's look at the various breakdowns and see if we can identify what this offense still needs to work on if it is to turn the ship around in the right direction.
The Sack Attack
Sack No. 1: First quarter, NYG at 12:58, 3rd-and-5 on the NYG 39-yard line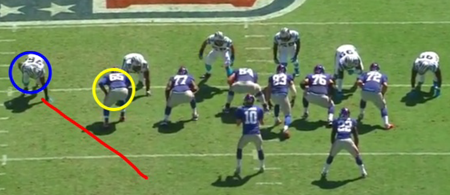 With the Giants offense in the shotgun, Panthers defensive end Greg Hardy is lined up approximately four yards wide across from left tackle Will Beatty.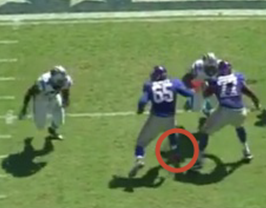 What Beatty appeared to not do on this play was immediately drop back as soon as the ball was snapped. In both of the sacks he was involved with, I noticed he was taking a slight half-step forward before he went into his retreat.
In the picture above, I've circled Beatty's right leg. When running the play, he leans slightly forward before retreating back, the result being that he loses a split second which seemed to be the difference between getting squared against his man and having to lunge for him out of desperation.
Further, in this instance, Beatty's lean inward carried him to the inside instead of the outside where Hardy attacked. The result? Hardy burst around the edge for the four-yard sack.
Sack No. 2: First quarter, NYG at 9:48, 1st-and-10 on NYG 31-yard line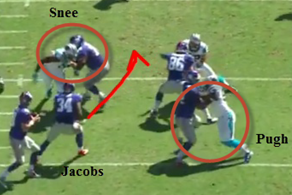 At the snap, rookie right tackle Justin Pugh finds himself with a battle against a blitzing linebacker Thomas Davis. Credit the rookie for giving all he had in trying to stop Davis from penetrating the backfield.
A more egregious missed block on this play was by right guard Chris Snee, who is seen lunging at defensive end Charles Johnson.
Had Manning been able to step up into the picket, he might have been able to move away from the breakdown that was happening at Pugh's hands. However, he ended up stepping into the mess and was taken down for an 11-yard loss.
As a side note, running back Brandon Jacobs ran to the outside of the struggling Snee.
I'm not sure if it would have mattered, but had Jacobs seen Snee's man beat him, I think he might have at least been able to adjust and chip Johnson before releasing to the next level to potentially pick up linebacker Chase Blackburn, who can be seen standing there waiting to see how the play develops.
Sack No. 3: First quarter, NYG at 9:15, 2nd-and-21 on NYG 20-yard line
On the ensuing play, a five-yard loss, the Giants are, again, in the shotgun formation. Once again, the pressure comes from Hardy, lined up across from Beatty.
As was the case with the first sack of the game, Hardy lined up wide against Beatty, who, again, took a slight half-step forward before dropping back into his retreat.
In the top right photo, Hardy changes it up and attacks from the inside. Because Beatty appears to be off balance, he can only hope to grab on to Hardy to keep him from hitting Manning.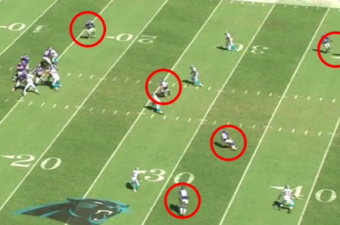 In the adjacent picture, you can see that three of Manning's four possible deep targets haven't had a chance to get into position to make a reception as Manning is being pulled to the ground.
Manning's only options appear to be tight end Brandon Myers, who's made his way over the middle (though there is a nearby linebacker that looks to be closing in), and the running back headed toward the flat.
Sack No. 4: First quarter, NYG at 2:33, 1st-and-20 on NYG 20-yard line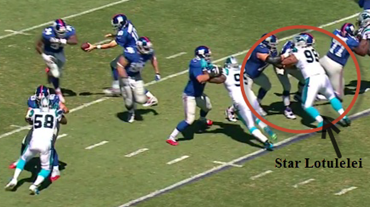 Manning fakes a handoff to Jacobs, and it looks like his protection up front, which includes a double-team block of Panthers rookie defensive tackle Star Lotulelei by right guard Chris Snee and center David Baas, was working.
The problem, though, is that Manning had no one down the field to target.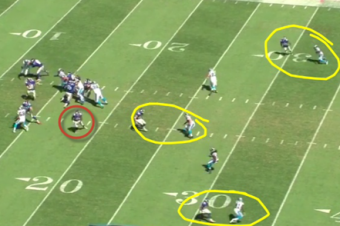 As you can see in the photo, the deep receivers (circled in yellow) are all covered; there is an underneath receiver (circled in red) open who might very well have been able to pick up yards on the play.
Instead, the Giants lose another four yards on the fourth sack against them.
Sack No. 5: Second quarter, NYG at 15:00, 3rd-and-3 on NYG 45-yard line

On this play, it's Boothe who, despite initially getting defensive tackle Kawann Short (image A) blocked, does not sustain it long enough. Short sheds the block and grabs Manning (image B) who, at this point, is seeking to protect the ball.
Sack No. 6: Second quarter, NYG at 13:46, 1st-and-20 on CAR 27-yard line
In another one-on-one matchup, Beatty squares up against Hardy, who slides off Beatty's block, as seen in the left image, below.


In the picture on the right, we see running back Da'Rel Scott, who was kept in to pass block, lunging at Hardy and missing, leaving the defender with an unobstructed path to sack Manning.
Sack No. 7: Third quarter, NYG at 2:20, 3rd-and-11 on CAR 35-yard line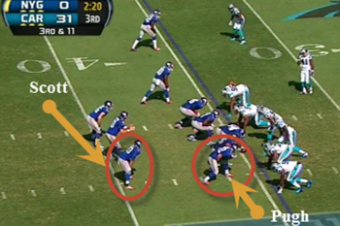 At this point, it's nothing short of a miracle that Manning is still standing, considering the beating he's taken in the first half.
That beating would continue on this, the final sack against him when Johnson lines up wide against Pugh.
Manning, who is in the shotgun, now has a back on either side of him for extra protection, no doubt a result of the pressure that was coming from the edges all game long.
He takes the snap, but Pugh finds himself unable to handle the wide angle that Johnson has taken against him.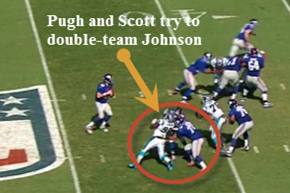 Scott, meanwhile, comes over to help with the block, but he might as well have run the other way. Johnson easily defeats the double-team block to record the Panthers' seventh and final sack of the game.
How the Giants Might Have Thwarted the "Sack Attack"
(Or "What's Good for the Goose is Good for the Gander")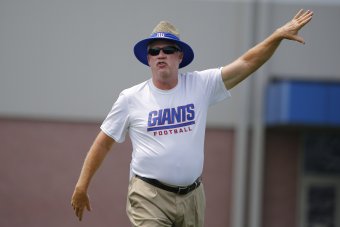 Jim O'Connor-USA TODAY Sports
One of the reasons why the Giants defense hasn't been able to get as many sacks since 2011 is that opposing offenses have been getting the ball out quicker.
Oh, the irony.
The Giants' problems against the Panthers certainly included a porous offensive line. However, the strategy of trying to throw mid-to long-range passes to attack the Panthers' patchwork defensive secondary backfired on offensive coordinator Kevin Gilbride.
What Gilbride needed to do, in my opinion, was to take what the defense was giving him, which was the underneath stuff.
Had the Giants explored some shorter dropbacks and some quick outs and slants, it's possible that the sack total might have been a lot lower, and this strategy might have gone a long way toward helping the offensive line—and the offense in general—get into a rhythm.
The other problem with going right for the deep ball against a defense that was determined not to give it up is that these plays take time to develop.
There's an old saying that "one has to walk before running," and I think. had the Giants started with the shorter stuff, that might have brought the Panthers secondary in closer to where, perhaps, later in the game, the deep stuff would be there.
To prove the point, on two of the seven sacks, Manning went into a five-step dropback (the other five, he worked from the shotgun). The result was 15 yards lost.
When the offensive line isn't holding or making its blocks and the quarterback doesn't have time to scan the field, let alone set up to throw, it doesn't matter who is in the defensive secondary. Based on the play selection, it seemed as though the Giants were stubbornly planning to stick with the deep ball which just wasn't going to be there.
Another part of the problem, and where the Giants tend to become predictable on offense, is when they fail to do anything to help themselves on first and second downs. When a team has 2nd- or 3rd-and-long, it's pretty easy to narrow down what play the team might be running if one has studied past trends.
Panthers linebacker Chase Blackburn, who spent a number of years with the Giants and who was studious as any player the team has had in the last 10 years, knew exactly what to expect from his former team because of the Giants' predictability in its offensive play selection.
One final point. The Giants lack of a running game hasn't helped the passing game at all. However, the coaching hasn't done much to help the Giants running game, given how it's attempted to deploy the personnel so far.
Running back David Wilson's strength appears to be when he gets out into space, yet the coaches oftentimes use him like he's a 6'4", 266-pound back.
With the Panthers having given up space underneath in order to take away the deep pass from the Giants, it would have been interesting to see what might have happened had the Giants been able to get Wilson into space.
Perhaps, he might have been able to turn one of those short passes into a significant gain? Or better yet, it Wilson had been able to threaten the run and get to the second level, maybe that would have convinced the Panthers to bring their defensive secondary in a bit closer.
This article is
What is the duplicate article?
Why is this article offensive?
Where is this article plagiarized from?
Why is this article poorly edited?

New York Giants: Like this team?