Singapore Grand Prix 2013: Live Lap-by-Lap Updates, Highlights, Recap and More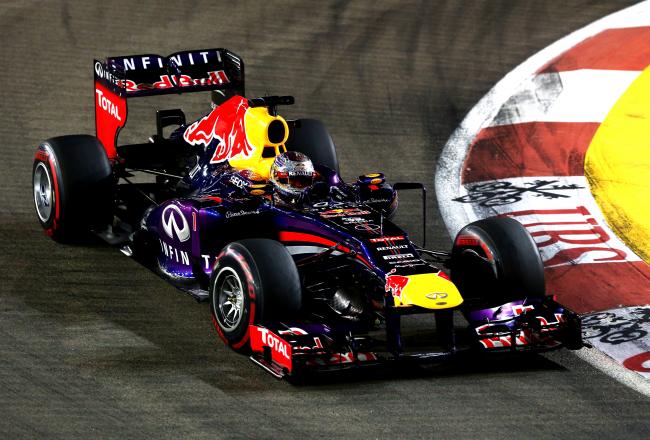 Paul Gilham/Getty Images
Sebastian Vettel stormed to victory in the 2013 Singapore Grand Prix, leading for all but a corner of the race, and dominating his opponents from start to finish.
Nico Rosberg got a flying start and beat the German into turn one, but Vettel overhauled him when he ran wide into the next turn, and never looked back.
He was hugely quicker than his rivals, and even when the racers were bunched up by a safety car when Daniel Ricciardo put his Toro Rosso into the wall at Turn 18, Vettel simply raced away from the field by 2-3 seconds per lap.
A drab race did have a thrilling finish behind the world champion, however—strategy was mixed up by the safety car, with some trying to last to the end on one set of tyres, and others stopping again to slice through the field late.
In the end the drivers who didn't stop prospered, with Fernando Alonso grabbing second and Kimi Raikkonen clinging on to third.
Mark Webber was bearing down on them, only to be struck by engine trouble late in the race, and he was forced to retire on the last lap when flames came out of the back of his car.
Vettel's lead in the championship increases to 60 points over Alonso. The margin is almost as imposing as the 32-second cushion he enjoyed over his closest rival in today's race.
---
Story of qualifying and practice by Mark Patterson
The top 10:
Vettel
Alonso, 32 seconds back
Raikkonen
Rosberg
Hamilton
Massa
Button
Perez
Hulkenberg
Sutil
Webber had to give up on turn 7 as flames came out of the back of his car.
61/61: SEBASTIAN VETTEL WINS THE SINGAPORE GRAND PRIX! Meantime Webber's car is on fire!

61/61: Meanwhile Sebastian Vettel begins the last lap. Webber has no power. Will he able to nurse the car home? How many places will he lose?
60/61: Less so for Webber, who's protecting the car and has to cede a place to Rosberg, and then to Hamilton as well. "In trouble mate, in trouble" he tells the engineers on the radio.
59/61: Things have really fallen well for Raikkonen today:
Raikkonen is told: "Webber is backing right down. You are clear." #F1

— AUTOSPORT Live (@autosportlive) September 22, 2013
59/61: "Need to try to get the car to the finish," Webber told. He's fourth, and now losing time to the Mercedes duo at an alarming rate.
58/61: Rosberg passes Button, abnd Hamilton does the same. Massa passes Perez, who has now dropped to ninth.
57/61: Are Lotus worried at all?
Webbo told to short shift. And hopefully drive a little slower too

— Lotus F1 Team (@Lotus_F1Team) September 22, 2013
57/61: McLaren watching all their hard-earned points slip through their fingers. Mercedes slicing through as Rosberg passes Perez and closes on Button.
56/61: Looks like we might escape with double-waved yellows, Would be a great shame if the race had ended there. The Mercedes have work to do, Webber now up to fourth and closing on Raikkonen. Button's pace has gone.
55/61: DI RESTA IN THE WALL! Does that mean a safety car? Would effectively be the end of the race if so...
55/61: Raikkonen! Up to P3 after a bold move on Button. Went around the outside, held his nerve, squeezed out in front of the McLaren. Has a chance to take the podium now...
54/61: Webber-watch: He's up to sixth after whipping around Hulkenberg. Perez awaits, and will struggle to hold him back.
53/61: Webber now catching Hulkenberg by all of three seconds a lap now. An intriguing finish still ahead, and 8 laps/14 minutes left in the race.
52/61: Plucky minnow (and 2009 World Champion) Jenson Button still holding on to third. Would be McLaren's first podium of the season, but Raikkonen is only half a second back.
51/61: Gutierrez slipping rapidly backwards. First Di Resta, then Massa. Gutierrez stopped around lap 25 for mediums. Alonso did the same, incidentally, and is still out there. Where's the cliff?
50/61: Not sure this is going to trouble Vettel too greatly:
Vettel is told: "Look after the brakes, vibrations." #F1

— AUTOSPORT Live (@autosportlive) September 22, 2013
49/61: Webber up to 7th with the pass! Too easy with the fresher tyres. Rosberg and Hamilton both follow through.
48/61: Next up for Webber is Gutierrez. Rosberg and Hamilton both close behind.
48/61: All of this could mean that we have a tight finish ahead—drivers trying to race through on faster tyres, others trying to hang on. This race could do with a bit of excitement to spice it up.
47/61: Button and Raikkonen, meanwhile, both think they're in good shape. They lie in P3 and P4 right now, and may also be trying to avoid another stop.
46/61: As you were—Vettel now pulling away from Alonso at the rate of around 2.5s a lap. Is Alonso considering going the distance? He's certainly not going to undercut anyone if he pits now.
45/61: Out he comes. He saved a set of super softs in qualifying, and he's on brand new rubber ALonso can see him about three seconds back, but has to stop.
44/61: Hamilton does not get ahead, however: he slots back in behind Rosberg. Vettel, meanwhile, comes in for his stop. Maybe he can squeeze in a cup of tea too.
43/61: Rosberg arguing with his engineers over being told to push. I'm guessing that being leapfrogged by Webber will have done very little to brighten his mood. There's room for others to sneak ahead too here.
This article is
What is the duplicate article?
Why is this article offensive?
Where is this article plagiarized from?
Why is this article poorly edited?