Yankees Can Only Blame Themselves for Missing the Playoffs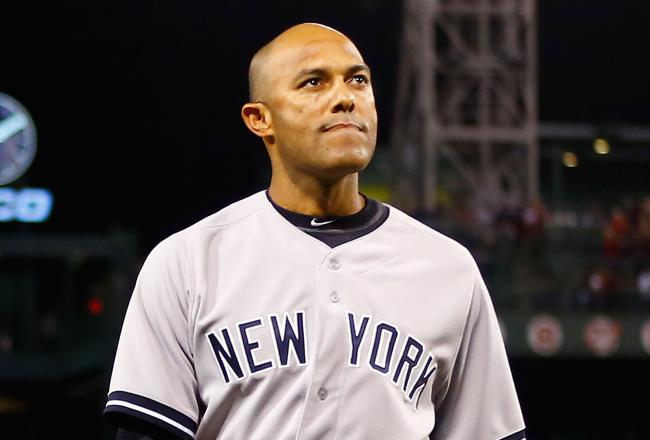 Mariano's amazing career will end without a postseason berth
Jared Wickerham/Getty Images
It's not official yet, but the careers of Mariano Rivera and Andy Pettitte, much like the former Yankee Stadium, will come to a close on a note as anticlimatic as can be. For only the second time in the wild-card era, the New York Yankees will not make the postseason.
Every team goes through its highs and lows, some longer than others, and the Yankees have dominated baseball since the 1994 strike: 17 playoff appearances in 19 seasons, 13 American League East division titles, seven American League pennants and five World Series championships.
But as inevitable as a decline was, the Yankees can only blame themselves for missing the playoffs this year; the front office made horrible moves in the offseason and the team blew a huge chance to get back in the playoff picture. Yes, the Yanks were cursed with injuries this year, but if they made the right moves and built on the momentum they had a few weeks ago they'd be looking at a playoff berth.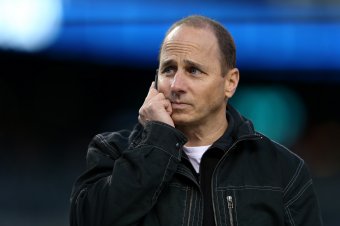 Leon Halip/Getty Images
Going into the offseason already knowing Derek Jeter and Alex Rodriguez would be out for a long period of time, GM Brian Cashman and the Yankees staff had upgrades to the left side of the infield at the very top of their wish list. As Russell Martin was a free agent and the Yankees' top catching prospects were not ready at the time, they also needed help behind the dish.
Cashman had to act on a predetermined budget from the Steinbrenner brothers, as they wanted to cut payroll to $189 million for the 2014 season. With their options limited, they decided to go with Eduardo Nunez (career .683 OPS in 783 plate appearances) and paid Kevin Youkilis $12 million as well as spending $2 million for Travis Hafner. Both players had an extensive injury history.
In the outfield, they decided to bring back a 39-year-old Ichiro, giving him $13 million for two years. They let Martin walk and sign with Pittsburgh for a reasonable two-year deal worth $17 million. Instead of responding by signing another free agent catcher like Mike Napoli, A.J. Pierzynski or David Ross, they decided to go into the season having Francisco Cervelli and journeyman Chris Stewart share the duties.
When spring training hit, more disaster occurred.
CF Curtis Granderson and 1B Mark Teixeira suffered freak injuries and were put on the disabled list for the first few months of the year. Desperate, the Yankees signed Lyle Overbay to play first and traded for washed-up OF Vernon Wells, having to pay the latter $14 million until the end of 2014, a move I absolutely ripped to shreds the moment it happened.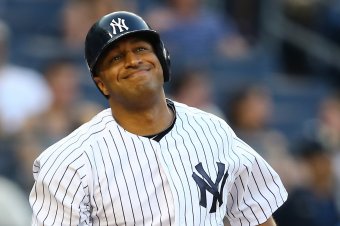 Al Bello/Getty Images
Thanks to a plague of injuries and horrible moves by Cashman, the Yankees began the season with only Robinson Cano and Brett Gardner as returning starters and potential black holes at catcher, 1B, SS, 3B, LF, and RF, and DH, probably their worst lineup in 20 years. But the team played very well through the first two months of the year, starting 30-18 thanks to stellar pitching and timely hitting.
That didn't last long, as Wells and Overbay predictably turned into pumpkins and Youkilis and Hafner got hurt and missed pretty much all of the second half. Surprisingly, even CC Sabathia struggled this season. At the deadline, the Yankees brought back Alfonso Soriano, and he was arguably the biggest reason why the Yankees didn't fall out of the chase.
After hitting rock bottom in Chicago, the Yankees were only one game over .500 and seven games out of a playoff spot. Still, they proved resilient, as they went off on a 22-12 run, capped by a 3-1 series victory over the Orioles at Camden Yards to climb within a single game of the wild-card spot. However, they were unable to build on that momentum, losing three out of four at home against the Red Sox in the most excruciating way possible two weeks ago, getting swept at Fenway last week, and losing two out of three to the woeful Blue Jays this week, all but killing their chances of baseball in October.
Despite all the injuries, underachieving by Sabathia and others and awful signings like Wells and Hafner, the Yankees still had a chance this season, especially this month. They blew it, not because they weren't good enough, but because they underachieved and were poorly prepared to begin with.
The blame not only goes on the players, but also the front office for making poor moves in the winter.
Instead of sticking to the budget and making smart moves like bringing back Russell Martin, getting AJ Pierzynski on a reasonable deal or bringing in a Nate Schierholtz, they went with putting out Chris Stewart as the everyday catcher, acquired aged names like Vernon Wells and Ichiro and even overpaid an injury-prone Kevin Youkilis.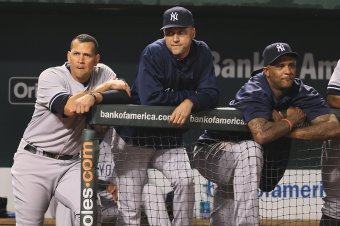 Rob Carr/Getty Images

That's why they're missing the playoffs, not the injuries. And even when they had a chance to get in position for the wild card, they lost key games.
As for the future, don't get me started.
The Yankees' farm system is dryer than the Sahara. Despite Cashman's commitment to it since 2005, the Yankees have failed to develop legitimate players that are contributing to this squad or likely will in the future. Any players who look promising, like Joba Chamberlain or Dellin Betances, become busts.
It's a sad situation. Because of this, the Yankees could end up being mediocre-to-bad for several years, at least until they either get sold to an owner who wants to spend money to win or the next "Core Four" show up and a competent general manager puts the right pieces around them.
The Yankees problems are rooted in the front office, and these problems will affect the team's play this year and beyond.
This article is
What is the duplicate article?
Why is this article offensive?
Where is this article plagiarized from?
Why is this article poorly edited?

New York Yankees: Like this team?