Few college football games this season will have more NFL talent on the field than when Texas A&M played Alabama last Saturday. Even with many other potential first-round picks in the game, Texas A&M redshirt sophomore wide receiver Mike Evans stood out as the best player on the field.
While Texas A&M was unable to upset the defending national champion Crimson Tide for a second consecutive year, ultimately losing by a score of 49-42, Evans did all that could possibly be asked of him in his effort to help the team win. Evans had a field day against Alabama's cornerbacks, catching seven passes for a whopping 279 yards, and was full of big plays that helped Texas A&M in the game.
In the above video, courtesy of Draft Breakdown, you can see all of Evans' catches and big plays against the Crimson Tide. He took advantage of the cornerbacks, possibly the only position group on Alabama's roster without a sure-fire NFL prospect.
While Evans will have a difficult time duplicating his performance—even though it came against arguably college football's toughest defense—it is clear his game has taken a step forward from his redshirt freshman season. As a result, his stock as a potential early entrant for the 2014 NFL draft is soaring.
Evans flashed star potential as a redshirt freshman, catching 82 passes for 1,105 yards and five touchdowns, including no shortage of chain-moving and/or highlight-reel plays. He truly looked like a star Saturday, putting up the biggest game of his career to date in what will be one of the biggest showcase games of his college football career.
Evans leads the nation through three weeks with 518 receiving yards, but you can take his statistics out of the equation, just watch his film and still see a first-round draft prospect.
Taking Advantage of His Measurables
The first thing that stands out about Evans are his measurables. Listed at 6'5" and 225 pounds by Texas A&M's official website, Evans is a physically imposing wide receiver.
Evans is significantly bigger than most cornerbacks he has faced and will face, and he uses his size to his advantage. No matter where he lines up on the field, Evans is going to create matchup problems with players who lack either the size or athleticism to go toe-to-toe with him play after play.
A high school basketball player, Evans does a great job of coming back to the football, boxing out his opponent, leaping up and bringing down a catch through contact.
An example of that came late during Saturday's game versus Alabama when he got in position in front of three defenders and caught a downfield heave for a 32-yard gain through a hit from Alabama junior safety Ha Ha Clinton-Dix, arguably the nation's best safety.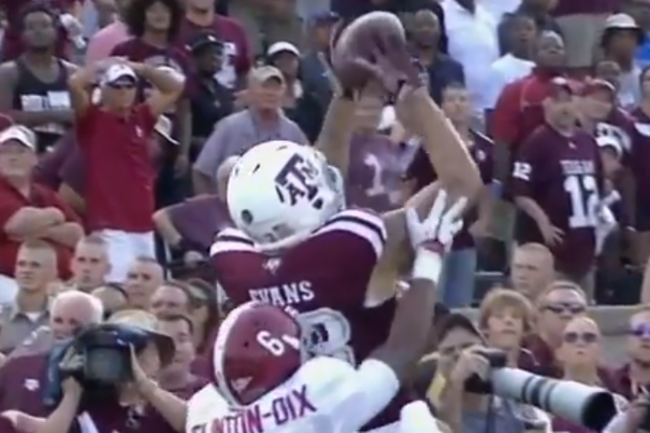 Combining his measurable length with great vertical leaping ability, Evans can win jump-ball situations against almost any opponent. He does a great job of attacking the football in the air, and he has strong hands to secure possession even when he takes a hit.
Body control is another one of Evans' best traits. He has already shown on many occasions in his collegiate career how he can adjust to the ball in midair to make a tough catch, while he also does a good job of getting a foot in bounds when he is held tight to the sideline.
The following catch against LSU in 2012 is an example of how good Evans is at controlling his body and making a tough, one-handed grab on the sidelines. While the catch would not have counted at the NFL level because he only got one foot in bounds, it was an incredible effort and play made within the collegiate rules.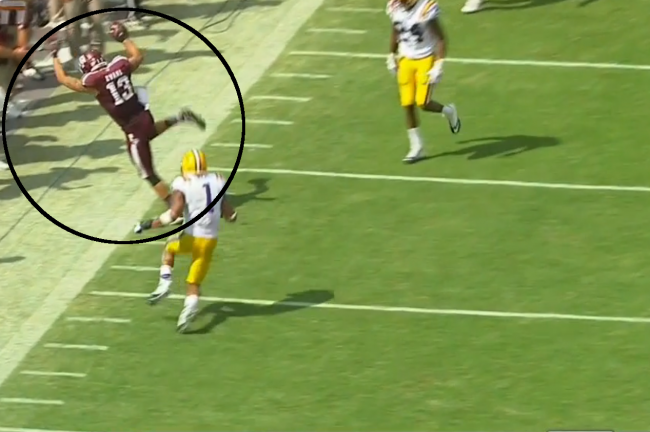 Tough to Tackle
With his size, leaping ability and body control, Evans is able to make plays on balls in the air even when covered. His size and physicality also make him a difficult player to tackle.
NFL cornerbacks should be more adept at tackling wideouts than many of the college cornerbacks Evans faces, but nonetheless, he has shown a consistent ability to extend plays for yards after the catch because of breaking tackles.
It is imperative for opposing defenders to wrap up Evans to tackle him; with his size and strength, he can run through or bounce off unsound tackling.
Evans becomes even more difficult to bring down because of his ability to drive through defenders who are wrapping him up and gain additional yards. He has a strong lower body, and he generates enough force with his lower body to combine it with his size advantage and run through or drag defenders to gain additional yards where most receivers would be stopped in their tracks.
Athletic Concerns and How He Overcomes Them

The biggest concerns scouts are likely to have about Evans are with his speed and quickness. He is not a player who is going to burn defensive backs deep as a speed receiver or make many defenders miss with moves in the open field.
Evans could have trouble separating from opponents consistently at the next level. He is not as fast as most NFL cornerbacks, which will make it difficult for him to outrun and gain strides over them when lined up on the outside. He also struggles somewhat with getting off of jams in press coverage, an area where he needs to be more physically imposing with his size.
That said, Evans is a good athlete relative to his size. He has shown the ability to combine double moves with good acceleration to beat defensive backs off the line of scrimmage. He has also shown enough downfield speed to make deep receptions and extend them into even bigger plays.
Evans made the biggest play yet of his young collegiate career when he scored a 95-yard touchdown against the Crimson Tide.
Evans beat Cyrus Jones off the line of scrimmage with a good move and then maintained a step on him going deep downfield. When Jones was able to start reining in Evans deep up the right sideline, Evans bought himself time with a stiff-arm, which was just enough for him to separate and make it all the way to the end zone.
With the many big plays he has already made in his collegiate career, Evans has displayed he is more than just a possession receiver. While he may not outrun NFL cornerbacks often, he can make plays on the ball even when he does not separate by attacking the ball in the air and using his length advantage.
The following example versus Florida was one of his best efforts. Although the catch did not count because he stepped out of bounds, he did a fantastic job leaping and extending over tight coverage from two defensive backs to come down with the football.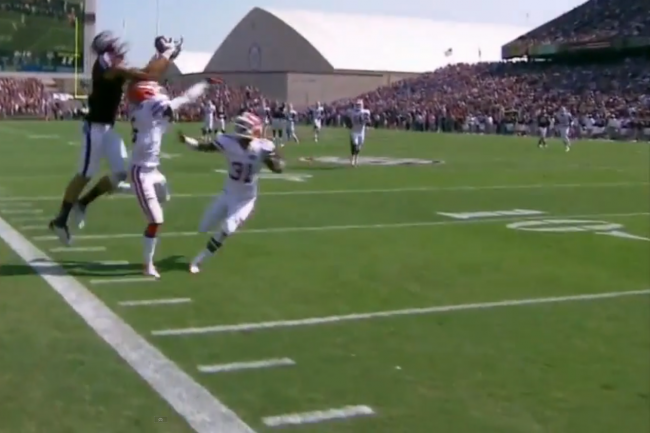 Blocking
Thanks to his size and strength, run-blocking is another strong suit of Evans' game. He does a good job of getting his hands on cornerbacks in the open field, winning the battle of leverage and driving his opponent away from the ball-carrier to open up running lanes.
The following block from last year's game versus Florida demonstrated an example of how Evans' blocking can be an asset in the rushing game. On a run around the offensive line and to his side of the field, Evans did a great job of picking up cornerback Marcus Roberson at the goal line, then sealing him out to the sideline to clear the lane for Texas A&M quarterback Johnny Manziel to run for an 11-yard touchdown.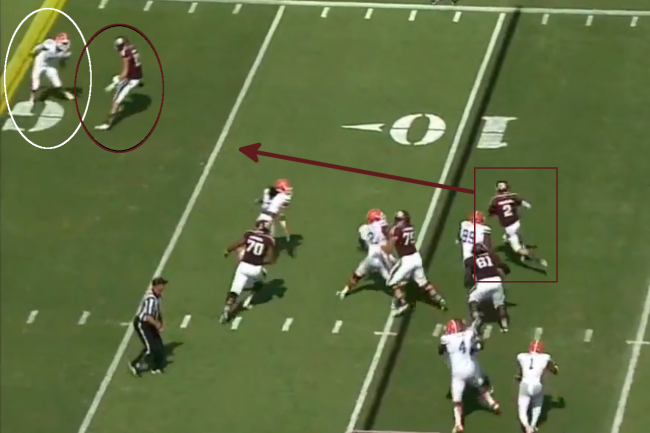 Evans is a willing and active blocker who seeks out defenders to block in the open field. By taking advantage of his size and blocking effectively, he can be just as much of an asset as a perimeter blocker on rushing downs as he will be as a downfield receiver on passing downs.
Route Running
Route running is a developing area of Evans' game. but that is to be expected of a redshirt sophomore wideout. He is a fluid route runner in the routes he does run, but he needs to become more diversified with his routes.
Evans excels at running intermediate-to-deep comeback and curl routes. He does a good job of breaking quickly to or away from the sideline and can post up on his defender with his size while providing a reliable target facing back to the quarterback in those situations.
He is never going to be explosively quick in and out of his breaks, but he could run more dynamic running routes into the middle of the field. While he has made some plays on slant and in routes, a great majority of his plays are made adjacent to the sideline. If he can begin to establish himself over the middle of the field consistently, he will create even more mismatch problems for his opponents.
Breaking Down Evans' Draft Stock
Evans still has two remaining years of eligibility even after this year, so it should not be assumed he will enter the 2014 NFL draft. It remains relatively rare for redshirt sophomores to declare for the draft, and every prospect has their own reasons for staying in school or going pro.
Nonetheless, Evans needs to be taken seriously as a first-round prospect for as early as the 2014 draft following the Alabama game. He has as much upside as any wide receiver in college football and could challenge to be the first wide receiver selected in whichever draft he ends up in.
Evans has many impressive traits that cannot be taught: ideal size for an outside receiver, natural leaping ability, impressive body control and a strong lower body.
Although he has had a few issues with drawing offensive pass interference penalties, along with concentration drops, he is a young player who is likely only scratching the surface of his potential at this point.
Evans was actually a relatively consistent player in 2012, which is more than can be said for most redshirt freshmen. If he can consistently play even remotely close to as well as he played Saturday throughout his redshirt sophomore season, he is going to have a tremendous year.
If Evans does enter the 2014 draft, he will enter a draft likely to feature a very strong class of wide receivers.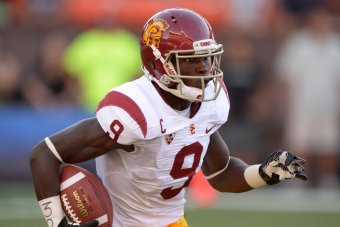 Kirby Lee-USA TODAY Sports
Clemson's Sammy Watkins and USC's Marqise Lee are both potential top-10 picks should they declare as juniors. At least one senior wide receiver, Vanderbilt's Jordan Matthews, should draw strong first-round consideration, while there are a number of other impressive junior receivers who could declare and end up as first-round picks including Rutgers' Brandon Coleman, Colorado's Paul Richardson and Louisville's DeVante Parker.
Where Evans falls in the receiver pecking order will depend on what teams in need of wide receivers are looking for at the position. Teams looking for a fast, explosive wideout will steer clear of Evans as a first-round pick.
But while Lee and Watkins among others are likely to remain ahead of Evans on draft boards where open-field athleticism is prioritized, Evans could emerge as the top wideout on other draft boards where teams are looking for size and all-around receiving potential. He is a rising prospect who should draw serious consideration as early as the top 20 draft picks.
Evans compares favorably to big, physical San Francisco 49ers wide receiver Anquan Boldin. Evans is not nearly as polished as Boldin yet, but his size, physicality and playmaking ability on the ball in the air give him the potential to emerge as a true No. 1 wideout.
Evans may be somewhat faster than Boldin was as a prospect, but Evans will not be drafted because of his 40-yard dash time. Evans could project similarly as a prospect to former Clemson wideout DeAndre Hopkins, a physical playmaker at receiver who lacks top-end athleticism but was the No. 27 overall pick of the 2013 draft by the Houston Texans (and has been the NFL's most impressive rookie through the first two weeks of the season).
Evans has been and will continue to be overshadowed in fame by Manziel, Texas A&M's defending Heisman Trophy winner, and other high-profile redshirt sophomores on offense.
On a day where NFL scouts were certainly watching, Manziel and Evans combined to have a strong performance in a losing effort. But if both players declare for the 2014 draft, Evans is likely to come off the board before his famous quarterback counterpart.
Dan Hope is an NFL/NFL Draft Featured Columnist for Bleacher Report.