Breaking Down Why the Miami Dolphins Struggle to Cover Tight Ends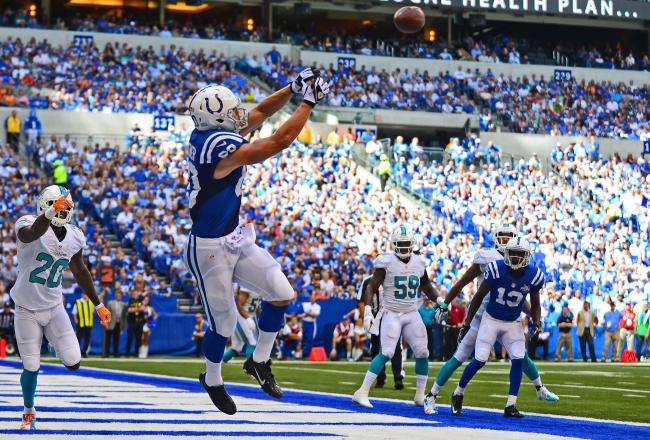 Andrew Weber-USA TODAY Sports
During the first two games of the 2013 season, the Miami Dolphins defense struggled with its ability to cover tight ends. In this piece we will thoroughly examine the full extent of the problem Miami had covering tight ends, while attributing the sources of those problems.
As we get through the piece we will find that while the extent of the damage caused by tight ends was potentially severe, the sources of the problems are fixable in nature.
The Damage
During Weeks 1 and 2, tight ends caught a total of 15 passes for 199 yards with two touchdowns. According to ESPN Fantasy Football, the Dolphins have given up the fifth most fantasy points to tight ends in 2013.
That production is bad enough, yet it could have been worse. During the same span, the Dolphins were the beneficiaries of two tight end touchdowns being called back by the referees due to unrelated penalties. One touchdown would have been good for 20 yards and the other for 15 yards.
Additionally, safety Chris Clemons was clearly guilty of defensive pass interference as he covered Indianapolis Colts tight end Coby Fleener in the end zone. Had the referees called the play correctly, the penalty would have resulted in a 1st-and-goal from the 1-yard line and likely an ensuing touchdown.
Indianapolis third-string tight end Dominique Jones also appeared to catch a 20-yard pass that would have resulted in another 1st-and-goal from the 1-yard line, but replay officials felt the football juggled within Jones' grip as he went to the ground.
All told, the Miami Dolphins are lucky to have only allowed two touchdowns to tight ends thus far in 2013. The team's coverage of tight ends could have been responsible effectively for up to six different touchdowns in only two games.
Zone Blitzes
The Dolphins operate a blitz-oriented defensive scheme that calls for linebackers to rush the passer on a large percentage of plays. Many of these blitzes will involve defensive linemen dropping back into a zone coverage. Unfortunately this tactic can carry a cost.
In the following example, we see the Dolphins blitz both linebackers Dannell Ellerbe and Philip Wheeler, while simultaneously dropping defensive end Cameron Wake into zone coverage. The goal of the scheme is to create confusion among offensive linemen as well as the quarterback.
The cost of the blitz in this example is clear. The blitz made it easier Browns tight end Jordan Cameron to find the softest gap between the linebacker zone and the safety zone. Quarterback Brandon Weeden hung tough in the pocket and hit Cameron as he cleared linebacker Koa Misi's zone. Misi lacked the angle awareness to jump into the passing lane.
Similarly, we see in the following play the Dolphins blitz Misi while dropping defensive end Derrick Shelby into zone coverage on the other side of the formation. Though he is out of frame for the first part of the play, the Dolphins also rush safety Chris Clemons on the play.
Misi does a decent job jamming tight end Jordan Cameron before rushing Weeden. However, Cameron is still able to sneak across the formation and find Shelby's zone.
Shelby is not built for this kind of coverage responsibility, and it shows as he fails to relate to the receiver as Cameron comes into his zone. This is a great example of how a zone can look covered on a chalk board, yet reality runs in stark contrast.
Good Zone Pickup
Before we get into more examples of poor coverage on the tight end, let's take a look at an example of a really good zone pickup by linebacker Ellerbe. This is a good way to set a baseline for some of the things that should be happening on the plays we will go over later.
On the play below, the Dolphins are going to rush four defensive linemen against the passer. Ellerbe drops back in an underneath zone. Tight end Cameron is going to run across the formation into and through Ellerbe's zone.
This is excellent work by Ellerbe identifying the threat to his zone of coverage early enough to put himself in position to handle it.
Notice how quickly his gaze shifts to Cameron. Immediately after, his weight is already planted on his left foot so that he can take off in the same direction Cameron is running his route. Ellerbe's recognition and awareness allowed him to limit this pass to a mere gain of two yards.
Bad Zone Pickups
Now we get to see some examples of bad zone pickups. The first of these examples allowed a touchdown against the Cleveland Browns.
Interestingly, the above play is both an example of poor zone awareness as well as poor man coverage. Linebacker Philip Wheeler starts off the play in man coverage against Cameron and fails to exert any physicality against him at the line of scrimmage. This leaves him at a disadvantage as Cameron crosses into corner Brent Grimes' zone.
Grimes has eyes on the quarterback but fails to relate to Cameron as he enters his zone. As a result, Grimes pursues the football too far inward, allowing Cameron free run on the perimeter of the end zone.
Below we have another example of poor awareness picking up receivers in zone leading to a touchdown catch to a tight end.
The above play was called back due to a holding penalty by Cleveland right guard Oniel Cousins. However, that does not necessarily excuse the poor coverage on Cleveland's backup tight end Gary Barnidge.
As Barnidge leaves linebacker Wheeler's zone, safety Reshad Jones is too focused on protecting the hash mark even though he has help from another safety between the hashes. Jones does not recognize the quarterback's intentions until it is already too late. Nor does he properly relate to the receiver entering his zone.
Below we have another example of a late reaction picking up a player in zone coverage. This one also produces a potential touchdown that would be called back on an unrelated procedural penalty.
Safeties Jones and Clemons both end up bracketing Colts tight end Coby Fleener on the above play. Jones has man coverage of Fleener at the line of scrimmage but is expecting bracket help from Clemons as Fleener enters his zone.
When Fleener enters Clemons' zone, Clemons is slow to react, and the bracket that is supposed to form to the left and right of Fleener never takes shape. Instead of staying in front of Fleener while Jones stays in trail, Clemons also trails Fleener. The result was a touchdown catch that could easily have stood if not for an unrelated pre-snap procedural penalty on wide receiver Reggie Wayne.
Mental Mistakes
While poor zone pickups and technique are a type of mental mistake, it is important to distinguish them from more egregious lapses in judgment. Mental mistakes occur when players are confused about their coverage responsibilities due to miscommunication in the secondary or when a penalty is incurred by going beyond legal means in coverage.
The first mental mistake we see allowed Fleener to score a touchdown against the Dolphins.
Though the nature of the miscommunication is not clear, it seems as though safety Reshad Jones is the one defender not in lock step with the rest of the coverage scheme. Jones recognizes Fleener coming open as he breaks to the outside, but his uncertainty of his responsibilities results in a half-hearted attempt to cover Fleener.
Against the same opponent, Clemons took his turn making a mental error in coverage. At first blush, it appeared Clemons had ideal coverage of Fleener as he ran a post route into the end zone. However, the replay showed that Clemons clearly grabbed Fleener's shoulder with his left hand and turned his pads. The officials missed the pass-interference call, but it was a textbook foul.
Conclusions
Though the source of the team's miscues against opponent tight ends seems varied, there are underlying themes. With the exception of the schematic tendencies that tend to put the defense at a disadvantage in coverage, most of the defensive miscues against tight ends can be traced back to a lack of awareness or some other version of a mental mistake.
Some defensive players were late picking up the tight end in their zone coverage. Some defenders simply failed to relate to the receiver while keeping their eyes on the quarterback. Some defenders were sucked up by play-action fakes and were late to respond to the receiving threat. Others forgot to be physical with the tight end at the line of scrimmage.
These kinds of sloppy mistakes look bad and can be damaging to a defense. However, they can also be fixed. As the season continues, one would expect the players to be sharper in their zone coverage and for the mental mistakes to come less frequently. This should give fans hope that the defense, while bad at covering tight ends now, may improve as the season wears on.
This article is
What is the duplicate article?
Why is this article offensive?
Where is this article plagiarized from?
Why is this article poorly edited?

Miami Dolphins: Like this team?