Ranking New York Yankees Top 10 Prospects After the 2013 Minor League Season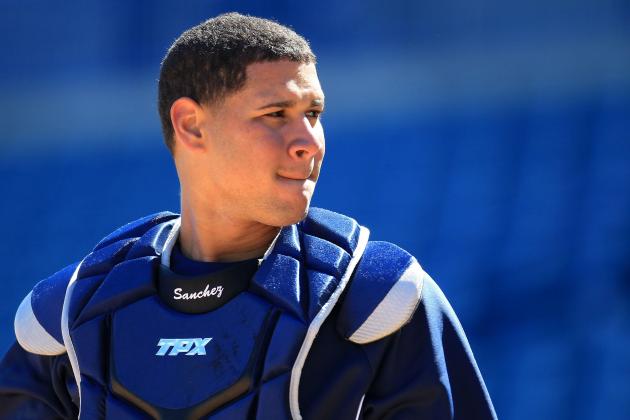 The Star-Ledger-USA TODAY Sports
C Gary Sanchez remains the Yankees' top prospect heading into the offseason.
To say that the New York Yankees season has been plagued by injuries is an understatement.
The Yankees have been absolutely decimated by injuries this year, though it did allow them to set a new franchise record by using 56 different players (and counting).
Except for the ultra reliable Robinson Cano, nearly all of the team's stars and former stars have spent a chunk of the season on the disabled list, including Derek Jeter, Mark Teixeira, Kevin Youkilis, Curtis Granderson and Alex Rodriguez.
Things went just as poorly for the Yankees' top prospects down on the farm. Two of the organization's more promising pitching prospects, Manny Banuelos and Ty Hensley, didn't throw a pitch and missed the entire season with respective injuries.
However, they did receive a breakthrough performance on the mound from right-hander Rafael De Paula, who enters the offseason ranked as the team's top arm.
The team's core of position prospects, Gary Sanchez, Mason Williams, Slade Heathcott and Tyler Austin, were reunited at Double-A Trenton during the second half of the season, though none of them fared particularly well at the more advanced level.
In fact, if anything, they each took a step backward. To make matters worse, both Heathcott and Austin spent significant time on the disabled list.
Thankfully, the Yankees made a nice haul with three first-round picks in the 2013 draft, selecting third baseman Eric Jagielo, outfielder Aaron Judge and left-hander Ian Clarkin. However, the organization still has a way to go in terms of developing a top-ranking farm system.
Here's a look at the New York Yankees' top 10 prospects after the 2013 minor league season.
Begin Slideshow

»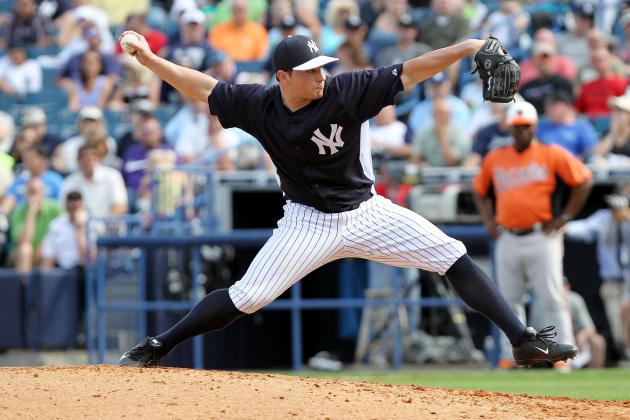 Kim Klement-USA TODAY Sports
RHP Mark Montgomery will look to rebound in 2014.
Ty Hensley, RHP: Missed the entire season after undergoing hip surgery in the spring
Jose Campos, RHP: Missed final four months of the 2012 season with an elbow injury; 21-year-old registered a 3.41 ERA and 77/16 K/BB in 87 innings at Low-A Charleston
Bryan Mitchell, RHP: 22-year-old struggled at High-A Tampa for most of the season; posted a 1.93 ERA with 16 strikeouts in 18.2 innings (three starts) at Double-A Trenton following a promotion late in August.
Aaron Judge, OF: No. 32 overall selection in the 2013 draft; 6'7", 230-pounder with loud tools and robust raw power; but will the hit tool ever develop?
Mark Montgomery, RHP: Disappointing season from one of the game's more intriguing relief prospects; dealt with shoulder fatigue all season and made three separate trips to the disabled list; posted a career-high 5.6 BB/9 rate in 40 innings at Triple-A Scranton/Wilkes-Barre
Greg Bird, 1B: Three True Outcome hitter with advanced plate discipline and underrated hit tool; batted .288/.428/.511 with 36 doubles, 20 home runs, 84 RBI, 107 walks and 132 strikeouts in 130 games at Low-A Charleston
Gosuke Katoh, 2B: A second-round draft pick in 2013, Katoh turned in an impressive professional debut in which he batted .310/.402/.522 with 22 extra-base hits (six home runs) and 44/27 K/BB ratio in 50 games for the Gulf Coast League Yankees
Position: LHP
DOB: 09/11/1989 (Age: 24)
Height/Weight: 6'4", 195 pounds
Bats/Throws: L/L
Drafted: 50th round, 2008 (Harvard-Westlake HS, Calif.)
ETA: 2014
(High-A/Double-A): 145 IP, 3.79 ERA, 1.36 WHIP, .226 BAA, 141/76 K/BB (28 G/27 GS)
Scouting Report
6'4" left-hander with projectable frame; mechanics continue to be a work-in-progress and will hinder his command at times; loose and easy delivery; uses height to create leverage toward the plate.
Fastball works in the 88-92 mph range; two-seamer has nice arm-side run; uses four-seamer to paint glove-side corner of the plate; does a nice job finishing the pitch and creating downhill plane.
Curveball is a potential plus offering; present feel for the pitch with a good arm angle; effective offering against right- and left-handed hitters; low-80s changeup lacks depth and needs further development; has a tendency to float it toward the plate; very hittable when elevated.
Position: LHP
DOB: 02/24/1995 (Age: 18)
Height/Weight: 6'2", 186 pounds
Bats/Throws: L/L
Drafted: First round, 2013 (Madison HS, Calif.)
ETA: 2017
(Rookie): 5 IP, 5 H (2 HR), 6 ER, 4 BB, 4 K (3 GS)
Scouting Report
Lot of moving parts in delivery, starts by moving back with a high leg kick, brings hands up high around his head before moving toward the plate; good extension out front; big stride toward the plate; release point tends to change from pitch to pitch, though not an uncommon trait in high school arms; clean arm action and ability to release ball late helps velocity play up.
Fastball command is below-average at present, but will flash at least average in spots; inconsistent command and release point; needs to stay on top of it more consistently; sits 90-92 right now with ability to add another one-two miles at peak.
Breaking ball has hard, late bite; 12-6 shape on pitch with depth that can buckle knees; doesn't always finish well out front, leading to pitch bouncing in front of the plate; future plus offering that should miss bats; doesn't trust changeup in game situations; will occasionally show flashes of being an average offering; above-average movement on the pitch; good arm speed.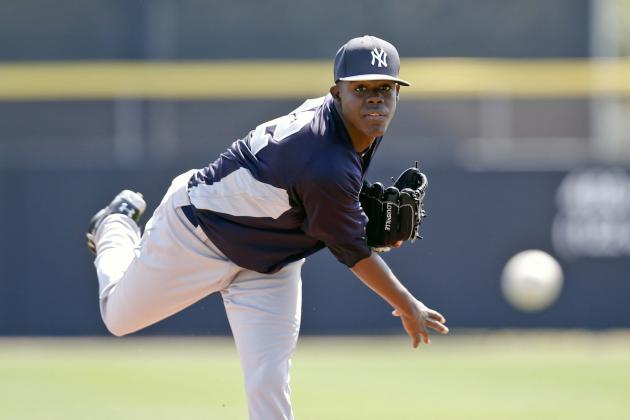 Derick Hingle-USA TODAY Sports

Position: RHP
DOB: 01/21/1990 (Age: 23)
Height/Weight: 6'3", 190 pounds
Bats/Throws: R/R
Signed: 2007, Dominican Republic
ETA: 2014
(Double-A/Triple-A): 73.2 IP, 3.67 ERA, 1.26 WHIP, .221 BAA, 78/36 K/BB (17 G/16 GS)
Scouting Report
Durable frame at 6'3", 190 pounds; low-three-quarters arm slot; delivery involves some effort; quick arm, but inconsistent release point.
Plus fastball that works consistently in the mid-90s with sink; fringy command of pitch; throws a hard slider that registers in upper-80s with depth and tilt; at least average potential; changeup has outstanding fade in the mid-80s and will flash plus-plus potential.
Overall command can get away from him at any point; history of shoulder and arm problems; big upside out of the bullpen if starting doesn't work out.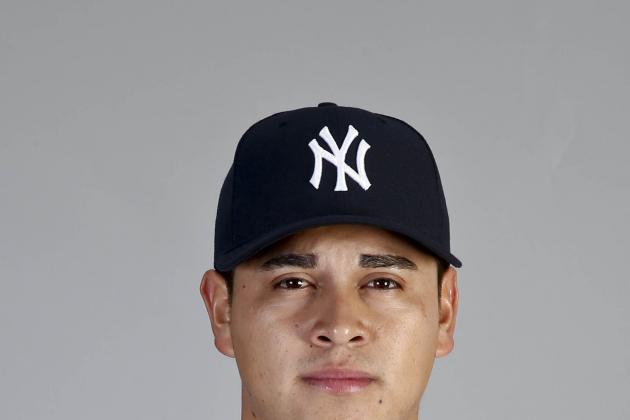 Derick E. Hingle-USA TODAY Sports

Position: LHP
DOB: 3/13/1991 (Age: 22)
Height/Weight: 5'11", 200 pounds
Bats/Throws: L/L
Signed: 2008, Mexico
ETA: 2015
2013 Stats: DNP (Tommy John surgery)
Scouting Report
Number of injuries for his age is concerning; the 5'11" left-hander is aggressive on the mound and attacks hitters; has struggled to make necessary adjustments since reaching upper minor league levels; command will need substantial refinement upon return to the field.
Fastball has late run in the 90-94 mph range, and he'll use it to pitch to both sides of the plate; curveball features nice downer movement when released correctly; feel for the pitch can be streaky; changeup was developing nicely at time of injury; we'll see where he's at late in the 2014 season.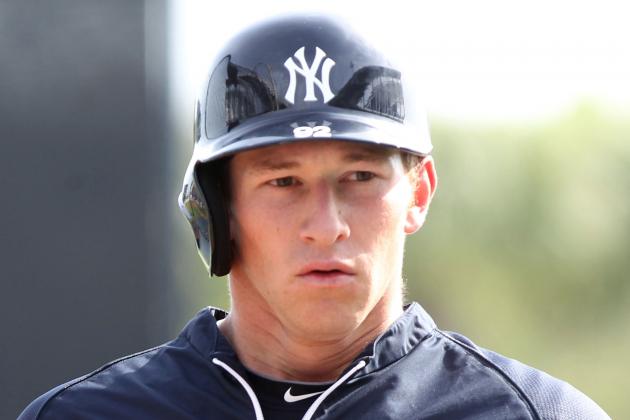 Kim Klement-USA TODAY Sports

Position: OF
DOB: 9/28/1990 (Age: 22)
Height/Weight: 6'1", 190 pounds
Bats/Throws: L/L
Drafted: First round, 2009 (Texas HS, Texas)
ETA: 2015
(Double-A): .261/.327/.411, 37 XBH (8 HR), 15 SB, 107/36 K/BB (103 G)
Scouting Report
Leadoff hitter-type who can fly down the line; quick hands but slash-y swing that lacks leverage; above-average bat speed; needs to keep barrel in the zone for longer period of time; constant extra-base threat at the plate; tendency to rip open and pull off with front side which impedes ability to use hands; lack of fluidity in swing; fringy pitch recognition.
Hard-nosed, high-energy, does everything 100 percent; good defensive center fielder with above-average wheels and range; shows impressive closing speed on balls in the gaps; takes direct routes; arm strength has waned since a pair of shoulder surgeries; improvement as a base stealer was good to see after time off.
Position: OF
DOB: 9/6/1991 (Age: 22)
Height/Weight: 6'2", 200 pounds
Bats/Throws: R/R
Drafted: 13th round, 2010 (Heritage HS, Ga.)
ETA: 2014
(Rookie/Double-A): .265/.351/.378, 24 XBH (6 HR), 40 RBI, 79/42 K/BB (85 G)
Scouting Report
Physically strong player who drives the ball across the entire field; majority of power is to right-center field; works to stay inside the ball; good plate coverage and bat-to-ball ability; lacks high-level bat speed, but still gets barrel on the ball.
Swing has some length that could make him vulnerable to elevated velocity at higher levels; can pull open with front side at times; above-average raw power that was diminished by a wrist injury this season; intelligent hitter with consistent approach capable of making in-game adjustments.
Actions look natural in outfield, despite background of corner infielder; above-average arm is ideal for a corner spot; range in outfield is better than expected; only an average runner, but has sneaky speed and athleticism; instinctual baserunner.
Position: 3B
DOB: 5/17/1992 (Age: 21)
Height/Weight: 6'3", 215 pounds
Bats/Throws: L/R
Drafted: First round, 2013 (Notre Dame)
ETA: 2015
(Rookie/Short Season): .264/.376/.451, 23 XBH (6 HR), 54/26 K/BB (55 G)
Scouting Report
Upright stance; sets up with high hands and loads deep; hand positioning has been lowered slightly since summer; some length to swing; stays inside the ball well; has become more comfortable using entire field; showcases shorter swing on inner-half offerings; tends to extend arms early with pitches on the outer half; streaky hitter with patient approach; sees a lot of pitches; goes through periods where he expands the zone; can strike out in bunches.
Two-handed swing with high finish is geared toward driving the ball; punishes mistakes; derives power from strong lower half; easy power, especially to the pull side; should be able to showcase more opposite-field power as a professional with a shorter bat path.
Below-average runner; lacks quickness; may lose another step as he continues to mature physically; average defensive third baseman; makes the plays; some athleticism; decent instincts, but lacks overall quickness; below-average range.
Has also seen time in left field where range is fringy; could conceivably outgrow either position and be forced to move to third base before reaching the major leagues; arm is strongest defensive asset; suitable for third base; would also play as a left fielder or first baseman if he's forced off the position.
Position: RHP
DOB: 03/24/1991 (Age: 22)
Height/Weight: 6'2", 212 pounds
Bats/Throws: R/R
Signed: November 2010 (Dominican Republic)
ETA: 2015
2013 Stats
(Low-A/High-A): 113.1 IP, 4.29 ERA, 1.32 WHIP, .232 BAA, 146/53 K/BB (24 G/23 GS)
Scouting Report
Quickly ironed out some mechanical issues in delivery stateside debut; present size and strength; free and easy arm action from three-quarters slot; big-time stuff and upside.
Fastball sits in the mid-90s with plenty of life; frequently bumps the upper-90s; explosive pitch that's thrown effortlessly; secondary arsenal is highlighted by a hard curveball in the low-80s that flashes plus potential.
Changeup represents his least developed offering; still a solid pitch in low- to mid-80s that's progressed nicely this season; should grade as solid-average at maturity; projectable swing-and-miss arsenal; control and command are both raw and will need considerable refinement at higher levels.
Position: OF
DOB: 8/21/1991 (Age: 22)
Height/Weight: 6'0", 180 pounds
Bats/Throws: L/R
Drafted/Signed: Fourth round, 2010 (West Orange HS, Fla.)
ETA: 2015
(High-A/Double-A): .245/.304/.337, 32 XBH (24 2B), 15 SB, 79/40 K/BB (117 G)
Scouting Report
Has more power than his 6'0", 180-pound frame suggests; arms and wrists loaded with quick-twitch muscles; makes a lot of contact, but could stand to be more patient; solid hand-eye coordination and bat speed; uses all fields.
Too much weak contact at times; needs to focus more on his on-base skills rather than tapping into power; should develop with experience and physical development; left-handed hitter gets out of the box quickly; raw base stealer.
Excellent defensive center fielder; plus speed and above-average range; covers lots of ground; reaches max speed quickly; reads and routes are both excellent; smooth, fluid actions; average arm strength is ideal for center field.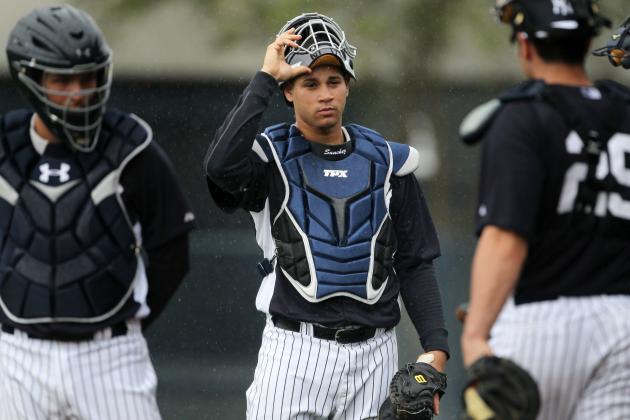 The Star-Ledger-USA TODAY Sports

Position: C
DOB: 12/2/1992 (Age: 20)
Height/Weight: 6'2", 220 pounds
Bats/Throws: R/R
Signed: 2009, Dominican Republic
ETA: 2014
(High-A/Double-A): .253/.324/.412, 42 XBH (15 HR), 71 RBI, 87/41 K/BB (117 G)
Scouting Report
Has improved plate discipline and contact rate this season; above-average power potential from a well-balanced swing; plus bat speed; feel for striking the ball; has some serious thump in bat; overaggressive approach; ability to control strike zone is better, but still has plenty of room to improve; impressive young hitter; bat will play regardless of future position.
Defense and work ethic has significantly improved since start of 2012; possesses underrated athleticism and agility; blocking and receiving skills leave room for improvement; arm strength is biggest asset; game-calling and leadership improving with experience; not a guarantee to remain behind the plate.