Syracuse Basketball: Biggest 2013-14 Goal for Each Projected Starter
Rob Carr/Getty Images
C.J. Fair cuts down the net after his Syracuse Orange beat Marquette to advance to the Final Four last season.
The 2013-14 edition of the Syracuse men's basketball program has some lofty goals for the season, highest of which is cutting down the nets in Arlington, Texas, the site of the next national championship game.
In the last two seasons, Syracuse has made it to the Elite Eight and Final Four, successively, so continuing the pattern and getting back to the national championship game isn't too farfetched, but with a move to a more forward-driven lineup from the past few years of guard dominance, the Orange have their work cut out for them.
This means that to achieve the team's goal, each player must play a significant role in the development and maturation of the new Syracuse lineup.
Gone are Michael Carter-Williams, James Southerland and Brandon Triche, who were three of the top four scorers for the Orange. The Orange also lost one of the nation's leaders in assists and steals in Carter-Williams, its main three-point threat in Southerland and its defense-wrecking dynamo in Triche.
Combined, Triche, Carter-Williams and Southerland averaged 38.8 points, 13.5 rebounds and 12.0 assists per game.
The entire Syracuse roster averaged 70.4 points, 38.4 rebounds and 14.1 assists per game.
This means that Syracuse will enter this season without 55 percent of its scoring, 35 percent of its rebounding and 85 percent of its assists.
But all is not bleak.
Returning is senior forward C.J. Fair, who led the Orange in scoring, rebounding and, oh by the way, was almost a 47-percent three-point shooter (30-of-64).
Also stepping into the lineup is newcomer Tyler Ennis, who will be the Orange's starting—and only—point guard.
Some other familiar faces, such as Rakeem Christmas, Trevor Cooney and DaJuan Coleman, will pepper the lineup, which will have considerable size in both height and mass. The Orange's ability to use that size to its advantage while integrating its youth with its experience will be the key to the team's success throughout the year.
Here's a look at the biggest goals each starting player must achieve in order to make up for its losses from last year and have a successful season this year.
Follow Gene Siudut on Twitter @GeneSiudut
Begin Slideshow

»
Tyler Ennis comes into his freshman year as the replacement for departed NBA-lottery pick Michael Carter-Williams.
At 6'2", Ennis stands about four inches shorter than Carter-Williams, but his decision making when passing, ability to control the tempo of the game and shooting range could help Ennis succeed where Carter-Williams tended to struggle.
But there's still a lot to account for.
Last season, as a sophomore, Carter-Williams averaged 11.9 points, 4.9 rebounds and 7.3 assists per game, including the post season. He was No. 3 in the nation in assists and No. 6 in the nation in steals. Lucky for Ennis, he doesn't have to be Michael Carter-Williams.
But he'll need to be close.
Carter-Williams was a great assist man, but he wasn't always a great passer. At almost 3.5 turnovers per game, he was one of the worst in the nation at giving the ball away. Furthermore, for a player who found himself frequently driving the lane, Carter-Williams shot only 39 percent from the field, and when he launched from beyond the arc, he was only a 29-percent shooter.
What made Carter-Williams special was his knack for the moment. Often, he was able to shake off a bad performance early and put his team on his back, as he did during the season against eventual national champion Louisville.
With C.J. Fair as the new team leader, Ennis won't need to put the team on his back, but he will have to sense the moment and be the court general his team will desperately need. He'll need to keep turnovers down, stay out of foul trouble and help draw the defense away from the forwards.
There's also the fact that he'll be the only freshman starter and could end up being the weak link in the 2-3 zone until he gets a few games under his belt. He will, of course, be learning on the job.
Ennis has a big task at hand. He comes in as a five-star recruit, and the sky is the limit for the young man.
His biggest goal for the season: Grow up quick.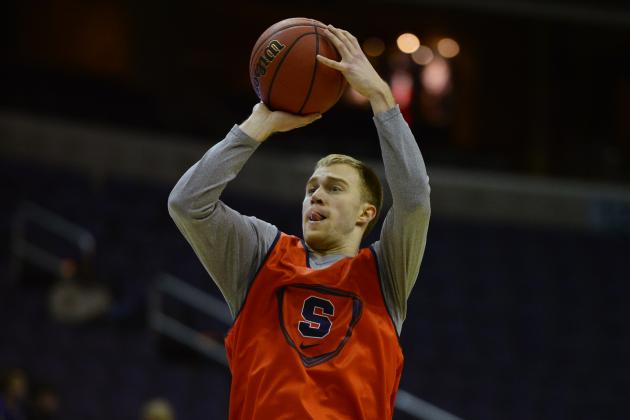 Bob Donnan-USA TODAY Sports

Trevor Cooney came to Syracuse with a lot of hype as a three-point shooting marksman. In his debut season, things didn't work out according to plan as he only shot 26 percent from three, but the jury is still out on this young man, who could still prove to be a powerful outside weapon.
With James Southerland gone, who was the primary outside threat for the Orange last season, Cooney will certainly have a chance to prove himself. He has been taken under the wing of Syracuse assistant Gerry McNamara and has no real fear of being pulled as the depth on the bench for long-range shooters is a little lean this year.
His year of experience, combined with his added minutes this season, could be the recipe for an improved Cooney in the back court.
Cooney has only surpassed 20 minutes in a game four times, and each one of those games was a blow out, with garbage minutes being the key to his longevity. He'll need to make sure his conditioning is tip-top if he's going to have fresh legs at the end of a game when the Orange may rely on him to bury a few threes.
Cooney was a good defender last season, so the only real improvement he will have to make is his outside shooting percentage.
Trevor Cooney's biggest goal: Make his opponents respect his shot.
C.J. Fair decided to stick around for his senior season, which made Orange Nation very happy.
His opponents, however, may not feel the same way.
Fair is a five-tool player who is on the short list of favorites for ACC Player of the Year. All he needs to do to continue the path he's laid out for himself is keep working on his game and stay healthy.
Since suffering a knee injury during his junior year of high school, Fair has remained injury-free, save for a recent bruised leg during Syracuse's summer Canada swing, which is said to be a non-factor.
Fair possesses all the qualities needed to be a superstar this season.
His biggest goal: Stay healthy.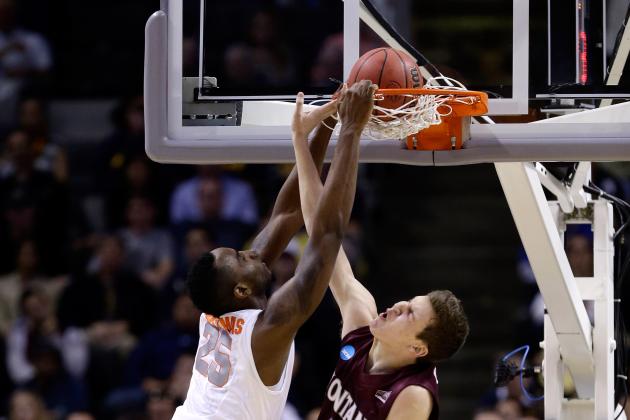 Ezra Shaw/Getty Images

Rakeem Christmas is an interesting piece of the Syracuse puzzle because he is still an unknown quantity as it pertains to the Orange offense.
When motivated, Christmas is explosive to the basket, and his 7'2" wingspan gives him the physical tools to throw down on almost anyone in the nation. The problem is that he doesn't always seem motivated.
At times, Christmas seems passive and gives off a vibe that he is disinterested in being on the court.
This is, of course, purely speculative, but the difference between a disinterested Christmas and motivated Christmas is night and day.
Christmas is a physical specimen at 6'9" and 240 pounds and is poised to play a much bigger role in the Syracuse scheme. He more than doubled his output from his freshman year to his sophomore year in scoring, rebounding and blocked shots. If he continues that type of growth and becomes more assertive on the court, Syracuse will be a very dangerous offensive team.
Biggest goal for Christmas: Get more involved.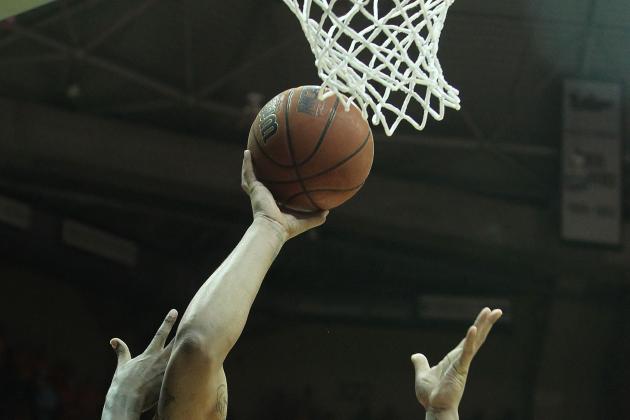 Kim Klement-USA TODAY Sports

At 6'9" and 290 pounds, sophomore DaJuan Coleman is a beast of a man. He is strong, has a nose for the ball and can even score a little.
Coleman will be relied upon to anchor the Syracuse zone, but with that comes problems.
First problem is his left knee, which he had surgery on, but is now rehabbed and reportedly ready to go.
Second issue is his conditioning. Coleman played only 20 games last season, but his mass combined with the fast pace of the Orange offense left him winded and sometimes out of sorts on the court (i.e. bad fouls, poor footwork, etc).
Coleman's mission for this season should be to get himself in great playing shape. His size will get him noticed. His size combined with conditioning could make him feared.
Thankfully for Syracuse, Coleman is working to get into basketball shape with some added summer action.
Coleman's biggest goal: Get into shape and stay there.