Barcelona cruised to a 4-0 victory over Dutch club Ajax at the Camp Nou on Wednesday in the first round of the Champions League group stage. Though Lionel Messi would score a hat-trick on the night, he would not be the hero.
The Catalans settled into convincing possession early on but were unable to find the back of the net in the opening minutes.
It was none other than Lionel Messi who opened up the scoring in the 22nd minute with a dazzling free kick off of the Ajax post. The two sides then played to the halftime whistle with Barcelona a goal to the good.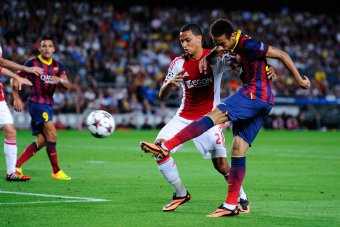 David Ramos/Getty Images
The second half began much like the first, as Barcelona dominated the ball and forced Ajax to chase. Messi added a second goal in the 55th minute before Gerard Pique headed home from a wonderfully weighted cross from Neymar.
Messi finished off his hat-trick in the 75th minute with a calm strike, and the score line would stand at 4-0 in favor of the home side.
Neymar and Messi linked up well throughout the game with both forwards in scintillating form. However, it was Victor Valdes who would play the role of hero for La Blaugrana.
According to WhoScored.com, Valdes made seven saves on the night. What is more impressive is the fact that four of those saves stopped clear chances at goal that should have seen Ajax remain in the match, including a saved penalty shot late in the second half.
After the match was over, everyone would be talking about the Leo Messi hat-trick, but the real story was Valdes coming up big when Barcelona needed him most.
Post-Match Reaction
Both fans and players alike were quick to congratulate Victor Valdes on a wonderful performance. Fellow Barcelona keeper Jose Manuel Pinto took to Twitter after the game, as did many others.
Nice win and great second half! Awesome & genial match of @1victorvaldes Congratulations team! #ChampionsLeague #FCBlive

— José Manuel Pinto (@13_Pinto) September 18, 2013
I hope Del Bosque is fair and gives the best current Spanish goalkeeper the chance to play in a World Cup. Valdés deserves it

— migeru (@migerucb) September 18, 2013
Valdes showed tonight what an outstanding goalkeeeper he can be while Neymar made Pedro look ordinary

— Jimmy Burns (@Jimmy_Burns) September 18, 2013
Lionel Messi also caught up with reporters after the match as "Barcastuff" was able to share some of his comments about the importance for Barcelona to win at home.
Messi: "It was important to start with a win at home. Nice hat-trick? Thank you very much." #fcblive

— barcastuff (@barcastuff) September 18, 2013
Messi: "I think it's good we add alternatives to our game, we also have players to play a good counter-attack." #fcblive

— barcastuff (@barcastuff) September 18, 2013
Messi also took a step closer to making history, as he is now within reach of becoming the all-time leading scorer in Champions League history.
Messi needs 9 + 30 goals to equal Raúl + Zarra as the all-time top scorer in La Liga + the CL. He'll probably do it this season. Still 26

— migeru (@migerucb) September 18, 2013
Not to be outdone, Shakira also took to social media to congratulate her boyfriend Pique for scoring a goal, as well as Valdes and Messi for putting in wonderful performances.
Grande Victor, Messi y Piqueeeeee!! Shak

— Shakira (@shakira) September 18, 2013
And lastly, I leave you with the most pressing news. Manager Tata Martino will be traveling back home to Argentina tonight after his father passed away yesterday. Our thoughts are with him and his family.
Barcelona coach Tata Martino will tonight travel to Argentina to attend the funeral of his father. #rip

— barcastuff (@barcastuff) September 18, 2013
Grades
Neymar: 8.5/10
The Brazilian did everything in this match except for score a goal. His movement was flawless and he constantly drew the attention of defenders, allowing Messi to find space.
Neymar delivered a beautiful assist for Gerard Pique and even tracked back to play terrific defense on the left wing. The 21-year-old contributed in so many ways that many could even consider him the stand-out player on the night.
Lionel Messi: 9/10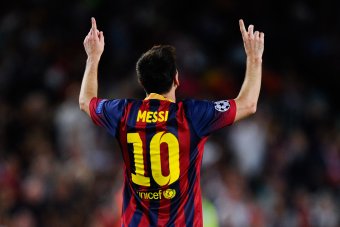 David Ramos/Getty Images
When Messi decides he wants to show his talent, he does. He scored a wonderfully deserved hat-trick, beginning with a free-kick off the post and ending with a Messi specialty.
Barcelona's star forward demanded extensive defending all night and helped create chances as well. All signs point to his ability to break the scoring record this season.
Victor Valdes: 10/10 Man of the match
No questions about this one. The Barcelona keeper made seven key saves and bailed the defense out on several occasions.
His penalty stop in the second half capped off what was a commanding performance for the Catalan. Had it not been for the talented keeper, this match could have been drastically different. Hats off to you Victor Valdes.
What do you make of Barcelona's 4-0 victory over Ajax? Who was the man of the match? Leave your thoughts and comments below!
Tre' Atkinson. Follow me on Twitter for more discussions on Barcelona and all Spanish football!