Alabama Crimson Tide vs. Colorado State Rams Complete Game Preview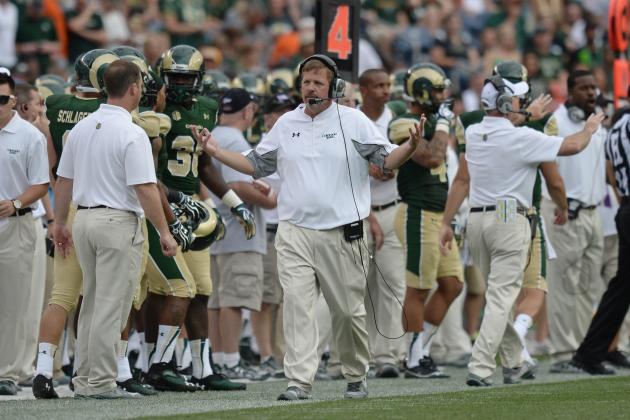 Ron Chenoy-USA TODAY Sports
Jim McElwain returns to Tuscaloosa since the former Tide offensive coordinator took the Colorado State head coaching job in 2012.
After two tough games away from home to open up the season, Alabama will finally get to play in the friendly confines of Bryant-Denny Stadium Saturday against Colorado State.
The matchup is highlighted by the return of former Alabama offensive coordinator Jim McElwain, who led coach Nick Saban's offense from 2008-2011, winning two national championships along the way.
McElwain is facing a tough rebuilding project at Colorado State, going 4-8 in his first year as head coach and off to a 1-2 start this year.
Alabama, meanwhile, will have a much lower pressure week. There are no longer the demands of opening the season on a national stage or going on the road to face the best player in college football.
Here's everything you need to know:
Time: 6 p.m. CT
Place: Bryant-Denny Stadium, Tuscaloosa, Ala.
TV: ESPN2
Radio: Crimson Tide Sports Network, Colorado State Sports Network
Spread: Alabama by 39.5 points, according to Vegas Insider
Begin Slideshow

»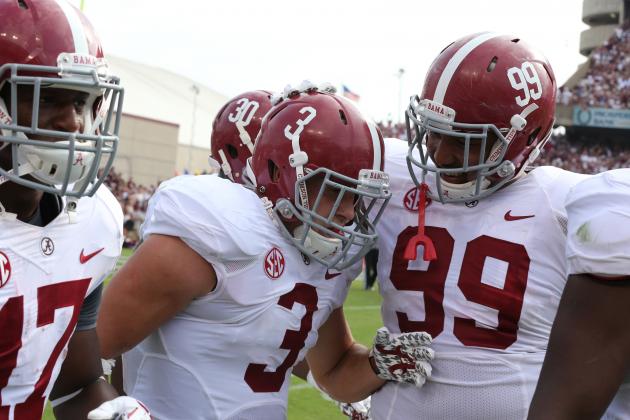 Matthew Emmons-USA TODAY Sports

Get Amari Cooper going
Through the first two games, Alabama's game-breaking receiver has just six catches for 72 yards. But Cooper has a chance to pick up the pace against a defense that's allowed 434.3 yards per game to start the season.
Show up

This game isn't exactly going to be the barnburner that the Crimson Tide's last game was.
It's no secret that Alabama is facing a vastly inferior opponent that it should easily dispatch. Barring an incredible set of circumstances, Alabama will win easily.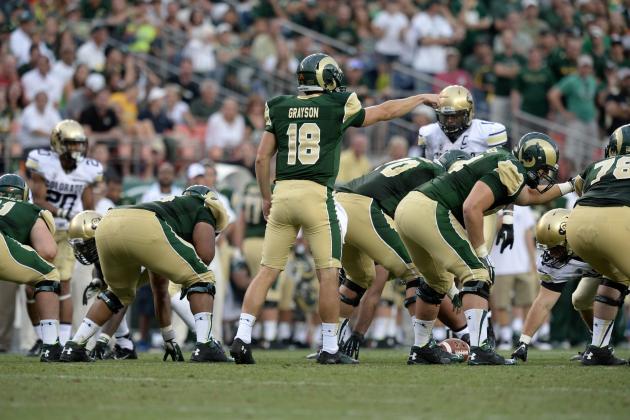 Ron Chenoy-USA TODAY Sports

Get the offense going
Texas A&M gave teams a blueprint on how to beat Alabama, at least offensively.
The Aggies were aggressive early and often, especially in the passing game. Granted, Rams quarterback Garrett Grayson isn't Johnny Manziel. But attacking the Crimson Tide's corners in man-to-man coverage might be the only way to score points.
Hope for a miracle
It's going to take luck—and a lot of it—for Colorado State to knock off the two-time defending national champions. The Rams will need to jump on every loose ball, get every bounce and hope for an uncharacteristic amount of mistakes to even have a chance to win the game.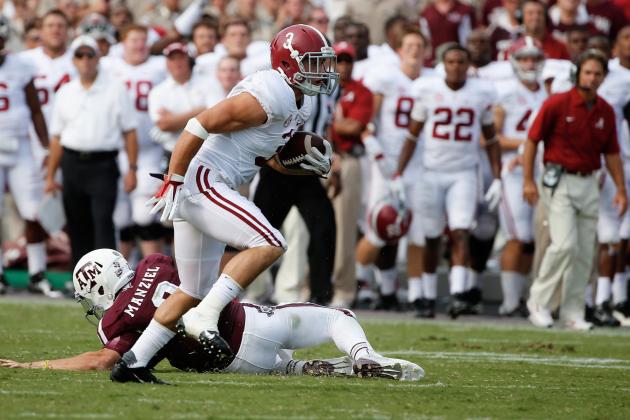 Scott Halleran/Getty Images

Vinnie Sunseri
The Alabama junior safety will be going for a hat trick Saturday. Sunseri has returned an interception for a touchdown in each of the Crimson Tide's first two games this season.
The Alabama record for games in a row with a non-offensive TD was set by Antonio Langham in 1992 with three.
Jalston Fowler
Alabama's do-it-all offensive player looked like his normal self Saturday after a timid effort against Virginia Tech. The running back/H-back/fullback missed most of the 2012 season with a knee injury and was back to old form Saturday, running the ball, catching a touchdown and lead blocking.
Cyrus Jones
The converted wide receiver saw significant snaps at cornerback in Saturday's game and recorded an interception. With Deion Belue questionable for this week's game, Jones figures to be right in the mix at starting cornerback.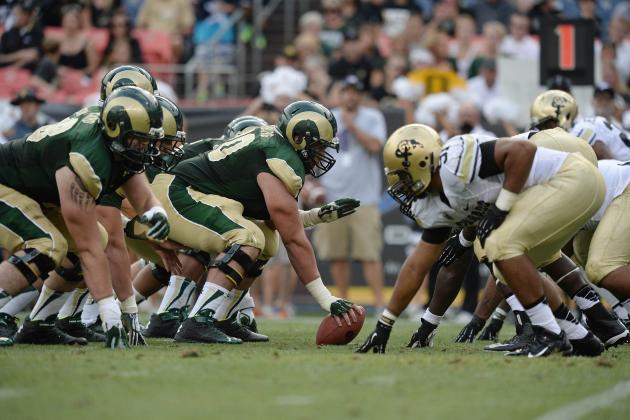 Ron Chenoy-USA TODAY Sports

Weston Richburg
After redshirting his freshman year, Richburg has played in 36 straight games. According to Colorado State's game notes, Richburg consistently graded out above 90 percent last year. He was named to the Outland, Lombardi and Rimington Trophy watch lists.
Crockett Gilmore
The Rams' versatile tight end has caught 64 passes for 731 yards and six touchdowns in his Colorado State career and adds another dimension to the Rams' passing attack. He was named to the preseason John Mackey Award watch list.
Jared Roberts
Colorado State's junior kicker is about as consistent as it gets. He was 9-of-10 on field goals last year and is 6-of-6 to start the year. He has never missed inside 50 yards in his career.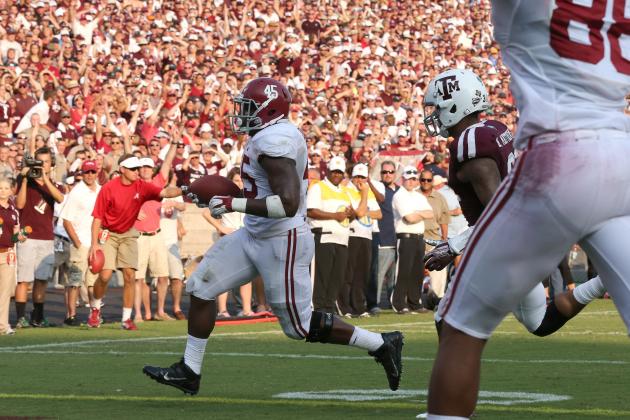 Matthew Emmons-USA TODAY Sports

Jalston Fowler was playing timid in the Virginia Tech game, according to Marq Burnett of The Anniston Star:
In his own words, Alabama running back/H-back Jalston Fowler said he ran scared in the Crimson Tide's season opener against Virginia Tech.

Not because of the Hokies stout defense, but because Fowler was afraid his knee "would give out on him."

"The first game (against Virginia Tech), I was scared," Fowler said on Tuesday. "I thought my knee was going to give out on me. This game (against Texas A&M), I was like, 'Whatever. Just go out there and ball and if it goes out, it goes out. Just go out there and play.'"
Jim McElwain said his team isn't backing down this weekend, according to Michael Casagrande of AL.com:
"I don't think we're going to be scared," McElwain told reporters in Fort Collins. "They're going to go down there and think, "Wow, this is pretty cool." Nervous is when I used to play 'horse' or 'pig' with guys for money and not have the money in my pocket. That puts some pressure on."

McElwain described Tuscaloosa and the game environment as "Mecca."

"When you go through that stadium and see how immaculate everything is, how the people who take the tickets take pride in what they do," McElwain said. "How the people in the parking lots handle whatever their job is or the people who handle the game day operations. It is the best and they take pride in what they do. What I'm getting at is to not allow mediocrity in anything. It doesn't matter what it is. That's what I'm excited for a lot of people to see."
The players aren't scared either, according to Tom Kensler of The Denver Post:
CSU senior cornerback Shaq Bell said the team will go to Alabama expecting to win.

"There's a girl in my class, she didn't believe we could win," Bell said. "I just ignore her."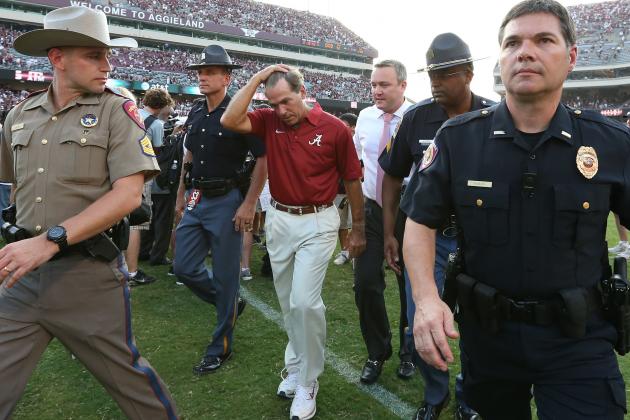 Matthew Emmons-USA TODAY Sports

Alabama 42, Colorado State 7
Nick Saban has never been one to run up the score—last year he took a knee on the goal line against Auburn late in the fourth quarter rather than scoring again. He especially won't run up the score against his former offensive coordinator.
The Rams will score off a missed assignment or mental error from Alabama, but that will be it. The Alabama offense will roll, but the starters will be off the field before the start of the fourth quarter.
Alabama will finally get a chance for a low-pressure game before the Crimson Tide host their first SEC opponent next week.