Denver Broncos: How Denver Can Make Up for the Loss of Ryan Clady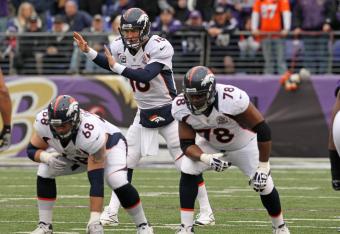 Mitch Stringer-USA TODAY Sports
The Denver Broncos may be in trouble.
Left tackle Ryan Clady was injured in the fourth quarter of the New York Giants game with what was diagnosed as a left-foot injury at the time.
Now, a report from Jeff Legwold from ESPN says Clady is going to have season ending surgery on what is now known to be a Lisfranc sprain. This snaps Clady's streak of starting 82 consecutive games for the Broncos.
The Broncos know that protecting quarterback Peyton Manning is priority No. 1. That's one of the many reasons why they signed Clady to a five-year contract worth $52 million ($33 million guaranteed) in July. Losing Clady will downgrade their pass protection for Manning.
Veteran Chris Clark will be the starting left tackle while Clady is out. The Broncos have taken care of his contract as well. On Monday they signed Clark to a two-year contract extension.
When asked about Chris Clark, Broncos head coach John Fox had this to say: "He got a lot of work [at left tackle] this training camp, as well as the preseason games. We have the utmost confidence in Chris Clark."
Clady didn't play until the third week of the preseason as he recovered from offseason shoulder surgery. Clark has plenty of experience from the preseason, and it will really benefit him, as he will now be in the starting lineup.
On Tuesday Clark talked about that experience and how it should help him moving forward.
"That definitely helped a lot, it really did," Clark said. "You get a chance to learn different things, snap counts, different things like that, and learn [QB Peyton Manning's] rhythm. Getting different things like that, that definitely helps me as a tackle."
The Broncos have also made a move to add depth to the offensive line. It was announced Wednesday that the team had signed former Eagles' offensive tackle Winston Justice.
Moving pieces on the offensive line is not the only fix the Broncos will make to adjust to life without Clady.
They may also change their base offense from 11 personnel to 12 personnel.
11 Personnel
When the Broncos signed wide receiver Wes Welker in free agency earlier this year, it indicated a big change was coming to the offense. With Demaryius Thomas and Eric Decker already in the fold, it only made sense to run three-wide receiver sets with Welker.
Scouts call this 11 personnel. It stands for "1" running back and "1" tight end. Five skill-position players are always assumed. This meant that the Broncos would be three wide on most formations.
Pictured below is Denver's primary formation from the first two weeks of the 2013 season. As you can see, Demaryius Thomas is the "Z" receiver on the right, Wes Welker is lined up in the slot, and Eric Decker is the "X" receiver on the left. Julius Thomas is the only tight end on the field, and Knowshon Moreno is the lone running back.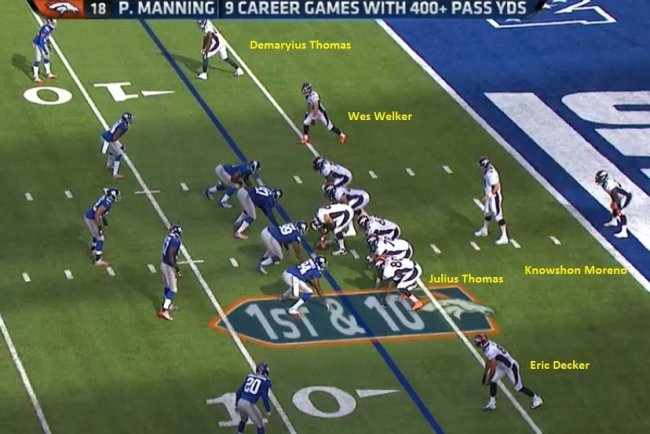 This formation works great for what the Broncos wanted to do offensively. They could run a variety of plays out of this set featuring both short and long routes. The Broncos could even run out of this formation, as a pre-snap read doesn't give away whether or not Julius Thomas is going to block or run a route.
All things looked great for Denver's passing game the first two weeks of the regular season. Manning compiled 769 yards passing and nine touchdowns during that span. However, this formation puts a lot of pressure on the offensive line to maintain its blocks.
As this picture shows, we see left guard Zane Beadles and center Manny Ramirez double-teaming defensive tackle Chris Canty. They were able to do this because Clady could handle Terrell Suggs one on one on the left side.
Without Clady we could see more two-tight end formations, also known as 12 personnel.
12 personnel
The main formation for the Broncos in 2012 under former offensive coordinator Mike McCoy, 12 personnel stands for "1" running back and "2" tight ends. Five skill-position players are always assumed, so that means only two wide receivers are on the field.
In the picture below, we see the formation in play last year. The Broncos had a very strong setup here, with both Joel Dreessen and Jacob Tamme on the field at the same time.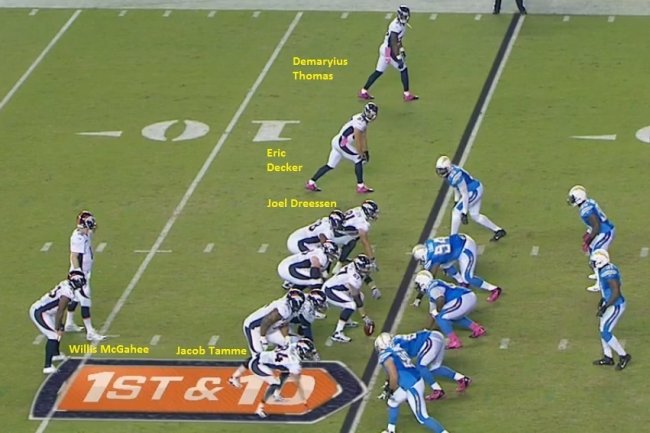 Both Dreessen and Tamme are quality receivers, and that's what made this run-heavy formation work so well in 2012. The Broncos show run in the pre-snap read, but Manning can play-fake and hit a tight end mismatched on a linebacker.
Dreessen is coming back from two offseason procedures on his knee. He has been worked back slowly at practice, mostly doing light running and agility drills off to the side. The faster Dreessen can get back, the better it is for the Broncos.
With the emergence of Julius Thomas, it has relegated Tamme to playing mostly on special teams. The Broncos have started to use Virgil Green more when they want to run the football.
In the picture below, we see the Broncos in 12 personnel before Knowshon Moreno's second touchdown run against the Giants. Notice how Green is in on the right side next to right tackle Orlando Franklin.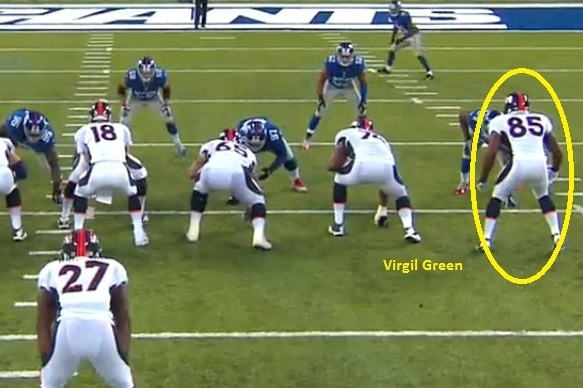 This picture shows how both Franklin and Green help push the right side. In fact, Green is the one who seals the edge and allows Moreno to run for the 25-yard score.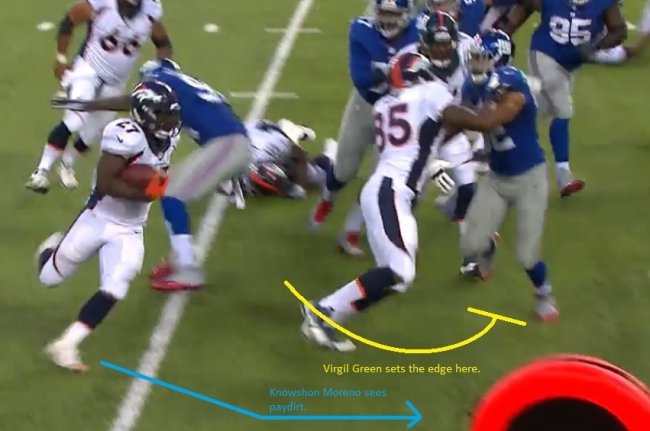 The Broncos came out against the Giants using 11 personnel to start the game. In the second half, they ran the ball a lot out of 12 personnel.
Manning certainly took notice and commented about the personnel grouping and the ground game after the victory.
We made some adjustments. We went a little more with two tight ends in the second half. We were mostly one tight end, three wides in the first half. I thought the two tight ends were a good change for us and we ran the ball better out of that personnel grouping. For whatever reason, that helped our running game, and we were able to get a couple of big plays in the passing game on crossing routes to Demaryius (Thomas), (Eric) Decker, and that was a good change by the coaches. It's not a major drastic change—it's just one guy, like Virgil Green for Wes Welker. For whatever reason, our execution got better. We'll see the film, as to what the real reason for it was. It did give us a little more rhythm, and when you can go to three wides after that, you know Wes' touchdown was in three wides, you can keep them a little more off balance.
Without Clady in the lineup, the Broncos need to see if they can handle the pressure presented by opponents on the left side of the line. This could lead to more 12 personnel going forward. In fact, it wouldn't be surprising to see the Broncos start with 12 personnel then use 11 personnel when they get a mismatch they like.
The Broncos faced little adversity in 2012 and finished the year with a 13-3 record. This season adversity has been the constant for the Broncos.
In the coming weeks, we'll see how the team responds to this latest problem.
All quotes and injury/practice observations obtained firsthand
This article is
What is the duplicate article?
Why is this article offensive?
Where is this article plagiarized from?
Why is this article poorly edited?

Denver Broncos: Like this team?