Biggest Winners and Losers from NASCAR Sprint Cup Series at Chicago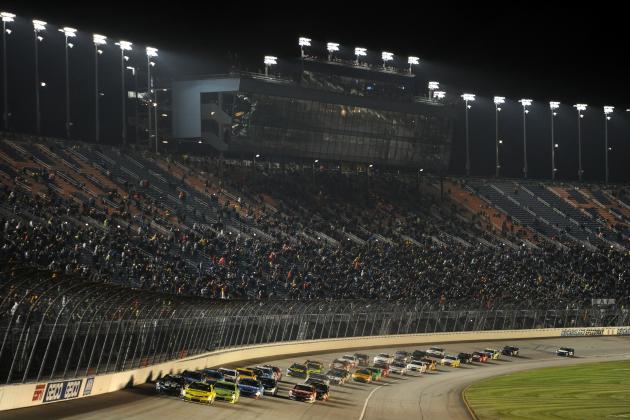 Robert Laberge/Getty Images
A rain delay lasting more than five hours pushed the finish of NASCAR's Chase opener to nighttime.
It was Monday morning on the east coast when NASCAR wrapped its first race of the 2013 Chase for the Sprint Cup that was scheduled to start nearly 10 hours earlier. Fortunately, the rainy day in the far stretches of Chicago's suburbs wasn't a full washout and Sunday's 400-miler didn't get shortened.

Joey Logano was strong early and led when the rain hit just before halfway. Kyle Busch looked good after the rain, as several Chase contenders battled through various issues. But at the end, with eyelids drooping, it was Matt Kenseth rolling to his sixth win of 2013.

Find out who had a good weekend in the Geico 400 at Chicagoland Speedway and who didn't.
Begin Slideshow

»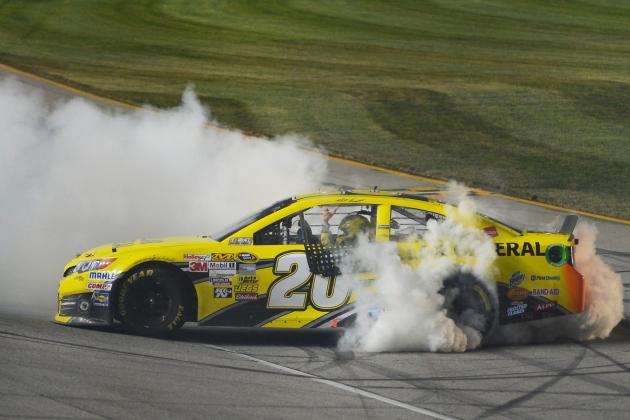 Robert Laberge/Getty Images
It was Matt Kenseth doing the celebrating after a long day at Chicagoland Speedway.
Last season, Matt Kenseth got off to an inauspicious start at Chicagoland Speedway and NASCAR's playoffs when his car broke a shock during the race.
He watched as Brad Keselowski took the checkered flag and later became the second straight driver to win the Chase for the Sprint Cup opener and go on to win the championship.

Perhaps that's what motivated Kenseth to lead 89 laps in Sunday night's rain-delayed race. Or perhaps he just wanted to defend his small point lead accrued from winning the most races in 2013.

Whatever it was, it worked.
Kenseth got a shove from Kevin Harvick on the race's final restart and took the lead from teammate Kyle Busch. Busch was never able to mount a late charge to get back by Kenseth.
Now Kenseth is just nine races—an eternity in Chase time, of course—from becoming the third driver in a row to score the Chicagland win and later the series title. His eight-point post-Chicago lead isn't much, but it's better than what could have been.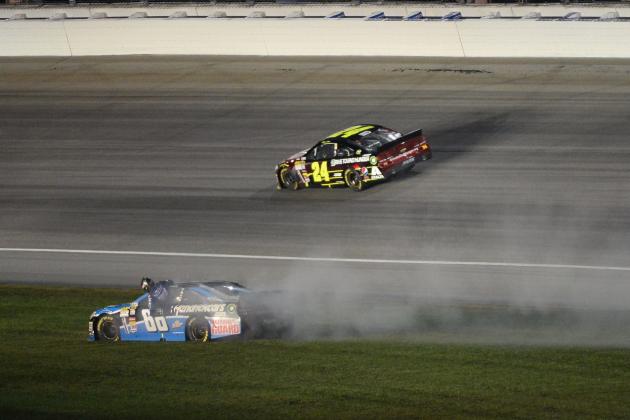 Robert Laberge/Getty Images
Dale Earnhardt Jr.'s engine failure may have wrecked his title bid.
Conspiracy theorists—bolstered by the mind-numbing results of the previous seven days of NASCAR decisions—latched quickly on Dale Earnhardt Jr.'s blown engine on Lap 224.
The subsequent smoke, oil and spin brought out a yellow that put his teammate Gordon back on the lead lap for good—a tight enough coincidence that some felt was intentional.

Of course, it wasn't. In fact, the most lasting effect of Earnhardt's blown engine—the No. 88 blew at the fastest point of Chicagoland's 1.5-mile track—is that Earnhardt's championship status may already be no better than also-ran.

With his 35th-place finish, Earnhardt is dead last in the Chase after one race.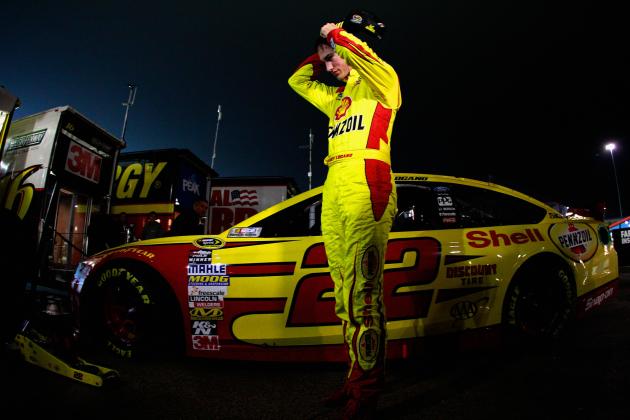 Sean Gardner/Getty Images
Joey Logano could hardly contain his disappointment after blowing an engine Sunday at Chicago.
The unexpected pop-up rain shower that brought a halt to Sunday's proceedings at Lap 109 ahead of the main line of heavy rain may have been the factor that kept Joey Logano from making a realistic run at the title.
Logano was leading Sunday's race handily when that rain hit less than 25 laps from halfway and started the five-plus hour rain delay.
By the time it was all over, Logano's car was already on the hauler with a blown engine. He finished 37th.

It's speculative, sure, but if the first shower would have missed the track, Logano could have been leading when the main front rolled through likely after the race's halfway point. With NASCAR's minimum for an official race met, restarting the race at 10 p.m. ET would have been sizably less likely.
But that didn't happen and now Logano is 52 points out of first.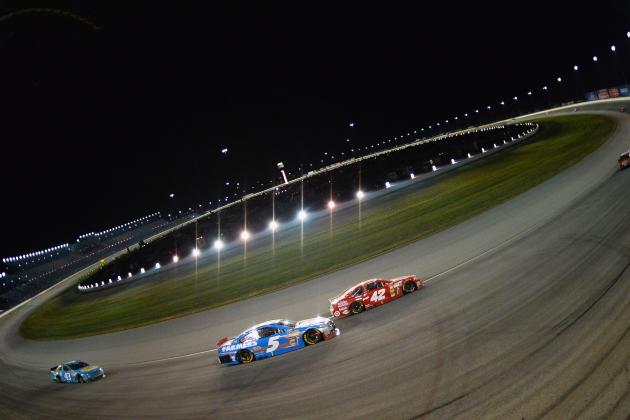 Robert Laberge/Getty Images
The lights installed at Chicagoland Speedway proved plenty useful Sunday night.
When Chicagoland Speedway was awarded the first race in the Chase three seasons ago, many expected it meant more prime-time NASCAR racing in the playoff format. Then, officials revealed it was to be a Sunday afternoon start.

The move was humorous in the fact that it meant Chicagoland was no longer going to use lights for its premier event just three seasons after installing them.

Sunday's rain-delayed race, however, made the investment a worthwhile one. Without the lights, NASCAR would have been forced to finish on Monday at the track.
It would not have been the end of the world, of course, but it likely meant many fans were able to both stay at the track to see the race's completion and also watch the finish before reporting to work Monday.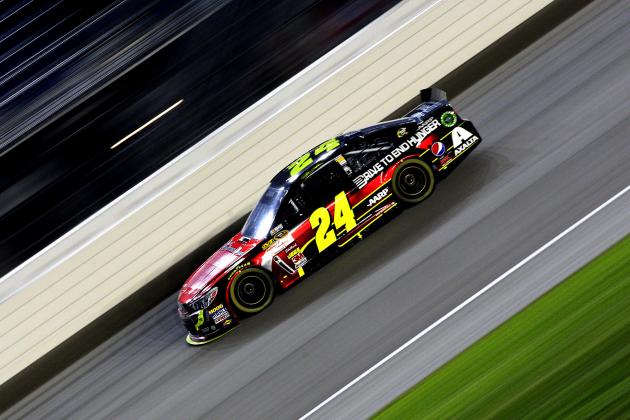 Sean Gardner/Getty Images
Jeff Gordon had to rally and use a bit of good luck to earn a top-10 finish.
The jury may never fully come in on whether or not Jeff Gordon's participation in the 2014 Chase for the Sprint Cup will ever be seen as legitimate. That's the hole NASCAR has dug, thanks to its controversial moves following last weeks boondoggle at Richmond.

Gordon, placed in the Chase only Friday afternoon, nearly had it all go away in his first outing to the 10-race when he suffered a flat tire while leading. Trapped a lap down with a fast race car, Gordon's only salvo was a well-timed caution. He got that when teammate Dale Earnhardt Jr. detonated an engine.

Gordon used his second stroke of good fortune in the weekend to rally to a sixth-place finish, improving to seventh in the point standings.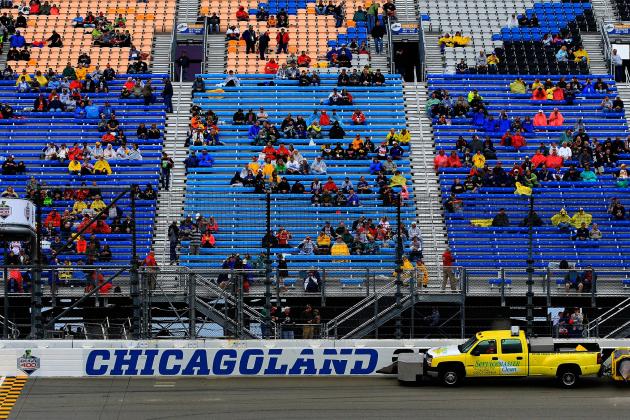 Sean Gardner/Getty Images
Jet dryers weren't accompanied by NASCAR's new technology to dry the track at Chicagoland Speedway.
It was February when NASCAR unveiled a high-tech and experimental system designed to dry wet race tracks exponentially quicker than the standard jet dryer system. In Apirl, it seemed to make a marked difference in the time spent to dry a wet track at Talladega Superspeedway.

And Sunday night at Chicagoland Speedway when the "Air Titan" system—featuring compressed air, semi-mounted generators, hoses, vacuum trucks and more—was conspicuously absent during a lengthy rain delay in the opening round of NASCAR's playoffs.

The reason? It's plenty silly: NASCAR is charging tracks for use of the expensive system. Chicagoland Speedway declined to take on that extra cost.

Come on, NASCAR. The Air Titan should be on grounds at every event, just like officials and tow trucks.
Geoff Burke/Getty Images
Kevin Harvick made some impressive moves on restarts Sunday night.
Quantifying how good Kevin Harvick was on multiple restarts Sunday night after the rain delay, is nearly impossible to do. Just know that on more than one occasion he jumped bunches of spots and made life a whole lot easier on a track where passing can get ultra difficult when the field gets strung out.

Harvick's prize for the adept restarts was a third-place finish and only a slight loss of points to both pre-race series leader and race winner Matt Kenseth.

He also earned an assist late in the event when it was his restart behind Kenseth that helped push the No. 20 to the lead. Harvick wasn't able to grab second from Kyle Busch, however.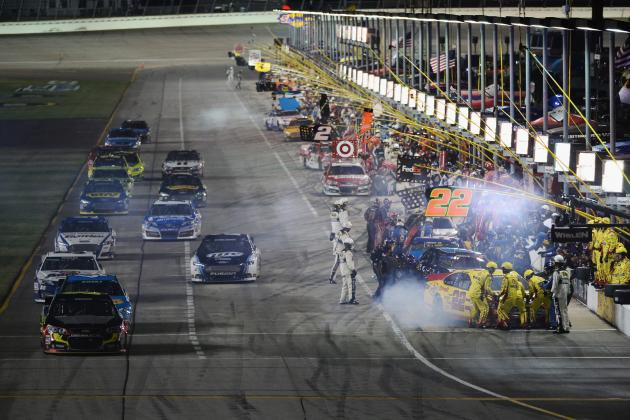 Robert Laberge/Getty Images
Pit road produced havoc Sunday night for many drivers.
Blame it on the late hour or just blame it on over aggression. Whatever it was, at least one round of pit stops Sunday night featured pit road bumper cars that left several Chase-contending teams scrambling to fix damage.

Kasey Kahne was one of the victims, and he wasn't happy about it.

"There were like three or four guys clueless on pit road; they are all stopping and can't find their stalls–like we've never done this before," Kahne said.

Kahne was joined by teammate Dale Earnhardt Jr. and Kevin Harvick among those taking damage from the melee caused when several lead cars took either fuel only or two tires during a round of pit stops. When the lead cars raced out of their pit stalls, cars further back in the pack were just entering their own stalls.
Quotes obtained firsthand from team transcript.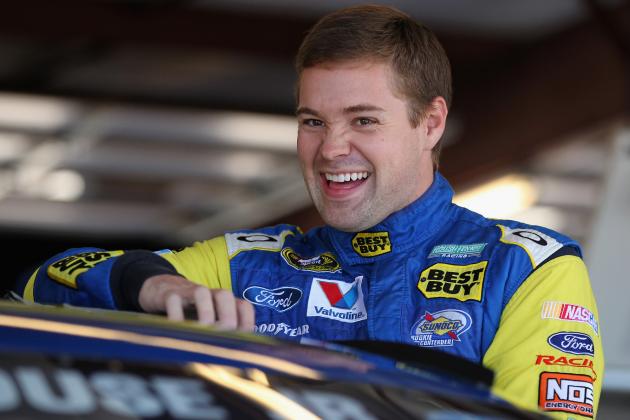 Geoff Burke/Getty Images
Ricky Stenhouse Jr. recorded a career-best finish on Sunday.
Disappointing is too strong of a word to issue as an analysis covering Ricky Stenhouse Jr.'s rookie season in the Sprint Cup Series. He is, after all, a rookie in the sport's top series.

But you can bet Stenhouse was starting to feel the weight of not running and finishing toward the front through the first two-thirds of the 2013 season. In fact, as of two weeks ago, he had yet to score a top-10 finish.

Stenhouse finished eighth Sunday night at Chicagoland to mark both his second-consecutive top-10 finish and his career best cup series run. He may just be an underdog threat in a few weeks at Kansas Speedway.