Dolphins vs Colts: Takeaways from Miami's 24-20 Wn Against Indianapolis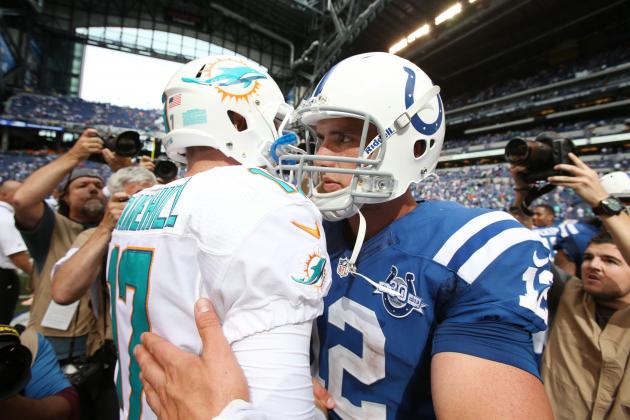 Brian Spurlock-USA TODAY Sports

The Miami Dolphins once again emerged from a road game victorious and now share a tie with the New England Patriots atop the AFC East.
As opposed to a week ago, when the Dolphins beat a listless Cleveland Browns team struggling without a few key starters, the Dolphins felled a much bigger foe in Week 2, as they faced an Indianapolis Colts team that made the playoffs last season.
The Dolphins jumped out to an early 14-3 lead and watched as the Colts came roaring back to hold a 17-14 lead just before halftime. Fortunately, the Dolphins moved the ball down the field just before the half ended and gave their rookie kicker Caleb Sturgis a chance at a long 54-yard field goal with time expiring. The rookie nailed the field goal, and the two teams entered halftime tied at 17.
During the second half, the Dolphins scored the go-ahead touchdown, in large part to a flourishing connection between quarterback Ryan Tannehill and free-agent addition Mike Wallace.
The Colts could only manage a field goal before finding themselves at their own 14-yard line with less than four minutes remaining in the ball game, needing yet another fourth quarter miracle from their young standout quarterback Andrew Luck.
Luck fell short of the task just outside of the red zone, as he was was sacked on 4th-and-10 by Dolphins linebacker Philip Wheeler, which sealed the victory for the Fins.
The following are some other key takeaways from the Dolphins win on Sunday.
Begin Slideshow

»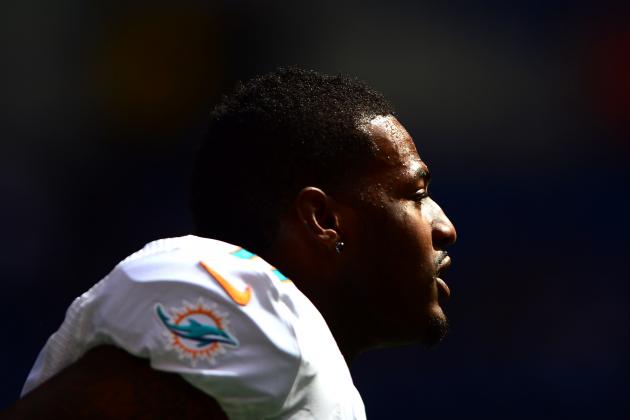 Andrew Weber-USA TODAY Sports

As I wrote in another article about today's game, Mike Wallace has given the Miami Dolphins a significant indication that he will be a fine addition to the team's stable of receiving talent.
Wallace was targeted 11 times during the game, catching nine of those attempts for 115 yards and a touchdown. The most impressive aspect of the performance was how complete it was. He caught balls underneath the coverage and capitalized on that success by burning the defense with double-moves on longer routes. He also ran well with the football in his hands on a wide receiver screen, producing a touchdown.
Offenses can get a receiver some production by simply making him a focal point in the game plan, and defenses should not necessarily be able to stand in the way of that production, to a certain extent.
Wallace did more today than simply collect what the combination of the defense and offensive game-planning offered. He hurt the Indianapolis Colts defense and became a big part of the reason the Miami Dolphins won the game.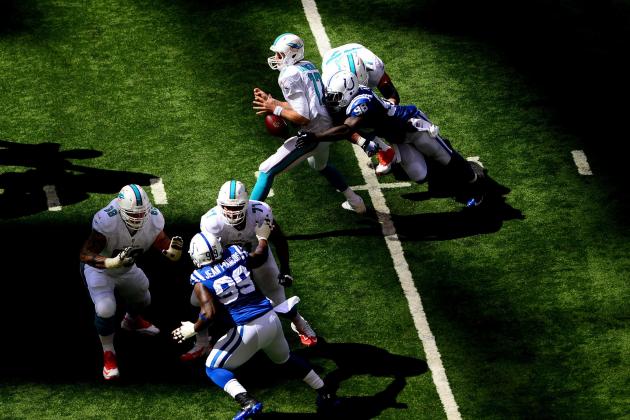 Andrew Weber-USA TODAY Sports

After allowing four sacks and seven additional hits on their quarterback against a vicious Cleveland Browns defensive front in Week 1, the Miami Dolphins offensive linemen had to be hoping for a better performance in pass protection against an Indianapolis defensive line on Sunday that had fewer playmakers.
That did not happen, though, as the pass protection allowed five sacks and an additional four hits on Ryan Tannehill.
A big part of the problem was the Dolphins' blitz pick-ups. Daniel Thomas whiffed on a blitz pick-up that ended with a sack by Indianapolis linebacker Jerrell Freeman, who had two sacks on the day. Linebacker Pat Angerer also produced a half-sack along with rookie defensive end Bjoern Werner. Standout defensive end Robert Mathis produced another two sacks.
One of Mathis' sacks was clearly a coverage sack. Mathis was unblocked at the line and was picked up by tight end Charles Clay in the backfield. That block was designed to give quarterback Ryan Tannehill a discrete amount of time to throw the football, but he ended up holding the football for over four seconds before Mathis finally contacted him.
One week ago, Ryan Tannehill was widely blamed for sacks that were not truly his fault, as he was physically contacted by defenders in under three seconds. This weekend, at least one sack was truly his fault.
On the other hand, right tackle Tyson Clabo had a very difficult time blocking the Indianapolis pass-rushers. Left tackle Jonathan Martin also struggled at times blocking Robert Mathis, forcing Tannehill to step up in the pocket or to throw the football early.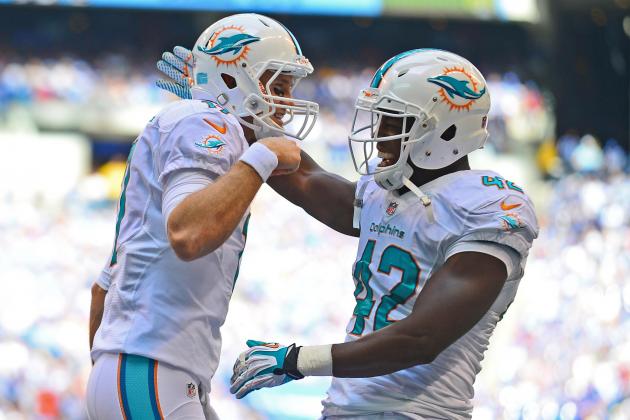 Andrew Weber-USA TODAY Sports

One week ago, tight end Charles Clay had a decent game, as he picked up 54 yards on five catches against the Browns. However, I gave Clay a "D" for his overall performance in the game, as it felt below average due to his costly penalties as well as some blown blocks.
This week, Clay played a much cleaner football game. He was not called for any costly penalties, and I did not catch any blown blocks. Technically, he may be attributed a sack by Colts pass-rusher Robert Mathis, but as stated in the previous slide, the block that Clay executed was not schematically designed to provide Ryan Tannehill much time to get rid of the football on the play. Tannehill held the football for over four seconds before Mathis was finally able to get him; therefore, Clay did his job on the play.
What Clay did that should have everyone excited is make plays. He caught the football five times for 109 yards on seven overall targets. He made a 67-yard play on a ball thrown into heavy traffic down the field, staying on his feet for some good yardage after the catch.
It is no secret that the Miami Dolphins lack options in short-yardage situations. Tailback Daniel Thomas has had very up-and-down success in short yardage situations, and the Dolphins lack a ball-carrying fullback. The highest-percentage option the Dolphins had was to send quarterback Ryan Tannehill on a sneak. However, they paid for that predictability on a fourth-down play where Tannehill was stuffed on the initial push and failed to get far enough on his second effort.
The Dolphins may have found a short-yardage option in Charles Clay, however. On 1st-and-1 from the goal line, the Dolphins sent Clay up the middle on a fullback dive, and he produced a touchdown.
Clay is not exactly a new initiate to the idea of running the football, either. In fact, he ran the football 179 times for 911 yards and 10 touchdowns at Tulsa from 2007 to 2010.
Andrew Weber-USA TODAY Sports

Miami corner Dimitri Patterson sat out the game with a hurt groin. He was not listed as inactive, but the team clearly felt he was hurting to such an extent that he would be better used only as an emergency option on Sunday.
His replacement at slot corner during the game was defensive back Jimmy Wilson, who has never quite found a position since being drafted by the Dolphins in the seventh round in 2011. Wilson allowed several plays throughout the game and was generally a weakness in the secondary.
Miami linebacker Koa Misi also stepped off the field for a few plays and was replaced by backup linebacker Jason Trusnik. Andrew Luck immediately targeted him by throwing the football to third-string tight end Dominique Jones. Initially, Jones looked like he had made the diving reception, but replays suggested the ball might have come loose as he fell to the ground.
At tailback, Lamar Miller's primary backup continues to disappoint. Daniel Thomas continued to gain less than four yards per carry, gaining only 30 yards on eight carries against Indianapolis. Sunday's contest was Thomas' 19th game out of 27 career games in which he has averaged under four yards per carry.
Thomas also missed a block on Colts linebacker Jerrell Freeman, which produced a sack on quarterback Ryan Tannehill. Though he nudged the football far enough on a third-down short-yardage situation, the Dolphins showed a lack of faith in him on the goal line when they had Charles Clay carry the football for the first time since he was with Tulsa in 2010.
On the bright side, the Dolphins continue to show quality depth on the defensive line, as backup defensive tackle Randy Starks played at a high level for the second-straight week, and backup defensive end Derrick Shelby had his second-straight strip-sack in as many weeks.
However, the Miami Dolphins showed problems with their overall depth. The team has unproven or poor depth at safety, corner, outside linebacker, inside linebacker, offensive tackle, center, tight end and tailback.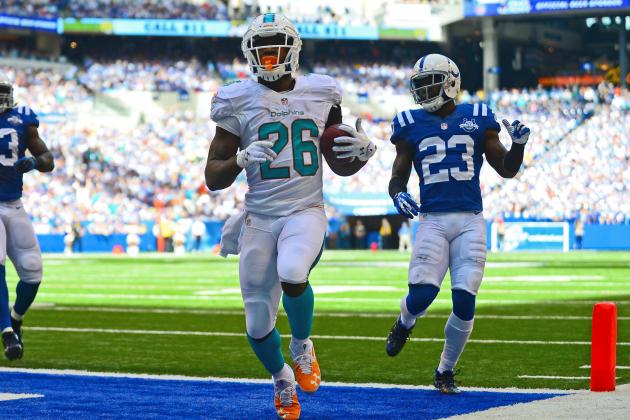 Andrew Weber-USA TODAY Sports

A week ago, Dolphins tailback Lamar Miller ran 10 times for only three yards. He took a lot of criticism during the week leading up to the Colts matchup, even though it was pretty clear during the Cleveland Browns game that the offensive line gave him no holes through which to run.
Against the Colts, Miller ran 14 times for 69 yards, including a touchdown run. While many people would like to say that Miller looked more decisive, the truth is that he had a lot more room to run, which allowed him to show off skills that he did not have the opportunity to show against the Browns a week ago.
In particular, Lamar Miller has an incredible amount of speed. On a 1st-and-goal play from the Colts' 10-yard line, Colts corner Vontae Davis was drawn slightly to the inside, as he had man coverage responsibility on the wide receiver to the left side of the offensive formation. Davis was only a heartbeat late in recognizing the run play with Lamar Miller, but that was costly enough because of Miller's speed as he bounced the ball to the outside.
Lamar Miller is a viable starting tailback for the Dolphins, and the key to the Dolphins' season may be keeping him healthy because of the lack of depth behind him.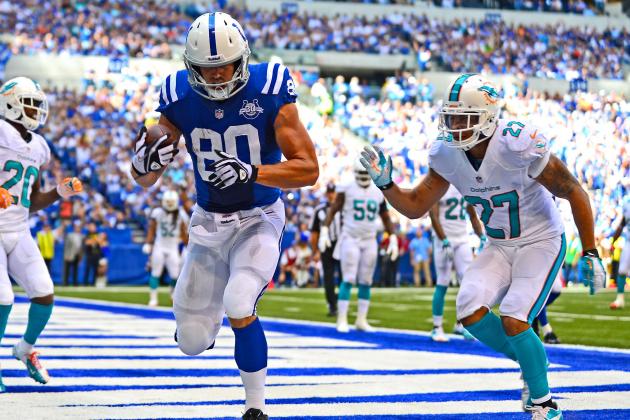 Andrew Weber-USA TODAY Sports

A week ago, Browns tight end Jordan Cameron had a career day against the Miami Dolphins' linebackers and safeties, as he racked up nine catches for 108 yards and a touchdown.
His fellow tight end Gary Barnidge caught one ball for nine yards, but he beat Dolphins strong safety Reshad Jones for another touchdown in the end zone that was called back by a holding penalty on Browns right guard Oniel Cousins.
The Colts must have studied the tape from the Dolphins-Browns matchup pretty well, because Coby Fleener caught a touchdown that looked like the mirror image of the one Reshad Jones allowed in the back of the end zone to Gary Barnidge last week. The fact that the play was wiped out by a penalty does not nullify its use to future opponents.
Prior to that play, Coby Fleener got open on an in-breaking route in the end zone but was clearly the victim of pass interference. Fortunately for the Dolphins, the officials did not see or call the penalty.
On a later play, this one a play-action pass to Fleener, Miami linebacker Philip Wheeler got sucked too far to the play side by the fake and lost Fleener on a short catch-and-run that went for 18 yards.
As mentioned in a previous slide, when Miami linebacker Koa Misi was forced to leave the field for a series, backup linebacker Jason Trusnik appeared to get burned for a 20-yard play by Colts third-string tight end Dominique Jones. Much like a week ago with the aforementioned Barnidge play, the fact that Jones bobbled the football while going to the ground does not erase what the play suggests about the team's ability to cover him on that play.
All in all, despite missing starter Dwayne Allen, the Colts tight ends finished the day with five catches for 83 yards and a touchdown.
This suggests that Miami continues to have trouble matching up with tight ends. The Dolphins would be wise to fix the problem before facing the likes of Tony Gonzalez, Jimmy Graham, Rob Gronkowski, Jermaine Gresham, Tyler Eifert, Antonio Gates, Greg Olsen, Heath Miller and Kellen Winslow, Jr.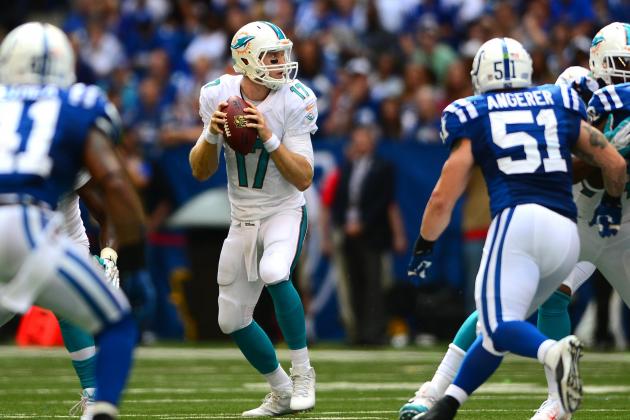 Andrew Weber-USA TODAY Sports

Though he was aided by an effective ground game which helped keep the offense on-schedule, Ryan Tannehill clearly stepped up his game at quarterback this week. Tannehill threw for 319 total yards in the game and achieved a 107.4 passer rating, which bested the more heralded Andrew Luck's rating during the game.
Tannehill has now completed 47-of-72 passes for 591 yards this season with two touchdowns and one interception. He also has a 94.2 passer rating through two games. During both last week and this week, he made very quick and sound decisions with the football and has thrown it effectively, despite being sacked a total of nine times.
There were subtleties in his game that improved from a week ago. Once or twice, you could see Tannehill stepping up into the pocket to avoid Robert Mathis' attempt to swipe the football out of his hands as he beat left tackle Jonathan Martin around the edge. He also threw more accurately when attempting to hit Mike Wallace on a deep route.
A week ago, I felt Tannehill was unsafe with his throw three or four times, but the Indianapolis defenders did not have as many chances to get their hands on the football in this game.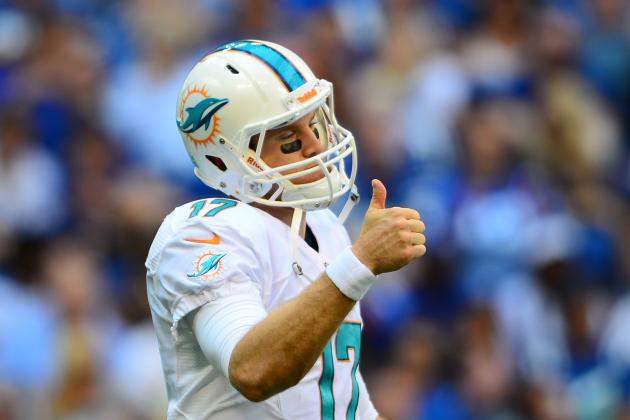 Andrew Weber-USA TODAY Sports

Prior to the season, I predicted that the Miami Dolphins would finish the season 8-8, failing to make the playoffs for the fifth-straight year. While it may be going too far to adjust expectations to include a playoff berth, an adjustment on the expected 8-8 record is necessary.
The Miami Dolphins' Week 1 game gave us an opportunity to see if the Dolphins were worse than expected. For whatever reason, bettors and national analysts did not see the game accurately, and the Dolphins should have been expected to win against the Cleveland Browns given the state of the Browns' roster and the players who were set to miss the game. If the Dolphins had lost that game, a downward adjustment to expectations would have been necessary.
This week was an opportunity for the Dolphins to prove that they are better than expected. A team that is expected to win only seven or eight games during the season does not generally start the year with two-straight road victories, including one against a team that made the previous season's playoffs. This win signifies that the Miami Dolphins are better than a seven- or eight-win team.
This leads me to adjust my expectations to a final record of 9-7, pending the team's performance during a brutal stretch of games against the Atlanta Falcons, New Orleans Saints and Baltimore Ravens.