Comparing Reds Prospect Billy Hamilton to Cardinals SB King Vince Coleman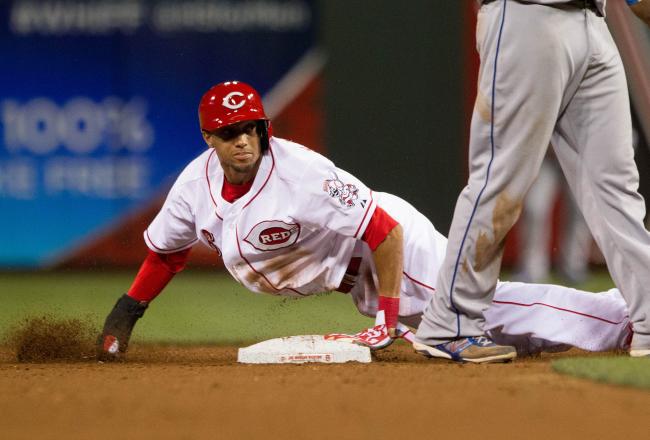 Rob Leifheit-USA TODAY Sports
It makes me happy that a national audience has now been exposed to Billy Hamilton's speed.
Before he made a plate appearance with the Cincinnati Reds, the 23-year-old outfielder stole four bases in four attempts and scored three runs as a pinch runner in the late innings.
Much like teammate Aroldis Chapman, with his ability to enter games in the ninth inning and pump triple-digit fastballs with ease, Hamilton's speed alone may be worth the price of admission.
But despite his potential to impact games on the basepaths, Hamilton is far from a polished prospect. More specifically, there are legitimate questions as to whether he'll ever develop the hit tool needed to hold an everyday job in the major leagues.
However, as was the case in the 1980s with former St. Louis Cardinals' speedster Vince Coleman, a raw hit tool may not necessarily dictate Hamilton's ultimate impact in the major leagues.
The Calling Card: Speed
Billy Hamilton is the fastest player in baseball. Possibly ever.
The 23-year-old has the ability to put enormous pressure on opposing defenses thanks to feet that literally never stop moving on the field and a mindset geared towards taking an extra base whenever possible.
Hamilton put himself on the map by stealing 103 bases in 135 games during his full-season debut at Low-A Daytona in 2011. Last season, he set a new professional record by swiping 155 bases in 132 games between High-A Bakersfield and Double-A Pensacola. He was also thrown out 37 times.
Believe it or not, Hamilton has actually been more efficient on the basepaths this season. In 123 games at Triple-A Louisville, he stole 75 bases in 90 attempts (83.3 percent), not to mention the four he's added since joining the Reds. The only difference is that the consistent contact and on-base skills that he showed last year have not translated this season at Louisville.
The Comparison: Vince Coleman
While it's easy to lazily compare Hamilton to Michael Bourn, I don't think he'll ever hit enough to be viewed as one of baseball's premier center fielders. Instead, it's more appropriate to compare him to another player who built his career on elite speed but never made a significant impact with the bat.
For most folks, the first player that comes to mind is Vince Coleman, who arguably served as baseball's best leadoff hitter during his six years with the St. Louis Cardinals. Beginning with his age-23 season in 1985, Coleman led the Major Leagues in stolen bases for three consecutive years (1985-1987) and paced the National League in all six seasons with St. Louis.
| | | | | | | | | | | | | | |
| --- | --- | --- | --- | --- | --- | --- | --- | --- | --- | --- | --- | --- | --- |
| Year | Age | G | PA | R | XBH | SB | CS | BB | K | BA | OBP | SLG | WAR |
| 1985 | 23 | 151 | 692 | 107 | 31 | 110 | 25 | 50 | 115 | .267 | .320 | .335 | 2.4 |
| 1986 | 24 | 154 | 670 | 94 | 21 | 107 | 14 | 60 | 98 | .232 | .301 | .280 | 1.2 |
| 1987 | 25 | 151 | 702 | 121 | 27 | 109 | 22 | 70 | 126 | .289 | .363 | .358 | 2.8 |
| 1988 | 26 | 153 | 679 | 77 | 33 | 81 | 27 | 49 | 111 | .260 | .313 | .339 | 0.8 |
| 1989 | 27 | 154 | 624 | 94 | 32 | 65 | 10 | 50 | 90 | .254 | .316 | .334 | 1.7 |
| 1990 | 28 | 124 | 539 | 73 | 33 | 77 | 17 | 35 | 88 | .292 | .340 | .400 | 3.1 |
*Coleman played with the St. Louis Cardinals from 1985 to 1990.
*All stats courtesy of Baseball-Reference.com.
Like Hamilton, Coleman was a switch hitter who never posted a high batting average. In fact, he never batted above .300 in a single season during his 13-year career. With the Cardinals, his highest mark came as a 28-year-old in 1990, when he batted .292 in 124 games. While he never developed into a sound all-around hitter, he was serviceable enough with the bat to make his speed a necessity atop the everyday lineup.
Coleman's approach was to put the ball in play and utilize his speed, and because he continued with what worked, he never truly developed into an impact hitter like some of the other elite leadoff hitters of his era. He never reached base at a particularly high clip and recorded multiple seasons with over 100 strikeouts. However, when he did reach base, Coleman made sure his presence was felt.
It was a fact that any time Coleman reached base, he was going to steal. So it's not surprising that he led the league in number of times caught stealing on three different occasions. But beyond the speed, there really wasn't much to Coleman's game.
Hamilton's game is essentially the same in that he loves when everyone in the park knows he's stealing, but he still accomplishes the feat with relative ease. And while he may not hit the ground running, so to speak, as Coleman did to begin his big-league career, it's conceivable that Hamilton will eclipse 100 stolen bases in a given season during his prime. However, that's only if he hits enough to warrant everyday playing time.
The Concern: Strength
As a switch-hitter, Hamilton has quick wrists from both sides of the plate which allow him to generate above-average bat speed and be short to the ball. However, his overall inconsistency is worrisome; Hamilton struggles to keep his weight back and will lunge at too many offerings within the strike zone. And though he controls the zone relatively well, he also makes far too much weak contact for someone who projects as a dynamic leadoff hitter.
Courtesy of Christopher Blessing
Hamilton actually does a decent job creating backspin carry by driving through the baseball, especially from the left side of the plate where he showcases a more leveraged swing. However, there are legitimate concerns as to whether he'll ever develop the necessary strength to make consistent hard contact in the major leagues.
Like Coleman, who was listed at 6'0", 170 pounds toward the end of his career, Hamilton has a wiry frame at 6'0", 160 pounds that lacks physical projection. Even if he continues to mature physically in the coming years, he'll never be regarded as strong. But as has been the case throughout his career in the minors, the speed will always make him an outstanding source of doubles and triples in a given season, and probably even a few annual inside-the-park dingers.
The Future
With speed that grades as a 90 (or even 100) on the 20-80 scouting scale, Hamilton boasts arguably the most dynamic tool among all prospects. He regressed at the dish this season at the Triple-A level, but the hope is that the bat will hopefully come along as he gains experience against advanced pitching. At worst, Hamilton profiles as a high-level fourth outfielder, with a chance at becoming one of the greatest pinch runners in baseball history.
But if he can somehow add strength and develop into at least a league-average hitter, Hamilton has the upside of one of baseball's premier top-of-the-order, up-the-middle players.
This article is
What is the duplicate article?
Why is this article offensive?
Where is this article plagiarized from?
Why is this article poorly edited?