Fresh off a victory over division rival Atlanta Falcons, the New Orleans Saints look to keep momentum on their side as they face another division foe in the Tampa Bay Buccaneers. As great of a team as the Falcons are perceived to be, I believe Tampa may present an even stiffer test.
Like they say in combat sports, styles make fights.
In my short time of covering the Saints for various media outlets, I have been witness to the vitriol and animosity that Saints fans have towards Atlanta as a city and NFL franchise alike. At least one time everyday, I've heard the word "Atlanta" or "Falcons", in some shape or fashion, come out of a "Black & Gold" supporter's mouth.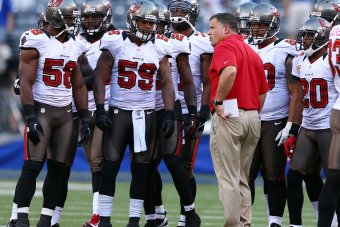 Elsa/Getty Images
As a person who also covers the entire NFL, as well as college, I've always wondered why I've never heard any talk about Tampa, or the Carolina Panthers for that matter.
I firmly believe that the Buccaneers may have the most talented roster in the whole division—especially on defense. I'm a huge fan of their style of play on both sides of the ball. And despite the 'Bucs heartbreaking loss to the lowly New York Jets, they are very capable of beating most teams in the NFL.
Including the Saints.

Tampa's Defense

As a former defensive player (safety and rover), I love studying different schemes and infrastructures. Coach Greg Schiano's tilted nose, 4-3 alignment is one of my absolute favorites. He essentially plays an even-front scheme with odd-front principles.
Schiano wants to first and foremost stop the run. And as the reigning No. 1 defense against the run, he conquered his goal—in only his first season as Tampa's head coach.
By having a nose tackle in a 4-3-based defensive scheme, he allows his smallish—yet fast—linebackers to roam freely and make plays. To run the ball on Tampa you better bring your lunch pail.
If you're a fan of defense like me, seeing alignments like this is akin to the fervor generated for lovers of offense by the spread-option attack. As you can see, deploying a nose tackle at the 1-technique occupies a couple of blockers. He essentially becomes a one-gap player with the similar effect to a player two-gapping. His main role is to destroy the middle of the line at the point of attack.
Once those interior players are tied up, the two linebackers won't have any trash to sift through on their way to the ball-carrier. But like with any scheme, it can always be defeated.
Also notice the right defensive end is lined up at 9-technique, while his counterpart is lined up at the 5-technique. This essentially allows Gerald McCoy—the 3-technique—to shoot the gap and cause disruption in the backfield. This style of play requires some seriously unselfish players, and by all accounts, that's exactly what Tampa has.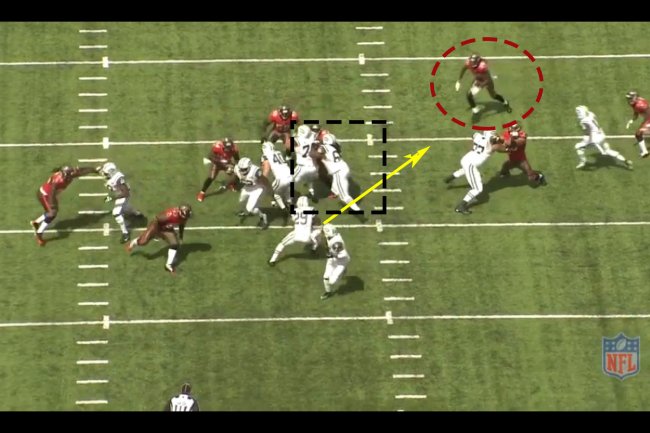 If the Saints offensive line can reach back into their physical days (circa 2011), they can open up holes similar to what the Jets did here. The Jets have one of the most physical run schemes in the NFL and were up to the challenge on a consistent basis in this contest.
Imagine what Saints running back Mark Ingram can do with this type of space (I can hear the Ingram jokes as I typed that). All he would need to do is defeat the free safety and it's off to the races. Running the ball should be the Saints main priority in this game.
Doing so would open up the vertical-passing game, which would in turn force one-on-one coverage on the outside. Even if the Saints don't find success in the form of yards gained, running the ball would force Tampa to defend all areas of the field.
Tampa's whole game plan is to force teams to pass. If successful, opposing offenses are then subject to blitzes or forced to throw against one of the most talented defensive backfields in the league.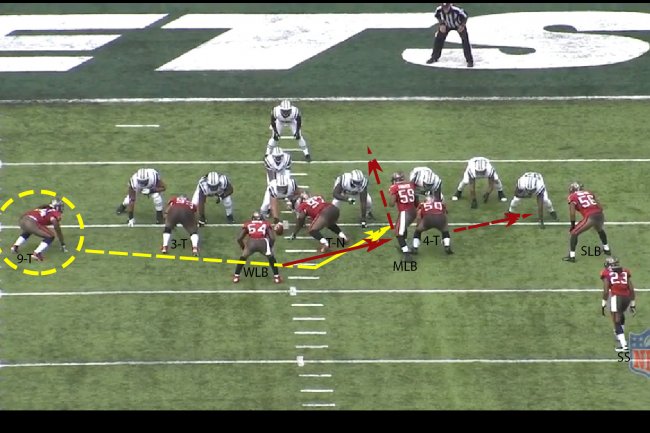 Here is an interesting stunt involving the defensive end, strong-side linebacker and middle linebacker. Despite being lined up at the 9-technique, this stunt is designed to get the coming free on the blitz. The two linebackers are running the twist-game in attempt to get to occupy blockers. The 3-technique is shooting the gap, while the nose tackle occupies blockers. The other defensive end (4-technique) is running a diversionary tactic to create space.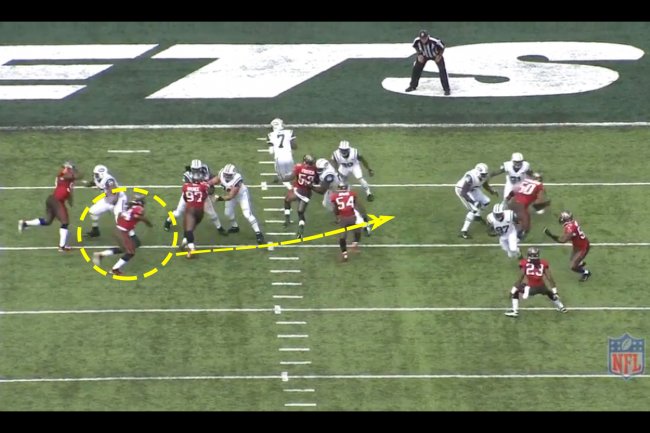 As you can plainly see, it's a well-designed play. This type of stunt is great for teams who like to take shots in the vertical game. So this is definitely something of which the Saints need to be weary.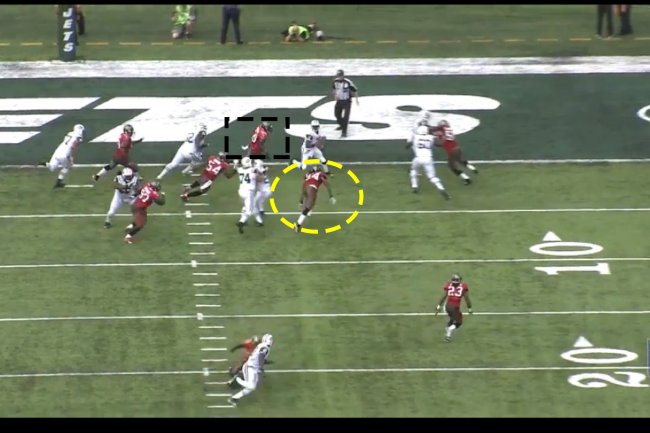 This is a sight no Saints fan wants to see.
Once the blitz does unfold, the Saints have to deal with the best corner in all of football—Tampa Bay's Darrelle Revis. His ability to shadow the opposing team's best receiving threat is a complete gift. Working in the Saints favor is the fact that they have five legit receiving threats.
Tampa's Offense

Tampa is a true vertical offense. They want to push the ball downfield at all costs. They are able to achieve that goal by having one of the very best rushing offenses in the NFL. Running back Doug Martin is a nightmare for defensive coordinators and is the prototype power back for that type of scheme.
Tampa's offensive line, when healthy, is a top-five unit. They are a better group moving forward in the run game, as opposed to moving backwards to pass protect.
Much-maligned quarterback Josh Freeman has one of the most talented arms in the league. He can extend plays and deliver from different launch points, while pushing the ball vertically or horizontally. His size, arm and toughness is very comparable to Pittsburgh Steelers QB Ben Roethlisberger.
Freeman is having a tough time matching his physical talent with the mental demands of the game. This has caused some division within the fanbase over Freeman's merits as an NFL QB. Tampa is in win-now mode, and Freeman is being cast as the scapegoat.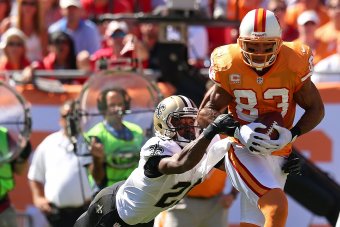 Mike Ehrmann/Getty Images
When Tampa's vertical game is on, it's extremely hard to contain. Receiver Vincent Jackson is the best vertical threat in the league, as he's coming off a year in which he posted a league-leading 19.2 yards per catch, and he is extremely hard to tackle after the catch on bubble screens and slant routes. At 6'5", 230 pounds, Jackson will be a nightmare for a suspect set of Saints corners.
New Orleans' pass rush will be paramount in this particular game. Watching film of the New York Jets—coached by Rex Ryan, the brother of Saints coordinator Rob Ryan—showed how to best confuse Freeman as a means of stopping Tampa's passing game.
Known as a 3-4-based team, Ryan predominately used a 4-3 front against the Buccaneers. This allowed him to get his gang of versatile pass-rushers on the field all at once. The Saints also have the luxury of having similar type players.
Running an even-front alignment would also allow the Saints to get some of their better tackling linebackers on the field at once. Getting Curtis Lofton on the field with Ramon Humber and David Hawthorne would do wonders for the run defense in base situations.
You would also have Cameron Jordan and Akiem Hicks as the interior linemen, to go along with Parys Haralson and Junior Galette at both end spots. Martez Wilson would come in to rush the passer from a myriad of positions.
How does that sound?


Injury Report
Mid-Week injury report (Saints)

| | | | |
| --- | --- | --- | --- |
| Name | Position | Injury | WED. |
| Abdul-Quddus, Isa | S | Ankle | DNP |
| Bunkley, Brodrick | NT | Calf | DNP |
| Colston, Marques | WR | Foot | FP |
| Evans, Jahri | G | Back | FP |
| Foster, Glenn | DE | Ankle | LP |
| Galette, Junior | OLB | Hamstring | FP |
| Greer, Jabari | CB | Back | LP |
| Lofton, Curtis | ILB | Knee | LP |
| Robinson, Patrick | CB | Foot | LP |
| Strief, Zach | T | Neck | FP |
| Walker, Tyrunn | DE | Knee | DNP |
| Wilson, Martez | OLB | Elbow | FP |
NewOrleansSaints.com
The injuries to corners Patrick Robinson and Jabari Greer are alarming—although it would open up more of an opportunity for fellow corner Corey White—for the fact the depth would take a major hit.
White seems to have all the tools. At 6'1", 205 pounds, he would be a more physical presence against Tampa bigger receivers like Mike Williams (6'2", 212 pounds) and the aforementioned Jackson.
Tampa used Jackson in the slot a great portion of the game against the Jets. This would set up an awesome matchup between Jackson and Saints dynamo safety/nickel corner Kenny Vaccaro.
Anybody else excited for the return of outside linebacker Martez Wilson? Wilson may very well be the best athlete on the entire roster.
Tampa presents a different set of challenges than the Atlanta Falcons. Although not as highly regarded, the Buccaneers may be just as potent. The Saints have a challenge on their hands, but not one they can't overcome.
If the Saints can run the ball and stop the run, they will beat Tampa at their own game, while sending a message to the rest of the league that they can win all types of contests.

Accept no imitations; follow me on Twitter
Follow @UptownMurf