Chicago Bears: 5 Players Under the Gun in Week 2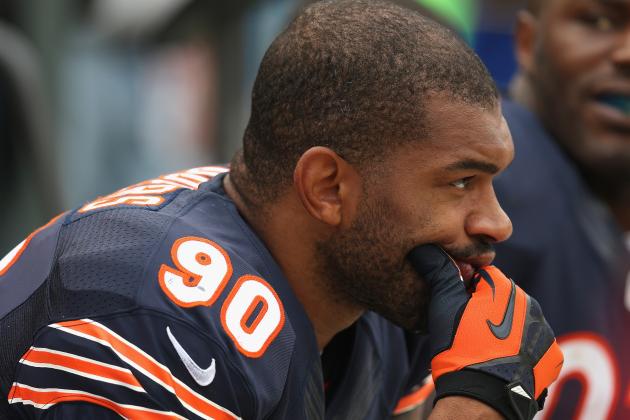 Jonathan Daniel/Getty Images
Julius Peppers
The Bears were able to eke out a gritty win in Week 1 against the Bengals. A dormant offense woke up in the second half, and the defense used a bend-but-don't-break mentality to stifle Cincinnati.
Even with the win, there were some players virtually missing in action. As the team turns their focus toward an early division game against the Vikings, there are a few players who need to step up.
Here are the five players under the gun going into Week 2.
Begin Slideshow

»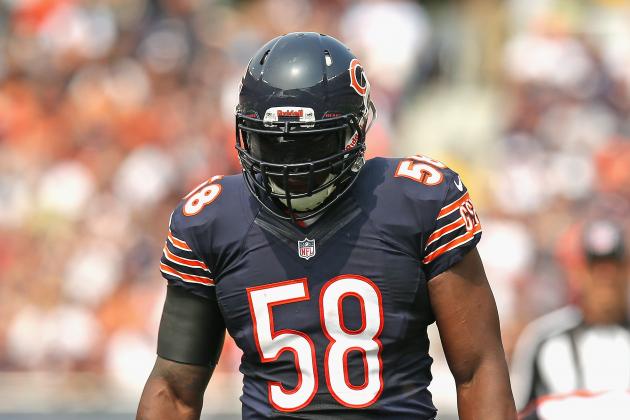 Jonathan Daniel/Getty Images
D.J. Williams
D.J. Williams didn't exactly jump off the screen with his play against the Bengals. He was average at best with a handful of tackles and was out of position on a few run plays.
Thankfully, the Bears were not burned by his positioning, but that won't be the case if he gives the same effort against the Vikings.
The last time the Bears saw Adrian Peterson, it was Week 14 of last season when he ripped off a 51-yard run to start the game due to then-middle linebacker Nick Roach's poor position. The drive ultimately ended in a Peterson one-yard touchdown.
There's a good chance Williams had some rust on him given he missed all of the preseason. He is going to need to shake that off quickly if the Bears want to contain Peterson and beat the Vikings.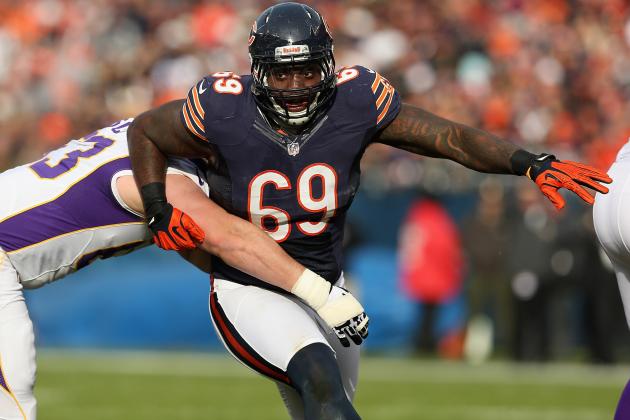 Jonathan Daniel/Getty Images
Henry Melton
When you are looking for a big signing bonus and long-term contract, you should probably look to start the season fast. Henry Melton did just the opposite.
To add insult to injury for Melton, his linemate Stephen Paea had an outstanding game. It was Paea who shut down the run and got a good push up the middle. Melton was a virtual non-factor.
Take the contract implications off of the table. Melton is currently being paid to be a defensive force, and the Bears need him to show that week in and week out.
One week will buy you some time, but if Melton has a poor performance again, he will have to answer to a large number of tough critics.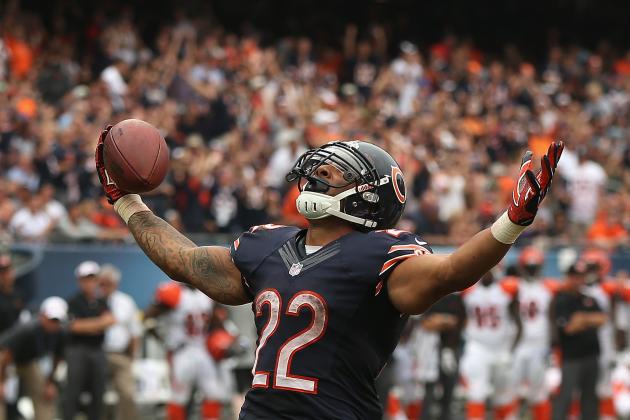 Jonathan Daniel/Getty Images
Matt Forte
Yes, Matt Forte was a factor in the passing game, but he did little to nothing on the ground. Don't put this all on the offensive line or Bengals All-Pro Geno Atkins; there were lanes to run through that he just missed.
Forte finished the game with only 50 rushing yards on 19 carries. The lanes were there for him, but he missed them, often making the wrong read.
Certainly the Bears coaching staff will review the tape and work with Forte to fix the issue. This is a minor concern going forward. The Vikings gave up nearly 200 total yards to Reggie Bush, including 90 on the ground.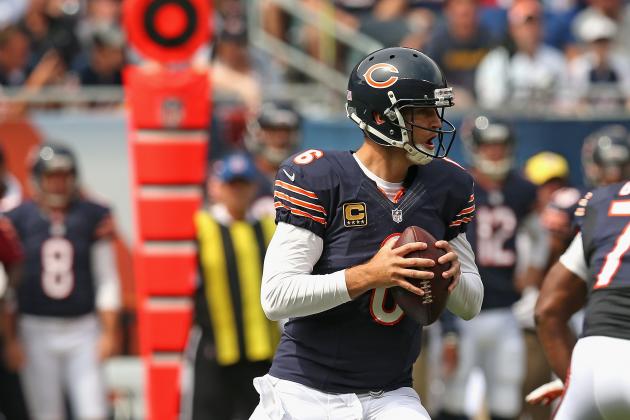 Jonathan Daniel/Getty Images
Jay Cutler
Jay Cutler isn't singled out due a poor performance against the Bengals. He played very well in Week 1, and it was his play that catapulted the team to victory. This one is for past transgressions against Minnesota.
Cutler had only two touchdowns to go with three interceptions against the Vikings last year. The second meeting was a very poor performance. He finished with just a 50 percent completion rate with two interceptions on 44 pass attempts.
When going against Christian Ponder, Cutler doesn't need to be dominant. He just needs to protect the football and make smart decisions, similar to what he did against Cincinnati in Week 1.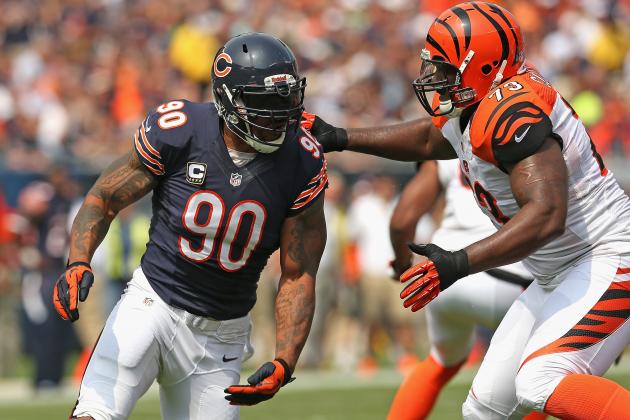 Jonathan Daniel/Getty Images
Julius Peppers
Was Julius Peppers on the field in Week 1? Did anybody see him do anything worthwhile? Peppers had a poor game, and worst of all, it came against a backup left tackle.
Peppers couldn't muster much against second-string tackle Anthony Collins against the Bengals. He will now face a tougher test in the Vikings' first-round pick from a year ago, Pro Bowler Matt Kalil.
Sacks have never been the end all, be all when it comes to evaluating Peppers. He just needs to be more active and put pressure on Christian Ponder. Let other players like Shea McClellin and Corey Wootton clean up the mess.