Michigan Basketball: Why Nik Stauskas Is Wolverines' Biggest X-Factor
Use your ← → (arrow) keys to browse more stories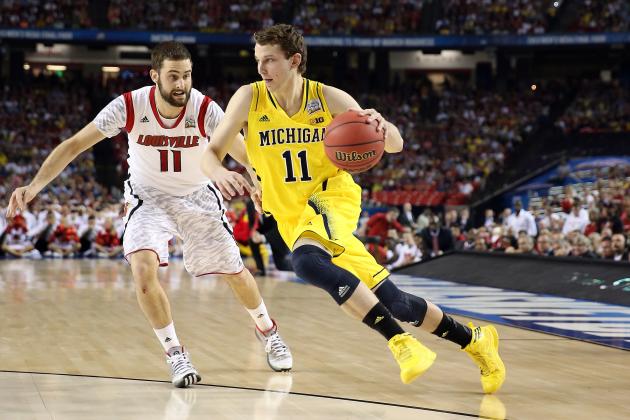 Andy Lyons/Getty Images
Nik Stauskas will be Michigan's X-factor each and every night this season.
Most of the headlines related to the Michigan basketball program this offseason have pertained to returning stars Mitch McGary and Glenn Robinson III. The upcoming point guard battle between incoming freshman Derrick Walton and Spike Albrecht, whose 17-point performance in the national title game still has Wolverine fans buzzing, is garnering plenty of attention as well.
Another key player who will play a pivotal role in Michigan's success or failure in 2013-14 has flown under the radar for the past five months, though.
Nik Stauskas.
The rising sophomore's three-point shooting abilities have the potential to change the way teams opt to defend the Wolverines. Attempts from beyond the arc will continue to be a key part of head coach John Beilein's offense. And seeing as Michigan lost Tim Hardaway Jr. and Trey Burke, who combined to make 149 treys last season, to the NBA, Stauskas will be more important than ever.
Assuming Walton and/or Albrecht run the point efficiently, Stauskas is the one who could vault the Wolverines to the top of the Big Ten Conference. His play will also determine whether or not Michigan makes another run to the Final Four or gets bounced earlier than expected.
Look no further than Stauskas' 2012-13 game log for evidence of how crucial his long-range production is. In all eight of the Maize and Blue's losses, the Canadian product made less than three triples. Even more disturbing is the fact Stauskas shot just 29 percent in those contests.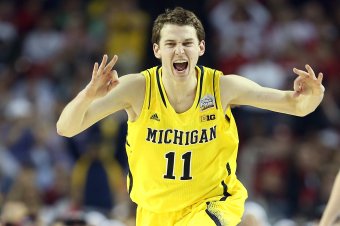 Andy Lyons/Getty Images
Wait, because there is more. Games against the top five Big Ten teams and in the NCAA tournament were just as much of a struggle for the 6'6", 190-pounder. He converted just 18-of-54 shots (33 percent) from three-point range.
Defensive struggles also made Stauskas a liability at times, especially against the larger lineups of the Big Ten.
The rest of the time, though, Stauskas proved to be an efficient shooter. The former 4-star prospect knocked down a team-high 80 treys and shot 44 percent from distance. He also showed the ability to drive the lane, finish at the rim and grab the occasional rebound.
Overall, Stauskas hit 46 percent of his attempts and averaged 11.0 points per game, which ranked third on the team. Not a bad rookie campaign by any means.
Expect his production to stay roughly the same this season as he fills the void at the 2 left behind by Hardaway. The difference this season, though, is that Stauskas may be able to get more open looks.
Many of Michigan's opponents will be forced to key on McGary and Robinson. Once Walton gets comfortable in the offense, teams are going to have to scheme around him as well. Same goes for reserve guard Zak Irvin, who should be able to make an immediate impact and could be a double-figure scorer off of the bench.
The work Stauskas has done during the offseason to change his body will also pay dividends come November.
"He really dedicated himself over the summer and spent his entire summer here," Beilein told Joe Stapleton of UMHoops. "Both summer sessions. You'll all see quite a difference in his body."
However, bulking up is only half of what Stauskas accomplished this summer. He managed to add some serious spring to his vertical jump, which was already better than expected a year ago. See for yourself below:
Nik Stauskas showing off his new and improved vertical jump.
These offseason improvements should help Stauskas immensely. Watch for an increase in drives and gritty finishes by the stronger and even more athletic shooting guard this season.
If the changes to Stauskas' frame are accompanied by the confidence to knock down three-pointers against the best teams the Wolverines face, the Maize and Blue faithful will have plenty to cheer about.
Conversely, if Stauskas continues to struggle in big games, Michigan will find itself on the losing end more times than not.
The Wolverines may not live and die by the three anymore, but they will certainly lean on Stauskas to be the X-factor from beyond the arc.
Follow me on Twitter: @Zach_Dirlam.