Green Bay Packers Grade Well in Loss to San Francisco 49ers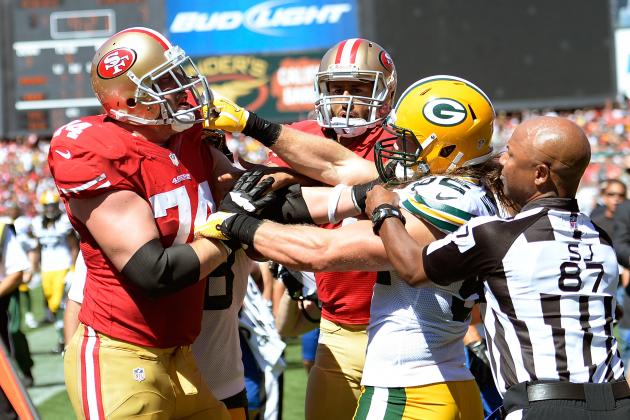 Thearon W. Henderson/Getty Images
This game was everything it was billed to be—physical, feisty and extremely competitive
The Green Bay Packers lost a hard-fought battle with the San Francisco 49ers Sunday, September 8. The final score was 34-28, and took more than 60 minutes for the final play to end the game.
Maybe Candlestick Park was not successfully sacked in its last season opener, but the invaders proved capable of dealing with anyone. The Packers will not face a better opponent all season, and yet forced the Niners to play more than 60 minutes to beat them (the pass falling incomplete well after the clock expired).
Anyone watching this game had to leave with the feeling these two teams will face each other again. A rivalry that had died down for a few years is revived, and for the third time in a row bread beat cheese. (I always thought they went well together, but then I am a Packers owner living in San Francisco.)
With the stronger NFC West and South on San Francisco's schedule compared to the NFC North and East ahead of Green Bay, the rematch could be at Lambeau Field. Even if not, there are also a lot of young players that will get better as the year goes on.
They will have to in order for the team win that rematch. There were also mistakes in every area to clear up, from several bad calls, including one play resulting from an improperly applied rule to Mike McCarthy inexplicably taking a penalty instead of a fourth down, to each unit on the field.
Nevertheless, there is more good than bad in Green Bay's unit report card:
Begin Slideshow

»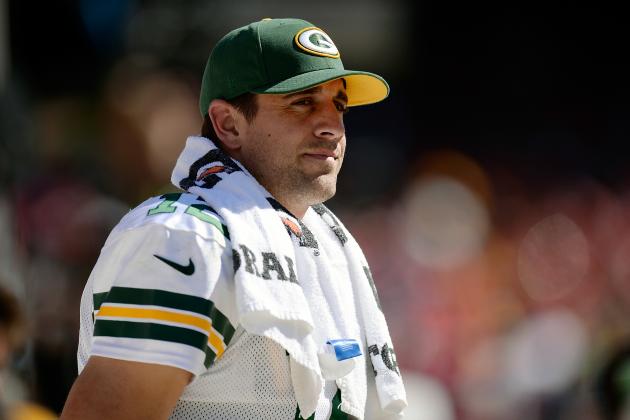 Thearon W. Henderson/Getty Images

Aaron Rodgers was under pressure much of the afternoon and still led four touchdown drives. Despite talk of balance, he was the only source of Green Bay Packers offense for most of the game.
He threw 37 passes and completed just 21 (.568 completion percentage), but had an unofficial three passes dropped—one leading to his only interception, making his still-impressive passer rating of 102.6 artificially low.
Rodgers also had three touchdowns and 333 yards through the air—exactly nine yards per attempt. He ran twice for 13 yards and took only two sacks for 11 yards, meaning the Packers got 8.2 yards every time he did not hand off.
However, he was not perfect. He did miss an open receiver in the flat and had only a couple of exceptional throws.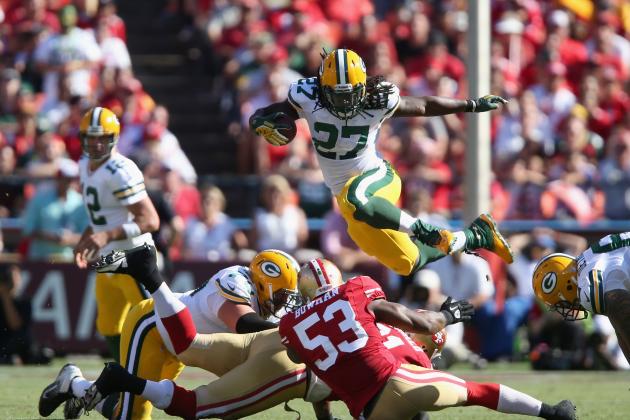 Jeff Gross/Getty Images

The San Francisco 49ers have a very tough defense to run against. Still, the Green Bay Packers must be graded on the test they took.
Mike McCarthy deserves credit for sticking with the run, not only opening up play action but eventually providing yardage and points. Eddie Lacy deserves credit for finding a way to eventually pierce probably the best run defense in the world in his first game at the highest level. They even trusted him to help pass protect.
Still, Lacy had just 41 yards on 14 carries (2.9 average) and fumbled in addition to his score. He did add one screen pass reception for 31 yards, but the only other production out of the position was John Kuhn's three-yard carry and an eight-yard dump-off to James Starks.
While they cannot grade well on this test, knowing they were able to contribute 83 yards on 17 touches (4.9-yard average) against an all-time great linebacking corps (if not front seven) says they earned a passing grade.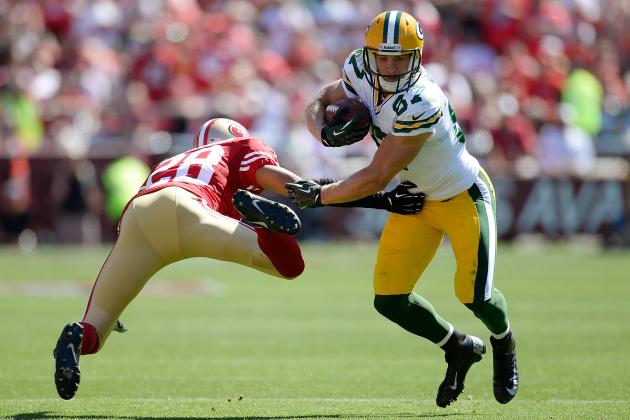 Thearon W. Henderson/Getty Images

One area that could help the Green Bay Packers in this matchup is to take the outstanding linebackers of the San Francisco 49ers off the field. Spreading the field should also pit the strong wide receiver depth against a lack of cornerback depth.
Unfortunately, not enough receivers were contributing to make that a reality.
Jordy Nelson provided seven catches for 130 yards (19.6 average), including many after the catch. His touchdown was the one exception to that, and the only passing strike that did not require a great fight from someone to get into the end zone. He also had the catch of the day.
Randall Cobb was almost as good. He corralled seven passes for 108 yards (15.4) and a score, plus he added two three-yard carries out of the backfield.
Jermichael Finley had the drop that led to an interception, and maybe should have come up with one more. Still, his five catches for 56 yards included a score, giving him a productive day against a very talented group.
No one else did anything. Not James Jones, who was rarely open and dropped the one pass thrown his way when he was. Not one backup tight end or receiver to take the field contributed a yard to the passing attack.
Still, 200 yards on 21 touches is a 9.1-yard average. With 19 catches, a couple drops are to be expected. Even if Finley were credited with the turnover, the receivers contributed more to the three scores than normal.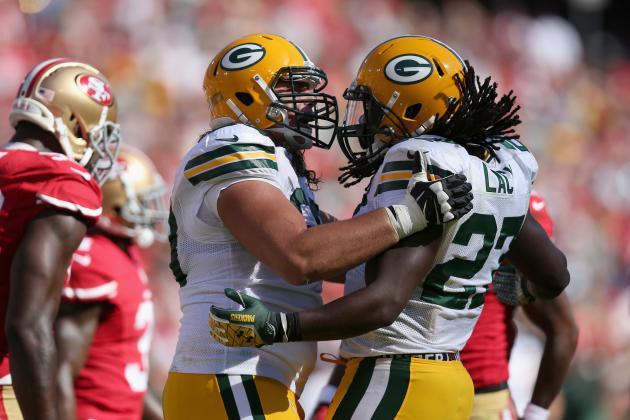 Jeff Gross/Getty Images

In his first NFL game, David Bakhtiari had his hands full with Aldon Smith, who finished with 1.5 sacks, two tackles and three assists. But the rookie for the Green Bay Packers did avoid penalties, while his opponent had two offside infractions.
The same cannot be said of Josh Sitton. The oft-described best Packer lineman had some kind of holding infraction three times. It was clear he was no match for Justin Smith, and the San Francisco 49ers were not beaten for more than three rushing yards until the last scoring drive for Green Bay.
Overall, the 49ers defensive line had just five tackles, five assists and half a sack. Even adding the rest of the pass rush, they had just two sacks. But they were able to get pressure all day and clog up holes so linebackers could make the plays.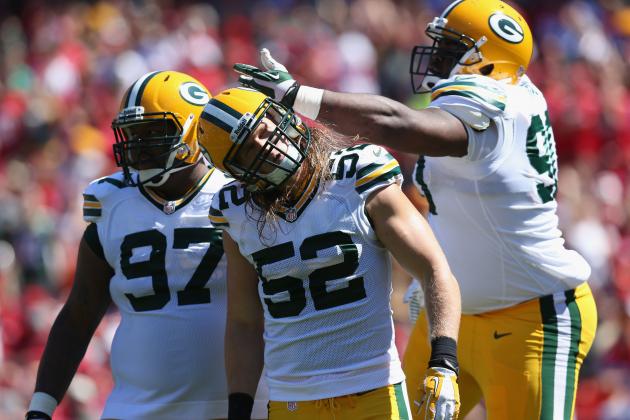 Jeff Gross/Getty Images

The defensive line of the Green Bay Packers did better than hold their own against top-tier talent. Facing an athletic quarterback, elite running back and deep offensive line, this unit was strong.
The Green Bay pass rush was not very good, but that is less the job of the defensive line in a 3-4 than run defense. They gave up just 90 yards on 34 carries (2.7 average) and just 68 yards on 27 handoffs (2.5). The San Francisco 49ers got 23 of those yards on one carry and had just one touchdown.
Including hybrid Mike Neal's two tackles and assist with the linemen, there were nine tackles, two assists and one sack—Johnny Jolly adding it to his tackle and assist in his return to the NFL. Both B.J. Raji and Ryan Pickett had three tackles. Two of the three false starts came from players lined up on this unit.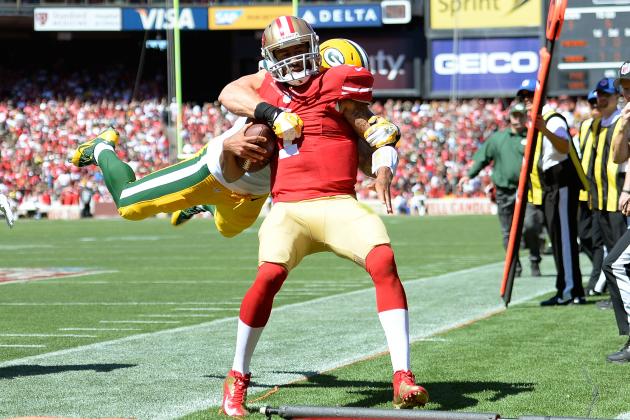 Thearon W. Henderson/Getty Images

The linebacking corps had the difficult task of containing Vernon Davis and Frank Gore in the passing game. As always in the Green Bay Packers defense, they are also charged with getting more of the pressure on the quarterback.
The San Francisco 49ers running back tandem had a modest four catches for 44 yards. But the linebackers bear much of the blame for allowing seven catches for 123 yards (17.6 average) and two scores to tight ends despite one dropping a pass.
Worse, the Packers got almost no pressure. When facing a blitz, Colin Kaepernick generally broke contain. The linebackers deserve a lot of credit for keeping him from gashing them big when he did (just 23 yards on seven rushes), but they gave him too much time too often.
However, the unit was responsible for 22 tackles and eight assists. Clay Matthews III led the corps with its only sack, seven tackles and an assist. Brad Jones had seven tackles and three assists, A.J. Hawk had six and three and Nick Perry had two and one, respectively.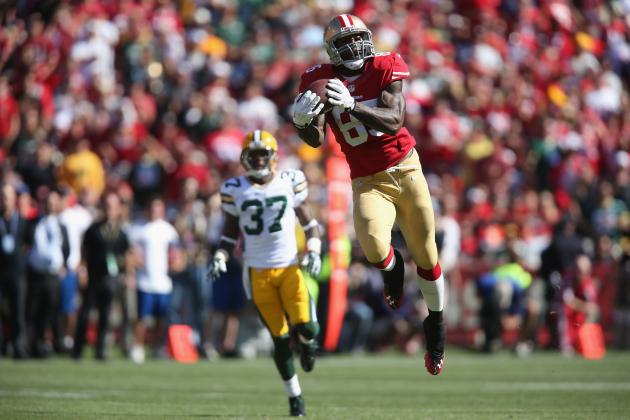 Jeff Gross/Getty Images

The secondary of the Green Bay Packers did some very good things. They only allowed two wide receivers and two tight ends to catch the ball.
Outside of the leader at each of those positions, they allowed just four catches for 61 yards. They only bear partial responsibility for the tight end production, and the corners positively shut down (three catches for 36 yards) every wide receiver not named Anquan Boldin.
Unfortunately, they gave up 13 for 208 (15.2) and a score to the newest of the San Francisco 49ers. It would have been worse had Colin Kaepernick not severely underthrown Kyle Williams on a sure touchdown.
Packer defensive backs had 25 tackles and give assists because they kept allowing Boldin and Davis to be open. Two chances at interceptions were dropped that could have made the difference.
Sam Shields had seven tackles and two assists, Jerron McMillian had six and one, M.D. Jennings five and zero, Tramon Williams four and one and Micah Hyde three and one, respectively.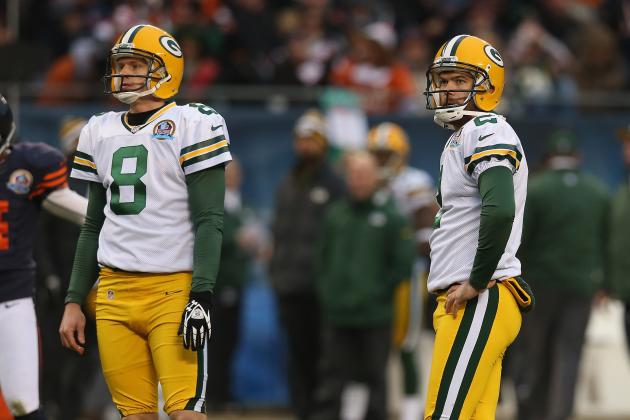 Jonathan Daniel/Getty Images

Tim Masthay had another brilliant day. He averaged 44.8 yards per punt, with one landing inside the 20-yard line, no touchbacks and just two returns for eight total yards.
He also put every kickoff that the team wanted him to in the end zone (i.e., not the squib). The coverage on the two returned kicks was not good—each being returned for 30 yards—but the kicking game was no more to blame for that then Mason Crosby is for having just four points without a missed kick.
The return game was not much better than the coverage. The longest return on kicks or punts was 17 yards, and a total of just 65 return yards came between three returnable kicks and two returnable punts. The Packers had two more 10-yard penalties on special teams to boot, while drawing just one for five.