There are no Mike Tomlin cliches that can properly sum up the season-opening loss by the Pittsburgh Steelers. It was downright an ugly performance.
The game did not start that way after Tennessee returner Darius Reynaud took a knee in the end zone after picking up the ball in the field of play, which resulted in a safety.
Even with an embarrassing start for the Tennessee Titans, the Steelers were unable to capitalize.
Following a 54-yard drive, the Steelers were in position to go up two scores when Ben Roethlisberger hurried to the line and quickly snapped the ball as the play clock ran out.
Roethlisberger and Isaac Redman had a botched exchange that was recovered by the Titans in the end zone. This was a turning point in the game, as Pittsburgh's offense was unable to recover from this crucial error.
A late touchdown made the game appear closer than it actually was, but it did not boost the spirits of what had been a jovial home crowd at Heinz Field.
This is remarkable: Steelers down one score with 12 minutes left in season opener. Look how many have left: pic.twitter.com/7AB6SVjGGN

— Dejan Kovacevic (@Dejan_Kovacevic) September 8, 2013
As the clock ticked down and the final score read 16-9 in favor of the Titans, much of the talk leaving the stadium included phrases such as "top-10 pick" and "4-12 record."
It was not just a loss to start the season, but one that exposed all of the problems the Steelers have had the past four or five seasons. But with less talent on the roster, these problems have become magnified.
After the game, Mike Tomlin had plenty to say in his press conference, but it sounded like the same old rhetoric, via Steelers.com:
We've just got to understand what the standard is, and that's not up to the standard. We better work to play to it. We're capable. We're good enough to win football games. We're good enough to win that game today, not taking anything away from the Tennessee Titans. They did a great job. We did not.
OK, Mike, we get it: "The standard is the standard."
That sounds great and all, but when is Tomlin going to hold himself to that standard? These problems the Steelers are already facing have been a constant since Tomlin has taken over as head coach.
Let's take a look at some of these issues that reared their ugly heads once again in 2013 and why Tomlin is responsible for them.
Lack of Discipline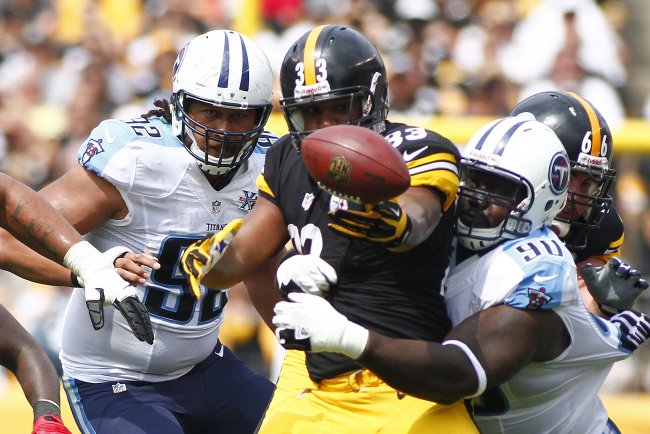 Justin K. Aller/Getty Images
The Steelers have not been a disciplined team in recent years, and this was evident in a penalty-filled preseason.
As the preseason progressed, the Steelers failed to improve their penalty totals as yellow laundry was scattered all over the field. Big plays were called back, and the team put itself in a hole with all of the calls.
Against the Titans, the Steelers managed to keep the flags off the field for the most part, with four penalties for 47 yards, but did not perform as well in other areas.
Pittsburgh lost the turnover battle 2-0, as Redman lost one fumble and Roethlisberger threw a bad interception. They nearly lost a second fumble, but Redman was able to fall on top of a ball that got loose.
Ben Roethlisberger picked off by Alterraun Verner. Had nothing on it. Was about to get hit. That's where you just take the sack, no?

— Aditi Kinkhabwala (@AKinkhabwala) September 8, 2013
When the offense has trouble putting points on the board, the last thing it needs to do is hand the ball to the other team, particularly when it is deep in an opponent's territory.
Beyond the penalties and turnovers, the simple fact that Markus Wheaton hesitated on a late-game kick return showed the lack of decisiveness some players still have when making decisions. This particular hesitation resulted in a 12-yard return that left the Steelers to start a crucial fourth-quarter drive at their own 7-yard line.
While many will call this a "rookie mistake," it still reflects on the lack of discipline that is found on the Steelers and is something that will keep them from winning games.
Game Management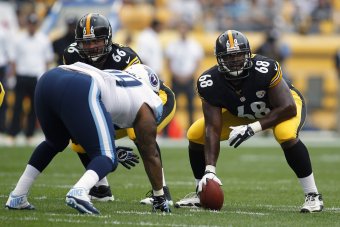 Charles LeClaire-USA TODAY Sport
Tomlin's game management has been perplexing over the years, and Sunday was no different.
Despite constant injuries on the offensive line, he continues to dress just seven linemen. Once again, a lineman was injured, and the Steelers were dangerously thin with only one man left on the bench.
Meanwhile, five wide receivers dressed, with Derek Moye as the fifth receiver. He is the tallest receiver on the roster yet was nowhere to be found when the Steelers were deep in the Titans' territory. If he isn't going to play in the red zone, why activate him?
Beyond this, his management of the running backs never ceases to amaze me.
Two fumbles sent Isaac Redman to the bench, and rather than go with Felix Jones—who beat out Jonathan Dwyer for a job—he went to LaRod Stephens-Howling.
There is nothing wrong with Stephens-Howling, but he is a role player while Jones is a guy who can carry the load. When asked about it after the game, Tomlin did not have a good answer to why Jones didn't touch the ball, via Steelers.com:
We just didn't get enough going with any of the running backs. The game circumstances dictated that we do some things, no-huddle and so forth. He's been here for a short period of time. That maybe had an effect on our utilization of him, particularly down the stretch. But just largely not good enough.
So the #Steelers love Felix Jones so much they have decided not to play him.

— David Todd (@DavidMTodd) September 8, 2013
Besides the running back shuffle, Tomlin failed to use his fullback even though the ground game was struggling. Once again, his postgame comments were a bit confusing, via Steelers.com:
He was available to us. By the time we determined he was available, it was the latter part of the week. We had a plan kind of in place. He was there if we needed him. Obviously, due to game circumstances we didn't get a chance to utilize him much. He did participate on special teams.
Apparently, averaging 2.1 yards per carry was not a circumstance that called for the use of a fullback. Either that or they are unable to make in-game adjustments to utilize a player who played a key role all throughout training camp.
In general, the offense looked dysfunctional yet again with just 195 total yards. That is inexcusable when you have a franchise quarterback under center.
Besides his use of players, Tomlin called a timeout right before the two-minute warning at the end of the game that left many scratching their heads.
The reason you don't use TO there is next play is either TD or incomplete. Tomlin in midseason clock mgmt form. #Steelers

— David Todd (@DavidMTodd) September 8, 2013
Of course, this came after the team did not use a timeout right before Redman lost a fumble in the end zone. That was despite a lot of confusion and rushing the snap. Tomlin had zero issues in not using a timeout in that situation, via Steelers.com:
No, we were close there. We felt comfortable with what we were looking at. Obviously, in hindsight, we would look a taking one there based on the result of the play. But, again based on the discussions that we had with an understanding of what was going on, we felt comfortable. Obviously, we didn't get the play executed.
They may have felt comfortable, but it clearly wasn't comfortable prior to the snap, and the result of the play wasn't particularly surprising.
Before moving on, I have to come back to one more substitution issue, and that is his use of Jason Worilds.
LaMarr Woodley replacing Worilds for a series. Does anything more need to be said?
Whether it was Dick LeBeau's or Keith Butler's call, it doesn't matter. Tomlin allowed it to happen.
Personnel Selection
There were some interesting decisions when it came down to the 53-man roster, and they could have had an impact in the opener.
Jonathan Dwyer was the biggest surprise to be released and after one game; it is still hard to believe that he did not make the final roster.
Jonathan Dwyer's sitting in a recliner, laughing right now.

— Scott Kacsmar (@FO_ScottKacsmar) September 8, 2013
Heck of a series for Redman there: Four carries, zero yards, fumble in end zone. Jonathan Dwyer, anyone?

— Dejan Kovacevic (@Dejan_Kovacevic) September 8, 2013
Despite issues with his conditioning over the years and tapping himself out of the games, Dwyer was still a productive back. He led the 2012 team in rushing yards and has fewer career fumbles than Redman, who had two fumbles on Sunday.
He may not be a top running back, but Dwyer showed he can produce behind a weak Steelers' offensive line and should have earned the starting job after the preseason.
Should the Steelers re-sign Jonathan Dwyer?
Instead, he was a free agent as Redman ran for nine yards on eight carries. Notice, I couldn't even use numbers when listing the stats there. That is never a good sign.
To a lesser extent, the release of John Malecki left the Steelers without an experienced interior backup.
Cody Wallace was brought in and was an inactive for the opener. He is new to the team and will need time to acclimate to the offensive system. And even though no one could have predicted it, the Steelers needed a backup center and didn't have one.
Instead, they had to go with Kelvin Beachum to fill the void. The center position was new to him, but more importantly, moving him inside left the team without a blocking tight end.
In a game where they were struggling on the line, having Beachum playing as an eligible lineman helped strengthen the line.
Another backup who could have been used was Marshall McFadden.
McFadden had been the primary backup for all of training camp and throughout the preseason and called the defense. However, he was a surprise cut and moved on to the Oakland Raiders practice squad.
With injuries to Maurkice Pouncey and Larry Foote that will likely keep them both out for the season, per Michael David Smith of ProFootballTalk, having depth that is familiar with the Steelers' system may have been beneficial for at least the early part of the year.
But there is a much bigger problem than choosing the last three or four players on the roster. The drafts under Tomlin have been less than stellar.
Only two draft picks from the 2008 and 2009 drafts remain on the roster, and that number grows to just six if you include the 2007 draft—if you include Matt Spaeth and William Gay being re-signed this year.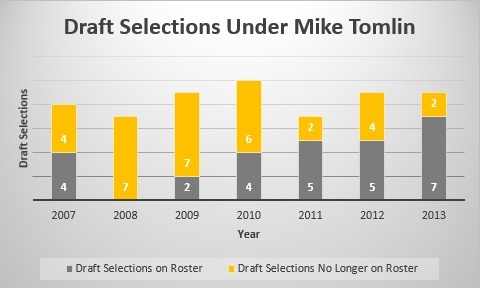 Not only have the selections failed to stick with the team, but even the top picks have not developed to become the foundation of the team.
Pouncey is the only first-round selection under Tomlin to make the Pro Bowl. Meanwhile, Ziggy Hood is still trying to establish himself, and Cameron Heyward has yet to earn a starting job.
There is some hope with the 2013 draft class, which has four players in position to develop into future starters, but that may be too little too late as the Steelers roster is the thinnest it has been in well over a decade.
How Hot Is the Hot Seat?
Should Mike Tomlin be on the hot seat?
Right now the hot seat isn't very hot, but with 4,000 no-shows in Pittsburgh and fans already down on the team after just one week, the Pittsburgh audience is not buying what the team is selling. It expects a winner, and it expects a winner now.
Tomlin would likely survive a seven- or eight-win season, but if the Steelers fall into the top-10 selections of the draft, it is time to rebuild, and that is going to have to start with the head coach.
There is plenty of time for Tomlin to "go back to the lab" and get the team back on track, but if things don't get fixed, Tomlin's seat should get a little hotter.