If you listened carefully enough, you could just about hear the murmur of scepticism fizzle among spectators, the media centre and the social network at 9.45am today as England's team to play Australia was announced.
Ben Stokes as a third seamer? 10 overs from Ravi Bopara? Are England a bowler light and a batsman heavy?
England's team—as it did for the match in Malahide on Wednesday—at first glance appeared top heavy. Against Ireland they got away with it, but today they didn't.
Eoin Morgan acknowledged in his post-match press conference that England "should've restricted Australia to 40 or 50 less" and in doing so got to the crux of why his team lost today.
Yet criticism of England's team selection must be considered relatively. This series, scheduled at the end of a long summer carries an air of experimentation along with it, and England's initial squad further confirmed that.
Australia Innings Highlights
It's a series in which, for England at least, blooding young talent and discovering more about fringe players seems to have assumed equal importance to winning matches. And in the middle of a four year cycle between 50 over World Cups there's nothing wrong with that.
But more pertinently criticism of England's team today appears more superficial than anything. Ben Stokes' List A bowling average of 25.35 justifies his role as a third seamer, and perhaps doubts surrounding his ability to carry out the role successfully is more to do with the gossipy assumption of Stokes as a bits and pieces, utility cricketer; as opposed to an out-and-out strike bowler.
Such a presumption certainly wouldn't sit well with England's bowling coach David Saker, who, speaking to The Sunday Times this week, was effusive in his praise for the Durham all rounder, supporting his credentials as a third seam bowler in the team.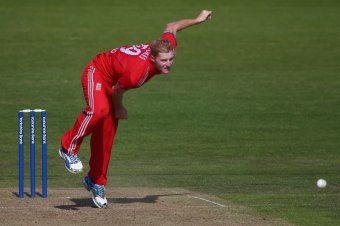 Michael Steele/Getty Images
Today Stokes' figures of 10-0-66-0 certainly didn't do justice to his bowling, which touched 90 miles per hour on a couple of occasions and had Michael Clarke and George Bailey in some discomfort early on in his spell.
Durham coach Geoff Cook, speaking in April, described Stokes as Durham's quickest bowler of the season and England's haste to return to him following being sent home from last winter's Lions tour of Australia exemplifies the potential they see in him.
Admittedly he's not the finished product—at just 22 years of age—but he'll learn a great deal from the responsibilities and exposure he's being afforded in this series, which appears to be a primary objective for Ashley Giles' men.
Following England's view of Stokes as a third seamer, it's worth nothing that the structural balance of England's side today was no different to that of the team that reached the final of the Champions Trophy earlier in the season. With six batsmen (three that can bowl), one keeper, and four bowlers, the only difference is that the four bowlers selected today are simply not of the quality of those selected in June.
England Innings Highlights
Whether England's balance was right in June is still a moot point, but it's hard to argue with a Champions Trophy Final appearance. What's more, England's bowling attack as a whole will learn a great deal from this series. The way Australia attacked James Tredwell today, which subsequently put more pressure on England's part-time bowlers, was indicative of how this series offers, not just Tredwell, Stokes and Co., but Bopara and Joe Root the opportunity to perform while carrying greater responsibility.
Such learning does not only apply to the bowlers. In Malahide on Wednesday, England's saviors Bopara and Morgan—usually two middle-men in the side—were suddenly the most capped players in the team. Kevin Pietersen's return today changed that, but for the likes of Jos Buttler, who blitzed an excellent 75 today, this series still offers a precious opportunity to be seen as the talisman of a young and inexperienced team. Something not so easy to achieve in a full-strength side.
Today no-one put in a talismanic performance, and Morgan admitted as much at the post match presentation. But for England, this series is all about accepting short-term negatives in the knowledge that they should reap long-term positives. Paying spectators may disagree with such a mindset, but England aren't paid to entertain.