Wisconsin Football: 5 Biggest Early-Season Storylines for Badgers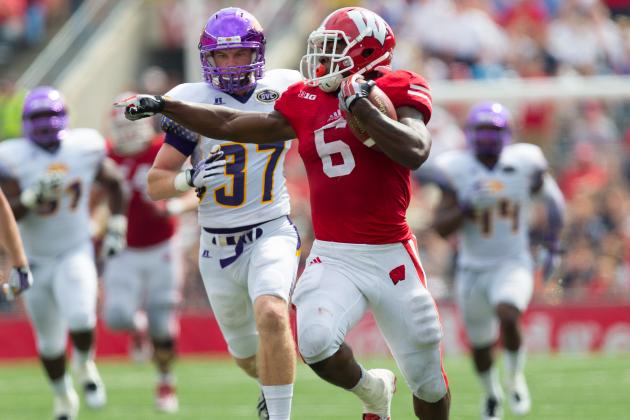 Jeff Hanisch-USA TODAY Sports

For Wisconsin football, it's been hard to pinpoint areas of weakness over the first two weeks of the season. That'll happen when you outscore your opponents by a combined 93 points and don't even allow a field goal to go through the uprights.
The Badgers should feel good about themselves after annihilating Massachusetts and Tennessee Tech. Then again, it is UMass and Tennessee Tech, but Wisconsin did exactly what it was supposed to do—take care of business without having any second thoughts.
Sure, you could look at occasional lapses in coverage, a lack of pressure on the quarterback, looking down intended receivers or a failure to break out more lengthy runs, but then we'd be getting nitpicky.
The fact of the matter is that the Badgers appear to be clicking on all cylinders heading into their showdown in Tempe, and there are five storylines that help explain how head coach Gary Andersen has led Wisconsin to its successful start.
Begin Slideshow

»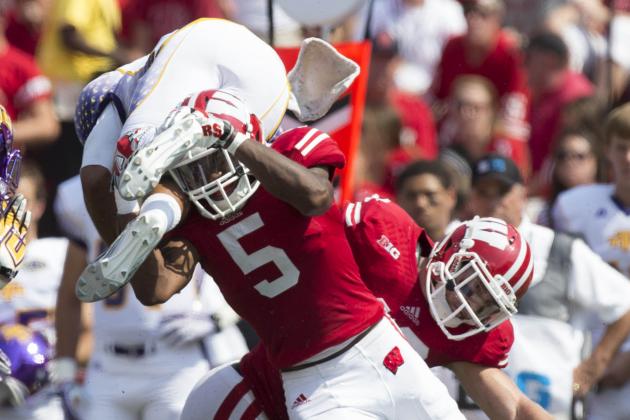 Jeff Hanisch-USA TODAY Sports

Perhaps the most exciting thing about Dave Aranda's 3-4 defense is that he has only clipped the tip of the iceberg when it comes to what he wants to unveil this season.
Considering the level of talent each of Wisconsin's opponents featured, there was no reason for Aranda to get too complex with coverages and blitzes. Even still, the Badgers didn't allow a single point and barely allowed either UMass or Tennessee Tech to sniff the red zone.
We're still waiting for Wisconsin to gain its first sack of the season, but the defense has still put plenty of pressure on the quarterback and forced early throws. The 3-4 formation has led to five tackles for a loss, two interceptions, 10 passes defended and two forced fumbles.
The most important statistic? Zero points. Wisconsin shut out back-to-back opponents for the first time since 1958.
That shutout streak will be nearly impossible to obtain after going up against Arizona State on September 14. The Sun Devils offense is high-powered and led by quarterback Taylor Kelly, but the Badgers have looked impressive on defense and have seemingly made the transition from a 4-3 to a 3-4 with ease.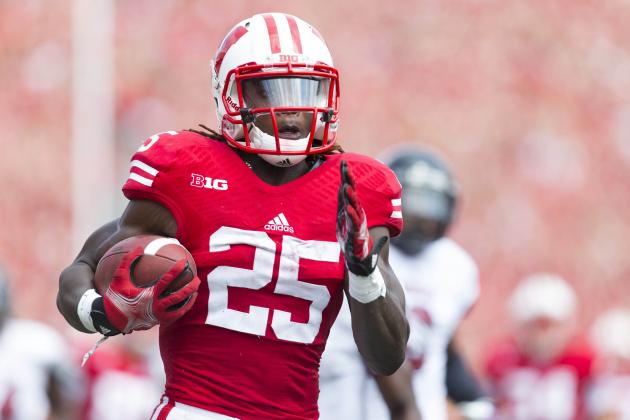 Jeff Hanisch-USA TODAY Sports

Last season, it took awhile for folks to realize the Badgers had three very talented running backs in Montee Ball, James White and Melvin Gordon. Now, with Ball in the NFL, true freshman tailback Corey Clement is getting carries and making the most of his opportunity.
In back-to-back games, the Badgers saw three different running backs top the century mark. In fact, in three of Wisconsin's past four games, three tailbacks have rushed for at least 100 yards, which is a mind-boggling feat.
The most impressive runner has been sophomore Melvin Gordon, who has rushed 22 times for 284 yards and two touchdowns, good for a 12.9 average. White (33 rushes, 252 yards, 2 TDs) and Clement (29 rushes, 250 yards, 3 TDs) aren't far behind, although Clement's carries have come mainly in mop-up duty.
Regardless, all three have put up very similar numbers, and White has also shown some versatility by catching the ball out of the backfield. You'd be hard-pressed to find a team with a better three-headed rushing attack than Wisconsin.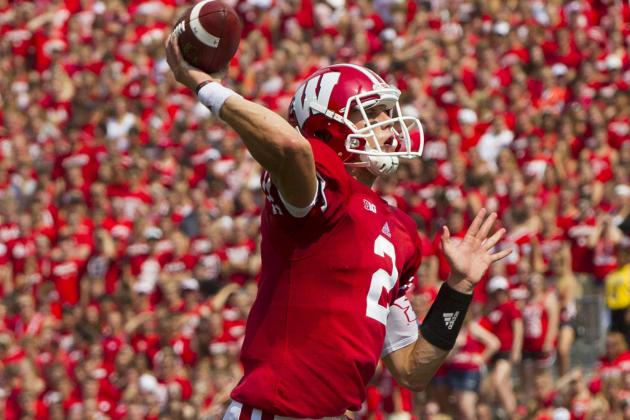 Jeff Hanisch-USA TODAY Sports

When the season began and both Joel Stave and Curt Phillips were listed as starters at quarterback, we weren't sure how much—if any—we were going to see of Stave in Week 1.
Turns out the job is his.
Stave has played every meaningful snap for the Badgers throughout the first two weeks and has been carving up opposing secondaries after a lackluster first half against UMass. He's underthrown a receiver here and there, and both of his interceptions were inexcusable, but all inall, Stave has shown he's made the next step despite missing the final month of the 2012 season.
The biggest knock on Stave is his tendency to stare down his receiver, which is what resulted in his interception against Tennessee Tech. But his overall numbers (416 yards, 71.7 completion percentage, 6 TDs, 2 INTs) are stellar, and his deep ball is truly a thing of beauty.
He ran a flawless two-minute drill at the end of the first half against Tech and continues to show the mental makeup necessary to play the position, bouncing back from mistakes and showing poise in the pocket.
His previous experience in big games should help him in Week 3 against the Sun Devils, but Stave will need to avoid staring down receivers and find a similar groove of that against Tennessee Tech when he completed 13 consecutive passes.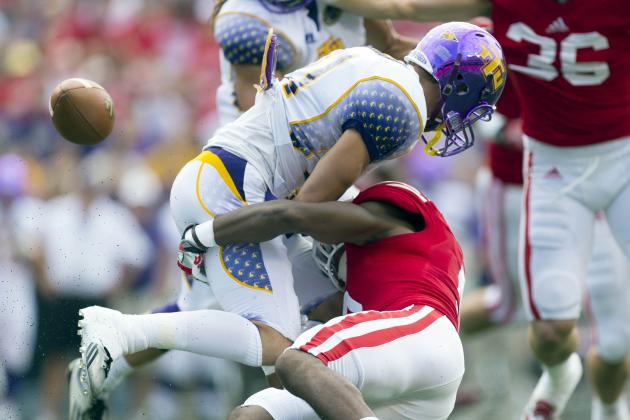 Jeff Hanisch-USA TODAY Sports

Chris Borland has been an animal, as expected, and the front seven have been the strength of the defense—as expected. But what many didn't expect was for the raw secondary to hold its own.
Through two games, Wisconsin has only allowed a 44.9 completion percentage and 181 passing yards and has two interceptions courtesy of true freshman Sojourn Shelton and redshirt freshman Leo Musso.
How's that for holding your own?
And on the first play from scrimmage against Tennessee Tech, sophomore cornerback Darius Hillary forced a fumble, which was promptly scooped up by senior safety Dezmen Southward. Then there's junior corner Peniel Jean, who leads the team with three pass breakups.
Just about everyone has gotten in on the act one way or another, and while it's coming against extremely weak competition, this game experience should come in handy for when this inexperienced secondary is faced with its first true test at Arizona State.
Jeff Hanisch-USA TODAY Sports

It doesn't matter who you play—completing consecutive games without allowing a single point isn't easy to do, but that's exactly what the Wisconsin defense accomplished to begin the 2013 season.
There have been opportune turnovers, crisp tackles and players knowing their assignments each and every time the ball is snapped. Yes, Stave is missing some throws. Yes, special teams, both in the kicking game and in coverage, have been suspect. But it's hard to pick a bone with anything on defense.
That's a testament to the experience and depth in the front seven. Even though Tyler Dippel, Warren Herring, Conor O'Neill and Joe Schobert didn't enter the season as regulars, they have made a positive impact.
You couldn't ask for a better leader in the core of your defense than Chris Borland. In the defensive backfield, the experience of Dezmen Southward has clearly worn off on the rest of his unit.
It's resulted in two straight shutouts, and while a third would be about as likely as watching a unicorn jump over a rainbow, this defense appears ready to hold its ground against a viable opponent, which is exactly what they'll have to do on Sept. 14 if Wisconsin wants to escape Sun Devil Stadium victorious.