Arkansas State vs. Auburn: 10 Things We Learned in Tigers' Win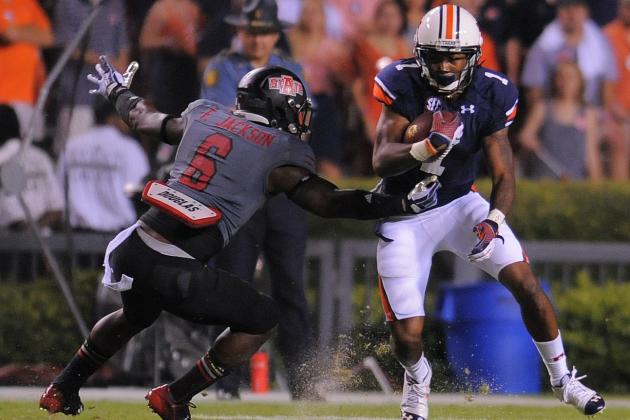 Shanna Lockwood-USA TODAY Sports
The Arkansas State defense had trouble controlling Auburn's offense.
It wasn't always an impressive showing, but the Auburn Tigers can learn a lot from their 38-9 victory over the Arkansas State Red Wolves.
The Tigers took out first-year head coach Gus Malzahn's former team, utilizing a solid offensive performance from quarterback Nick Marshall and their stable of running backs.
Auburn gained 339 yards and three scores on the ground, and Marshall tossed two more touchdowns to defeat the Red Wolves.
Malzahn's squad improves to 2-0 and will play host to SEC opponent Mississippi State next weekend.
Begin Slideshow

»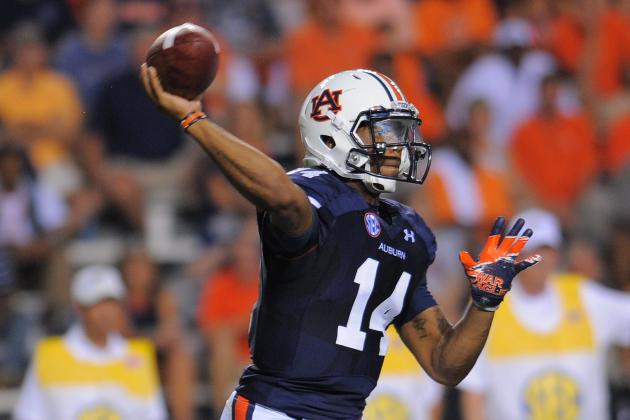 Shanna Lockwood-USA TODAY Sports
Marshall still has a ways to go, but Saturday was a step in the right direction.
Marshall was criticized for some errant throws last week against Washington State, but he was finding his receivers more consistently on Saturday.
Marcus Davis bailed out a sailing pass from Marshall for Auburn's first touchdown, but the junior QB settled down. Marshall launched a beautiful ball to Sammie Coates for a 68-yard score late in the second quarter.
Most importantly, Marshall was making the correct reads for the Tigers rushing attack and led six scoring drives.
He finished the day 10-of-17 for 147 yards and two touchdowns through the air and added 53 rushing yards, but Marshall also lost a fumble at Auburn's own 17-yard line.
Marshall certainly must keep improving, but he did just fine on Saturday.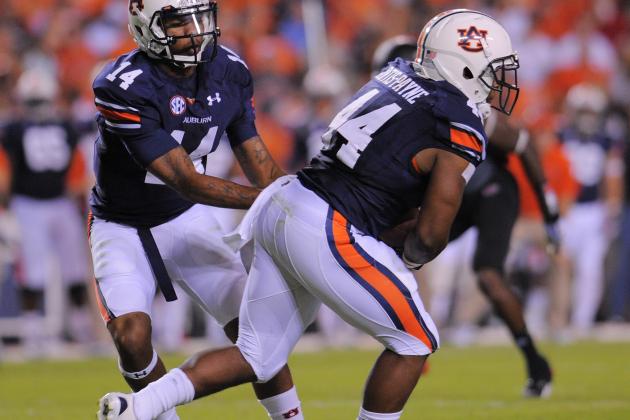 Shanna Lockwood-USA TODAY Sports
Cameron Artis-Payne ran over more than a few Arkansas State defenders.
Listed at 5'11" and 210 pounds, it's no surprise Cameron Artis-Payne is a physical runner.
Artis-Payne racked up 102 yards and scored a touchdown against the Red Wolves, but he never had a negative run.
Auburn beat writer Brandon Marcello tweets that Malzahn believes Artis-Payne "will get more comfortable with each game" within the scheme.
And that could be a scary thought for Auburn's opponents.
Shanna Lockwood-USA TODAY Sports
Tre Mason was breaking tackles all over the place.
Tre Mason broke tackles, eluded defenders and was a key to Auburn's rushing attack.
Mason nearly hit the 100-yard mark, but his 7.1 yard-per-carry average is nothing to scoff at. He scored one rushing touchdown, and Mason also returned a kick 24 yards.
When the Tigers need a big play, look for Mason to be the highlight-maker.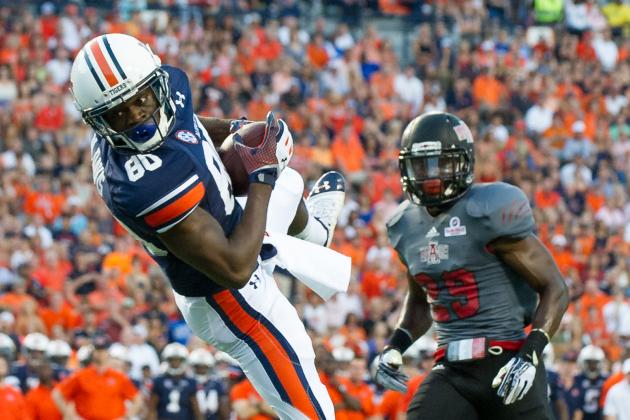 Michael Chang/Getty Images
Marcus Davis sacrificed his body for an Auburn touchdown.
I watched Marshall throw the pass, and there was no way an Auburn receiver was coming down with the ball.
Boy, was I wrong.
Marcus Davis was in the right spot to snag the football, and the freshman used every inch of his vertical to make a phenomenal catch.
Davis only made one other reception on the night, but his touchdown surely was one fantastic play.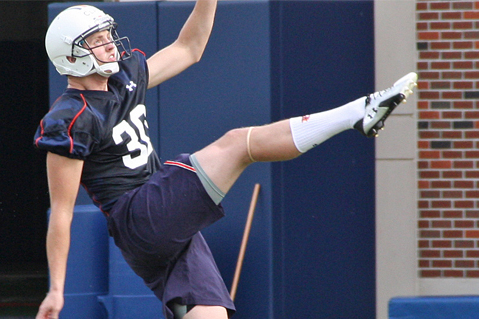 Steven Clark via 247Sports
Steven Clark was voted second-team preseason All-SEC, but the senior punter had some trouble against Arkansas State.
Clark blasted 50- and 54-yard punts, but he also shanked one kick a mere 25 yards.
The field-position battle did not hurt Auburn against the Red Wolves, but future SEC opponents will capitalize on bad special teams play.
Clark has been considered one of the nation's best punters over the past two seasons, but he has some redeeming to do next week.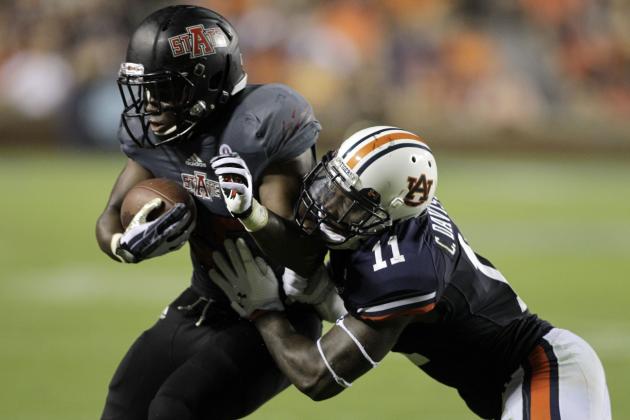 John Reed-USA TODAY Sports
Auburn didn't allow many holes on the ground.
Arkansas State may have tallied 150 rushing yards, but Adam Kennedy gained more than 50 yards on broken-play scrambles.
Auburn held David Oku to just 48 yards on 16 carries—Oku had 124 yards and two touchdowns with the same number of carries last week.
The remainder of the Red Wolves ground game carried the ball 11 times and for a combined 37 yards, so Malzahn's run defense really stepped up with its 13 tackles for loss.
Sure, it was just Arkansas State, but Saturday was still an impressive showing from the Auburn D-line.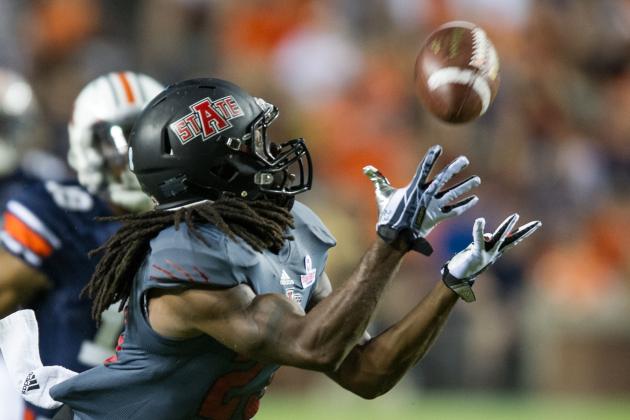 Michael Chang/Getty Images
Arkansas State made a couple big plays in the passing game.
The defensive line was credited with 19 quarterback hits, so that unit is not the problem.
The Auburn secondary, however, allowed Arkansas State QB Adam Kennedy to complete 29 of 41 passes for 272 yards, conceding open receivers all over the field.
Fortunately for the Tigers, the run defense was so good that the secondary's struggles didn't hurt.
Auburn needs to figure some things out concerning pass coverage before Mississippi State comes to town next Saturday.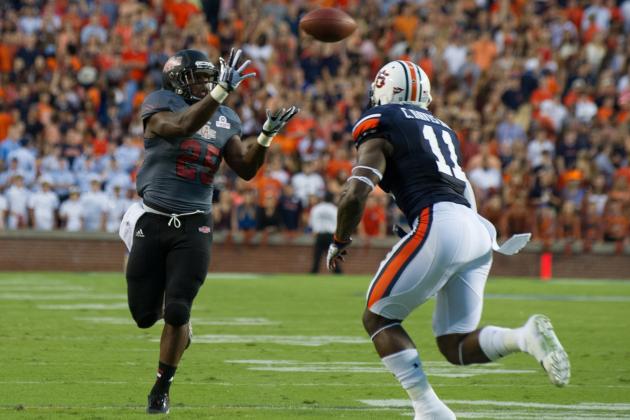 Michael Chang/Getty Images
Chris Davis was ready to light up Oku on this swing pass.
Chris Davis made his presence known against Arkansas State.
The senior cornerback accounted for 10 total tackles—seven solo and 1.5 for loss. He also forced a fumble and broke up two of Kennedy's passes on successive plays.
Davis is touted as one of the top cornerbacks in the SEC, and he definitely backed up that billing against the Red Wolves.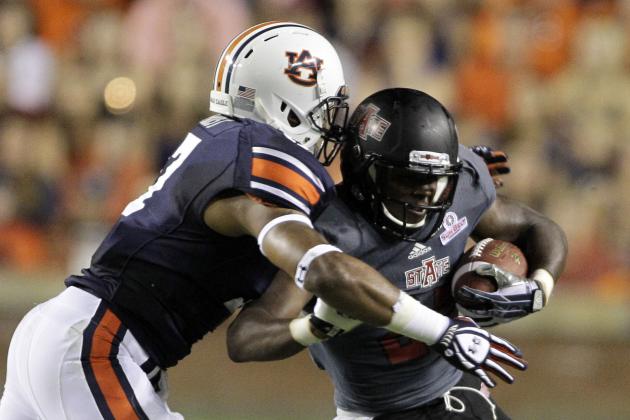 John Reed-USA TODAY Sports
Kris Frost was just a little too aggressive.
Kris Frost laid the lumber on Kennedy, and he hit the Arkansas State QB inches too high.
It was unfortunate for Frost, though, as he had made five tackles on the night, including one-half tackle for loss.
Frost was ejected from the game for targeting, so the sophomore linebacker must sit out the first half of Auburn's impending SEC matchup with the Bulldogs.
Unless the SEC reverses the ruling, the Tigers will miss Frost's impact on defense for a little while.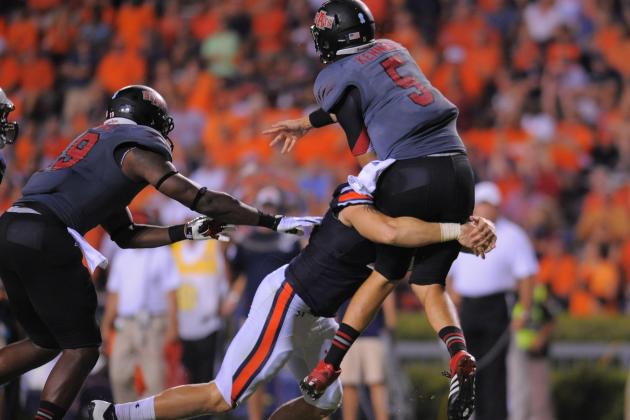 Shanna Lockwood-USA TODAY Sports
Alex Kennedy was battered by the Auburn D-line.
Arkansas State gained 422 yards of total offense. The Red Wolves entered the red zone four times.
But you know what, that stingy Tigers defense did not allow Malzahn's former team to find the end zone.
All the Arkansas State offense could manage was three field goals, and a lack of touchdowns is not beneficial to a team's chances of winning.
Plus, after allowing a plethora of third-down conversions early, Auburn started to force the Red Wolves into fourth-down situations.
Even if the pass defense struggled, the Tigers continued to stuff the run game and also locked down coverage when it mattered the most.