Patriots vs. Bills: Takeaways from New England's 23-21 Win over Buffalo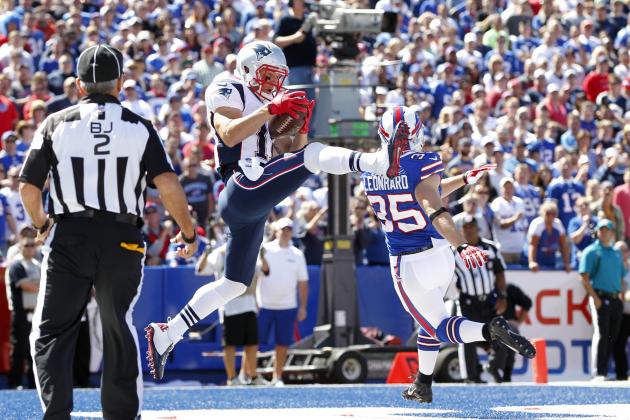 Kevin Hoffman-USA TODAY Sports

The New England Patriots escaped Buffalo with a 23-21 win over the Bills on Sunday, in a game reminiscent of both their 2006 and 2009 opening-day wins over them.
The game was sloppy early, marred by turnovers and penalties, but in the end, the Patriots did what the Patriots always seem to do—found a way to win a divisional game despite being down late in the fourth quarter. After an offseason of record turnover and being without Rob Gronkowski and second-round pick Aaron Dobson, the Patriots still looked like the Patriots.
There was plenty else to take away from New England's Week 1 victory. Here are the things we learned about this 2013 edition of Bill Belichick's team.
Begin Slideshow

»
Jared Wickerham/Getty Images

Tom Brady had just one completion to a tight end, a five-yarder to Michael Hoomanawanui, as the Patriots relied on their backs and wide receivers to move the ball. Rob Gronkowski practiced all week but did not make the trip to Buffalo in a clear sign it still might be a couple of weeks before he's ready to go.
Without a true receiving threat at the tight end position, the Pats were missing a big dynamic of their offense, one that had been central to their game plans for the past two seasons.
Getting Gronk back will be a big boost to the offense, but until then, they'll have to get by with a combination of Hoomanawanui, fullback James Develin and tackle Nate Solder, who lined up at tight end a few times against the Bills.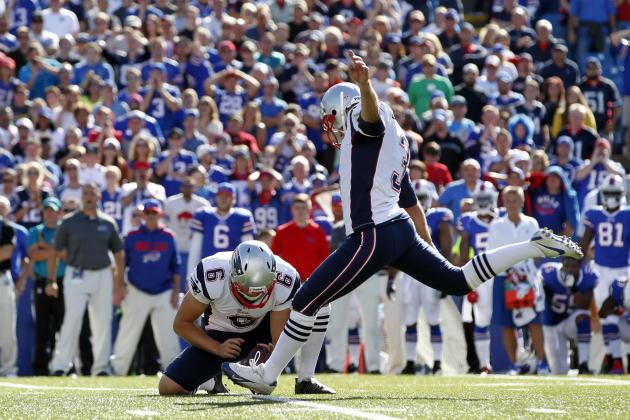 Kevin Hoffman-USA TODAY Sports

It was one of the biggest surprises coming out of camp that rookie Ryan Allen dethroned Zoltan Mesko for the punting job that also comes with holding duties for field goals.
During pregame there was much discussion if Allen could handle the pressure of holding when he had never done it in college, but as Stephen Gostkowski's game-winner split the uprights, the verdict was clear. The Pats made a good choice.
Despite one bad punt, Allen also had a 65-yarder that helped pin the Bills back in their own territory. As with all rookies, there are sure to be ups and downs, but Allen had a solid debut.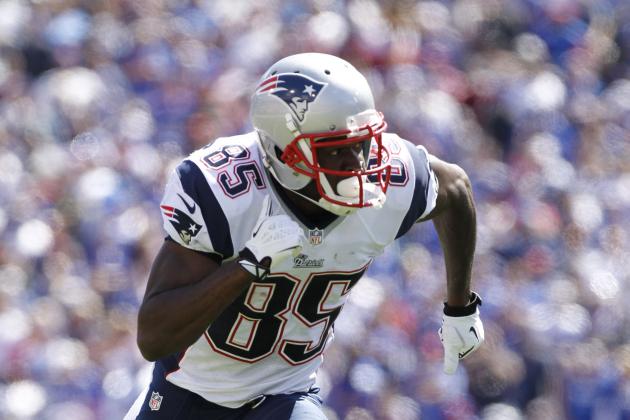 Kevin Hoffman-USA TODAY Sports

Despite the consistency of his performances in preseason, Kenbrell Thompkins was not much of a factor against the Bills. He was tied for a team-high 14 targets, yet only ended up with four catches for 42 yards, including a 20-yarder.
Thompkins looked to be on a different page than Brady multiple times during the game, including a third-down play in the red zone where it looked like he ran the wrong route. He routinely missed passes that Brandon Lloyd always seemed to magically make last year.
This is just a reminder that Thompkins is an undrafted rookie, and this was his first taste of NFL action in a hostile stadium. He should improve with experience, but for now, Thompkins is still a work in progress.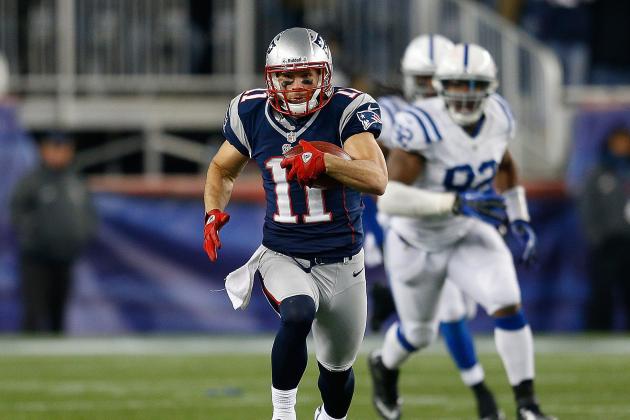 Jim Rogash/Getty Images

Julian Edelman was often the man left out when discussing all of Brady's new targets this season. He had shown real promise in 2012 before getting hurt, and on Sunday, he returned to the form that had him getting increased reps over Wes Welker in 2012.
Edelman finished the day with seven catches for 79 yards and two touchdowns, including a 35-yard reception in the fourth quarter that got the Pats off their own 15 yard line.
If he can stay healthy, Edelman should make a nice complement to Danny Amendola and continue to gain Tom Brady's trust as his most experienced wide receiver in the system.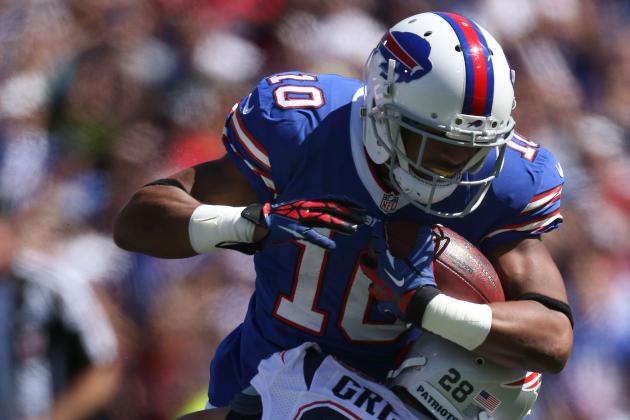 Tom Szczerbowski/Getty Images

The Patriots didn't do a lot of substituting on defense on Sunday, allowing the defense that played together the majority of last year to stick together. That turned out to be a good thing and a bad thing.
While they only allowed one touchdown drive of more than 10 plays, they were bailed out repeatedly by Buffalo's 10 penalties, most of which stalled Bills' drives.
On paper, the Pats defense might've looked better than it actually played, putting up just two sacks and four quarterback hits. It was also burned for two 18-yard touchdown passes that showed last year's problems defending the deep ball might still be lingering.
Still, a win is a win, and the defense gave up just 286 total yards, while forcing four straight punts in the third and fourth quarter to keep the Pats in the game. There were problems, but there's plenty to build off of.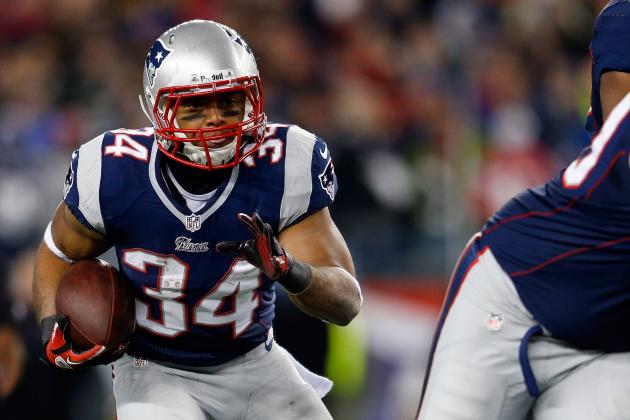 Jim Rogash/Getty Images

With Stevan Ridley fumbling once (and what should've been ruled a second one) in the first half and not seeing the field again and LeGarrette Blount (seven carries, 15 yards) generally ineffective, Shane Vereen delivered as the lead back in the second half. He finished the day with 101 yards rushing and seven catches for 58 yards to lead the team in offensive production.
His best play came late in the fourth quarter when he took a handoff from the edge of field-goal range and rushed for 15 yards all the way down to the Bills' 14-yard line and effectively set up a chip shot attempt for Gostkowski.
Vereen was a bright spot on offense and looks to be primed to be a primary weapon this season.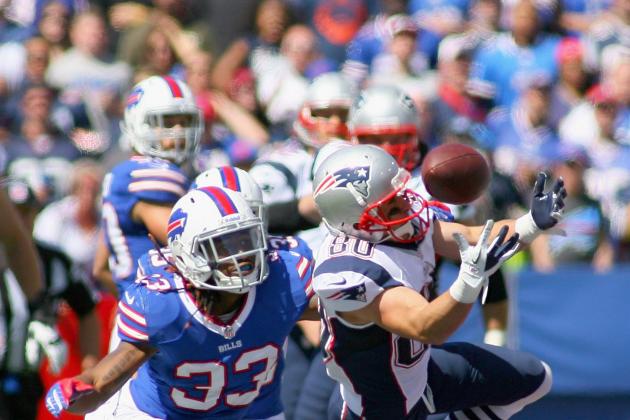 Rick Stewart/Getty Images

Danny Amendola exited the game limping in the first half, giving Patriots fans worried he was injury-prone a heart attack. Yet Amendola managed to return, displaying great toughness, and was Brady's go-to target on third down all day.
Amendola recorded a whopping seven catches on third down that converted for the first downs, including two huge ones on the game-winning drive. He finished the day with 10 catches for 104 yards. That's right, seven of his 10 catches were on third down, accounting for seven of the Pats' 11 total conversions on the day.
Amendola might be nursing his groin injury for a while, but there's no question how tough he is as a player and his willingness to go after the tough catches in the key moments of the game. That's something the Patriots lacked the past few seasons.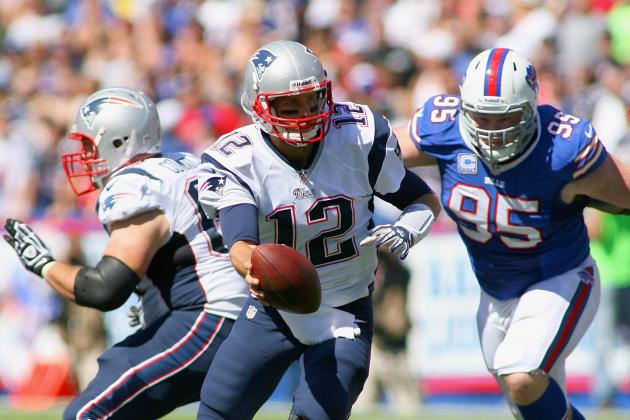 Rick Stewart/Getty Images

Opening-day games are always unpredictable and often sloppy. The Patriots had the benefit of the Bills committing plenty of penalties throughout the day, but when the tide turned late in the second quarter and into the third quarter, and the Pats offense started to sputter and make its own mistakes, it looked like New England might get run off the field.
But the Patriots weathered the storm and managed to hang on like they've always done under Bill Belichick. They have always been a team that never gives up and that fights until the final gun. It's clear that regardless of injuries and turnover, that's still as true as ever.
Once again, the Bills could not put the Patriots away, and when it came down to crunch time, Brady made the plays he always seems to make.