The F1 Drivers Dominating Their Teammates This Season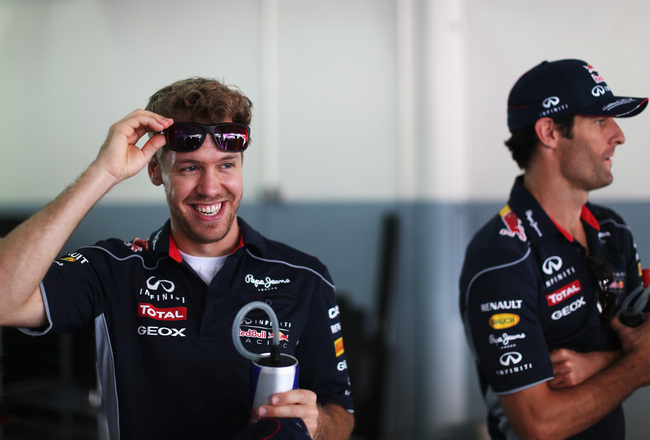 Mark Thompson/Getty Images
It is written into the DNA of every Formula One driver that the first person you have to beat is your teammate.
You might hear drivers say it's not important how they are doing compared to the person on the other side of the garage.
But teammates are the only drivers who have to race under almost the same conditions as each other every weekend.
So a driver's best performance indicator is usually within the team.
There are different ways you can dominate your teammate. Consistently out-qualifying shows a better ability to extract the maximum from the car, while better qualifying positions on average indicate a greater raw pace.
Outscoring teammates is an obvious, though inconclusive, barometer. Generally it suggests a driver threads a race weekend together better, races wiser and is more consistent.
But extenuating circumstances such as mechanical misfortune, other drivers making errors or poor team decisions blur the picture.
With that in mind, let's take a look at the teammates who are enjoying garage dominance so far in 2013.
Honourable Mentions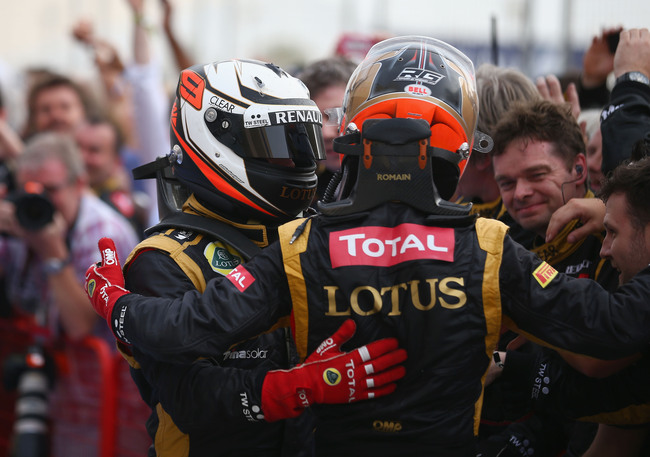 Raikkonen has the better of Grosjean this year
Clive Mason/Getty Images
Some battles this year have been fascinatingly close between teammates; others have been very one-sided.
At Caterham, Giedo van der Garde is not letting Charles Pic get the better of him, despite his rookie status. Ditto Valtteri Bottas with Pastor Maldonado at Williams. Nico Rosberg is also nipping at Lewis Hamilton's heels at Mercedes.
Two drivers enjoying strong seasons in comparison to their teammates are Kimi Raikkonen at Lotus and Nico Hulkenburg at Sauber.
These don't feature in the final list for different reasons.
Raikkonen has Romain Grosjean in his pocket in terms of marquee performances, general consistency and championship position. The Frenchman's been erratic but has picked it up in recent races and has arguably been the more impressive driver.
However, over the course of the season, Raikkonen has put him firmly in the shade. He's also been getting the job done where Grosjean repeatedly seems to trip up.
Hulkenburg is crushing Esteban Gutierrez, but that was entirely expected. As teammate performances go, it's probably the most dominant of the season, but that's because Hulk is a very, very good driver and Gutierrez is a complete rookie.
It would be unfair to make a relative judgement compared to the rest of the field.
5: Daniel Ricciardo, Toro Rosso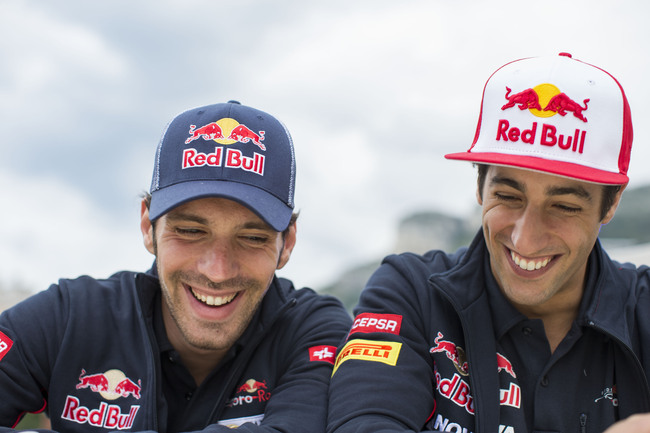 Ricciardo's 2013 has landed him the Red Bull drive
Peter Fox/Getty Images
2013 Comparison
Race (where both finished): Ricciardo (3-1)
Qualifying: Ricciardo (7-4)
Points: Vergne (13-12)
Let's make one thing clear: There are different ways to dominate.
Jean-Eric Vergne is one place higher than Daniel Ricciardo in the standings, courtesy of outscoring his Scuderia Toro Rosso teammate by one point this season.
But that's not a significant enough sample set of data to draw any meaningful conclusion.
More significant is that Ricciardo has dominated when it's counted.
Vergne excelled in Monaco and in Montreal but has been erratic elsewhere. His races in Bahrain and Spain were ended by collisions, but he was running 18th and 22nd at the time.
A puncture and a hydraulics failure put an end to his British and German Grands Prix, but again he was only 16th and 17th at the time.
Ricciardo has hauled his Toro Rosso into the final part of qualifying an impressive four times, well beyond what the car is capable of on raw performance.
He has shone since being linked with the Red Bull drive, qualifying a remarkable fifth at Silverstone and following it up with sixth in Germany.
He's generally raced better, qualified more consistently and impressively, and is a regular threat to the tail end of the top 10, compared to Vergne's sporadic brilliance.
The reason this battle is so significant is that Ricciardo has, by winning it so far, been handed the coveted Red Bull seat for 2014.
That tells you more about his 2013 performances than anything else.
4: Jenson Button, McLaren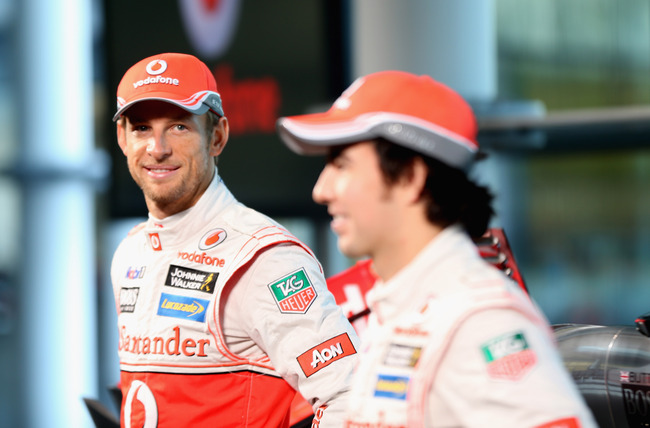 Button has weathered the Perez storm so far
Mark Thompson/Getty Images
2013 Comparison
Race (where both finished): Button (6-2)
Qualifying: Button (7-4)
Points: Button (47-18)
In the midst of one of McLaren's most disappointing seasons for many years, Jenson Button has again proven himself to be a very professional driver.
There have been no standout qualifying sessions or standout results. Ultimately, you cannot "outperform" your car.
But what you can do, and Button has been guilty of failing to do this in the past, is get the absolute maximum performance from it.
The Briton has been impressive this season because, much as many like to malign him, Sergio Perez is a very good young driver who should win a few Grands Prix.
Transitioning to McLaren isn't easy , and that's why it would be unfair to have this teammate rivalry higher. Plus, Perez has done well in qualifying and has bagged a couple of impressive results.
But, in the confines of their circumstances, Button has dominated the Mexican this year, and proven just why his experience makes him McLaren top dog. Perez could learn a thing or two.
3: Jules Bianchi, Marussia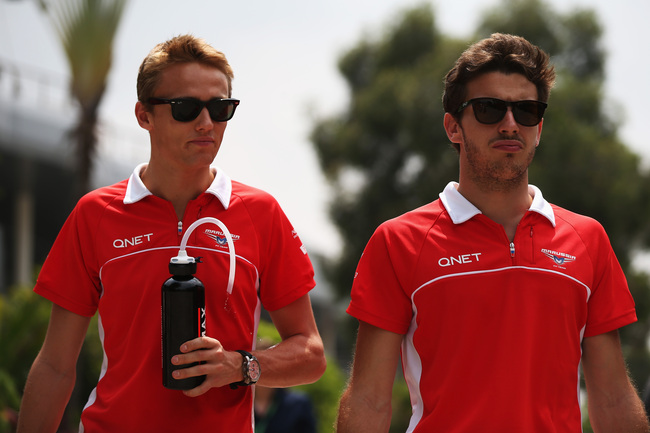 Bianchi is demolishing Chilton
Mark Thompson/Getty Images
2013 Comparison
Race (where both finished): Bianchi (9-0)
Qualifying: Bianchi (11-0)
Best finish: Bianchi (13th-14th)
You might not consider battles at the back of the grid to be very important, but they are—for not too different reasons.
Every driver is fighting for their place on the grid, either with their current employer or to impress another team.
So with Marussia employing two rookie drivers for 2013, both want to establish themselves as regulars on the Grand Prix grid.
Jules Bianchi is giving himself every chance of becoming exactly that with commanding performances over teammate Max Chilton.
Scratch that, he's obliterating the Briton.
The Frenchman arrived late with the team but brought greater experience in an F1 car, courtesy of his previous affiliation with Force India.
Since then, Chilton's had every chance to get up to speed. And he's rarely been within a respectable distance of Bianchi, let alone looked like beating him.
Bianchi came with greater pedigree; Chilton came with greater financial backing. It might not be a surprise to see Bianchi dominating, but it's absolutely crucial for a driver Ferrari holds in high regard and might just be a Scuderia No. 1 in the future.
2: Sebastian Vettel, Red Bull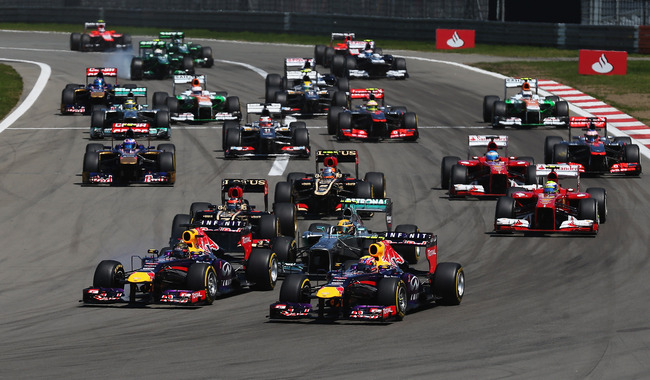 Webber has been unable to match triple world champion Vettel in 2013
Mark Thompson/Getty Images
2013 Comparison
Race (where both finished): Vettel (9-0)
Qualifying: Vettel (11-0)
Wins: Vettel (5-0)
Podiums: Vettel (8-3)
Points: Vettel (197-115)
Formula One's greatest teammate rivalry of the last few years has finally taken its toll.
Mark Webber's Silverstone announcement that he was leaving Formula One for sports car racing at the end of the year was a shame, because he's a good driver.
It also seems to have robbed Webber of any final flickering flame of desire to beat Vettel, and that's shown this year.
But he missed his best chance of winning a world title in 2010, and Vettel has been ruthless since.
Sepang aside, it's unfair to suggest that Vettel has beaten Webber on anything other than merit this season.
Over their time together, the German has whittled down the Aussie's grit, to the point where Webber appears a different driver on and off the track.
This year's been no different, with Vettel seemingly romping to a fourth straight title and Webber, as of yet, winless. He's been beaten by Vettel comprehensively in 2013.
Was 2013 the final nail in Webber's Red Bull and F1 coffin? Very possibly. And that's why it ranks so highly.
1: Fernando Alonso, Ferrari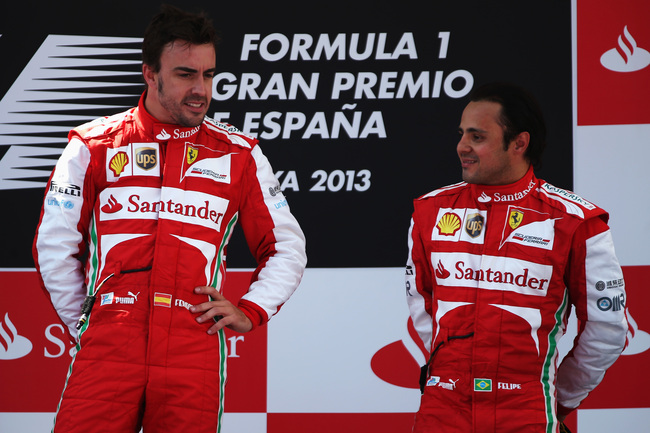 Alonso, yet again, is putting Massa in the shade
Mark Thompson/Getty Images
2013 Comparison
Race: Alonso (10-1)
Qualifying: Alonso (8-3)
Wins: Alonso (2-0)
Podiums: Alonso (6-1)
Points: Alonso (151-67)
It says something about the Ferrari drivers that even on Felipe Massa's strongest day, when he finished third in the Spanish Grand Prix, he was still outshone by teammate and race winner Fernando Alonso.
There are a number of statistics to compare these two this season, though it might not look on paper like Alonso has destroyed Massa in the same way Vettel has with Webber.
Alonso has outscored Massa 10 to one; he has 151 points to Massa's 67; the Spaniard has two wins and six podiums compared to the Brazilian's solitary rostrum finish.
In this instance it's impossible to regard any of these as anomalies brought on by any significant extenuating circumstances.
Massa may protest his life-threatening crash in 2009 in Hungary has not changed his attitude, but such a stance is detrimental to his own reputation.
If we consider that Massa is as good in the mind as he's ever been, then he's toiling. Toiling bad. This is a man who, at the peak of his powers, challenged for the 2008 world championship.
Now, he's little more than an also-ran in a very good team through convenience rather than ability.
Such is the significance of this teammate dominance that a F1 runner-up is likely to be shipped out of the sport at the end of the season. And unlike Webber, he doesn't have a factory Porsche gig to distract him. That's the difference.
Keep Reading