Strengths and Weaknesses of Los Angeles Kings' Top Stars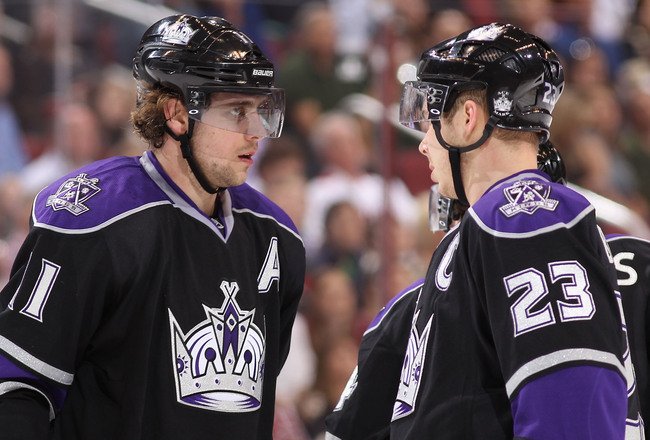 Christian Petersen/Getty Images
The Los Angeles Kings are one of a handful of teams considered favorites to hoist the Stanley Cup in 2014.
General manager Dean Lombardi didn't have the luxury of drafting a superstar like Sidney Crosby, Alex Ovechkin or Steven Stamkos. Instead, the Kings were built around a core group of stars who came together just in time to hoist the Cup in 2012.
These players have sacrificed playing time, stats and, most importantly, their bodies in order to better the team's chances of winning it all.
With that in mind, here's a look at the strengths and weaknesses of the Kings' top players.
Stats courtesy of NHL.com.
Dustin Brown
Strength: Physicality
L.A.'s captain signed an eight-year, $47 million contract this offseason, which will keep him in a Kings uniform through the 2021-22 campaign.
The 28-year-old American became the first ever L.A. captain to hoist the Stanley Cup, and he played a crucial role in getting the team there.
His greatest strength by far is his physical play. Brown plays with a chip on his shoulder each and every night, and he also walks a fine line when it comes to making clean, hard hits. Some would call him a dirty player; others would claim he's a highly effective power forward.
Brown has led the Kings in hits in each of the past four seasons while never finishing in the top five in penalty minutes. That includes a 156-hit performance in the lockout-shortened 2013 season.
Weakness: Playmaking
Brown is good but not great in a number of different areas. What he lacks in skill he makes up for with grit and determination. One area where he could continue to improve is in the playmaking department.
Brown generates offense by driving the net and playing hard in the corners. While he racks up around 30 assists a year, many of those come from in close. Brown doesn't have the speed or finesse to carry the puck up ice and distribute. Instead, that job goes to Anze Kopitar, who is the ideal playmaker on a line with Brown and Justin Williams.
As long as Brown continues to do what he does best, the Kings' top line should never have a problem being effective on the forecheck.
Anze Kopitar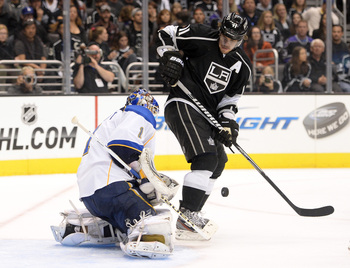 Harry How/Getty Images
Strength: Skating
It's unlikely Anze Kopitar will ever have a 100-point season with the Kings, but he will always be good for 20 goals and 70 points. A big part of what allows him to be so consistent each season is his skating ability.
With or without the puck, Kopitar has a smooth, seemingly effortless stride. He's agile and has the endurance to skate at a high speed throughout a long shift. This allows him to avoid checks and hustle back to defend both in the neutral and defensive zones.
Not only does his skating allow him to be one of the NHL's most underrated stars, it should also help him be a factor at the 2014 Sochi Olympics. Kopitar will play alongside his brother Gasper for Team Slovenia, which is making its Olympic debut in men's hockey.
Weakness: Not Aggressive Enough on Offense
There is a reason Justin Williams, Dustin Brown and Azne Kopitar have had so much success playing on a line together in recent years.
Their strengths and weaknesses balance out.
What Brown lacks in finesse, Kopitar makes up for. And in turn, Brown is aggressive in areas of the rink where Kopitar may play a more passive style.
Kopitar would benefit from going to the net more often and shooting more. In his last seven seasons, Kopitar has reached the 30-goal mark just twice when he has the ability to score 35 or more. Kopitar could create more offensive chances by being more assertive and using his 6'3", 225-pound frame along the boards and in front of the net.
Drew Doughty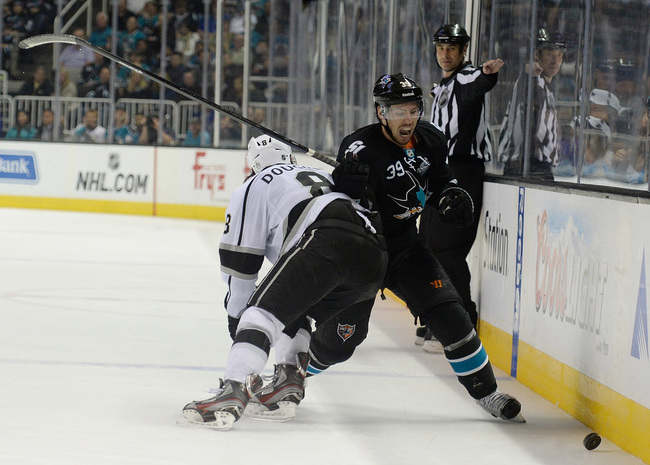 Thearon W. Henderson/Getty Images
Strength: Durability
Drew Doughty is heading into the third year of an eight-year, $56 million contract that carries a cap hit of $7 million.
There are great expectations that come with signing such a massive long-term contract. With Doughty, the Kings are guaranteed a tough defenseman who will always show up ready and willing to do whatever is necessary to help the team win.
Despite playing a physical game, which must take a tole on his body (he had 128 hits and 46 blocked shots in 2013), Doughty has missed just 12 games over the past five seasons. He's also appeared in 50 playoff games over that stretch and represented Canada at the World Championships and Olympics.
With continued good health, Doughty could find himself near the top of L.A.'s all-time games played list before his career is over.
Weakness: Makes A Lot of Risky Plays
As a strong, confident offensive defenseman, Doughty is no stranger to jumping up on the rush or being aggressive in pursuit of the puck in his own end.
However, while some of these risks pay off with a great scoring chance or a cleared puck, others do not. Aside from his remarkable 2009-10 campaign when he was plus-20, Doughty has recorded average plus/minus numbers throughout his NHL career.
He just needs to find a good balance between taking chances and playing it safe. At age 23, Doughty has plenty of time to figure it out.
Jonathan Quick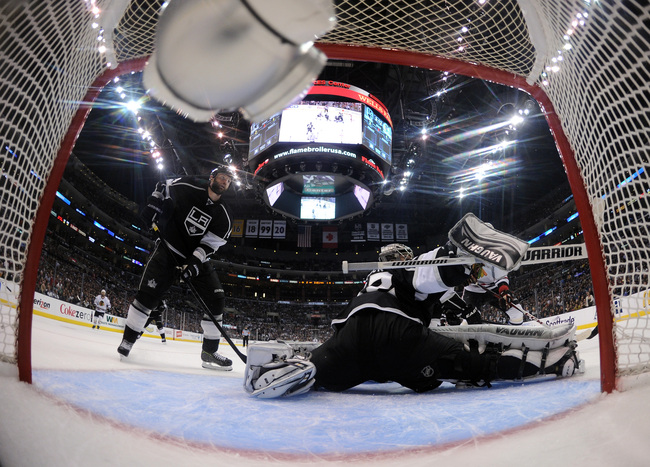 Harry How/Getty Images
Strengths: Confidence and Focus
Jonathan Quick followed up his spectacular 2011-12 campaign in which he captured the Conn Smythe Trophy with a subpar performance in 2013. However, he began to improve toward the end of the season and by the playoffs, he was back to being the dominant goaltender the L.A. faithful had come to know.
The past two years have revealed Quick's greatest strength—his confidence in the crease—regardless of the situation. Even during a string of bad games or after a weak goal gets through, Quick maintains his focus and always appears poised to make the next save.
He is mobile in the crease, covers his angles well and has great rebound control. A hot start to the 2013-14 season could see Quick contend for the starting job for Team U.S.A. at the 2014 Olympics. And you can bet he will be his normal, quiet and composed self even on that grand stage.
Weakness: High Shots
For an athlete who's set to compete for a spot in the Olympics, it's awfully hard to point out a weakness. At 27 years old, Quick is still one of the NHL's best, despite his play last season.
That said, his one weakness may be high shots, specifically stick side, as he sometimes goes down early.
In 2012, Quick posted a 1.95 goals-against average and .929 save percentage. In 2013, those numbers were noticeably worse, as he posted a 2.45 GAA and save percentage of just .902. Some of his struggles can be attributed to shots that beat him high.
Jeff Carter
Strength: Shot
Jeff Carter proved once again in 2013 that his greatest strength is his shot.
He scored 26 goals, good enough for fourth in the NHL behind only Alex Ovechkin, Steven Stamkos and John Tavares.
Surprisingly, the 28-year-old London, Ontario native has just one 40-goal season under his belt. However, with 26 goals in 48 games in the lockout-shortened 2013 season, Carter was on pace for 44 goals in 82 games.
Carter has great hands and good speed. He can pick corners with ease because of his quick release and has a very powerful, accurate one-timer.
Weakness: Physicality
Standing 6'4" and weighing 210 pounds, you would expect Carter to play with a bit of a physical edge.
But he doesn't.
Carter doesn't take the body often. Instead, it's his good friend and linemate Mike Richards who usually takes on that role.
Carter racked up just 25 hits last season, which ranked 19th on the Kings. That followed up a 2012 season in which he had only 17 hits. Carter has also had injury problems in the past, specifically with his foot, although he seems perfectly healthy and in good shape at the moment.
Keep Reading

Los Angeles Kings: Like this team?