Arsenal Transfer News: Mesut Ozil Signing Makes Gunners Instant Top-4 Favorites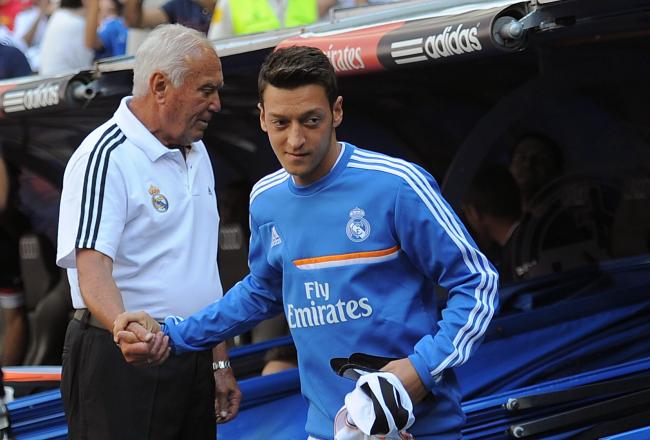 Denis Doyle/Getty Images
Arsene Wenger and the Arsenal Gunners might have waited until the 11th hour to execute a transfer move worth talking about, but no one can deny that signing former Real Madrid and German midfielder Mesut Ozil to a five-year deal was well worth the wait.
In fact, adding Ozil to the mix at Emirates Stadium should help keep the Gunners as top-four Premier League favorites as we get into the meat of the 2013-14 season.
As reported by Arsenal.com, Ozil's deal shatters the club record for a transfer fee. According to BBC Sport, the final amount the Gunners will pay Los Blancos for the 24-year-old's services comes to £42.4 million.
Arsenal's early-season tilt with Aston Villa was a low point for the now-passed transfer window for Gunners fans everywhere. Still searching for talent and praying that Wenger loosened his purse strings, proponents of the club were looking for a star of any kind to be spotted in town for a medical before Monday's deadline.
What grade do you give the signing?
Those prayers were answered as Ozil's name quickly became associated with a move to Emirates Stadium from the Bernabeu.
While the Gunners have fared quite nicely since their Premier League-opening loss against Villa—two Champions League wins against Fenerbahce and six points gathered in wins over Fulham and Tottenham do the talking—adding a world-class player like Ozil cannot be overstated.
He's young, has international experience both in club ball and with his native Germany and is eager to help the Gunners climb the EPL ladder after a fourth-place finish during the 2012-13 campaign. His post on Twitter after the move became official had to inspire Arsenal fans who hold hope for a bright season:
dear fans of real madrid, thank you very much for three wonderful years with all of you. my time at real madrid... http://t.co/waVrnHbuDL

— Mesut Özil (@MesutOzil1088) September 2, 2013
Even Arsenal superfan Piers Morgan, who has been overly critical of Wenger and the entire Gunners board during the transfer window, was supportive of what to date is the biggest signing in club history:
We need more than just Ozil. But now is not a time to be churlish. Wenger listened, changed, threw out all his 'rules' and went big. #Afc

— Piers Morgan (@piersmorgan) September 2, 2013
You could certainly make the argument that Ozil has star potential.
In three seasons with Real Madrid, Ozil has had to fight tooth and nail just to get playing time. Los Blancos have a talented roster, and names such as Luka Modric, Xabi Alonso and Angel di Maria all stake their claim on earning heavy minutes for the La Liga giants.
That said, he never played in less than 32 league matches with Jose Mourinho at the helm in Spain. If you include the Champions League, that number jumps by 10. His goal totals were never spectacular, but he's a playmaker who is outstanding in getting the ball to teammates for scoring chances.
A certain No. 7 on Real Madrid's roster might miss Ozil dearly.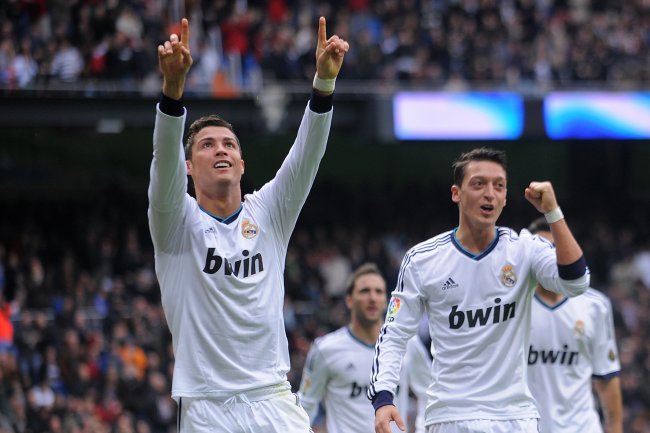 Denis Doyle/Getty Images
With the emergence of Casemiro during preseason matches, it became abundantly clear that Ozil didn't factor into Carlo Ancelotti's future lineups in a significant way that played positively for his long-term status in Spain.
Though he started two of three matches at the Champions Cup and two of three to start La Liga play, a club willing to match his value had an excellent chance to make good on a transfer.
Arsenal just happened to be that club.
In Ozil, the Gunners are getting a creative playmaker at a young age who still has room for growth. The scariest part about Ozil's game is simple—a quick gander at his league stats (19 goals, 37 assists in three previous seasons) paint a beautiful picture of a star who can contribute at a high level yet will improve under the right tutelage.
Creative midfielders don't come on the cheap.
Just ask Manchester United, who signed Everton's Marouane Fellaini for roughly £27 million, per BBC Sport. Or ask clubs who spent countless hours in pursuit of players such as Barcelona's Cesc Fabregas, Paris Saint-Germain's Marco Verratti or Juventus' Arturo Vidal.
By all accounts, good midfielders don't come on the cheap in transfers.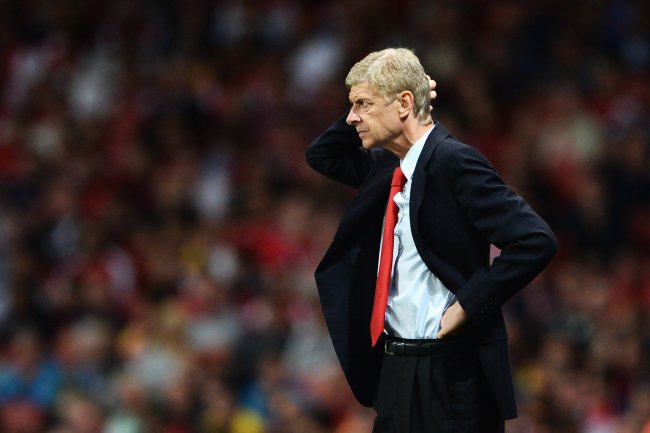 Michael Regan/Getty Images
The Gunners suddenly have one, and Wenger deserves a lot of credit.
According to this tweet from BBC Sport, the Arsenal manager has kept his eye on Ozil for quite some time. If you believe the quote, there's a chance you also believe Arsenal were holding pocket aces waiting for the right time to strike.
Arsene Wenger on Mesut Ozil: "We have watched & admired him for some time as he has all the attributes I look for in an Arsenal player" #AFC

— BBC Sport (@BBCSport) September 2, 2013
Wenger could very well be blowing smoke there, but regardless of his intentions or strategy or how fans took either, Ozil will be a Gunner for the foreseeable future. According to Mirror reporter John Cross, Ozil actually took a pay cut to change his address from a Spanish zip code to a London one:
Mesut Ozil turned down bigger offer from PSG to join Arsenal. Why? Because of the Wenger factor. Keep the faith #afc http://t.co/sbiCEJ3x5m

— John Cross (@johncrossmirror) September 2, 2013
There's no Cristiano Ronaldo to turn quick passes into goals at Arsenal, but Olivier Giroud, Theo Walcott, Lukas Podolski and Nicklas Bendtner will all benefit from Ozil's presence at Emirates Stadium.
From a depth standpoint, he provides a crucial aura alongside Jack Wilshere and Santi Cazorla. From an attacking standpoint, he should help spread the field and allow Wenger's growing insistence on using a 4-3-3 formation (or some variant of it) to continue.
Although he's not the strongest defender, Ozil is a creative player who has the versatility to play in a number of different spots on the pitch. As noted by talkSPORT's Twitter account, there's a reason the price tag on the German international was so high:
Video: check out Mesut Ozil's best goals, passes and skills http://t.co/t67b9sKhWc #afc

— talkSPORT (@talkSPORT) September 2, 2013
ESPN's Adrian Healey put a final stamp on any and all concerns that Ozil was signed just to appease Arsenal fans with this tweet:
If Ozil is a panic buy, then it's the best panic buy made in EPL history #AFC

— Adrian Healey (@AdrianHealey) September 2, 2013
The Gunners are going for it now, and Ozil should be able to help.
Currently fourth in the table behind Liverpool, Chelsea and Manchester City, Arsenal suddenly have some added motivation to pursue the EPL trophy this season.
Where will Arsenal finish in the EPL table?
You could have made the argument that the defense and Wenger's coaching were strong enough to take on that lofty goal when the season began, but post-deadline day, you'd be hard-pressed to find a football aficionado who doesn't appreciate the late-breaking decision to take the Bernabeu castoff off Ancelotti's hands.
"Like all of us, Mr Kroenke wants to see Arsenal winning titles and trophies and he has absolute faith and belief in our manager to achieve that," said Arsenal chief executive Ivan Gazidis, per the official club release. "We will continue to work towards that goal and look forward to an exciting season."

Arsenal weren't top-four favorites before Ozil's signing. If everything goes according to plan, they could be much more by season's end.
Follow B/R's Ethan Grant on Twitter.
This article is
What is the duplicate article?
Why is this article offensive?
Where is this article plagiarized from?
Why is this article poorly edited?

Arsenal: Like this team?