8 Things to Watch for in Cincinnati Reds' September Games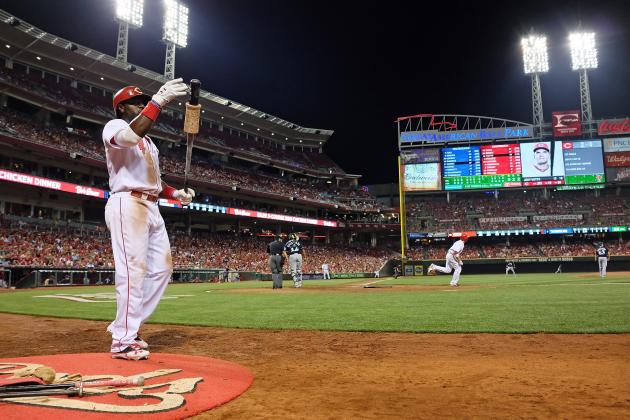 Jamie Sabau/Getty Images
The Reds play 16 of their final 25 games at GABP, so fans will have plenty to watch for in Cincinnati.
The 2013 MLB season hasn't gone the way the Cincinnati Reds had hoped, but there are still many reasons for fans to watch the team in September.
Cincinnati is in position to make the postseason for the third time in four seasons. Whether it wins the division or snags a Wild Card has yet to be determined.
Manager Dusty Baker saw his team get hot after key players returned from the disabled list in August, but the Reds are running out of time to put together a big winning streak.
With one month to play, the Reds will be one of the most exciting teams to watch down the stretch.
Here's a list of what to watch for in September.
*All information is courtesy of baseball-reference.com
Begin Slideshow

»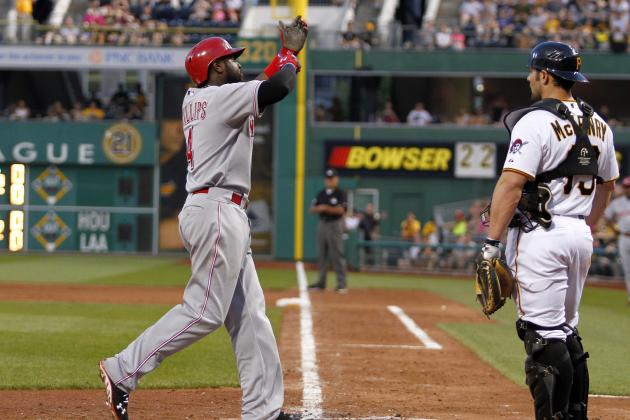 Justin K. Aller/Getty Images
The Reds blew a couple of games in Pittsburgh earlier this season, but they have a chance to control their destiny.
Entering September, the NL Central is one of the only divisions in baseball that hasn't been decided. It's also the only division that has three teams still in the hunt.
Each contender in the division will have a chance to decide its own fate as there will be many games played against each other in the final month.
Cincinnati trails Pittsburgh by 3.5 games and St. Louis by 2.5 games.
The Reds are only 6-10 against the St. Louis Cardinals this season but are in the middle of a four-game series against their rival in Cincinnati. They have won two straight against the Cardinals. The Reds and the Pittsburgh Pirates, who lead the season series 7-6, will play six times in the final nine games of the season.
If Cincinnati is lucky, it will be in first place or trailing only Pittsburgh heading into the final nine games. It would be difficult for the team to swallow if it lost the division by two games or fewer to the Pirates. The Reds suffered a pair of collapses in Pittsburgh earlier this season.
The Reds are currently in third place but own the second Wild Card. September will be filled with games inside the NL Central, so the team must take advantage of the opportunity to control its own fate.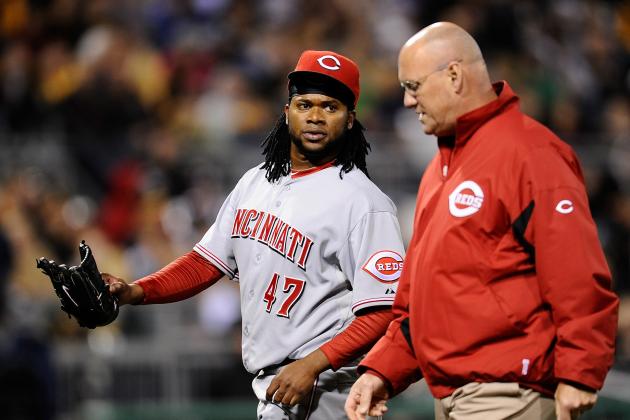 Joe Sargent/Getty Images
Johnny Cueto's injury has cost him most of the season.
The pitching staff has been banged up all year, but September may be the time for a couple of key members to return to the team.
Jonathan Broxton returned briefly in August, but he later was placed back on the disabled list and will miss the rest of the season.
There are several key pieces that the Reds are hoping to get back this month.
Johnny Cueto has been on the disabled list with a lat injury. The 27-year-old has made only nine starts this season and left two of those starts early due to injury. It's a little surprising that the Reds are in their current position given that they are without their best starter.
Rookie Tony Cingrani, who replaced Cueto in the rotation, recently went on the disabled list with a back strain. The southpaw is 6-3 with a 2.59 ERA when he has started this season. He could be back as early as Thursday when he is eligible to return.
Left-hander Sean Marshall has missed nearly the entire season with a shoulder injury but could work his way back later this month. He has pitched only seven innings this year and would be a great addition to the bullpen if he can return to the team.
Cincinnati has been without its ace and its left-handed setup man for most of the season. Getting Cingrani healthy will be important, but fans shouldn't hold their breath on Cueto. The veteran is trying to get back, but nobody knows if he will return to the team this season.
Marshall and Cingrani would be great left-handed relievers in the postseason. Both can realistically return this month, so keep an eye on how they progress.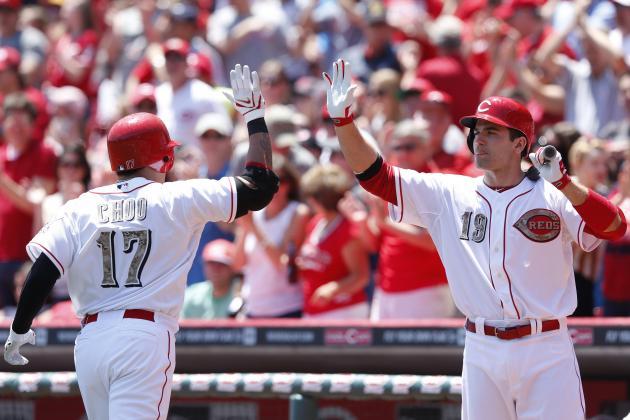 Joe Robbins/Getty Images
Votto and Choo continue to lead the NL in OBP.
Joey Votto and Shin-Soo Choo have been atop the NL in OBP the entire season, and only one month separates them from doing something that rarely happens.
No pair of NL teammates has led the league in OBP since the 1985 Los Angeles Dodgers. Pedro Guerrero and Mike Scioscia topped the league that year.
The last time the Reds had a pair of teammates lead the league in OBP, they won the World Series. The Big Red Machine did it back in 1975 when Joe Morgan and Pete Rose led the NL.
Arizona's Paul Goldschmidt and Washington's Jayson Werth are at .399, but no opposing players are above the .400 mark. Votto will likely lead the league again as his .430 OBP is well ahead of Choo's .415.
Their success has led to Brandon Phillips and Jay Bruce both being near the top of the league in RBI.
It would be an impressive feat if the duo can hang on, so Reds fans should be keeping an eye on the top of the lineup. With Brandon Phillips now hitting second, the offense may finally begin to click again.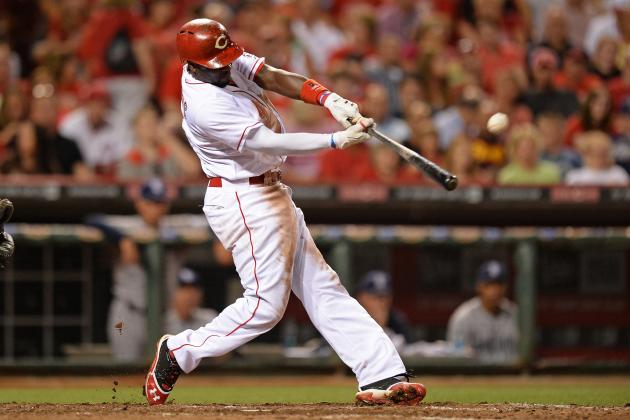 Jamie Sabau/Getty Images
Brandon Phillips has a chance to lead the league in RBI.
Second baseman Brandon Phillips has been among the league leaders in RBI, but he has caught fire lately and could make a run at the top spot.
Four RBI against the Rockies put him in second place, and he is right behind Goldschmidt. Arizona's first baseman has 104 RBI, so it's not out of the question that Phillips could end the year with the most RBI in the league.
He easily leads all second basemen in the category and had more RBI than any other cleanup hitter in baseball. He's hitting .349 with runners in scoring position and .647 with the bases loaded.
Phillips is looking to become the first Cincinnati second baseman since Joe Morgan to knock in over 100 runs, a feat that he could accomplish at anytime now.
The All-Star's goal was 100 RBI, and he will get to the mark. Moving to the second spot will hurt his chances at leading the league, but it's still a possibility.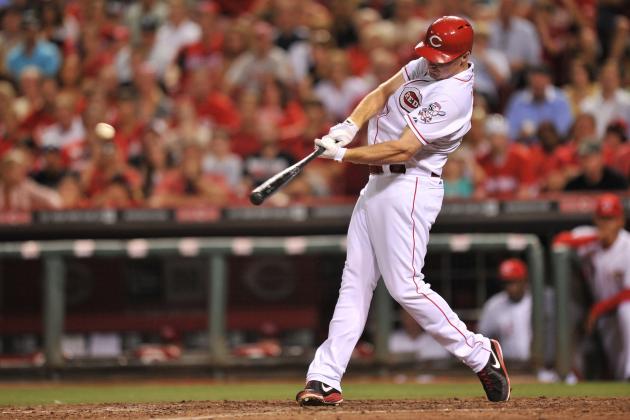 Jamie Sabau/Getty Images
Jay Bruce needs a good finish to the season in order to reach a few marks.
Jay Bruce has a couple of marks that he is looking to hit.
The right fielder is looking to reach 100 RBI for the first time in his career. He made it to 97 in 2011 and 99 last season, but this looks like the year that he could finally do it.
He currently sits at 88 RBI with one month remaining. April was the only month that he did not drive in at least 13 runs this year, so that is a good sign. With Choo and Votto ahead of him, he should get plenty of opportunities to drive runners in.
Bruce should benefit the most from Phillips moving up to the second spot. Phillips was taking a lot of the RBI from Bruce, but that won't be an issue any longer. Phillips should also get on base more than the Reds are used to out of the second spot. Having three quality hitters ahead of him should help Bruce reach 100 RBI this season.
In order to reach that mark, he needs to drive in one run every other game.
Until Ryan Ludwick and the hitters behind Bruce start producing, pitchers aren't going to pitch to the right fielder. He has drawn a walk in four straight games after drawing only one in the previous five.
The 26-year-old is also looking to add to his historic streak. He is the only player in baseball history to hit 20 home runs and increase that total in each of the next four seasons. He hit 34 last season and currently sits at 26 homers this year.
Bruce would have to go on one of his notorious hot streaks in order to hit nine in the final month, but it's not out of the question. With most of the team's remaining games being played at Great American Ball Park, it's still a possibility.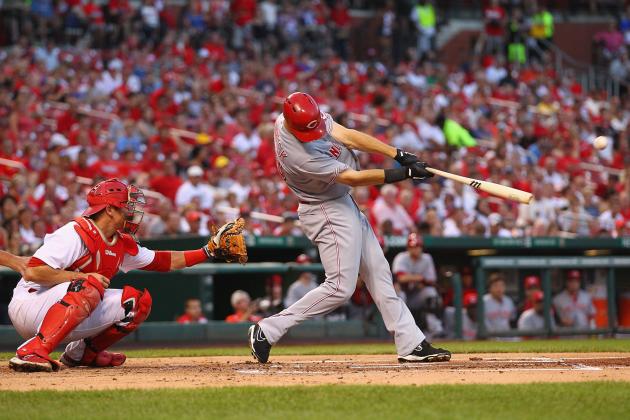 Dilip Vishwanat/Getty Images
Ryan Ludwick needs to come through with runners on base.
Ryan Ludwick may be the most important player on the team for the rest of the season.
His bat allows the team to move Phillips up in the order, so the Reds will need Ludwick to be a productive player in the middle of the order.
The 35-year-old has appeared in 17 games since returning from the disabled list. He is hitting .271 with two home runs, three doubles and seven RBI since he came back. He has five multi-hit games and looks like he is starting to see the ball better.
Cincinnati can let Jay Bruce hit fourth, but Dusty Baker would like Ludwick to hit for enough power to be inserted into the cleanup spot. With Todd Frazier struggling so mightily at the plate, Ludwick needs to be the guy to hit behind Bruce and drive in runs.
Baker is taking a cautious approach with Ludwick. The left fielder won't play every game or a day game after a night game, but that is to try to keep Ludwick fresh.
The Reds know what they are going to get out of their first four hitters now. Ludwick will have to hit close to the way he did last year in order for the Reds to go deep into October.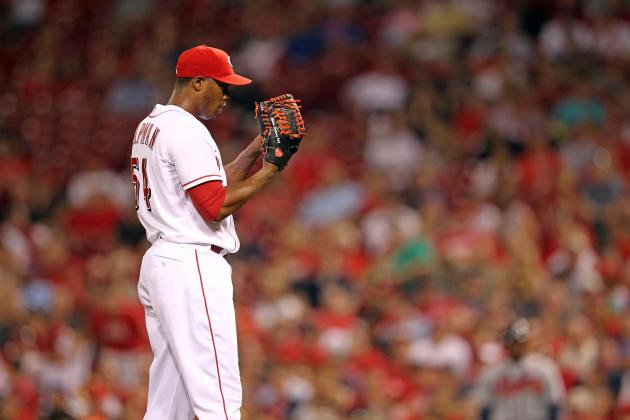 Andy Lyons/Getty Images
The Reds haven't had to use Aroldis Chapman lately, and the rest should help him stay healthy.
Yes, Aroldis Chapman is always fun to watch. He's on this list because of what happened last September. The Reds shut him down due to fatigue last year, and the team would be in trouble if Chapman had more issues this year.
He has pitched only twice since August 19 and hasn't pitched in nine days. It's been somewhat of a blessing in disguise. He had pitched five times in a six-game span in the middle of August, and he was being overused because the team was in so many close games.
Chapman has thrown 53.1 innings in 58 appearances this season. He was on pace to top last year's load, so it has been a nice little break for him without having to put him on the disabled list.
The southpaw has 90 strikeouts compared to only 23 walks. The 35 hits he has given up this year matches last year's total, and the seven home runs are more than he had allowed in his three-year career.
Chapman needs to utilize his slider more in order to keep hitters from locking in on the heater. As long as he throws three or four sliders per appearance, he won't have a blown save—unless he can't control his pitches.
Cincinnati needs Chapman to return to his dominant form. The team has suffered many tough losses because of bullpen meltdowns, and it can't afford any down the stretch.
Fans need to hope the recent rest he's gotten will keep Chapman healthy for the rest of the season. They don't like that he hasn't pitched in over a week, but there is no point in using him in a blowout.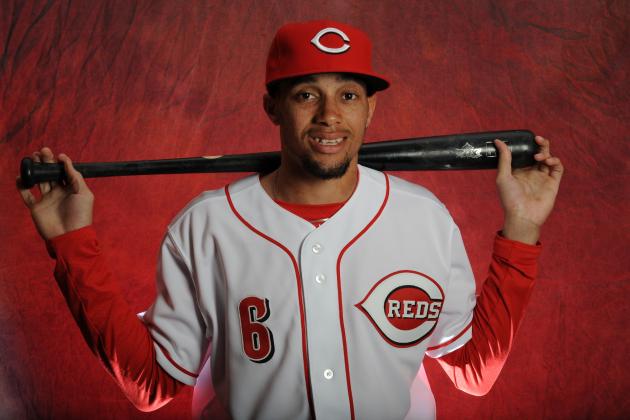 Rich Pilling/Getty Images
Speedster Billy Hamilton is in the majors, but don't expect to see him play too much this season.
He's finally here.
Now that it's September, the Reds have brought up Billy Hamilton. He isn't going to get much playing time, but he could still be put into games in key situations. His speed will be utilized late in games, and he can be used to come off the bench to hit.
Hamilton won't see much, if any, time in center until the Reds are locked into a playoff spot—as in either division champions or locked in as a Wild Card.
Other prospects that have been brought up are Henry Rodriguez, Curtis Partch and Neftali Soto.
Rodriguez can play multiple positions in the infield and put the ball in play on offense. Soto will have a chance to show off his power, but he won't see any meaningful action.
Partch has been up in the majors for a lot of this season, so Baker knows when he can use the right-hander. He throws hard, but he has gone through tough stretches already this season.
All eyes will be on Hamilton. The entire baseball world has been anxious to see if the Reds would call him up, and now everyone wants to see if he can have an impact on the pennant race.