All eyes were on Alabama's potentially potent offense and rebuilt defense as the Crimson Tide entered Saturday's game with Virginia Tech at the Georgia Dome, but it was the overlooked third aspect of the game that helped the Tide topple the Hokies 35-10.
Special teams.
The Tide gave Hokie head coach Frank Beamer a dose of his own medicine with a little "Beamer Ball" in the Chick-fil-A Kickoff Game.
Christion Jones returned a punt 72 yards for a touchdown after the first series of the game, then followed it up with a 94-yard kickoff return late in the second quarter to extend Alabama's lead to 28-10.
"He had some opportunities last year (in special teams) that he learned a lot from, and he worked hard in the offseason," head coach Nick Saban said. "I think we have really good team speed team, and we want our return game to be a weapon for us. It certainly was tonight."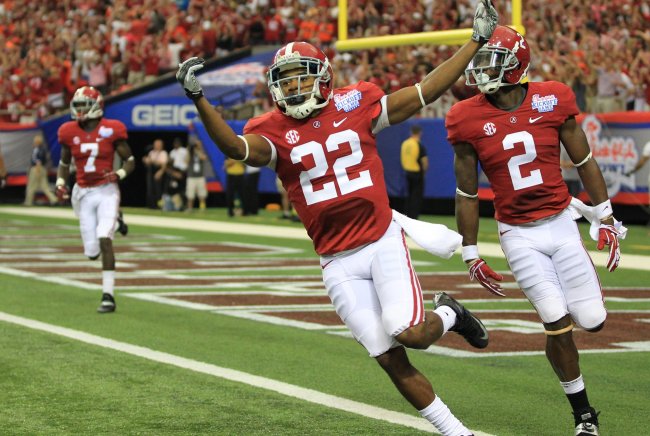 Daniel Shirey-USA TODAY Sports
But they weren't just punt returns—they were both enormous plays in the outcome of the game.
His punt return set the tone after the Tide forced a three-and-out on the first series of the game, and the kickoff return came after Virginia Tech built a bit of momentum leading up to a field goal.
Oh, he also caught a 38-yard touchdown pass from quarterback AJ McCarron.
It's a good thing that Jones came to play, because while the Crimson Tide defense was solid giving up just 212 yards to the Hokies, the offense laid an egg.
A big one.
The Crimson Tide managed just 206 total yards on 11 first downs, and the rebuilt offensive line got worked by the Hokie front seven the entire afternoon. First-team All-SEC offensive tackle Cyrus Kouandjio got called for holding twice in the first half and struggled in pass protection.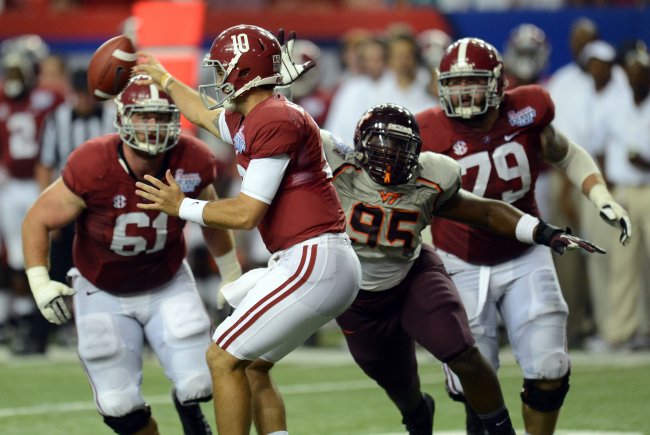 Dale Zanine-USA TODAY Sports
"They moved on us up front," Saban said. "They blitzed a few times. They would overload a side and then slant back. They just kind of outplayed us up front. Their No. 99 (James Gayle) gave us a lot of problems in pass protection, pushed the pocket and the quarterback didn't get comfortable. We didn't handle their pressure very well and we didn't handle their movement very well."
Should Alabama be concerned about its offense?
Saban was quick to point out that the blame can't be placed squarely on the offensive line.
"You can't put all of this stuff on the offensive line," he said. "It's really all about the offensive team all doing things the way they need to in order to execute together and for us to believe in one another so that we can make this work."
Aside from Jones' accolades, it was ugly, sloppy, plodding and downright boring.
That's typically the brand of football Saban wants, only this time he has plenty of bad film to work off of in the two weeks leading up to the showdown with Johnny Manziel and the Texas A&M Aggies.
Luckily for Saban and the Crimson Tide, Jones and the special teams saved the day.
*Barrett Sallee is the lead SEC college football writer for Bleacher Report. Unless otherwise noted, all quotes were obtained firsthand.