Stock Up, Stock Down for Cardinals' Top 10 Prospects for Week of Aug. 19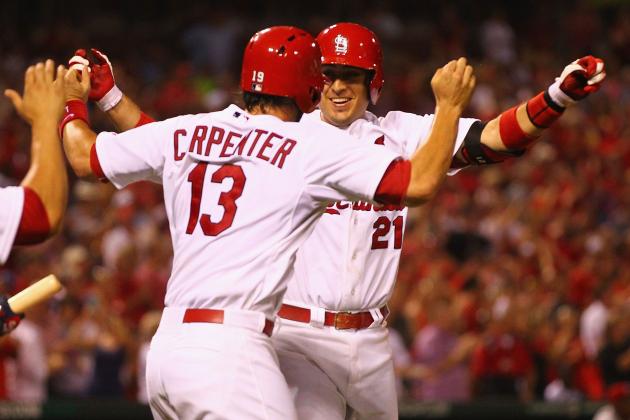 Dilip Vishwanat/Getty Images
Matt Carpenter and Allen Craig celebrate after Craig blasted a grand slam against the Reds on Aug. 26.
Season-ending surgeries sprinkled in with promising performances characterize the St. Louis Cardinals' Top 10 prospects for the week of Aug. 19.
Injuries are part of the game, sure. Oscar Taveras, the organization's top prospect is out for the season, left-handed starting pitcher John Gast and right-hander Tyrell Jenkins are also lost for the season due to significant injury.
However, with every downfall, a glimmer of hope emerges down on the farm. A number of young, talented players are getting hot at the right time as their season draws to a close.
Begin Slideshow

»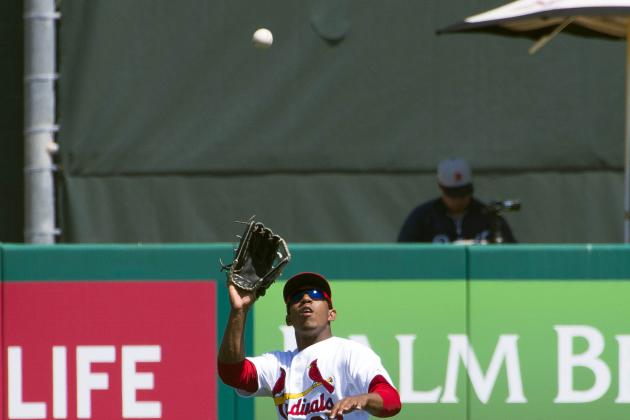 USA TODAY Sports
Oscar Taveras makes a catch during a spring training game against the Tigers on March 16.
Stats: No stats available for Taveras, who is out for the season.
Stock Down
Oscar Taveras was at the center of attention during spring training. However, multiple ankle injuries cut his season short, as the 21-year-old underwent successful ligament surgery on Aug. 22, according to Derrick Goold of the St. Louis Post-Dispatch.
With Taveras out for the season, he will not be one of many called up on Sept. 1. Taveras' fifth minor-league season was cut short significantly, as the outfielder was limited to 47 games in which he managed a .310 average with five home runs and 32 RBI.
"Obviously it's disappointing in the sense he didn't get the at-bats," general manager John Mozeliak said, according to MLB.com. "I still think that when he played, he played well. It's unfortunate, but injuries happen in this game. This one doesn't seem to be to the point where we have to worry about next year."
Also, according to Goold, it is unlikely Taveras will participate in Winter ball this offseason.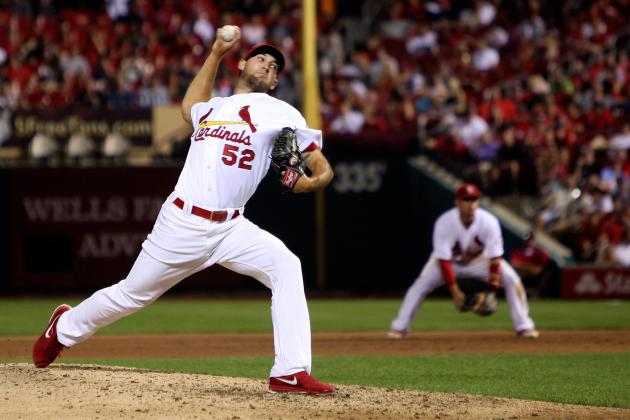 Scott Kane-USA TODAY Sports
Michael Wacha delivers a pitch in a game against the Braves on Aug. 22.
Stats: 1-0, 3.2 IP, 5 H, 3 R/ER, HR, BB, 5 SO
Stock Up
Michael Wacha made four starts for the Cardinals this season, going 1-0 with a 4.459 ERA. Over his 22.2 innings pitched as a starter, Wacha yielded 11 earned runs off 22 hits, walked seven and fanned 18.
However, Cardinals manager Mike Matheny has found a new role for his young right-hander. On Aug. 13, Wacha was inserted into the bullpen as a reliever, where Matheny can utilize him as a late-inning stopper.
"I just think he's throwing the ball as good as anybody we've got," Matheny said, courtesy of the Post-Dispatch. "So we want to go with our best right now."
Instead of using Wacha as a starter in a rather crowded rotation full of young arms, Wacha has been used late in games as another option along with Seth Maness and Trevor Rosenthal.
"That's really what we're talking about is the versatility to use him in different roles to get different guys days off, yes," Matheny said, according to the Post-Dispatch. "But we're still putting together what that back end looks like on a consistent basis."
So far, so good for Wacha in his new role.
In three appearances last week, Wacha was 1-0 in 3.2 innings of work in which he allowed just three earned runs.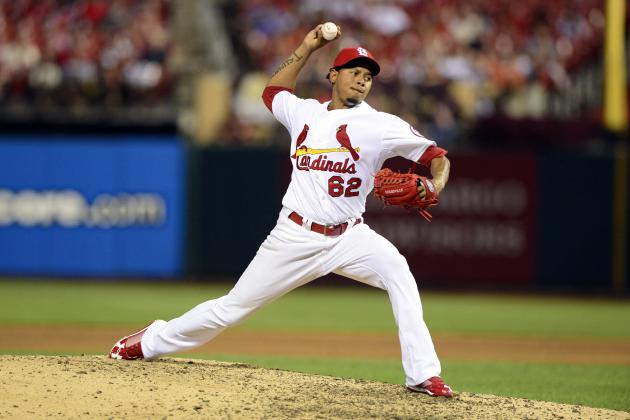 Jeff Curry-USA TODAY Sports
Carlos Martinez delivers a pitch in a game against the Reds on Aug. 26.
Stats: 1-0, 2.0 IP, 2 H, 1 R/ER, HB, SO
Stock UP
Carlos Martinez, the hard-throwing right-hander, notched his first big-league win against Cincinnati Monday, improving his record to 1-1 in the majors this season.
Prior to his two innings of work against the Reds, Martinez, who was promoted to the parent club on Aug. 23, manager Mike Matheny wasn't certain where to use Martinez.
No matter, according to the Post-Dispatch, Matheny suggested the righty could be utilized as a late-inning arm out of the bullpen.
"We need to pitch him, Matheny said, courtesy of the Post-Dispatch. "I see him being able to be used in short stints too, especially as we're close to having more arms around here. When that happens, he turns into somebody who could spell one of the late-inning pitchers because he has stuff to do that."
Look for Martinez's workload to increase over the following weeks.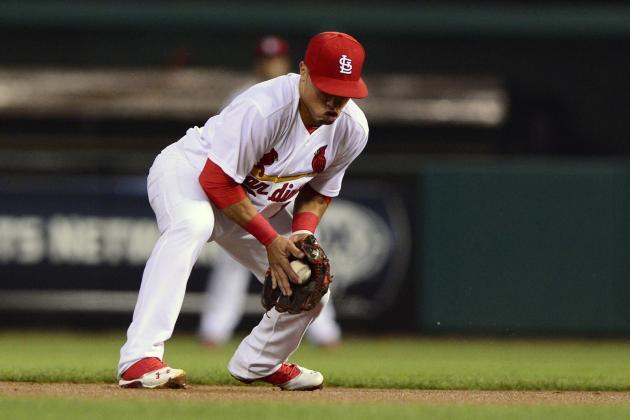 Jeff Curry-USA TODAY Sports
Kolten Wong fields a ground ball in a game against the Braves on Aug. 23.
Stats: 17 AB, 5 H, R, 2 SO, 3 SB
Stock Down
Kolten Wong was promoted to provide a spark to the Cardinals' offense that up until last week had struggled to score. He did just that by tallying five hits in his first 15 at-bats, while swiping three bases.
However, the 22-year-old second baseman has struggled of late. He's zero for his last eight at-bats with a strikeout.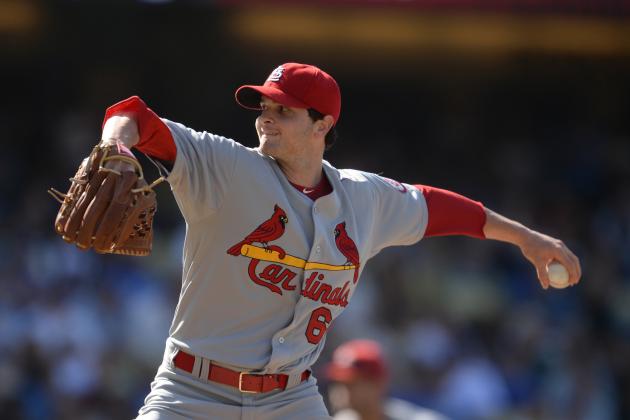 Jayne Kamin-Oncea-USA TODAY Spor
John Gast delivers a pitch in a game against the Dodgers on May 25.
Stats: No stats available. Player is on disabled list.
Stock Even
John Gast, who last pitched on May 25 against the Los Angeles Dodgers, underwent season-ending surgery on his left shoulder in July, and his rehab will take between eight-to-12 months before he is able to pitch again.
For the season, Gast was 2-0 with a 5.11 ERA in three starts.
Charles LeClaire-USA TODAY Sport
Michael Blazek delivers a pitch in a game against the Pirates on Aug. 1.
Stats: 4.2 IP, 2 H, 2 R/ER, 6 BB, 2 SO
Stock Down
Michael Blazek has struggled of late with his command, walking six hitters over his last 4.2 innings of work for Triple-A Memphis.
He got the win on Aug. 25 against the Iowa Cubs by working 1.2 innings. Though, he allowed two earned runs and walked six batters in the process.
Blazek needs to get his rhythm back on the mound in the coming weeks.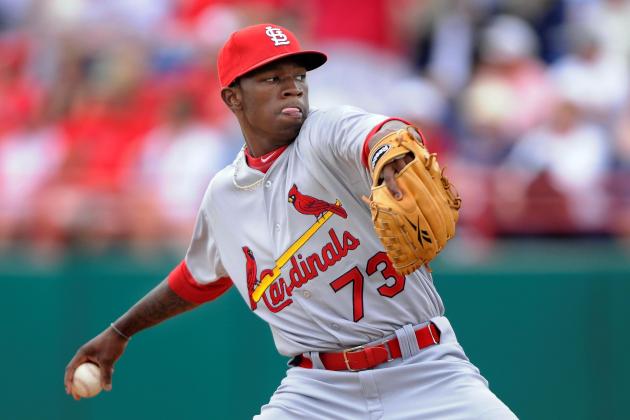 Brad Barr-USA TODAY Sports
Tyrell Jenkins delivers a pitch in a spring training game against the Nationals on March 7.
Stats: No stats available. Player is on disabled list.
Stock Even
Propsect Tyrell Jenkins underwent season-ending shoulder surgery on Aug. 5 and is lost for the season.
Jenkins' recovery time is between six to eight months.
Jenkins dealt with lingering shoulder issues all season, which had much to do with his 4.70 ERA in 13 combined starts for Peoria and Class A Palm Beach.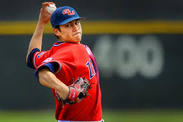 Pitcher Marco Gonzales. Photo courtesy of The Denver Post.
Stats: 4.2 IP, 2 H, 2 BB, 3 SO
Stock Up
The Cardinals inked their first-round selection in left-hander Marco Gonzales in June, and he has proved why he was worth a first-round selection thus far.
In four starts for Class A Palm Beach this season, Gonzalez has worked 16.2 innings, allowed 10 hits, given up three earned runs, walked five and struck out 13. Moreover, he boasts a microscopic 1.62 ERA.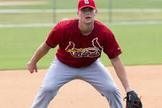 Cardinals prospect Carson Kelly. Photo courtesy of Robrains.com.
Stats: 31 AB, 15 H, 3 2Bs, HR, RBI, 2 BB, 2 SO
Stock Up
Carson Kelly has dominated at the plate in the New York Penn League. Over his last 31 at-bats, Kelly is batting .483.
Moreover, after hitting just .217 in June, Kelly has increased his average over the last two months. He hit .317 in July, and is at .321 in August.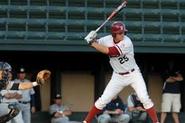 Cardinals prospect Stephen Piscotty. Photo courtesy of Bleacher Report.
Stats: 25 AB, 7 H, 4 R, 2B, HR, 5 RBI, 4 SO, 3 SB
Stock Up
Stephen Piscotty hit just .216 in July. What a difference a month makes in baseball. For August, Piscotty is hitting .304 for Double-A Springfield, a sign he's locked in at the plate.
Look for Piscotty to continue to put up impressive numbers at the plate as he continues to grow as a player.