Projecting Whether Cincinnati Reds Players Can Make the Hall of Fame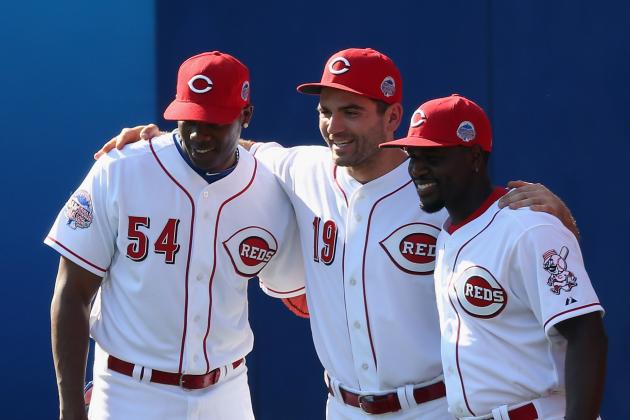 Bruce Bennett/Getty Images

The Cincinnati Reds are fighting for a spot in the 2013 MLB postseason, but here's a look at the chances that Joey Votto and other current members of the team wind up in Cooperstown some day.
Most of the players on the team still have plenty of years left in their careers, but a few are nearing the end of their careers.
Cincinnati has plenty of talent on its roster. Many players have already entered the record book, and there are many bright years ahead for the team.
Players will be evaluated on their all-around game. They will be judged with the expectation that they keep up a similar pace throughout the rest of their careers and stay healthy.
Here is a look at the odds that Votto and some of his teammates make the National Baseball Hall of Fame after their careers are over.
*All stats are courtesy of baseball-reference.com and videos are courtesy of MLB.com
Begin Slideshow

»
Andy Lyons/Getty Images

Career stats: .263/.334/.464, 144 HR, 177 2B, 532 RBI
Postseason stats: 8 G, .333/.429/.633, 3 HR, 5 RBI
Accolades: NL All-Star (2008), Silver Slugger (2008), 16th in NL MVP (2008), NL Player of the Month (7/2009)
Ryan Ludwick has had a solid career. He is in his 11th season and on his sixth different team.
In his prime, he was a good offensive player for the St. Louis Cardinals. It appeared that his career was winding down after struggling with the San Diego Padres and the Pittsburgh Pirates.
The Reds signed him before the 2012 season, and Ludwick has turned his career around. He helped carry the offense when Joey Votto went down last season.
Ludwick has been a good player for most of his career, but he's not going to be a Hall of Famer when his career is over.
Chances: No chance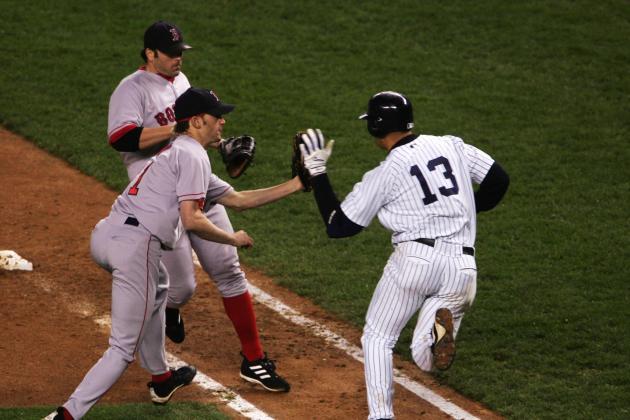 Doug Pensinger/Getty Images

Career stats: 385 G/349 GS, 137-124, 4.17 ERA, 2245.1 IP, 15 CG/6 shutouts, 1462 K/615 BB
Postseason stats: 12 G/4 GS, 1-0, 4.60 ERA, 29.1 IP, 24 H, 26 K/13 BB
Accolades: NL All-Star (2006), 23rd in NL MVP (2006), 12th in NL Cy Young (2010), 2010 Gold Glove
As the oldest member of the Cincinnati Reds, Bronson Arroyo deserves recognition for a solid career. However, the numbers won't show that he is worthy of the Hall of Fame.
Arroyo has never missed a start in his career. That is something that will rarely happen for a pitcher, but Arroyo has found a way to pitch every fifth day.
Since joining the Reds in 2006, he has thrown at least 200 innings in all but one season. In 2011, which was his worst season with the team, he threw 199 innings. Add in his 2005 season with the Boston Red Sox and he has been a workhorse.
Despite throwing so many innings, he has never walked more than 70 batters in a season. He has great control of all of his pitches. He doesn't overwhelm hitters, but his breaking balls move all over the place.
Arroyo has had five years with at least 14 wins and is one win away from adding to that total this year. He's finished below .500 only twice as a full-time starter but has never had fewer than nine wins.
His 137-124 record is nothing special. He has been a big part of the rebuilding process in Cincinnati, but he will always be remembered for his time with the Red Sox (see picture).
Arroyo will likely make the Reds Hall of Fame one day, but he won't be heading to Cooperstown.
Chances: No chance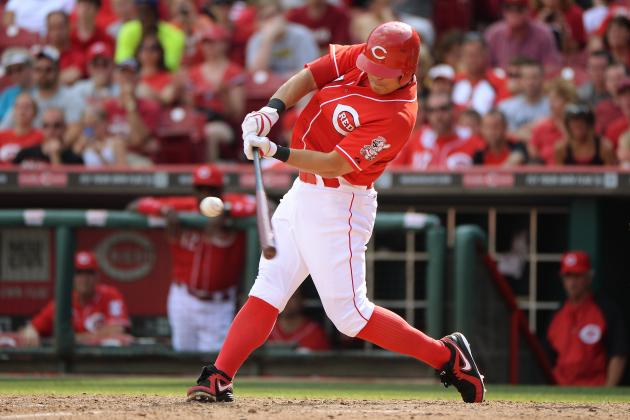 Jamie Sabau/Getty Images

Career stats: .287/.386/.462, 99 HR, 191 2B, 20 3B, 413 RBI
Accolades: 14th in AL MVP (2010)
Shin-Soo Choo may only be in Cincinnati for one season, but he has been a valuable member of the offense.
He is on pace to finish behind only Joey Votto in the NL in OBP. It would be the second time in his career having an OBP above .400. He has finished a full season with a batting average at .300 twice in his career.
If he could hit southpaws, he might have a better chance of making the Hall of Fame. However, his splits won't get him in the discussion.
Choo is batting .309/.408/.519 with 86 homers, 148 doubles and 16 triples against right-handers. Against southpaws he is hitting .240/.336/.335 with 13 home runs and 43 doubles.
The left-handed-hitting Choo is very good against right-handers. He is able to make solid contact and drive the ball. His struggles against southpaws have always been what has kept him back from being an elite leadoff hitter.
He has never been a great defensive player, and his offensive numbers won't get him in.
The 31-year-old is still going to get one or two more contracts. He could add to his numbers if he picks the right ballpark to play in for the rest of his career. If he has a strong finish to his career, he could work his way into the conversation to get on the ballot.
Chances: Very slim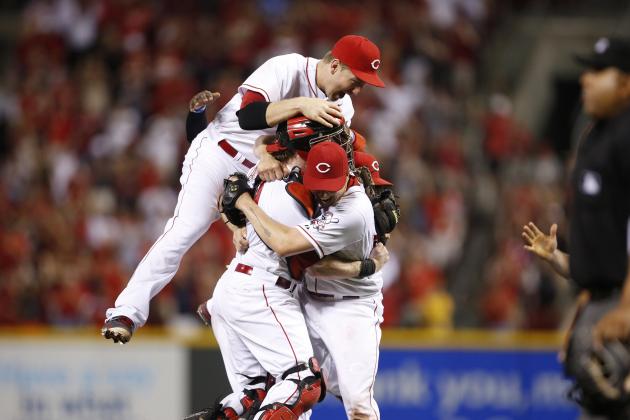 Joe Robbins/Getty Images

Career stats: 137 GS, 46-43, 814 IP, 5 CG/3 SO, 4.33 ERA, 672 K/261 BB
Postseason stats: 2 G/1 GS, 0-0, 0.00 ERA, 9 IP, 3 H, 12 K/1 BB
Accolades: 2 no-hitters (2012, 2013), NL Player of the Week (10/2012)
Homer Bailey already made it to the Hall of Fame. Well, at least some of his gear has.
The right-hander put his name on the map after throwing his first career no-hitter on Sept. 28, 2012. He followed that up by holding the San Francisco Giants to one hit over seven innings in the 2012 NLDS.
A strong finish to the 2012 season led to high expectations for the 2013 season.
Lack of run support has killed his record this season. He has pitched much better than his 8-10 record might suggest, but he still has to work on avoiding the big innings.
Even though his record isn't great, he added his second career no-hitter this season. He became the first pitcher since Nolan Ryan nearly 40 years ago to throw two no-hitters without another pitcher doing so in that time span.
Bailey has shown flashes of brilliance. However, he hasn't figured out how to be great every start. There are still teams—mainly the St. Louis Cardinals and the Milwaukee Brewers—that he struggles against.
The former first-round pick's best chance to get to Cooperstown is to leave Cincinnati. In 72 games at Great American Ball Park, he has a 4.82 ERA. The right-hander has a 3.81 ERA in 65 road starts, including a 2.32 ERA away from home in 2012.
Bailey has a 3.48 ERA at GABP this year compared to 3.90 on the road, which goes against his career numbers. He has learned to start games throwing easy fastballs and working up to 97 mph by the time he exits a game.
Reds fans hope Bailey stays for the long haul, and the 27-year-old could build a strong case for the Hall of Fame if he continues to improve.
Chances: Still has a lot of work to do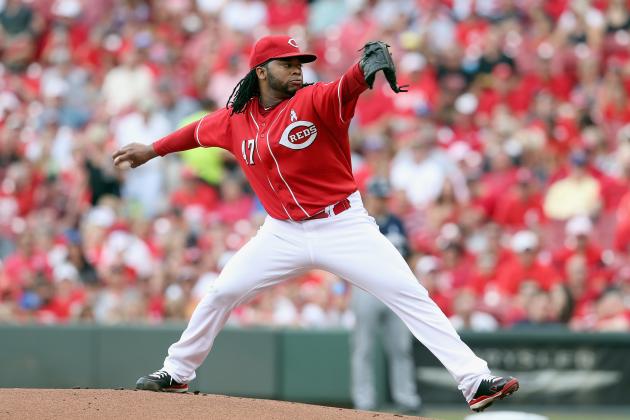 Andy Lyons/Getty Images

Career stats: 158 GS, 64-48, 3.56 ERA, 952.2 IP, 6 CG/2 SO, 743 K/295 BB
Postseason stats: 2 GS, 0-1, 1.69 ERA, 5.1 IP, 5 H, 3 K/1 BB
Accolades: 4th in NL Cy Young (2012), 30th in NL MVP (2012)
Injuries have slowed Johnny Cueto's career. He has turned into an ace in recent years, but now he will need to find a way to stay healthy.
In 2011, Cueto went 9-5 with a 2.31 ERA. Unfortunately, he only pitched in 156 innings that year after starting the season on the disabled list—he would've ranked near the top of the NL in ERA had he pitched enough innings to qualify. He followed that strong finish with a 19-9 record and a 2.78 ERA in 2012.
He has stopped going for strikeouts and has cut down on the walks. His walk total has steadily decreased, for the most part, since he made his major league debut. He has learned how to pitch to contact and be more efficient with his pitches.
The right-hander has thrown 200 innings only once, so he still has to show that he is durable.
If Cueto can return from his latest injury and pitch the way that he has in recent years, he will be building a strong case for the Hall of Fame.
Chances: Still has a lot of work to do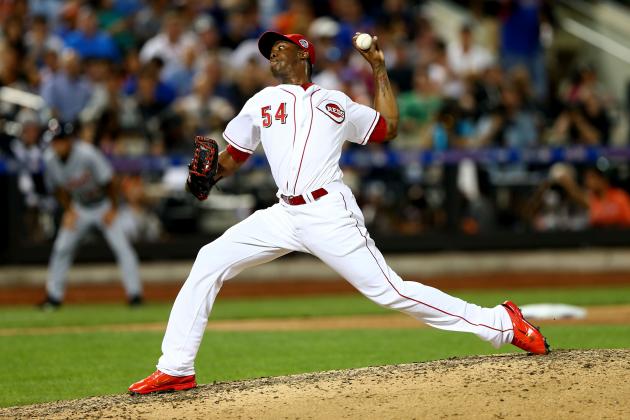 Elsa/Getty Images

Career stats: 195 G, 14-13, 2.48 ERA, 188.1 IP, 35 H, 302 K/92 BB
Postseason stats: 5 G, 0-1, 4.2 IP, 4 K/2 BB
Accolades: 2x NL All-Star (2012, 2013), 8th in NL Cy Young (2012), 12th in NL MVP (2012)
This is probably the most interesting case on the team. It's unclear how much longer Aroldis Chapman will be in Cincinnati, but it appears that he will remain the closer as long as he is with the club. If he goes elsewhere, he may get the opportunity to start.
He's got an incredible fastball and a devastating slider. He falls in love with his fastball a little bit too much at times, which has resulted in blown saves.
If he remains a closer for the rest of his career and doesn't suffer any major injury, there's a good chance that he makes the National Baseball Hall of Fame. He would go down as one of the most dominant closers in baseball history.
Chapman has allowed 0.6 home runs per nine innings in his career. He has averaged an incredible 14.4 strikeouts per nine innings and 3.28 strikeouts per walk.
The southpaw has 71 saves over the last two seasons. As long as he comes in with the right mentality and mixes up his pitches, hitters have no chance.
Chapman has many years ahead of him. If he remains a closer, he will likely find himself being enshrined into the Hall of Fame one day.
Chances: Barring injury, on his way
Kevin C. Cox/Getty Images

Career stats: 131 GS, 54-37, 3.31 ERA, 808 IP, 3 CG/1 SO, 764 K/248 BB
Postseason stats: 2 G/1 GS, 0-1, 6.48 ERA, 8.1 IP, 5 K/2 BB
Accolades: 8th in NL Cy Young (2008)
Mat Latos saved the Reds in Game 1 of last season's NLDS after Johnny Cueto went down with an injury. He gave up a grand slam to Buster Posey in a six-run fifth inning of Game 5 as the Reds were eliminated.
The right-hander was again put in the spotlight this season with Cueto out. He has responded yet again. He followed up last year's 14-4 record with a mark of 13-4 this year. More importantly, he is 2-0 in three starts against the Cardinals entering Tuesday night's game.
Latos has turned into an ace for the Reds. He gives the Reds everything he has and keeps his team in games. If the bullpen was used up the night before, he's prepared to go deep into the game the next day.
When his team gets him no more than two runs, he has a record of 4-3 and a 1.63 ERA this season. He knows how to pitch in tight games and should lead the team in the future.
The 25-year-old turns it up as the situation gets tougher. Batters are hitting .218 with runners on and .174 with runners in scoring position.
Latos is going to get votes for the NL Cy Young this year. He's not going to win, but he will definitely be recognized as one of the top pitchers in the league.
Chances: Still young, but on his way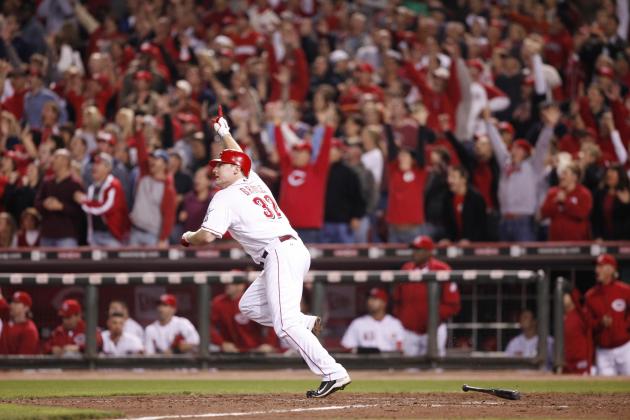 Joe Robbins/Getty Images

Career stats: .258/.329/.483, 159 HR, 151 2B, 16 3B, 458 RBI
Postseason stats: 8 G, .259/.375/.556, 2 HR, 2 2B, 5 RBI, 2 K/4 BB
Accolades: 2x NL All-Star (2011, 2012), Silver Slugger (2012), 10th in NL MVP (2012), 5th in NL Rookie of the Year (2008)
Jay Bruce. There have already been so many brilliant moments in his six-year career, and yet many people believe that he will grow into an even better player.
In 2010, he hit arguably the biggest home run the team has had in the last 20 years when he clinched the NL Central with a walk-off homer. He also hit the game-winning home run when the team clinched the division in 2012.
Bruce is the only player in Major League history to hit at least 20 home runs as a rookie and increase his total over each of the next four seasons. The 26-year-old is unlikely to add to that streak this year, but he has still hit 25 homers with one month remaining.
His biggest issue entering the season was consistency. He has finally cut the 0-for-19 streaks out and has seen his average rise.
The left-handed-hitting Bruce has also gone to the opposite field more this season. He is only one double away from his career-high of 35 that he set last year.
The right fielder hasn't won a Gold Glove yet, but he has put himself in position to finally win one this year. He should have a few by the time his career is done. He gets great jumps on the ball and prevents runners from taking extra bases with his great arm.
He is on pace to hit over 500 home runs, especially if he stays at Great American Ball Park for the rest of his career. With his defense, that may be the magic number to get him in.
His batting average could be used against him, but he should continue to bring it up each season as he grows as a hitter.
Bruce still has work to do to bring up his average, but the early part of his career has him on pace to make the ballot.
Chances: Still young, but on his way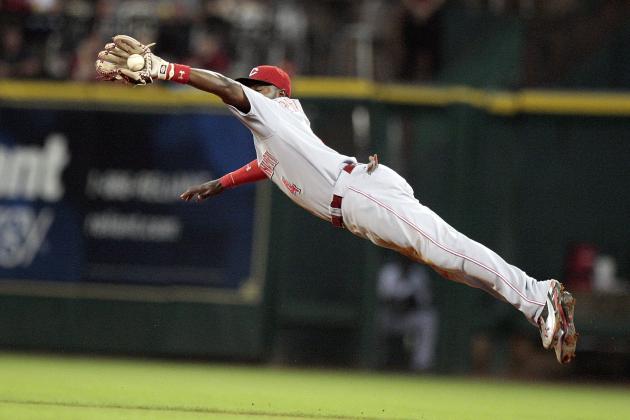 Bob Levey/Getty Images

Career stats: .272/.320/.431, 164 HR, 252 2B, 30 3B, 696 RBI, 158 SB
Postseason stats: 8 G, .361/.351/.639, 2 HR, 4 2B, 8 RBI, 1 SB
Accolades: 3x NL All-Star (2010-11, 2013), 3x Gold Glove (2008, 2010-11), Silver Slugger (2011), NL MVP Voting: 22nd in 2008, 13th in 2012
Brandon Phillips will have an interesting case when he is eligible to be on the ballot. He doesn't have great offensive numbers but will be remembered as the greatest defensive player of his generation.
Having said that, he is still putting up big offensive numbers. The 32-year-old hits wherever his team needs him. He's gone from leadoff to the second spot to cleanup and has even hit third occasionally.
He may be the most versatile hitter in the league. When he's at the top of the lineup, he focuses on getting on base. He turns his attention to driving in runs when he gets moved to the middle of the lineup. He has three different seasons with at least 90 RBI.
Phillips has already passed legend Joe Morgan in many offensive records while with the Reds. Phillips is signed through 2017, and he is on pace to have similar numbers as the Hall of Famer. Morgan hit .271/.392/.427 with 268 home runs, 449 doubles and 1133 RBI. Phillips would have to average 26 homers and 109 RBI through the end of contract to match Morgan's numbers. He will have a hard time doing that, but Phillips will come close in a shorter time span.
Defense will be a huge boost for his case. He already has three Gold Gloves and will certainly end up a few more by the time his career is done.
Solid offensive numbers and terrific defense is a good formula to get into the Hall of Fame. Phillips has been one of the premier second basemen of his era and may end up in Cooperstown. If he continues at his current pace, he should get in the Hall of Fame at some point.
Chances: Borderline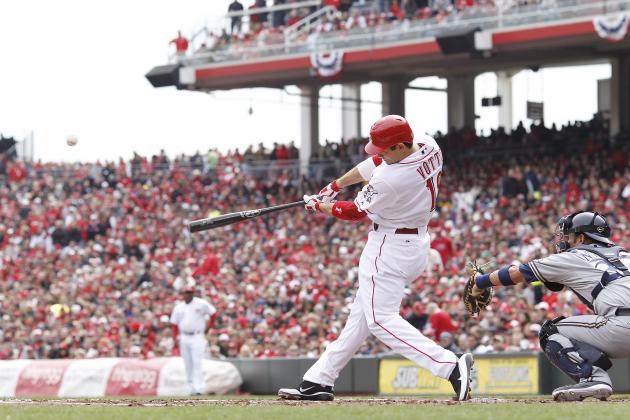 Joe Robbins/Getty Images

Career stats: .316/.418/.545, 0.963 OPS, 153 HR, 223 2B, 12 3B, 518 RBI, 676 K/530 BB, 46 SB
Postseason stats: 8 G, .286/.364/.286, 1 RBI
Accolades: 4x NL All-Star (2010-13), 2010 NL MVP, 2nd in NL Rookie of the Year (2008), NL MVP Voting: 22nd in 2009, 1st in 2010, 6th in 2011, 14th in 2012; Gold Glove (2011)
Obviously Joey Votto has the best chance of anyone on the team to make the Hall of Fame.
He is on pace to lead the league in OBP for a fourth straight season—although he finished just shy of having necessary number of plate appearances to qualify for title in 2012. He didn't qualify for the OBP title, but he was nearly 70 points up on the leader in the NL and needed only 30 more plate appearances.
Had he been healthy, he would've also challenged for the highest batting average.
Votto may not hit 35 home runs any more, but he will still give the team 25 to 30 homers in most seasons. His RBI total has decreased this season because he has focused on getting on base for Brandon Phillips and Jay Bruce.
If he keeps going at his current pace, Votto will end up with one of the highest on-base percentages in baseball history.
Votto has been able to do something different every season. One year he hits a lot of homers, another year he is a doubles machine and now he is getting on base 43 percent of the time.
He is on pace to get on base over 300 times this season. That helps the hitters behind him put up big RBI numbers.
Reds fans need to cherish the next decade with Votto at first. He is quietly becoming one of the best hitters in baseball history.
Chances: Virtual lock