AJ McCarron: Heisman Odds and Season Outlook for Alabama's Star QB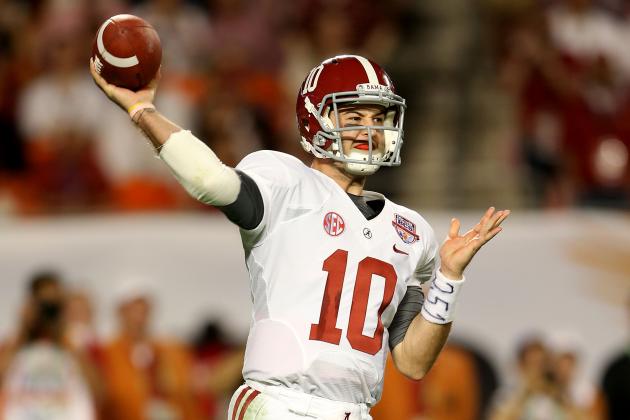 Streeter Lecka/Getty Images
Alabama QB AJ McCarron enters his senior season with a chance to become the Tide's second Heisman Trophy winner in school history.
As he prepares to begin his senior season, there's little that Alabama quarterback A.J. McCarron has yet to accomplish on the college level.
The Mobile native has compiled a 25-2 record as a starter with a pair of national championships on his resume. In the process, the narrative about McCarron has slowly shifted from game manager to standout gunslinger.
Heading into 2013, McCarron is squarely on the radar as a potential Heisman Trophy candidate.
What are McCarron's chances of becoming Alabama's second Heisman winner, and what can Tide fans expect this fall from one of the most decorated signal-callers in school history?
Begin Slideshow

»
Height: 6'4"
Weight: 214
Position: Quarterback
Year: Senior
Award/Watch Lists for 2013: Manning Award, Maxwell Award, Davey O'Brien Award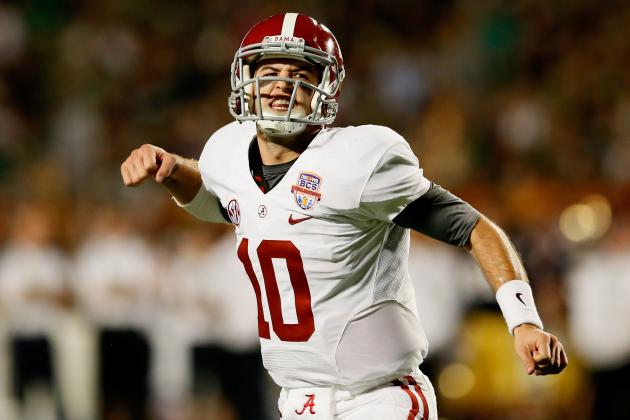 Kevin C. Cox/Getty Images

McCarron is a household name with a resume that already has the attention of Heisman voters entering the season.
He was a serious contender for the award last season entering November, and his overall numbers showed tremendous growth from his sophomore season.
Considering that he's surrounded by the most talented collection of skill players he's enjoyed during his career, McCarron has an opportunity to put a stamp on a career that could go down as the greatest of any signal-caller in college football history.
With that storyline and his team's quest for a third straight national title bound to be significant themes in 2013, McCarron will have ample opportunities to keep his name in the running for the Heisman Trophy.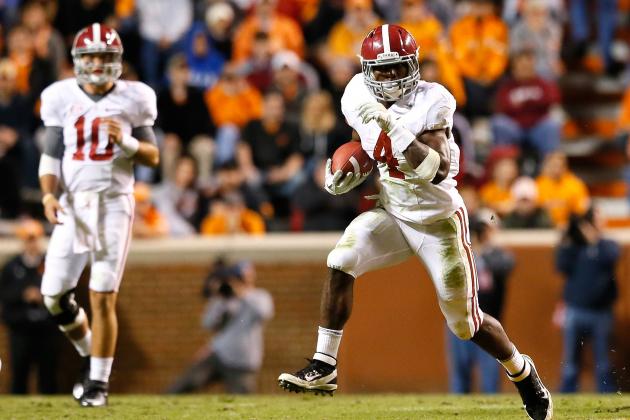 Kevin C. Cox/Getty Images

Perhaps the biggest hindrance to McCarron's candidacy will be teammates such as running back T.J. Yeldon and receiver Amari Cooper—two of the nation's top talents at their respective positions—potentially sharing the spotlight with him.
Alabama's system traditionally hasn't given quarterbacks the opportunity to put up huge statistics. For example, McCarron is looking to become the first quarterback in school history to pass for 3,000 yards in a single season.
Plus, the last three quarterbacks to win the award (Cam Newton, Robert Griffin III and Johnny Manziel) were all mobile passers who did significant damage on the ground as well as through the air. That's clearly not McCarron's game.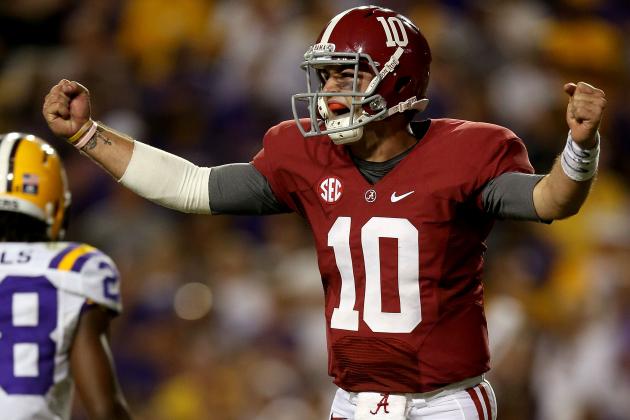 Matthew Stockman/Getty Images

Sept. 14 at Texas A&M: The showdown with the Aggies has long been considered the season's most anticipated matchup. The chance to square off with last season's Heisman winner, Aggies quarterback Johnny Manziel (assuming he remains eligible through the looming NCAA probe surrounding him), will give McCarron a chance to make a statement in front of a national audience against a Top 10 opponent.
Nov. 9 vs. LSU: McCarron's coming-out party came in the rematch against the Tigers in the 2011 national title game, but his other two meetings against the Tigers were largely filled with struggles. In what is likely to be another prime-time game that catches the nation's attention, a big game against a quality opponent late in the season is a must for McCarron to remain in the hunt for an invitation to New York City.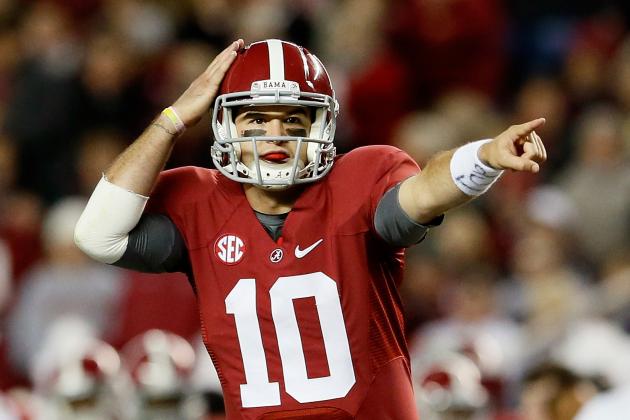 Kevin C. Cox/Getty Images

While the success of most teams is often attributed to the play of their quarterbacks, the case can be made that McCarron has never earned the lion's share of praise for Alabama's success.
To McCarron's credit, he has shunned his detractors by keeping the team's goals as his clear-cut focus.
He's also quieted most of the critics who labeled him as a game manager by elevating his game on the biggest of stages. The most notable examples of this are his performances in the last two BCS title games.
Above all, how can you not love a guy who has the phrase "pissed off for greatness" as a part of his Twitter bio?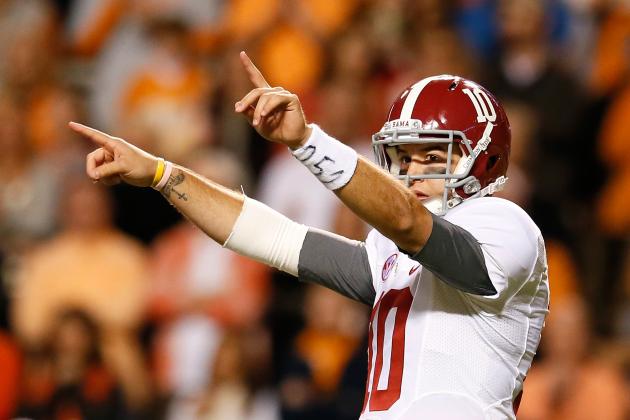 Kevin C. Cox/Getty Images

"He's like a coach. He can't get enough information. He loves watching film. He really loves preparing for the game. He never wants to be in a situation where he doesn't know what we should do to be able to get it right. If a situation presents itself and he doesn't have the answer, you better have it for him." —Nick Saban on what makes McCarron a special player, via Andrew Gribble of AL.com.
"Jadeveon Clowney leads first Heisman Watch on ESPN. I had him No. 2 (behind AJ McCarron) and ahead of Braxton Miller, Manziel and Murray." —ESPN's Mark Schlabach on his preseason Heisman Trophy watch list, via his Twitter account.
"AJ gets better every day, every year. He's going to get better no matter if it's the passing game or better fakes." —Alabama junior wideout Christion Jones on McCarron's quest to improve, per Alex Scarborough of ESPN.
"I'd be lying to say no, the Heisman, I've never thought of it. My mom still has a picture of me...dressed up in a Bama football costume and [doing] the Heisman pose. It's always been a dream of mine, but at the same time I'm not going to let my personal goals come in the way of our team goals. If I achieve that, that's great. I'm happy." —McCarron on his Heisman Trophy aspirations, per Alex Scarborough of ESPN.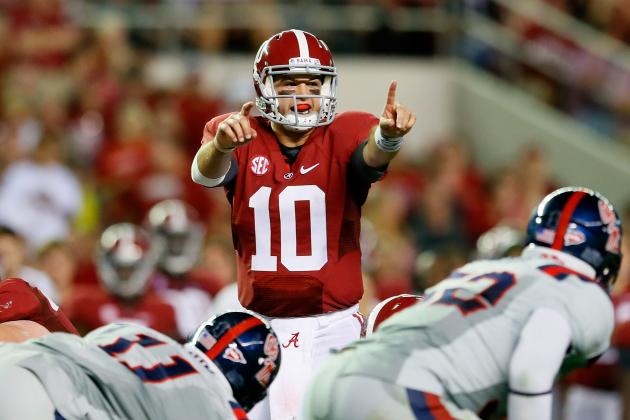 Kevin C. Cox/Getty Images

2013 Stat Projections: 250/364, 3,450 yards passing, 35 TD, 5 INT
Considering his experience, familiarity with the Tide's offensive system and the talent surrounding him, McCarron has everything in place to statistically have the best year of his career.
As Andrew Gribble of AL.com notes, Saban has admitted that the Tide's offense may look different this season due to McCarron's presence and the cast of playmakers at his disposal.
While preseason anecdotes mean little, everything appears to trend toward McCarron having a banner finale to his decorated collegiate career.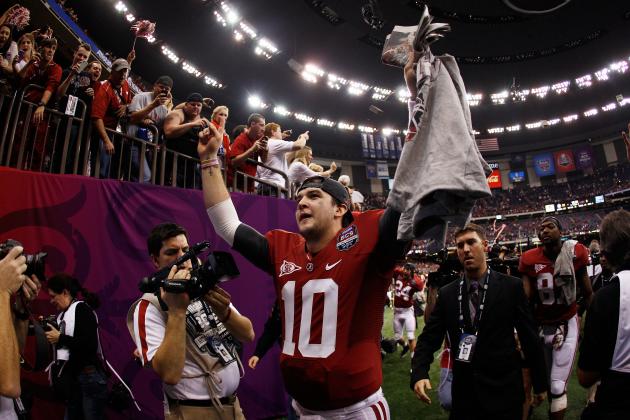 Chris Graythen/Getty Images

Predicted Heisman Finish: 3rd
McCarron has a lot of momentum heading into the season, and with his team chasing history, he will have plenty of chances to showcase his talent and boost his Heisman candidacy.
Being the best player on the best team in the country may be enough to get him the award.
However, McCarron's chances may ultimately hinge on whether he puts up numbers worthy enough to stay in the race, and if those numbers measure up to fellow quarterbacks such as Ohio State's Braxton Miller, Louisville's Teddy Bridgewater, Clemson's Tajh Boyd, Oregon's Marcus Mariota and reigning Heisman winner and Texas A&M star Johnny Manziel.
McCarron will put together a solid body of work that should earn him a trip to New York for the Heisman ceremony, but ultimately, he will fall just short of becoming just the second Tide player to win the sport's most coveted individual award.
While he may not net the famed bronzed statue, he still has a great shot to make history by leading his team to a third straight crystal football.