Hi, everyone. My name is Erin Sorensen, and I believe matte helmets and "Seven Nation Army" are a sin. That's all you really need to know about me.
Oh, I am also Bleacher Report's lead writer for the Nebraska Cornhuskers. That's important, too.
I was born and raised a Husker fan, so covering the Huskers is a pretty perfect role for me. I grew up around the 90s Nebraska teams, have attended every home game since 2006 and owned one of those Husker Starter jackets back in the day. (Man, those were cool.) What I'm trying to say is that I bleed Nebraska football. It's very much a part of who I am.
For those that don't know me yet, I look forward to getting to know you. For those that follow me over at HailVarsity.com, I look forward to providing you with even more Husker content here at Bleacher Report. I can't promise I'll ever come around on the matte helmet thing, but I promise that we're going to have some fun this season.
That's really all that matters, isn't it?
Athlete I'd Love to Interview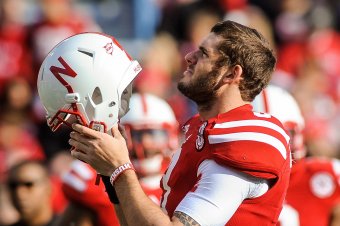 Eric Francis/Getty Images
I would really like to interview Taylor Martinez. As the Huskers' starting quarterback, it's no surprise that he's a hard interview to get. Having been on the Martinez bandwagon for many years (often times alone), it would be an interview to remember for me.
I'm running out of time to make it happen, though. Keep your fingers crossed for me, will ya?
Best Team Covered
The 2011 Nebraska team was one of my favorites to follow. Players like former wide receiver Brandon Kinnie and current wide receiver Kenny Bell were exceptionally welcoming to me and made following the team a lot fun. Plus, I got to go behind the scenes with the Nebraska football video crew and equipment staff for practices, fan day and their annual football faceoff.
Nebraska's first season in the Big Ten took me to Madison, Wis., to stand midfield at Camp Randall and back to a freezing cold Nebraska practice where former tight end Ben Cotton laughed at how ridiculous I was for not having brought a warm-enough coat.
By the end of it all, the Huskers were 9-4. It was a less-than-desirable outcome, with a loss to South Carolina in the Capital One Bowl, but overall that season really instilled in me a love for covering sports, especially Husker football.
I was busy and stressed a lot of the time, but I would never trade the lessons that season taught me for anything.
Most Memorable Game Covered
Going along with my most memorable season, I would say the 2011 Nebraska-Ohio State matchup.
The game was at Memorial Stadium. It was a cold, rainy and all-around miserable night. The first half of the game was no better. Nebraska went into halftime 21 points down, and the stadium was filled with boos for Martinez. Husker fans don't leave early, but if it were acceptable, I'm positive many would have.
Second half rolled around, and Martinez came to life. The sophomore ran for a touchdown and passed for two others, bringing the Huskers back into the game and making up the 21-point deficit. Memorial Stadium has never been louder.
When I-back Rex Burkhead (now with the Bengals) snagged the go-ahead touchdown with a little of five minutes left in the game, it was Nebraska's to win.
The atmosphere was wild, and fans were on their feet. The stadium shook. I'll never forget that as long as I live.
Is Bo Pelini the Coach Who Can Get the Huskers Back to the National-Title Game?
I fully understand that there are a lot of Bo Pelini critics out there, but I am not one of them.
I do see flaws in the head coach, e.g. his sometimes-tense relationship with the media. Pelini is very protective of his team, which can give him an unfairly bad rap with the media and some fans. That can be changed over time and with experience.
Ultimately, I think Pelini has as good of a shot getting Nebraska back to a national-title game as any other coach out there.
The bonus there is that winning silences critics, and I foresee less attention on how he handles the media and fans once he has a Big Ten title under his belt.
I mean it when I say I'm rooting for the Youngstown, Ohio, native to get the job done for the Huskers.
What Does Taylor Martinez Need to Do in 2013 to Take the Next Step as QB?
To be honest, I think it's less about what Martinez needs to do and more about what the rest of the team needs to do for Martinez. Over the last two seasons, there have been struggles with the veteran quarterback, but his team has struggled around him as well.
Martinez is helping score as many points per game as Eric Crouch did in 2000. The difference is that Martinez's defense gives up nearly as many points as the offense is able to score.
Crouch did not have that problem.
So really, it comes down to what the team can do, not just what Martinez can do.
What Are the Keys to Success for the Young Blackshirts?
Can a key be "have confidence?" I'm going to say so, because that's what these young Blackshirts need. What they lack in experience can be compensated for in confidence. Fake it till you make it, right? Just don't tell Pelini I said that, because he has made it clear that he accepts no player to "fake" his way on his team.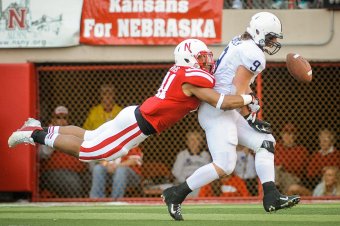 Eric Francis/Getty Images
Otherwise, I believe that the success of the 2013 season will rely heavily on Nebraska's linebackers. This group is young but talented.
While inexperienced, true freshmen Josh Banderas and Nathan Gerry are projected to get a good number of snaps. Fans should expect to see Banderas and Gerry starting somewhere down the line. For the time being, Gerry will share snaps with redshirt freshman Jared Afalava.
JUCO transfer Zaire Anderson (who has been recovering from last season's ACL tear) and redshirt freshman Michael Rose should also make impacts.
Nebraska's only real veteran in this group is sophomore David Santos. He had 24 tackles in 2012 and should help lead this group forward in 2013.
It'll be an interesting season for the linebacker position, but it's going to be vital. The talent is there. Throw in a little confidence, and this defense should find its way.
2013 Season Prediction for Nebraska
If you want to be bold, I've predicted that Nebraska will beat Ohio State in the Big Ten championship. With that, I've predicted a 10-2 season, with a projected loss at Penn State for sure.
That second loss could potentially be to Michigan, but I've decided to leave that one a little more open ended. The faceoff between Michigan and Nebraska could determine who heads to the Big Ten title game, so losing to the Wolverines would be a huge blow.
I'm still keeping the second loss there for good measure, but the Huskers could easily be 11-1. I am also fully aware that if I'm wrong on the Huskers winning the Big Ten title, everyone will hold it against me in December. If I'm right, though, I plan to never let it go.
I also predict a big season for Martinez, who will receive an invite to New York City as a finalist for the Heisman Trophy.
Basically, I see this being a successful season for the Huskers. Call me crazy, but 2013 feels like the year. That's the beauty of predictions, though. You never know if you'll be right.
I'm liking my chances this year.
Follow Erin Sorensen on Twitter at @erinsorensen.