Stock Up, Stock Down for Cincinnati Reds Top 10 Prospects for Week 21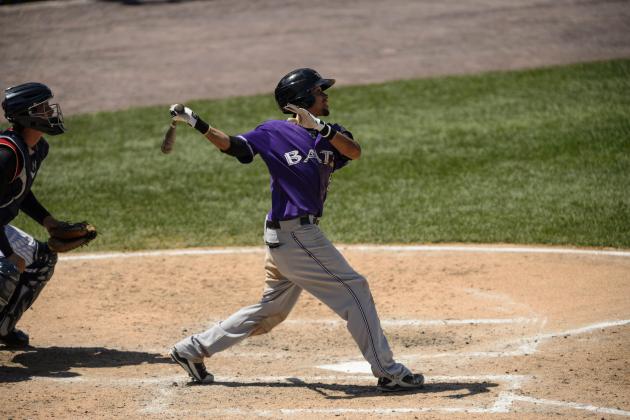 Howard Smith-USA TODAY Sports

Teams throughout the Cincinnati Reds farm system are coming into the final games of the 2013 season. Players have proven just about all they can to this point, but some are still fighting for positions on the Reds' roster when they expand to 40 players on September 1st.
Certain prospects, including some on this list, already have a spot on the 40-man roster and will make their way to Cincinnati next week. Others used last week and this one as well as a springboard to the Queen City for the playoff stretch.
While there are several players on this list vying for spots on the 40-man, others are inevitably going to be left off in favor of other players. That's not to say they haven't had impressive seasons in their own right.
Players like Jesse Winker, Robert Stephenson and Phillip Ervin have been incredible. Unfortunately, they just aren't ready to take that big of a step.
In any event, it was a busy week in the Reds' farm system and some players have continued to prove their worth to the organization, while others are falling out of favor quickly.
Here's the weekly stock report for the team's top prospects.
All stats come courtesy of Baseball-Reference.com unless otherwise noted and are current through play on Aug. 25, 2013.
Prospect rankings come from the Cincinnati Reds official site, where they were re-ranked at midseason by Jonathan Mayo.
Begin Slideshow

»
2013 Stats
119 G, .269/.312/.330, 5 HR, 0 3B, 16 2B, 41 RBI, 42 R, 4 SB, 68:25 K/BB
Overview
Henry Rodriguez takes Sean Buckley's place on this list because, well, it'd be boring to talk about a player who hasn't played a game since April. Therefore, we shall discuss Rodriguez.
Rodriguez is a toolsy infielder who can play second base, shortstop and some third base as well.
In 2013, the 23-year-old has faltered in his first full season at Triple-A Louisville. Over 119 games, he owns a .269/.312/.330 triple slash with five home runs, 41 RBI, 42 runs scored and just four stolen bases.
Rodriguez used to flash above-average power and speed for the middle infield positions. However, those two tools have seemingly vanished from his game.
This week, however, Rodriguez was on fire, slashing .389/.421/.444. He scored two runs on the week, and although he failed to log an RBI, he seems to have figured something out in the season's late goings.
Last Week's Stats
5 G, .389/.421/.444, 0 HR, 0 3B, 1 2B, 0 RBI, 2 R, 0 SB, 0:1 K/BB
Stock
Up
2013 Stats
24 GS, 7-10 W-L, 115.1 IP, 4.84 ERA, 1.59 WHIP, 6.9 K/9, 4.2 BB/9, 1.63 K/BB, 10.1 H/9
Overview
Sal Romano is a decent right-handed starter who pairs a mid-90s fastball with a hard, breaking curveball. The two pitches have the potential to work out as above-average to plus pitches at the big league level, but they've yet to develop fully.
This lack of development has shown through in 2013 as Romano is struggling both with his command and his ability to miss bats. The 19-year-old is allowing just a tick over 10 hits per nine innings while walking just over four.
It's been a disappointing season for the young righty, but it's important to remember this is just his second full season—his first above the Reds' rookie affiliate in the Pioneer League.
Last week, the Connecticut native made just one start against the Lake County Captains—the Cleveland Indians Low-A affiliate—and got absolutely rocked. Over 5.1 innings, allowing six runs—five earned—on six hits and two walks, while striking out two.
Last Week's Stats
1 GS, 0-1 W-L, 5.1 IP, 8.47 ERA, 1.50 WHIP, 3.4 K/9, 3.4 BB/9, 1.00 K/BB, 10.2 H/9
Stock
Down
2013 Stats
100 G, .265/.311/.384, 8 HR, 1 3B, 23 2B, 52 RBI, 53 R, 5 SB, 66:26 K/BB
Overview
Ryan Wright is approaching the end of his first full season at High-A Bakersfield. All in all it was a successful season in which he slashed .265/.311/.384 with eight home runs, 23 doubles and 52 stolen bases.
One thing that will always play to Wright's advantage is his ability to put the ball in play. The 23-year-old owns a stellar 66:26 K/BB ratio and although he doesn't walk much—5.8 percent—he doesn't strike out much either—14.8 percent.
Wright has the bat-on-ball skills to hit for a solid average moving forward. Additionally, his 6'1", 194-pound frame should provide for some additional power as he continues to refine his hit tool.
After all the praise heaped on Wright in the previous paragraphs, it's time for the letdown. Last week in 11 at-bats spread over three games, Wright mustered up just one base hit with an RBI, a walk and two strikeouts.
Though the numbers are disappointing, we can gather that Wright was the victim of a bout with bad luck. Wright's .111 BAbip over last week was a full 185 points below his season average of .296.
Last Week's Stats
3 G, .091/.167/.091, 0 HR, 0 3B, 0 2B, 1 RBI, 0 R, 0 SB, 2:1 K/BB
Stock
Down
2013 Stats
23 GS, 6-13 W-L, 125.2 IP, 5.66 ERA, 1.64 WHIP, 6.2 K/9, 4.9 BB/9, 1.26 K/BB, 9.8 H/9
Overview
Prior to the 2013 season, Daniel Corcino was ranked within Baseball America's Top-100 prospects list—No. 94 overall. However, to this point, Corcino has been wildly disappointing and it's safe to assume he will not be included in next year's edition of the same list.
Over 25 appearances—23 starts—at the Triple-A level, Corcino owns a 5.66 ERA with a 1.64 WHIP and per-nine ratios including 6.2 K/9, 4.9 BB/9 and 9.8 H/9. These figures represent just the latest stage of three straight seasons of decline dating back to 2011.
This past week, Corcino disappointed once again. In his lone start against the Toledo Mud Hens, the 23-year-old lasted just 3.2 innings, allowing a run on four hits and five walks while striking out three.
While some may point to his having allowed one run as reason for optimism, his four hits and five walks allowed that night are both a massive cause for concern moving forward.
Last Week's Stats
1 GS, 0-0 W-L, 3.2 IP, 2.44 ERA, 2.46 WHIP, 7.3 K/9, 12.2 BB/9, 0.6 K/BB, 9.8 H/9
Stock
Down
2013 Stats
Overview
Since my last installment in this series, 2013 draftee Michael Lorenzen has been on a meteoric rise through the Reds' minor league system. In just 19 total appearances, Lorenzen has made his way from the team's rookie affiliate in the Arizona League, all the way up to Double-A Pensacola.
Overall, it's been an impressive campaign for Lorenzen who owns a 2.37 ERA with a 1.47 WHIP and some impressive ratios including 8.1 K/9, 5.2 BB/9, 1.55 K/BB and 8.1 H/9.
Lorenzen is currently with the Reds' Double-A affiliate in Pensacola. Aside from his walk totals—four walks over four innings—it's been the 21-year-old's most impressive stop along the way.
Over just four innings pitched, Lorenzen owns a 2.25 ERA with a 1.75 WHIP and per-nine ratios of 6.8 K/9, 9.0 BB/9, 6.8 H/9 and 0.0 HR/9.
The young right-hander was a two-way prospect when he was drafted back in June, however, he's yet to make an appearance outside of the pitcher's mound, lending further to the idea that he'll work exclusively as a reliever during his professional career.
For now, however, Lorenzen is a stud. Over two innings pitched last week, the Cal-State Fullerton product was nearly perfect, allowing no hits and two walks with three strikeouts to his credit.
Given his progression to this point, the injury to Jonathan Broxton and the failures of Logan Ondrusek, it wouldn't be unreasonable to think Lorenzen could be in Cincinnati sometime this September.
Last Week's Stats
2 G, 0-0 W-L, 2.0 IP, 0.00 ERA, 1.00 WHIP, 13.6 K/9, 9.1 BB/9, 1.5 K/BB, 0.0 H/9
Stock
Up
2013 Stats
112 G, .281/.379/.463, 16 HR, 5 3B, 18 2B, 76 RBI, 73 R, 6 SB, 75:63 K/BB
Overview
Jesse Winker hasn't seen game action in just over a week—since Aug. 17 to be exact. He is, however, one of the best prospects the Reds have to offer and his accomplishments on the field are worth noting in this article.
Winker is partaking in just his second professional season, however, he's shown incredible maturity and ability throughout his young career. In just 174 games played, Winker owns a career slash line of .301/.402/.476 with 21 home runs, eight triples, 34 doubles, 111 RBI, 115 runs scored and an incredible 125:103 K/BB ratio.
Winker displays a superb eye at the plate and great bat-on-ball skills. In addition to a well-refined, well developed hit tool, Winker has above-average power potential and plenty of room for more as he grows into his 6'2", 210-pound frame.
He's never going to be a great fielder, but he can hold down one of the corner outfield positions with relative ease.
At just 19 years of age, Winker is one of the most promising prospects in the Reds system. For now, the sky is the limit for the young outfielder.
Last Week's Stats
N/A
Stock
Even
2013 Stats
46 G, .331/.425/.564, 9 HR, 1 3B, 11 2B, 35 RBI, 34 R, 14 SB, 34:25 K/BB
Overview
Phillip Ervin, like Jesse Winker, is currently a member of the Low-A Dayton Dragons baseball club. The similarities between the two stop there, though, as both are different players, and have taken very different routes to get to this point in their careers.
Ervin was drafted this season, out of Samford University, where he was an All-American standout on the baseball team. Since then, he's played at two separate levels for the Reds—the rookie affiliate in the Pioneer League and Low-A ball—excelling at both stops.
In 34 appearances with the team's rookie affiliate in the Pioneer League, Ervin slashed a gaudy .326/.416/.597 with eight home runs, nine doubles, 29 RBI, 27 runs scored and 12 stolen bases.
His impressive showing in the Pioneer League afforded the organization the opportunity to promote him to Low-A Dayton where he's been equally as impressive. Over just 12 games, Ervin owns a .349/.451/.465 triple slash with one homer, two doubles, six RBI, seven runs scored and two stolen bases.
Ervin has been on the shelf since August 10th. Though he may not play the rest of the season, he remains the closest representation of a sure thing in the Reds system—outside of Robert Stephenson.
Last Week's Stats
N/A
Stock
Even
2013 Stats
16 GS, 7-4 W-L, 76.2 IP, 4.81 ERA, 1.38 WHIP, 6.8 K/9, 2.8 BB/9, 2.42 K/BB, 9.6 H/9
Overview
Nick Travieso's 2013 season has been a bit of a mixed bag.
On one hand, one must remember he's only 19 years old, participating in his first full season as a professional. On the other hand, when fans see the pace at which Robert Stephenson has shot through the system, they may wonder why the same hasn't happened with Travieso.
A lot of Travieso's numbers here in 2013 can be explained away by bad luck. Over his 16 starts, Travieso owns a very high .318 BAbip.
To put that number in perspective, among the five most commonly used starters on the Cincinnati Reds roster, the highest BAbip belongs to Mat Latos at .309. That figure represents the highest of Latos' career, 26 points above his career average and 12 points higher than the MLB average over his career.
It hasn't all been bad though for the young righty. Although his ERA sits at 4.81, he's exhibited excellent control, allowing just 2.8 walks per nine innings.
This week, like the rest of Travieso's season, possesses some good and bad elements. In his first start of the week, the Florida prep product was torched for six earned runs on nine hits and a walk.
The difference between starts one and two was stark. In that start, Travieso took on the Lansing Lugnuts and allowed two runs—both unearned—on six hits and two walks.
Travieso will likely make one or two more starts this season and should resume next year at Dayton.
Last Week's Stats
2 GS, 0-1 W-L, 10.0 IP, 5.40 ERA, 1.80 WHIP, 3.6 K/9, 2.7 BB/9, 1.33 K/BB, 13.5 H/9
Stock
Even
2013 Stats
20 GS, 7-6 W-L, 108.2 IP, 2.57 ERA, 1.01 WHIP, 10.8 K/9, 2.3 BB/9, 4.68 K/BB, 6.8 H/9
Overview
Of all the Cincinnati Reds minor league prospects, Robert Stephenson has had the best season. In his second full season, Stephenson has worked through the farm system at a brisk pace. In just 20 starts, he now finds himself all the way in Double-A Pensacola after starting the year at Low-A Dayton.
The incredible thing about Stephenson's season is that with all the promotions—two in total—he hasn't missed a beat. Check out his numbers across each individual level.
| | | | | | | | | | |
| --- | --- | --- | --- | --- | --- | --- | --- | --- | --- |
| Robert Stephenson | GS | W-L | IP | ERA | WHIP | K/9 | BB/9 | K/BB | H/9 |
| Low-A Dayton | 14 | 5-3 | 77.0 | 2.57 | 0.99 | 11.2 | 2.3 | 4.80 | 6.5 |
| High-A Bakersfield | 4 | 2-2 | 20.2 | 3.05 | 1.02 | 9.6 | 0.9 | 11.00 | 8.3 |
| Double-A Pensacola | 2 | 0-1 | 11.0 | 1.64 | 1.18 | 10.6 | 4.9 | 2.17 | 5.7 |
| Total | 20 | 7-6 | 108.2 | 2.57 | 1.01 | 10.8 | 2.3 | 4.68 | 6.8 |
This week, Stephenson made his second start with Pensacola and was nothing short of dominant. Over 5.1 strong innings of work, the 20-year-old righty allowed one unearned run on five hits and three walks while striking out eight.
Stephenson's rise through the system has been impressive. With his mid-high 90s fastball and hard, breaking curve, we'll see the young right-hander in the big leagues by 2015.
Last Week's Stats
1 GS, 0-0 W-L, 5.1 IP, 0.00 ERA, 1.50 WHIP13.6 K/9, 5.1 BB/9, 2.67 K/BB, 8.5 H/9
Stock
Up
2013 Stats
118 G, .259/.311/.348, 6 HR, 4 3B, 17 2B, 41 RBI, 73 R, 73 SB, 100:37 K/BB
Overview
On the surface, Billy Hamilton's season looks like a disappointment following his incredible 2012 campaign. After a year in which he slashed .311/.410/.420, Hamilton's 2013 triple slash represents a significant downgrade at .259/.311/.348.
It's not all doom and gloom for Hamilton though. Since a dismal month of April in which he gathered just 18 hits over 88 at-bats, the 22-year-old owns a .271/.318/.357 slash line with six home runs, 12 doubles, 35 RBI, 65 runs scored and 58 stolen bases.
Hamilton is still a strong candidate for a September call-up and he did a lot to improve his standing in the organization this past week.
Over six games, Hamilton collected seven base hits in 24 at-bats—a .292 average. To go along with that .292 average, Hamilton got on base at a .346 clip with two RBI, four runs scored and two stolen bases.
Rosters expand in just a few days—Sept. 1, to be exact—and Hamilton is a prime candidate for a promotion. His speed on the base paths could be a massive weapon for the Reds in their quest for a second straight NL Central title.
Last Week's Stats
6 G, .292/.346/.333, 0 HR, 0 3B, 1 2B, 2 RBI, 4 R, 2 SB, 4:2 K/BB
Stock
Up