WWE SummerSlam 2013: Breaking Down Most Disappointing Moments from Marquee PPV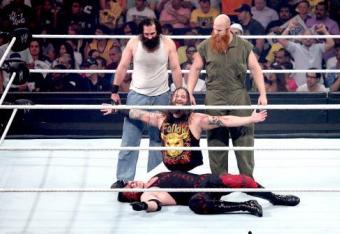 Photo courtesy of WWE.com

Most wrestling fans would probably agree that Sunday's SummerSlam event was an excellent pay-per-view. In fact, it was easily WWE's best pay-per-view of the year, and it's going to be very difficult to top moving forward.
With that said, the show was far from perfect, as there were several things that could have been handled better.
Those moments were masked largely by a pair of match-of-the-year candidates in the form of John Cena vs. Daniel Bryan and Brock Lesnar vs. CM Punk. Also, Randy Orton's Money in the Bank cash-in and Triple H's heel turn closed the show in dramatic fashion. Had the creative team done a better job with the undercard, however, it could have potentially been the greatest SummerSlam of all time.
Here are SummerSlam's three most disappointing moments. They didn't necessarily ruin the pay-per-view, but they certainly detracted from its overall quality.
Bray Wyatt vs. Kane: Ring of Fire Match
Aside from the main-event matches, it's fair to say that the Ring of Fire match between Bray Wyatt and Kane was the most highly anticipated bout on Sunday's card. Much of that probably had to do with the fact that fans hadn't yet gotten to see Wyatt in action.
While the result and the storyline that was told was perfectly fine, the match itself was arguably the worst on the entire card, and that includes a throwaway match between Natalya and Brie Bella.
If anything, the fire surrounding the ring detracted from the match, which is often the case when it comes to these types of contests.
In addition to that, the in-ring work was not particularly good, as Kane and Wyatt seemed to lack chemistry. Kane is one of the best big-man workers in the business, and he is generally able to have great matches with anyone, so much of the blame likely falls on Wyatt's shoulders.
Wyatt did ultimately get the win in his debut match, which was the right decision, and he gloated about it on Twitter afterward.
With a monster dismantled, the heroes are to be eradicated. Down with the Machine #EaterOfWorlds

— Bray Wyatt (@WWEBrayWyatt) August 19, 2013
The manner in which Wyatt won was less than inspiring, though, as Luke Harper and Erick Rowan placed an asbestos blanket over the flames. This allowed them to walk into the ring and attack Kane.
The Wyatt Family getting involved wasn't necessarily a bad thing, since Wyatt has complete control over them, but putting a blanket over the flames totally killed any mystique this match type may have had before.
Expectations were high for this clash, but aside from Wyatt winning and abducting Kane, it fell well short of its advanced billing.
Alberto Del Rio Retaining World Heavyweight Championship
While there was no chance that it could live up to Cena vs. Bryan or Lesnar vs. Punk, the World Heavyweight Championship match between Alberto Del Rio and Christian was excellent from an in-ring perspective. It was easily the third-best match on the card in that regard, and it was much better than most anticipated.
As good as the match was, though, the conclusion was equally bad.
Christian doesn't necessarily need the world title, as he has already proven himself to be an elite performer, but Sunday was the right time to end Del Rio's lackluster reign.
Which SummerSlam moment was most disappointing?
Since winning the World Heavyweight Championship back from Dolph Ziggler at Payback and turning heel in the process, Del Rio has been a stale champion. Del Rio held the title for several months prior to Ziggler cashing in his Money in the Bank contract, and his reign was only interrupted for about two months, so it feels like he has been champion for about a year.
That wouldn't be a bad thing if Del Rio were engaged in entertaining and intriguing feuds, but that hasn't been the case. Del Rio has just been going through the motions, and it has hurt the prestige of the world title considerably.
Had Christian won the belt at SummerSlam, it would have at least represented a new and exciting direction.
Unlike Del Rio, Christian is excellent on the mic, so he could have actually carried some programs. Christian was out of action for so long that putting him in the main-event scene would have felt fresh.
Instead, Del Rio retained yet again, and it now appears as though he will be feuding with the unlikely duo of Rob Van Dam and Ricardo Rodriguez. Del Rio and RVD may be able to have a great match, but it's difficult to imagine that feud being anything special.
Cody Rhodes vs. Damien Sandow
Another undercard match that fans were seemingly excited about was the battle between former best friends Cody Rhodes and Damien Sandow.
The storyline is sound, as Rhodes is seeking to gain revenge after Sandow pushed him off the ladder during the Money in the Bank ladder match. Rhodes has gained a considerable amount of crowd support since that incident, and Sandow has gained a greater standing in the pecking order as well.
With all of that in mind, their SummerSlam match should have been heated and entertaining.
Unfortunately, it felt more like a SmackDown match than a pay-per-view bout, as it was very brief and there wasn't a particularly great atmosphere. Having Rhodes go over was the right move, as it can potentially lead to a Night of Champions match with the Money in the Bank briefcase on the line, but there is no reason why this contest couldn't have been given 15 minutes.
The best part of the match came before the bell even rang when Sandow compared himself to Batman and Rhodes to Robin. Rhodes addressed that slight on Twitter following the match.
I'm nobodys Dick Grayson...#SummerSlam #CampRhodesSS (or Todd, Drake, DWayne)

— Cody Rhodes (@CodyRhodesWWE) August 19, 2013
That match was followed up by another short affair on Raw, which Rhodes also won. Although the Raw match wasn't any great shakes either, it did kind of undermine the match that took place at SummerSlam.
Whatever the case, their rivalry should have truly come to a head at SummerSlam and resulted in a bout that showed how much they hate each other.
It was simply a run-of-the-mill match, though, and their feud is suddenly lukewarm at best.
Follow @MikeChiari on Twitter
This article is
What is the duplicate article?
Why is this article offensive?
Where is this article plagiarized from?
Why is this article poorly edited?