By the time the final whistle sounded, ending Arsenal's season opener against Aston Villa, the Emirates Stadium was a fiery cauldron of rage, as irate supporters voiced their anger over their club's summer transfer failings.
A familiar-looking Gunners side had, of course, lost 3-1 at home to Villa, already gifting their Premier League rivals a three-point head-start.
Yaya Sanogo remains Arsene Wenger's sole recruit so far, and with injuries already mounting, the Gunners must bolster their impoverished squad or risk finally dropping out of the Champions League next season.
The toxic atmosphere at the end of the Villa game—and growing chorus of boos—will surely prompt Wenger into some sort of action now. The tough part, however, is finding remaining options to improve the squad, at a vaguely reasonable price.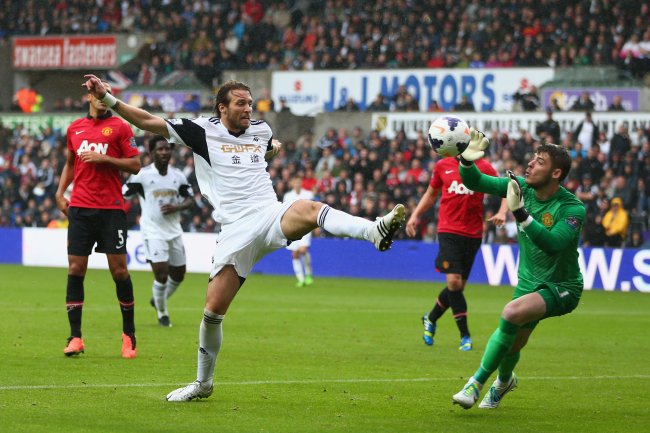 Michael Steele/Getty Images
Michu is the name mentioned most over this past weekend.
The Independent's Gerard Brand claims the deals for Wayne Rooney and Luis Suarez have "hit the buffers," leaving the Gunners intent on bringing in Swansea's Michu as an alternative.
The Spaniard was integral to his club's unprecedented success last season, scoring 18 Premier League goals in 35 games, playing either as the Swans' sole striker or just behind.
Should Arsenal bring in Michu?
Brand claims his form will result in Swansea demanding a £25 million figure for his services, which surely reduces the likelihood of Arsenal bringing the 27-year-old in. While they certainly have the capital to do so—as their Luis Suarez bid reveals to all—spending so excessively on a player unlikely to do much improving would be out of character for Wenger.
The Mirror's Matt Law also covers this story, claiming that Michu "would be interested in a move to London," and the fact that Swansea are still in the market for a striker improves the Gunners' chances.
Law also reports on some Arsenal interest in Micah Richards, with the Manchester City defender's versatility ideal given the Gunners' current injury crisis.
Richards would surely jump at the chance of reestablishing himself in the Premier League, having fallen down the pecking order at City and finding himself out of the equation at international level.
Law also adds Atletico Madrid's Juanfran and PSV Eindhoven's Zakaria Bakkali as players the Gunners have an interest in, although there are few official details to substantiate those deals at this time.
The fact Arsenal haven't yet capitalised on what appears to be one of the more open Premier League seasons will remain a major disappointment to their fans. Most of their original targets have moved on, and the majority of current names linked with the club seem speculative at best.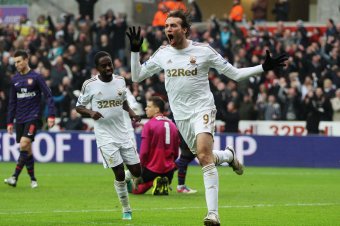 Ben Hoskins/Getty Images
Acting now would certainly appease many of their supporters, but there are major risks attached, and it's still essential Wenger identifies the right players.
Going on a last-minute spending spree is high-risk. Prices will be inflated, and the players won't have any time to adapt to their new club, familiarise themselves with fresh systems and gel with their new teammates.
While eyebrows may be raised over the fee required to acquire the likes of Michu, the Spaniard seems a sensible addition. He would undoubtedly add much-needed depth to the Gunners while boosting their options in the final third.
With so many high-profile strikers already on the move this summer, yet now out of Arsenal's grasp, the list of realistic, worthwhile alternatives is rapidly decreasing.