Predicting Awards Honors for the Bears 2013 Season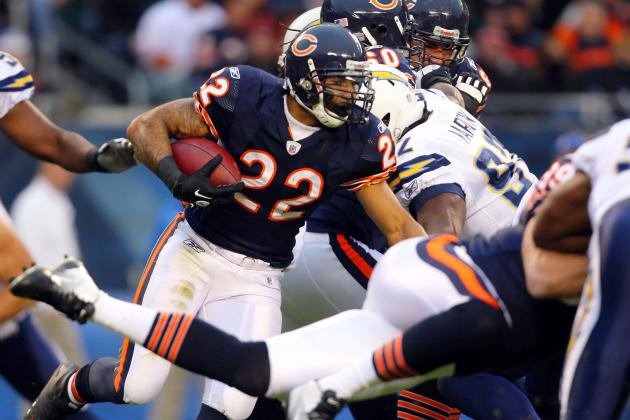 Dennis Wierzbicki-USA TODAY Sports

The Chicago Bears enter the 2013-14 season with a lot of talent on their roster but some uncertainty due to a new coaching staff.
With a new staff comes a new offensive scheme and playbook. They're hoping to take advantage of what the Bears playmakers do best. That could—and likely will—result in an entirely new look for the Bears offense.
They're keeping the same basic playbook on defense, but they added some much-needed speed and youth at linebacker, in addition to a couple of veterans. New defensive coordinator Mel Tucker also figures to add a few wrinkles that could put some players in position to make more plays.
All of these changes should give more Bears players the chance to thrive in a way they weren't able to under the previous staff. The team's stars will be put in different positions to succeed, and some younger players will be given opportunities they may not have otherwise received.
That has led to the changing of the value of some players and the perception of what others should do this season. The team's best—or most productive—could be different this year.
While NFL teams don't hand out individual awards like they do in high school, if the Bears did this season, these would be some of the most likely candidates.
Begin Slideshow

»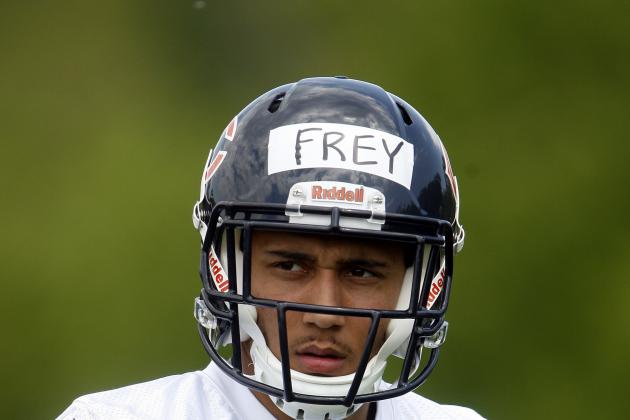 Jerry Lai-USA TODAY Sports

Winner: Isaiah Frey
There are a lot of candidates for this one, but Frey has to be considered the early favorite.
Frey was a sixth-round pick by the Bears in 2012, but he did not play a single snap as a rookie. He didn't even make the active roster on special teams. He spent the entire season on the practice squad. This season, he could be a major factor on defense.
He was off to a good start in camp, even drawing praise from Pro Bowl linebacker Lance Briggs on ESPN Chicago's Carmen & Jurko Show on Aug. 1.
It seemed Frey had an outside shot of unseating veteran Kelvin Hayden as the team's slot corner, but Hayden's injury opened the door for the second-year player.
Frey will almost certainly encounter bumps in the road, as he was probably never expected to take on such a huge role. As the NFL has continued to become a passing league, slot corners have become more valuable, and the Bears need Frey to hold up in that role this season.
So far, it looks like he's going to be a good fit for the team there.
Runner-up: Joe Anderson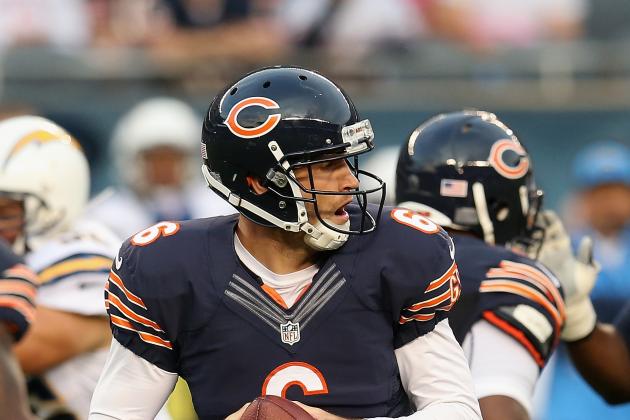 Jonathan Daniel/Getty Images

Winner: Jay Cutler
This isn't because I don't think Cutler will have a good season—I do. It's because I don't think the expectations some have for for him are realistic.
Everyone knows that he has elite talent. For the first time since he came to Chicago, he's playing for an offensive coach who seems to have a plan and has had a fair amount of success with quarterbacks. That has led many to expect Cutler to join the elite ranks statistically, but I'm just not sure he's ready to be there this season.
I believe that Marc Trestman will put Cutler in a position to succeed, and I also think we'll see improvement from the veteran quarterback. So far, however, we've still seen some bad habits.
As I detailed after their first preseason game—a loss to the Panthers—Cutler has issues early in games.
He threw half of his interceptions in his first 10 attempts of games last season. He's had issues early in practices, and his first pass against the Panthers was picked off. We saw that again in the team's second preseason game against San Diego, when he threw another interception early in the game on what was, quite frankly, an unforgivable mistake.
He has bad habits that he's picked up throughout the years of playing behind terrible offensive lines and with unreliable receivers. It's not entirely his fault, and I think they're fixable, but I think it might take a little more time than many expect.
As Cutler has spoken about numerous times, it takes time to learn a new offense. Nearly every one of the quarterbacks who is considered elite has been in the same system for a long time. It's not just the quarterback, but the players around him that all have to get on the same page.
The best comparison I can think of is when Drew Brees went to New Orleans. While he was still terrific—as he was in San Diego—he's had equal or higher passer ratings four times and the 26 touchdowns he threw that season were the fewest he's thrown in New Orleans.
I expect Cutler to throw for over 3,500 yards and 25 touchdowns but still end up with over 15 interceptions. Very good, but not the elite jump many are expecting.
Runner-up: Jermon Bushrod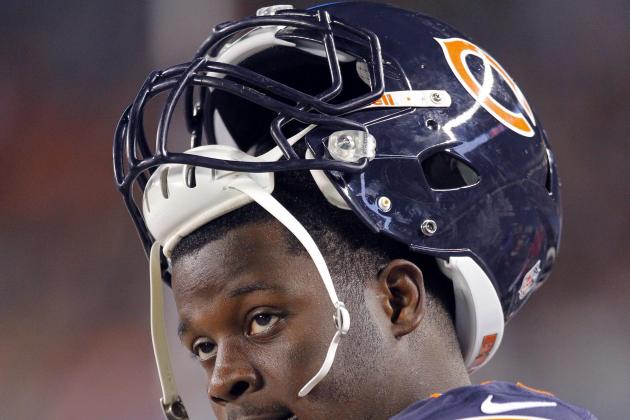 Dennis Wierzbicki-USA TODAY Spor

Winner: Jordan Mills
While some other young players came into this season with more hype, the Bears' 2013 fifth-round pick seems to have a very good shot to be their starter at right tackle this season.
When the Bears drafted Mills, general manager Phil Emery said they'd start him out at tackle, but also try him at guard to find his best position. Emery talked extensively about his versatility.
The thinking seems to be since right tackle J'Marcus Webb and left guard Matt Slauson are both due to be free agents after the season, Mills would replace the one who didn't return next season. The future seems to have arrived early.
After Webb and second-string right tackle Eben Britton struggled in the Bears' first preseason game, Mills leap-frogged both of them into the starting lineup.
Although it was just a preseason game, Mills seemed to perform well with first-round pick Kyle Long at guard. There will certainly be tough times for him, but the Bears seem willing to let him grow on the field.
Players taken in the fifth round don't typically start their first games as rookies. Like most other players taken that late, Mills was considered a developmental prospect, but now it looks like he'll start the Bears' first game.
Runner-up: Isaiah Frey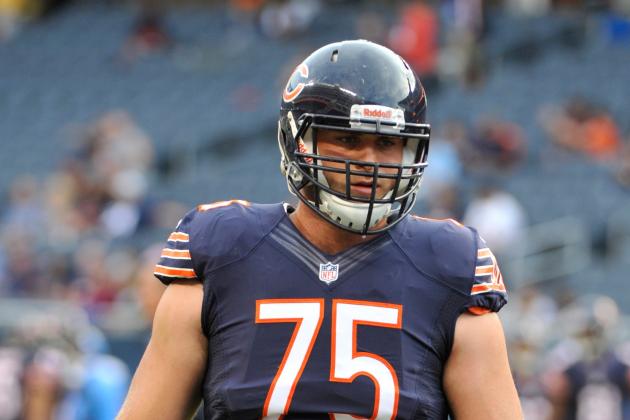 David Banks-USA TODAY Sports

Winner: Kyle Long
While nobody should get their hopes up based on preseason games, it's hard not to with the Bears first-round pick.
Long was considered a reach when the Bears took him 20th overall, but if he's able to continue playing the way he has so far this preseason, he'll go down as a steal.
Bleacher Report's Matt Miller's reaction to Long's play was similar to many. Everyone knew Long was a superior athlete coming into the draft, but with so little experience at Oregon, it was hard to say how he'd transition to the NFL.
Long hasn't just been good, he's been dominant as Sam Monson of Pro Football Focus noted after their game against San Diego last week. Long received a grade of positive-5.7 from PFF, which Monson referred to as "a ludicrously good performance from a guard."
Although not all of the second preseason games have been scored yet, Long's grade on Pro Football Focus (subscription required) is higher than any other player in the league. While he's also played a lot of snaps this preseason, it doesn't change the fact that he's been beyond good.
Long also drew praise from head coach Marc Trestman after his performance against the San Diego Chargers, "I can tell you from practice, and I've said it for the past week, [Long] is not making incremental increases in his play... He is really ascending a little bit quicker than that."
If long keeps ascending like he has been so far, the Bears could have a dominant rookie guard.
Runner-up: Jordan Mills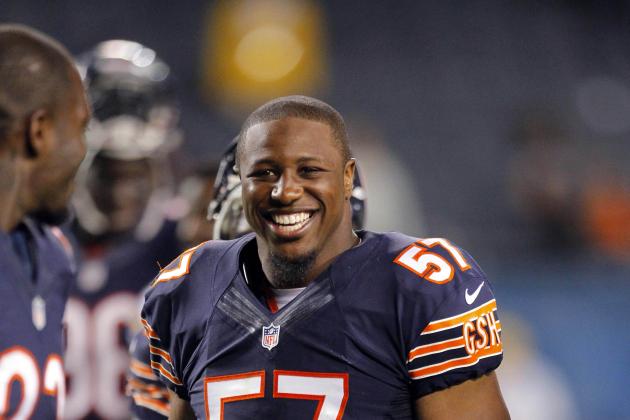 Dennis Wierzbicki-USA TODAY Spor

Winner: Jon Bostic
When veteran D.J. Williams went down, Bostic took over in the middle and it looks like he'll be staying there for a while.
Bostic made a big splash in his preseason debut against the Panthers, intercepting a Cam Newton pass and returning it for a touchdown. In the team's second game against San Diego, he had a hit that nearly shut down Twitter.
Like every rookie, Bostic still has a lot to learn and anyone comparing him to Brian Urlacher—a probable Hall of Famer—should pump their brakes.
As Sam Monson of Pro Football Focus pointed out, Bostic still struggles shedding blocks. Former NFL safety Matt Bowen (in a story in the Chicago Tribune) noted some struggles Bostic had in coverage.
Still, Bostic looks like a playmaker and the Bears have enough veterans on defense to cover up some of his flaws. It appears the Bears have a keeper and potentially a future star in the middle of their defense.
Runner-up: Khaseem Greene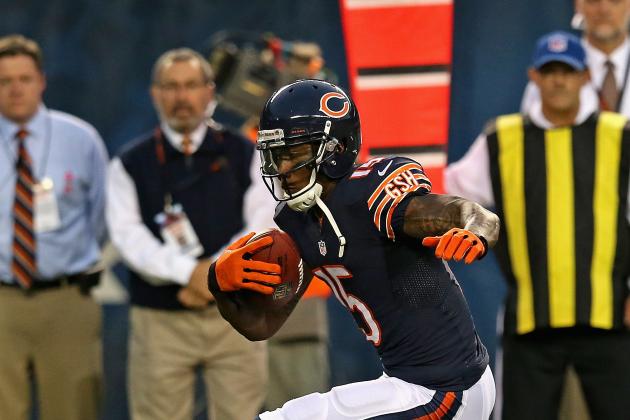 Jonathan Daniel/Getty Images

Winner: Brandon Marshall
After a year with the guy who invented the "Randy Ratio" in 2002 to get wide receiver Randy Moss involved as much as possible, Marshall figures to see fewer passes in 2013. That doesn't mean he'll have a massive drop in production, however.
While the West Coast offense—which head coach Marc Trestman will run—tends to spread the ball around, Marshall can still put up big numbers. With Trestman as the offensive coordinator, Jerry Rice caught a career high 122 passes in 1995.
Marshall put up big numbers in the West Coast offense himself, catching 102 passes in 2007 and 104 in 2008 under Mike Shanahan in Denver. Cutler was Marshall's quarterback then and Marshall is still his favorite receiver.
In addition to the numbers Marshall puts up, he'll draw double teams to open the offense up for the rest of the team.
While he may not match the career year he had last season, Marshall figures to have a big season again for the Bears. Hopefully, he will be a cog in a more productive offense this year, instead of being relied on to carry the team like last year.
Runner-up: Matt Forte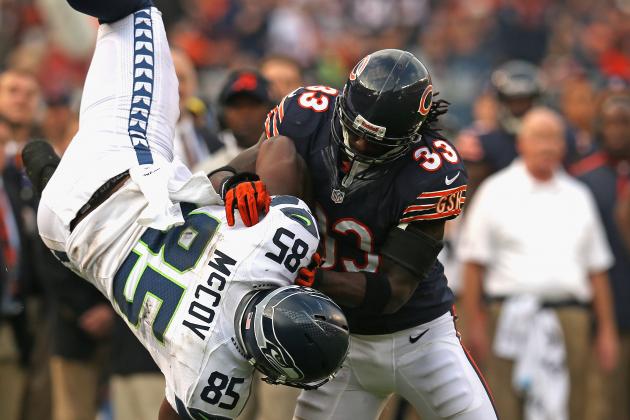 Jonathan Daniel/Getty Images

Winner: Charles Tillman
It would be next to impossible for Tillman to be better in 2013 than he was in 2012, but he seems to be getting better with age.
Tillman returned all three of his interceptions for touchdowns and forced 10 fumbles, an incredible amount for a cornerback. Opponents know to watch for the "Peanut Punch," but it doesn't seem to matter as he continues to jar the ball loose.
In addition to making big plays, he helped limit Lions star Calvin Johnson to a total of eight catches and 106 yards in their two games.
When it comes to the cornerback position, few—if any—do it better than Tillman. The Bears will need him to continue to play at a high level to maintain their defensive excellence.
Runner-up: Julius Peppers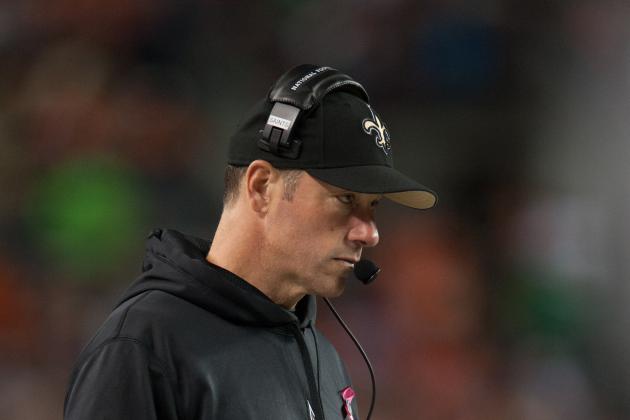 Dustin Bradford/Getty Images

Winner: Aaron Kromer
Kromer's work with Kyle Long and Jordan Mills has already been impressive. If he can get the entire offensive line to play at a respectable level, the Bears could finally have a productive offense.
The Bears offensive line play has been a joke for the last three years with Mike Tice coaching the unit. Kromer will have a different group to work with as the Bears will only have one player—center Roberto Garza—returning in the same spot he played last season.
Like Kromer, Tice came to the Bears with a great reputation, but the biggest issue the Bears had was a lack of player development. Tice had two former first-round picks to work with as well as other talented young players that he couldn't get the most out of.
With Kromer, the Bears have already seen Long and Mills develop at a much faster rate than anyone anticipated.
Both players came into the league extremely raw, but with potential. That is especially true for Long, who was known as more of an athlete than a football player coming into the draft. Under Kromer's guidance, both have a chance to be quality players as rookies.
The Bears helped Kromer out with a pair of quality veterans in Jermon Bushrod and Matt Slauson, but neither are the kinds of players a team can—or should—build their offensive line around. Kromer's work with the Bears will be judged on how the young players perform. He's off to a good start so far.
Runner-up: Mel Tucker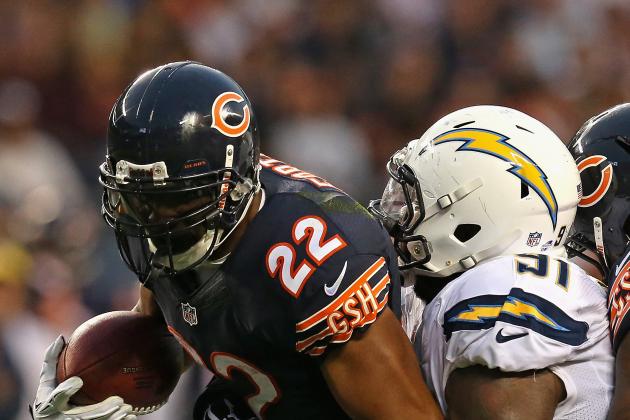 Jonathan Daniel/Getty Images

Winner: Matt Forte
While much of the focus is on quarterback Jay Cutler, the Bears season may depend on the success of Forte.
During his NFL career, the Bears are 14-1 when Forte runs for 100 yards or more, including 3-0 last season. In addition to his ability as a runner, Forte is considered an excellent receiver out of the backfield, a talent that was mostly unused last season.
That figures to change under new coach Marc Trestman. In Trestman's eight seasons as an offensive coordinator, his running backs have averaged 59 receptions per season. That average is brought down by Adrian Murrell's 18 catches in 1998, when fullback Larry Centers caught 69 passes.
There is a lot the Bears can do to utilize Forte out of the backfield. Any time they can get him on a linebacker, the Bears will have a huge advantage. Offensive coordinator Aaron Kromer was pretty blunt about the team's plans for Forte, telling the Chicago Sun-Times they want to get him the ball "as much as possible."
Although it can be argued that he hasn't received as many carries as he should have, Forte has topped 1,000 yards rushing in three of his five seasons in the league. In 2011, he ran for 997 yards despite missing the final four games with a knee injury.
If the Bears improve their play up front and are able to offset him with a better passing game, it should make Forte's job in the running game much easier. If you add in the touches and yards he'll get in the passing game, it should end up being a huge year for the Bears running back. It wouldn't be surprising to see him run for over 1,200 yards and catch 80 passes.
Forte gets the nod here over Marshall because of the success the Bears have had when he does well. Last season, the Bears lost three games when Marshall topped 100 yards receiving, including two when he had over 160 yards receiving. In fact, since 2007, Marshall's teams have lost 16 times when he's topped 100 yards.
As Calvin Johnson proved last year, even the best receiver can't carry a team to the playoffs like a running back can.
Runner-up: Brandon Marshall